Autumn has gradually taken over as the most popular seasons for weddings, and this year is no exception. Especially with Covid-19 preventing gatherings this spring and summer, many are opting to push their big day into autumn.
There are so many ways to have the perfect autumn wedding- I hope these ideas inspire you!
Deciding Your Autumn Wedding Theme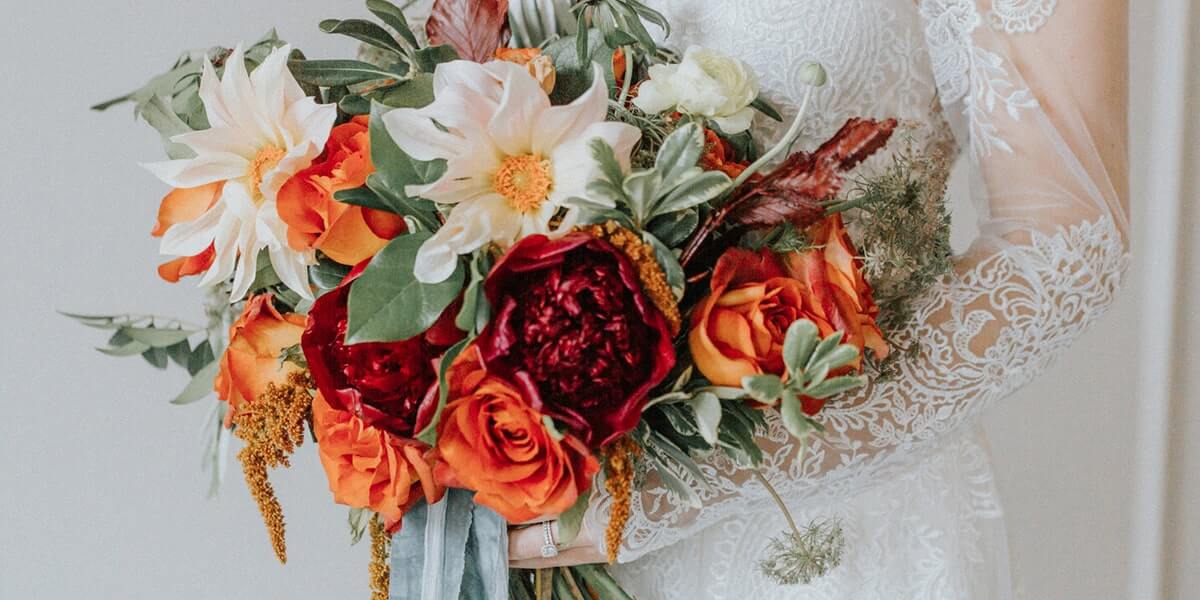 There are so many considerations that go into choosing a wedding theme, and budget is always one of them. Here are some tips and tricks for autumn wedding ideas on a budget.
Bring in elements of nature. Incorporating pumpkins, squash, branches, and leaves into your theme is a beautiful and budget-friendly way to weave the

autumn

theme into your wedding and reception.

Bring it all outside. Speaking of nature, what better way to incorporate it that literally being in it? See if there is a local park or other outside space that you can have your wedding at. This is great on a budget- oftentimes there are parks available for free, so you'll save tons on the venue.

Go DIY. As much as possible, use do-it-yourself projects instead of buying everything. Not only will you save money, but it adds a personal touch, knowing that you did it yourself. This is especially true for center pieces and bouquets.
Finding the Perfect Autumn Wedding Dress
Finding the perfect autumn wedding dress can feel daunting, but thankfully the options don't have to feel overwhelming if you narrow down what you are looking for.
Consider sleeves. Especially if you are having your wedding outside, an autumn wedding is the perfect opportunity for an autumn wedding dress with sleeves. This will give you a little extra warmth so you are not shivering down the aisle or freezing on the dance floor. If you're not interested in a sleeved dress that's okay. Just be sure to have a nice jacket, wrap, or sweater handy.

Check your budget. The perfect dress is one that you can afford. If your budget is tight, don't worry; Ever Pretty has tons of beautiful, affordable options of wedding dresses that are perfect for autumn

. (They have amazing bridesmaid dresses, too!)

Think about color. Autumn is the perfect time to deviate from that bright white wedding dress. Try opting for a champagne for a warmer hue.
Preparing an Autumn Inspired Menu and Decorations
One of the great things about an autumn wedding is how beautiful it is outside. With the leaves changing and the air getting crisper, it's a fun idea to pair your menu and decorations with food and flair appropriate for the season.
Menu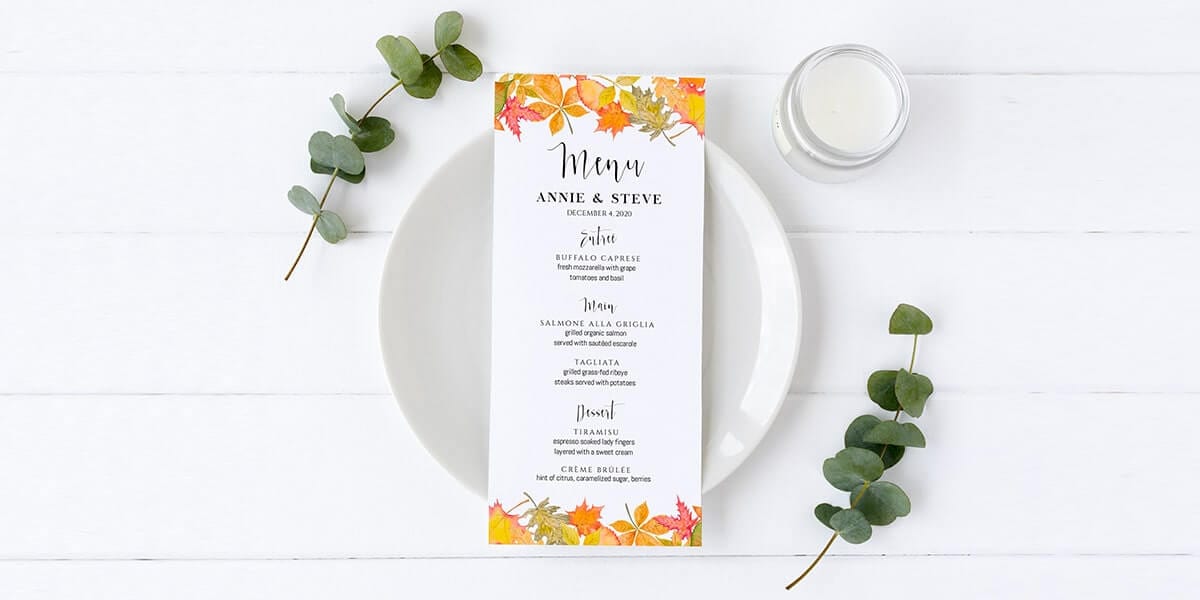 Serve hot cider and hot chocolate to really lean in to the colder weather. This is an especially nice touch if you've opted to have your wedding outside. Include a toppings bar for the hot chocolate, with whipped cream, marshmallows, and sprinkles.

Swap out the salad. An autumnal soup, like squash or pumpkin, is the perfect starter for your reception dinner.

Try some classic

autumn

favorites for dessert, like candy apples, seasonal pies, and cider donuts. These are sure to be a hit. Desserts incorporating apple, cinnamon, caramel, and maple are perfect for an autumn wedding.
Decorations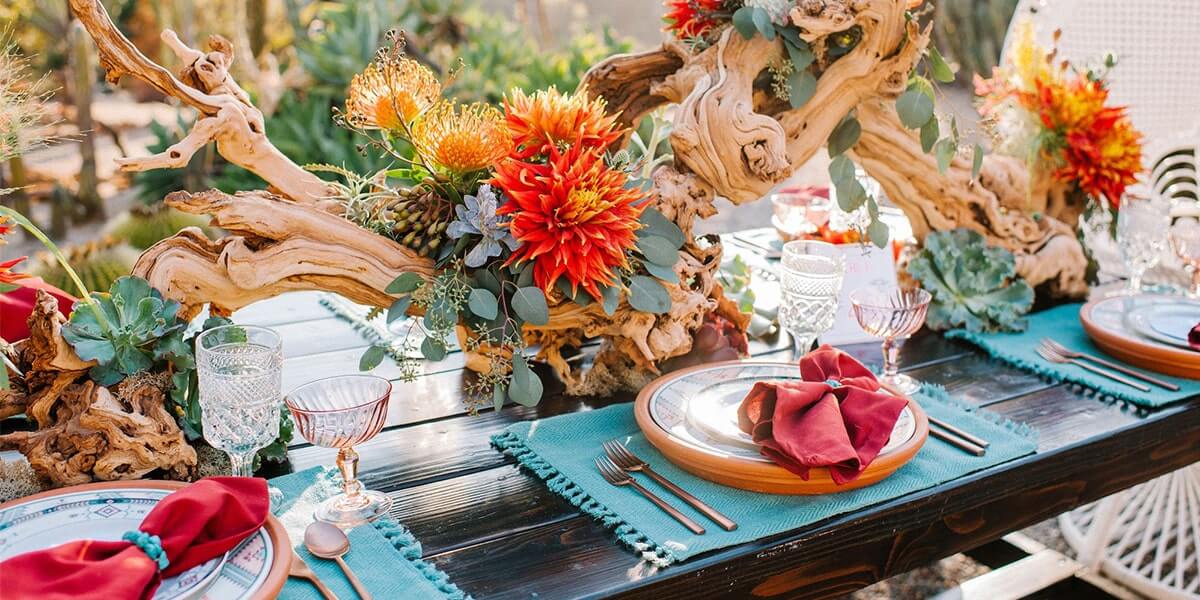 Include orange, yellow, and red into your decorations. As the three main colors of

autumn

, they will look great at an autumn wedding.

Upcycle mason jars. For autumn wedding centerpieces, upcycling old jars can be the perfect way to start. You can either leave them clear and tie a bow around them, or spray paint them a festive color.

Look to nature. Use leaves you find, pinecones, flowers, and more to use in your centerpieces. Arrange them nicely and tie some twine around the stems to keep it all in place.
T
ips to Keep Your Autumn Wedding Comfortable and Sweet
There are a few other tips for planning an autumn wedding that will exceed your expectations.
Have a bonfire.

Autumn

is the perfect time for a fire. Not only does it look great, but it is perfect for a

n autumn

outdoor wedding

because it will keep everyone warm throughout the duration of the reception.

Do everything well in advance. Doing everything to prep for your wedding far in advance is important because if you hit any snags, you're not crunched for time. This especially applies to any DIYs that you might be doing for the wedding.

Simple thank-you notes. After the festivities are over and it's time to send thank you notes to your guests, you can still keep it simple. Gather brightly colored leaves and glue them to the front of a blank card. This saves you money and carries on the theme from your autumn wedding.
You can also check out other articles about gorgeous dresses 2020 and dress tips by clicking here:
Top 5 Wedding Guest Outfit Ideas: How to Dress for an Autumn Wedding
Wedding Accessories Guide: How to Elevate Your Whole Look 
Top off the Shoulder Dresses for Wedding Guest 
How to Dress for Prom 2020: an Online Shopping Guide