Mostly the brides-to-be are spending a lot of time on selecting the dress only and when it comes in selecting the accessories they just grab whatever there is available in a short time. Do you think it is the smart choice? Of course not! Mere wearing an expensive dress is not enough and you need to give a lot of attention to every detail, especially the way you are accessorizing yourself. A nice hairstyle and its accessories, perfect shoes, awesome jewelry and an exquisite handbag etc. play an important role in giving you a complete look. You can elevate your whole look with appropriate accessory.
How to  Elevate  Your  Whole  Look
In order to turn the heads on this special occasion you need to understand that unless you accessorize yourself in a proper way you can't have a complete look. Even though you might have spent thousand bucks on your dress unless you beautify it appropriately you will miss a chance of looking perfect. Maybe it is your beautiful jewelry which is attracting the attention or the vines on your hair are giving you a cute look or the handbag is looking attractive etc. So, you need to elevate your whole look in a proper way. Let me guide you step by step so that you get the clear idea. Let's peep into it.
Step one: Find right wedding jewelry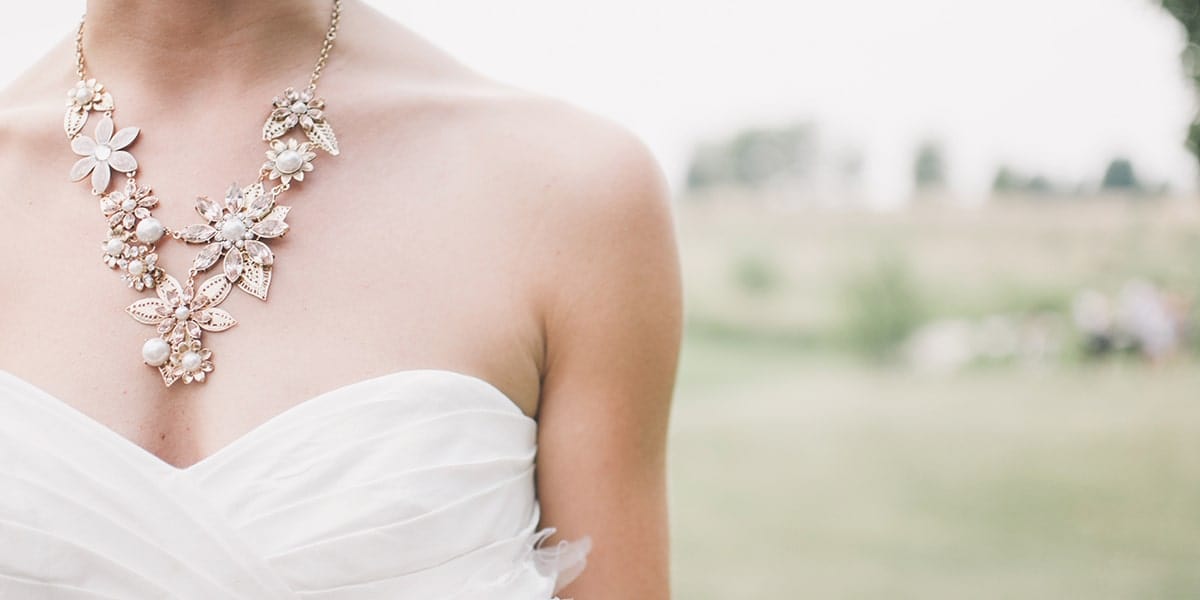 Choosing the right type of jewelry for your bridal look is quite an integral part. Of course it is your big day you must wear the wedding jewelry which is appropriate. You need to find the right jewelry items so that will not only complete your bridal look but also add elegance to your beauty.
Well, this part is quite necessary that in order to have a sophisticated look you must accept that less is more. So, you must not overload yourself with lots of jewelry items. It must not outshine too much that may dull your skin tome or your wedding costume.
Choose jewelry based on your wedding dress
Instead of wearing stereotype jewelry it is advised to go for the jewelry based on the color or fabric of your fantastic wedding dress. For example, if your dress is in white color then go for silver or platinum and if it is in ivory color then try gold jewelry which may enhance your look as well. Keep in mind the neckline of your dress, if it is in V shape then go for drop earrings only and a bracelet will look nice as well.
Step two: know your face shape and choose your wedding hairstyles and accessories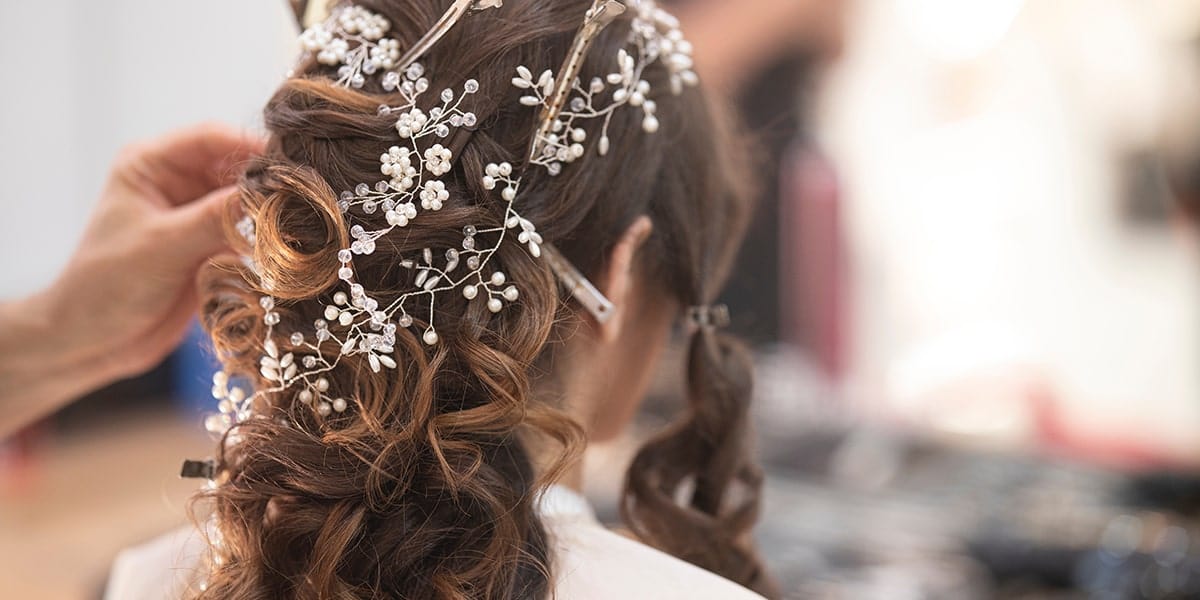 Instead of choosing a hairstyle just by seeing on a magazine that is looking good on a model, you need to understand that you have your own face shape and it may not look good on you. So, know your face shape and choose hairstyle accordingly. You need to understand your face shape so that you may come to know which kind of hairstyles would look great on you.
Different face shapes and hairstyles
Oval face: If you have an oval shape then you can either pull your hair up to show your well-proportioned face or you can let your hair down with center parting and accessorize accordingly. You can also curl your hair from your cheekbones so that they may remain away from your face.
Square face: In this face shape you can try a low bun with a few strands which will frame your face and take the attention away from your strong jaw line. You can also have a soft look by parting your hair from center as it will soften the edges, if you use vines in your hair then it will look great.
Heart shape: You can have a romantic look in this shape if you center part your hair and add braids to both sides as it will emphasis your sweet smile. If you choose a hairstyle that touches to the sides of your chin then you will have a delicate look. You can accessorize it with side flowers as well.
Long shape: if you like to tie your hair then classic topknot will look great on you but try not to place it at the top of your head as your head will look longer. If you are in mood of opening your hair then side sweeping curls will look great, try to tuck them behind your ear as it will exposé your cheekbone in a perfect way.
Round shape: in this face shape side-parted hair with a ponytail will give you an elegant look and it will give an allusion of higher cheekbones as well. You can also have a deep look and side-parting will create more angular look, but don't forget to add big waves as it will create extra glamour.
 Choose right hairstyles and accessories
You might have booked an expert MUA for your wedding day but have you thought about it that how you are going to style your hair? Maybe not, but you must know that your hairstyle plays such a big role in shaping your bridal appearance. As different kind of hairstyles can create your face appearancenoticeablyspecial and you will have a nice look.
Trendy wedding hairstyles
You need to have a trendy look on your big day right! So, choose latest hairstyles such as braids, loose curls, messy buns, undoes etc. Don't forget to accessorize your hair; there are many wedding hair accessories options you can choose in between such as, flowers, twigs, laces or hair vines etc. Remember you should match them with your wedding theme as well.
Step three: select perfect wedding heels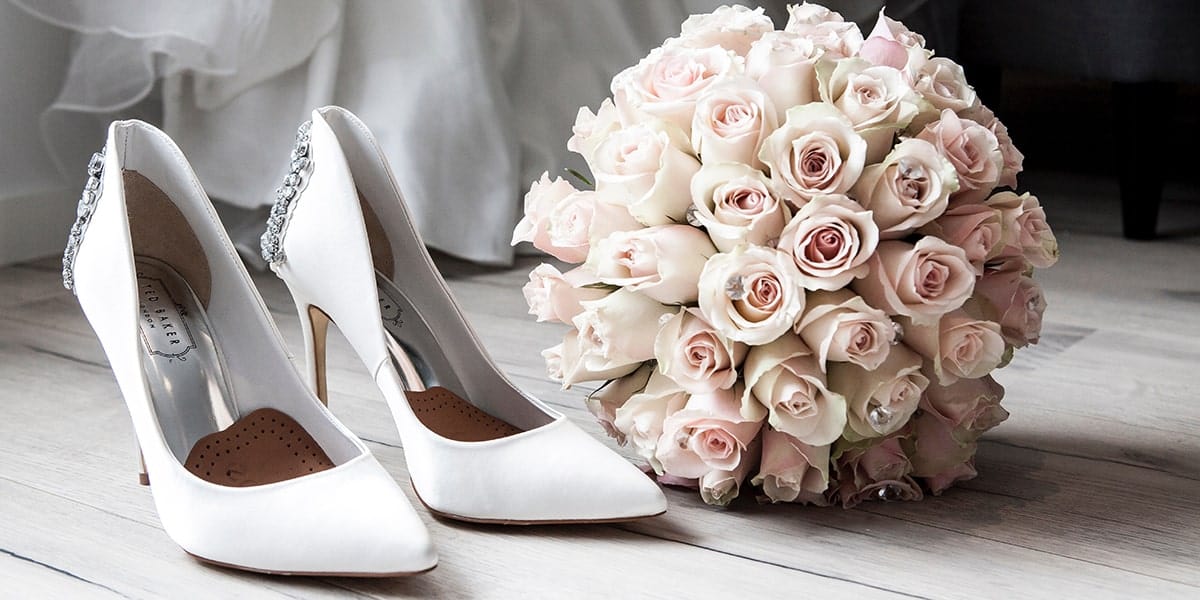 When it comes in choosing the bridal shoes mostly the brides are looking for something which has a fashionable look. Instead of looking for the one which is comfortable you want a fancy looking shoes on the big day. Well, you need to think again to spend the day without facing sore feet or discomfort.
Make sure that your shoes are comfortable
You need to understand that your wedding heels will play an important part in your bridal look. You have to stand for longer time right! So if your shoes are not comfortable then you can't stand in an appropriate manner and embarrass yourself at the end. In this way you must get a pair of heels on this special day that they are super-comfortable and they are not pinching your feet. After finding your dress choose the right shoe and if you are wearing a short dress then match them with your dress and accessory as well.
Try them first before buying
Well, on this special occasion even though if you are in a mood of spending a huge amount or buying fancy looking items, it is necessary to give keen look that whether it is the appropriate one or not. So, before buying shoes don't forget to try them first if they are pinching or not comfortable enough then avoid purchasing them. Go for the right ones that may have a simple look but they must be comfortable.
Step four: Don't forget wedding handbags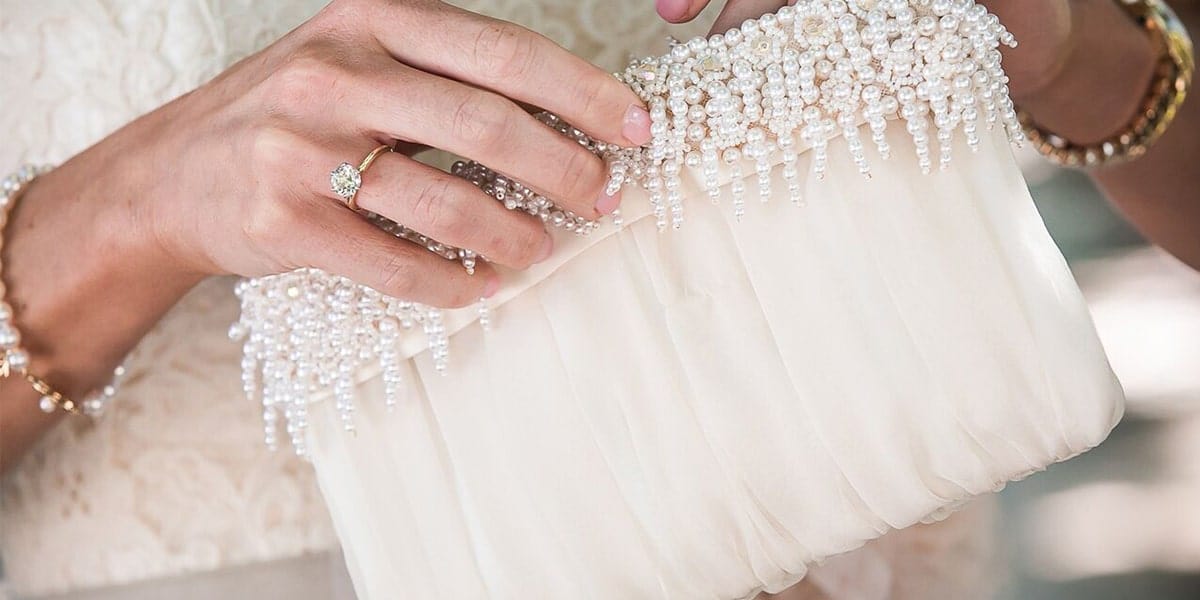 Your bridal look will not be completed unless you carry a wedding handbag. So, don't forget this step when you are shopping for your wedding as it will give you a delicate look. Well, it is true that you might be quiet busy in purchasing a lot of items for your wedding and most of the brides may feel that it is Ok if we don't carry a handbag. But it is not true ladies! You need to carry it to have a stunning look on it.
Go for the smaller handbags
Instead of dragging a heavy and big sized bag on this special day which will be quite uncomfortable for you as well, it is better to choose something which is small in size. A bridal clutch will do the job for you and you can put some cash, hotel key, cards or tissue etc. but keep in mind that it must not be too small where you can't put anything.If you don't like a strap of your bag that it may block your beautiful gown then choose the one which has a removable chain.
You must find that handbag for your wedding which is not only fashionable but also comfortable. Yes it is right! You definitely want your purse to look pretty in pictures but if it is weighing you down or injuring your rhinestones, you must find the one which is comfortable and light in weight.
To conclude, you might get a clear idea of how you can elevate your whole look on your wedding. So, instead of just focusing on your dress and spend whole time in selecting the one, you need to put your effort in every detail to have a complete look which is mesmerizing.