In the past few years, autumn has become more and more popular for weddings. As the leaves change and the weather gets cooler, it is a beautiful time for a wedding. If you haven't been to many fall weddings, you might be wondering what to wear. Don't worry, we have you covered.
Need Wedding Guest Dresses for an Autumn Wedding?
Are you looking for wedding guest dresses for autumn? Well, you've come to the right place. As a general rule, you'll want to remember that for autumn weddings it is best to wear a formal dress. This means that you will likely want to wear a full-length dress as opposed to a short dress. Read on for more info about what styles are best to wear and some suggestions for gorgeous autumn wedding guest dresses!
Which Dress Styles Should We Wear to an Autumn Wedding?
There are so many options of dress styles to wear to an autumn wedding that it can be hard to choose. It's helpful to consider a few different elements when you are making your choice of what dress you want to wear. Keep in mind the location of the wedding, the time of day, and the color of your dress and you can't go wrong.
Location
First, think about the location for the wedding. Is it inside or outside? Is it very formal or rather informal? An autumn wedding is probably not going to be as casual as a sandy summer beach wedding, so you will want to take that into consideration when planning your autumn wedding guest outfits and make sure that the dress you choose fits the venue. For example, if the wedding is in a fancy ballroom, you'll want to make sure your dress is formal and elegant. But, if it is a more down to earth wedding in a lofty barn, you don't want your dress to upstage the location and look out of place. Also, if the wedding or reception is outside, you'll want to wear a dress that looks good with a sweater, jacket, or shawl so that you can keep warm and enjoy yourself.
Time of Day
Another thing to consider when picking out autumn wedding guest dresses is the time of day. Evening weddings are often more formal than daytime weddings, so you will want to take that into account when you are picking out your dress. Opt for a long formal dress with beautiful accents for an evening wedding, but go with a slightly less adorned dress for a more laid back afternoon wedding.
Color
Lastly, make sure that you consider the color of your dress when you are picking out your outfit for a wedding. In the fall, it is best to skip those summertime pastel options and instead opt for more jewel tones and rich colors. Use the changing leaves and their beautiful colors as inspiration for your outfit and you can't go wrong.
Autumn Wedding Guest Dresses Inspirations
Do you need some help finding cheap autumn wedding guest dresses? Look no further, and check out five of our favorite dresses to wear to fall weddings.
Shiny Floor Length Off Shoulder Sequin Wedding Guest Dress

Check out this stunning floor length sequined dress. With a ruffled V-neck and an off the shoulder look with spaghetti straps, there is no way to not look great in this dress. And it comes in sizes 8 to 20, so you'll be sure to find the perfect fit.
Unique Double Tiers Asymmetrical A-Line

Wedding Guest Dress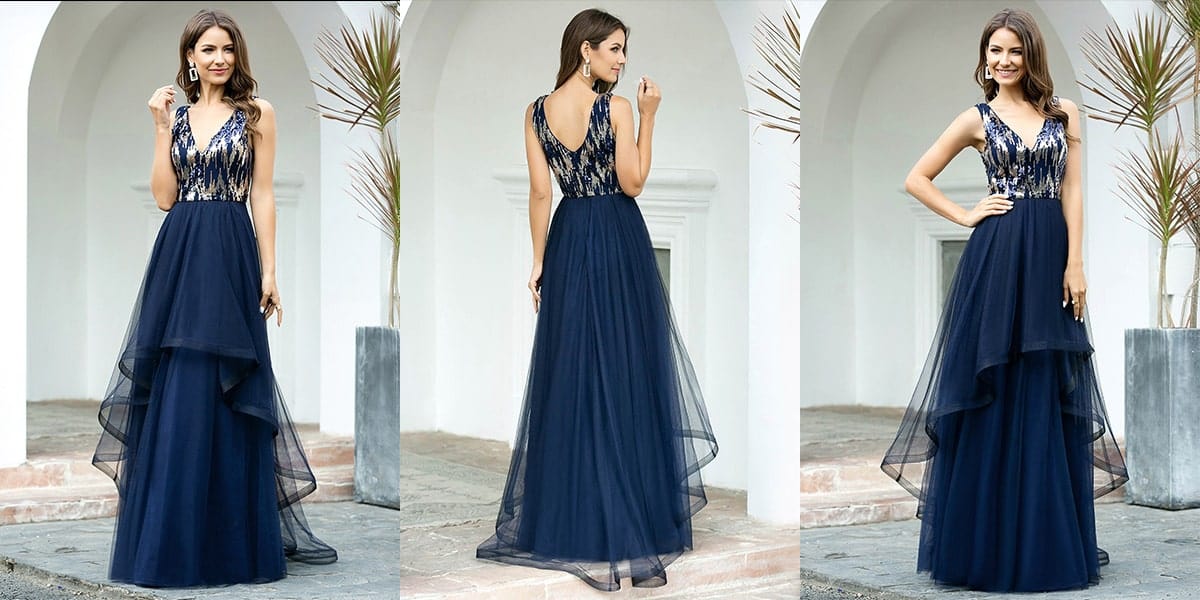 This gorgeous navy dress has a double layer, asymmetrical full length skirt. It has a deep V-neck and gold sequins on the bodice. This dress would be perfect for just about any autumn wedding.
Gorgeous A-Line One-Shoulder

Flattering

Wedding Guest Dress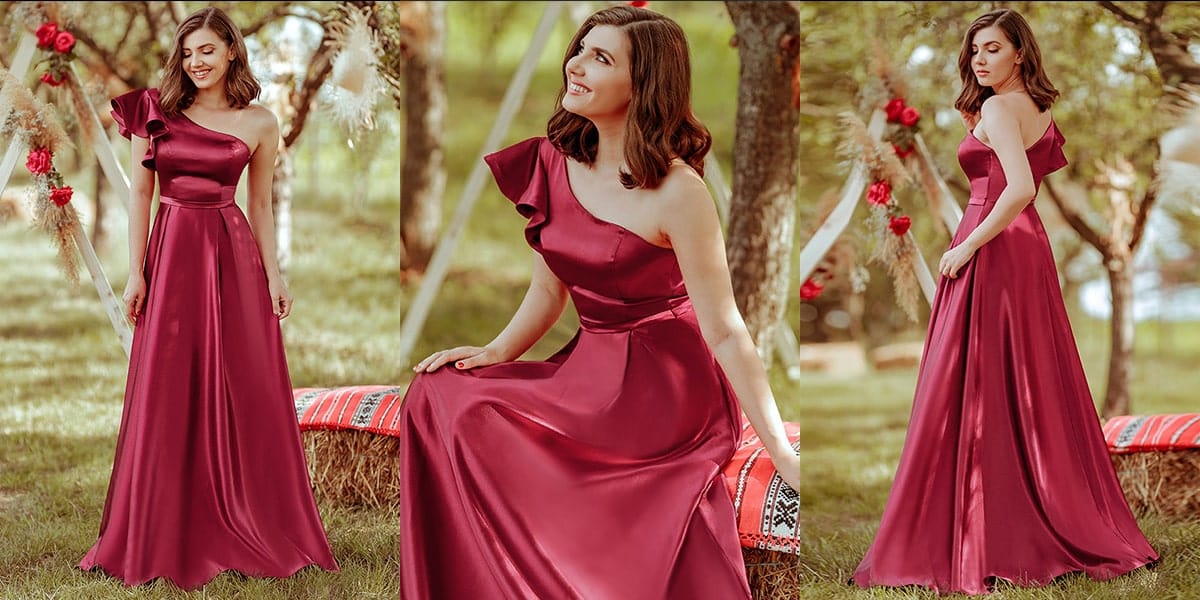 Looking to make a statement? This burgundy dress has a one shoulder style with a ruffled sleeve and is sure to make heads turn. The rich color is absolutely perfect for autumn. This dress is great for a more formal autumn wedding.
Elegant Floor Length Tulle

Wedding Guest Dress

with Long Sleeve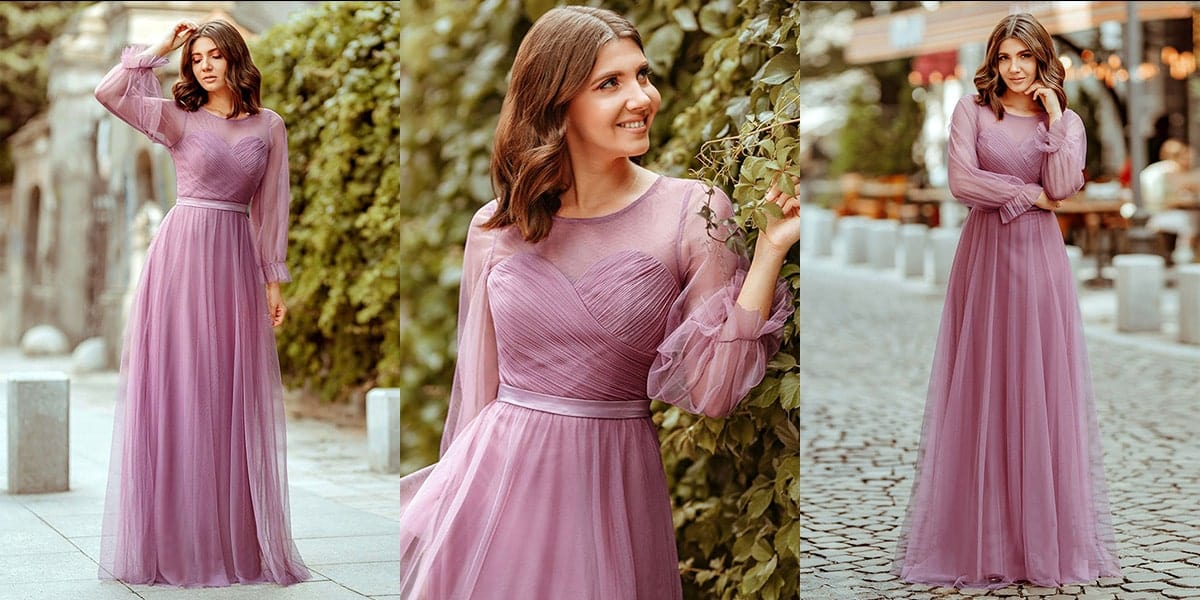 If you are looking for a dress with sleeves, or just something a little different than the usual formal gown, this dress is definitely the way to go. A sheer circle neckline reveals a sweetheart bodice. The dress has long sleeves of tulle and a flowing tulle skirt.
Floral Sequin Fishtail Tulle

Wedding Guest

Dress With Half Sleeve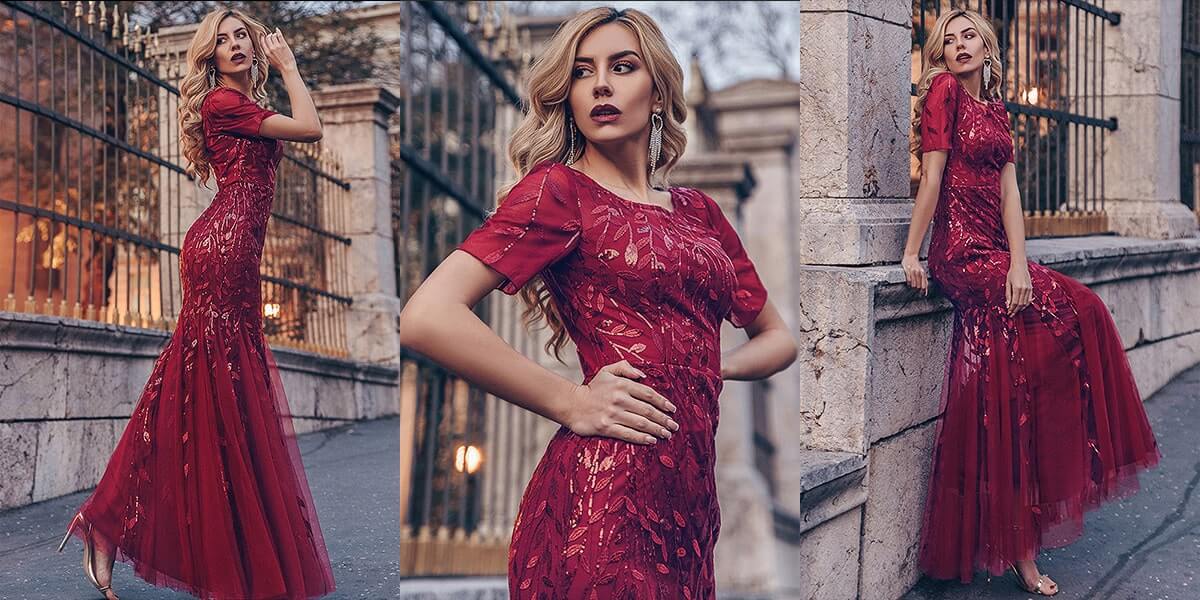 This beautiful dress is sure to catch anyone's eye. It comes in eight colors and sizes 6 through 30, so you can definitely find your perfect look. The rich burgundy is especially perfect for an autumn wedding, and would look gorgeous outside matching the fall foliage. It has short sleeves that will help keep you warm and plenty of sequins with a tulle skirt.