Empire waist dresses are super popular right now. In all sorts of colors for any occasion, empire waist dresses are very versatile. You can wear an empire waist dress as a wedding dress, a bridesmaid's dress, a wedding guest dress, a formal dress, a cocktail dress, and more. Plain or with accessories, in flats or high heels, you are sure to look your best. Looking for more info about wearing empire waist dresses? Check this out!
Best Body Type for Empire Waist Dresses
All right, I'm just going to say it – ANY body type is the best body type for empire waist dresses. It's true! That is one of the advantages of these dresses – they look amazing on everybody. So it doesn't really matter if your body type is "apple" or "pear" or anything else.
An advantage to the empire waist dress is that they can look especially flattering on curvy or plus size women. This is because the waist is at one of the narrowest parts of your figure.
What Is an Empire Waist Dress?
So what makes a dress qualify as "empire waist," anyway? Well, an empire waist dress cinches under the bust at the narrow pint of the body there. It is a high-waisted style that looks great on every body.
How to Make Empire Waist Dresses Flattering to Your Figure
Now that we've established exactly what an empire waist is, here's how you can make this style work the best for you. One of the great things about empire waist dresses is that they are naturally flattering to just about every figure, so it doesn't require a lot of work on your part to make sure that you look your best.
The main thing you will want to do is make sure that the waist falls at the narrowest part of your body. This helps give that flattering A-line shape. Additionally, if the dress falls too loosely, it won't look as good either- so add in a belt or tie if your waist isn't clearly defined in the dress. Choose a wide belt or tie for the most flattering look.

If you want to lengthen the look of your body, you can choose a deep neckline, like a double v neck, which will make you look more elongated and slimmer. Pair the dress with a skinny pendant necklace for a chic and slimming look.
An empire waist dress can also make you appear taller, especially if the waist is at its highest. It will create the illusion of height, and is perfect with heels if you are on the shorter side. With that in mind, make sure, no matter your height, that the dress is hemmed correctly to be the right length for you. Too long or too short will be less flattering, so get the dress hemmed if needed or adjust the height of your shoes to suit the dress.
Top Five Empire Waist Dresses You'll Love
Looking for dress inspiration for a wedding or other special occasion? Look no further! Here are five of our top favorites that you are sure to love.
Deep V-neck Tulle A-line Empire Waist Dress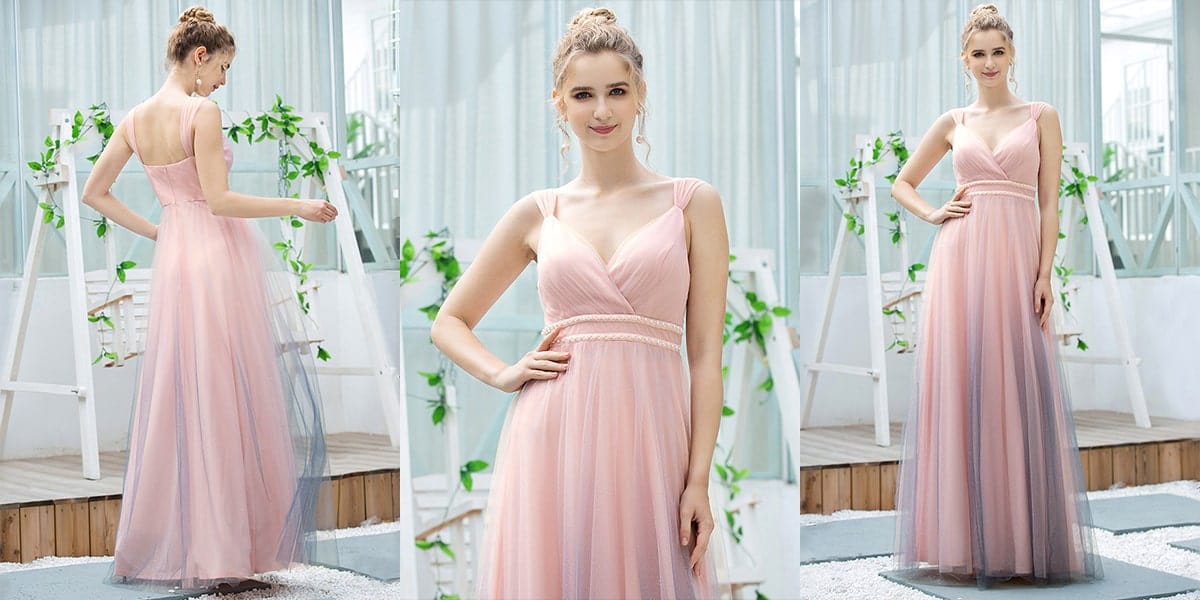 This women's A-line tulle bridesmaid dress is absolutely gorgeous. It has a v- neck and delicate tulle fabric. This is great for a vintage or minimalist inspired bridesmaid look.
W

omen's

V

- neck

Empire Waist W

edding

G

uest

D

ress

In white, burgundy, and grey, this women's v- neck empire waist wedding guest dress with short sleeves, is a great option. It has a stunning deep v neckline and it is comprised of lace and tulle. It looks fantastic on anyone anytime, from day to night.
Double V Neck Fishtail Long Tulle Evening Dress with Sequin

Check out this fashion forward v neck empire waist sequin dress. Perfect for so many different occasions, from a cocktail party to a wedding, this dress looks great on everyone. The delicate sleeveless and bodice add texture to this chic dress.
S

ee

T

hrough

F

loor

L

ength

L

ace

Empire Waist E

vening

D

ress

This see through floor length lace evening dress with half sleeve is probably my personal favorite on this list. It comes in so many colors: burgundy, black, navy blue, white, grey blush, purple orchid, and dusty blue. You'll want one in practically every color there is! It has a scoop neck and lace bodice with an empire waist chiffon shirt. What's more, it comes in sizes 8 through 30, so you're sure to find your perfect fit.
Fashion

Empire Waist

Floor Length Tulle Evening Dress with Sequin

Take a look at this plus size v neck long evening gown with lace sleeves. In white, dark purple, dark green, and sapphire blue, you can wear this dress for any formal or semi formal occasion. It comes in size 20 through 30; perfect for plus sized women.
Check out all of these dresses and let us know what your favorite is! Where will you wear an empire waist dress this month?