One of the great things about having a wedding in autumn is that there are so many beautiful colors that are just perfect for it. From burgundy to navy, to purple and more, the options are practically endless. You can use the fall foliage and beautiful scenery as inspiration for your wedding color scheme and bridesmaids dresses. Autumn itself is a very rich color season, and this is one of the reasons it has become such a popular wedding season. It's suitable for many colors and themes.
Are you looking for wedding inspiration? Well, check out these top wedding colors for autumn and a gorgeous bridesmaid's dress that matches each color.
Bold in Burgundy Dress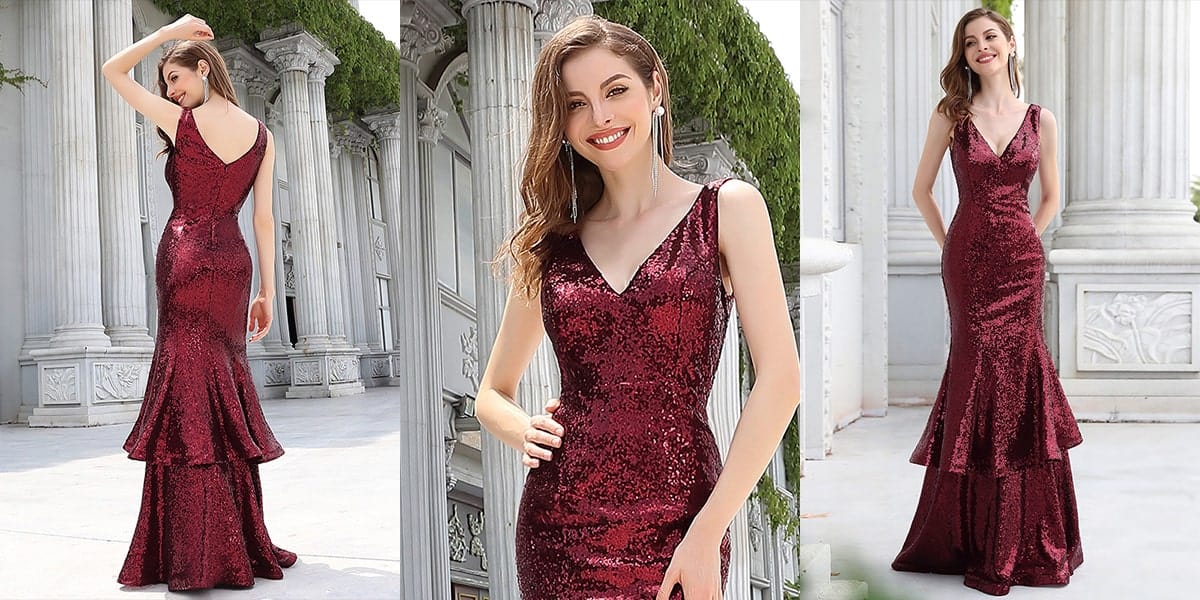 Without a doubt, burgundy is one of the most popular colors for an autumn wedding. This rich dark red looks beautiful on everyone, so your bridesmaids are sure to love its. What's more is that it is perfect for autumn because the tone of the color matches that of the changing leaves. You'll feel fall festive with burgundy as your main wedding color.
If burgundy is your color of choice, you'll want to check out this double hem mermaid sequin dress. The combination of the mermaid tale and the double hemline, along with the sequins make for a dramatic look. Opt for this dress if you're looking to make a statement.
Sweet Grey Dress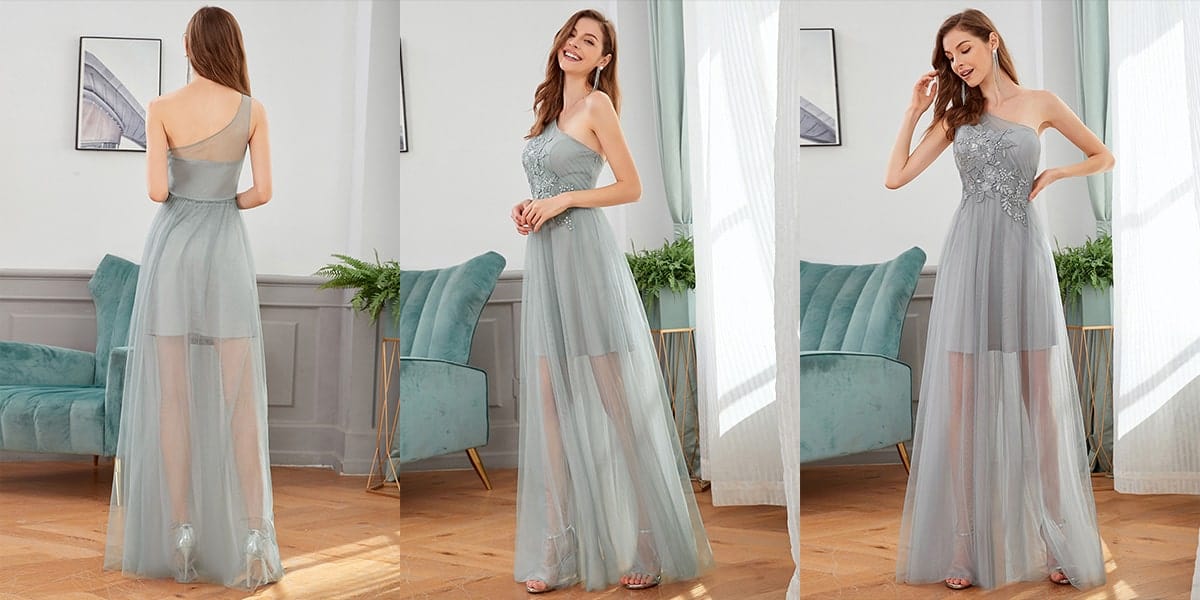 Grey is a very versatile color, making it extra popular for weddings in autumn. It pairs well with many other colors if you are looking to have a multi-color theme for your wedding. It also looks great as a color for bridesmaids' dresses.
If you go for grey, take a look at this dress. It has a dramatic, one shoulder style with a large applique, and a chiffon skirt. It will look flattering on all of your bridesmaids for sure.
Formal Navy Dress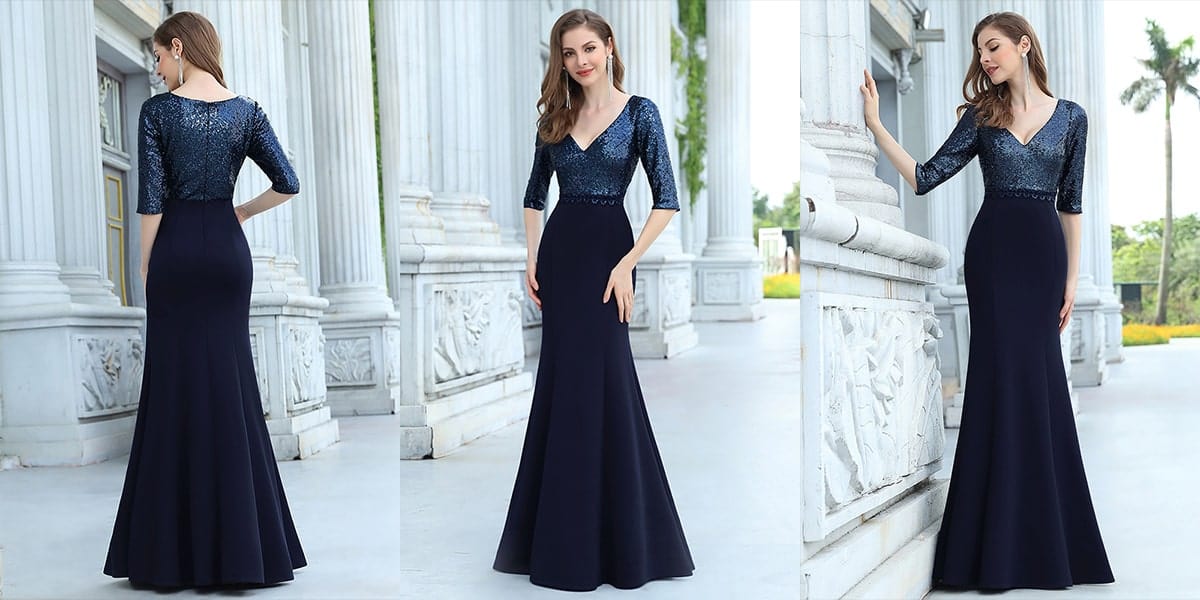 If you are having a formal wedding, navy is an excellent color choice. It lends itself nicely to a sophisticated color palate and general atmosphere of your wedding. Navy is great for an autumn wedding because it can allow other bright colors to add pops of color and vibrancy to your theme. It also works well as a standalone color or complementing another color, depending on your theme of choice. It's also great for autumn because the color loans itself well to warmer, luxurious fabrics, like velvet.
For a formal wedding, you of course want your bridesmaids' dresses to reflect that. If that's the case for you, check out this elegant deep v fishtail evening dress. It has a stunning sequined bodice and a fishtail hemline. In a deep navy, it looks perfect as a head turning formal dress.
Pale Pink Dress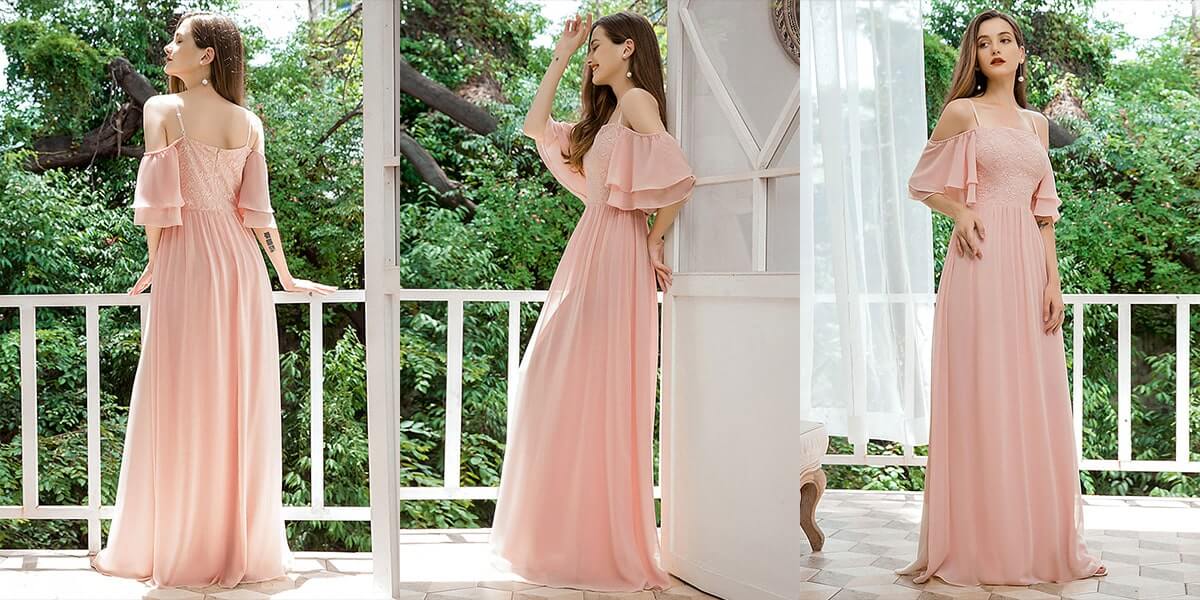 Not just for summer weddings, pink is actually very popular as an autumn wedding color, as well. Opt for a more blush colored pink as opposed to brighter pinks in the fall. Pink looks cheery and classic as a bridesmaids' dress color. Pink also can pair well with other colors, like a soft, pale yellow. It also gives you many options for flowers, as well.
This sweet off the shoulder chiffon bridesmaid's dress with lace decoration is a perfect pink pick. It practically looks like it's out of a fairytale, and your bridesmaids will look beautiful.
Gorgeous Green Dress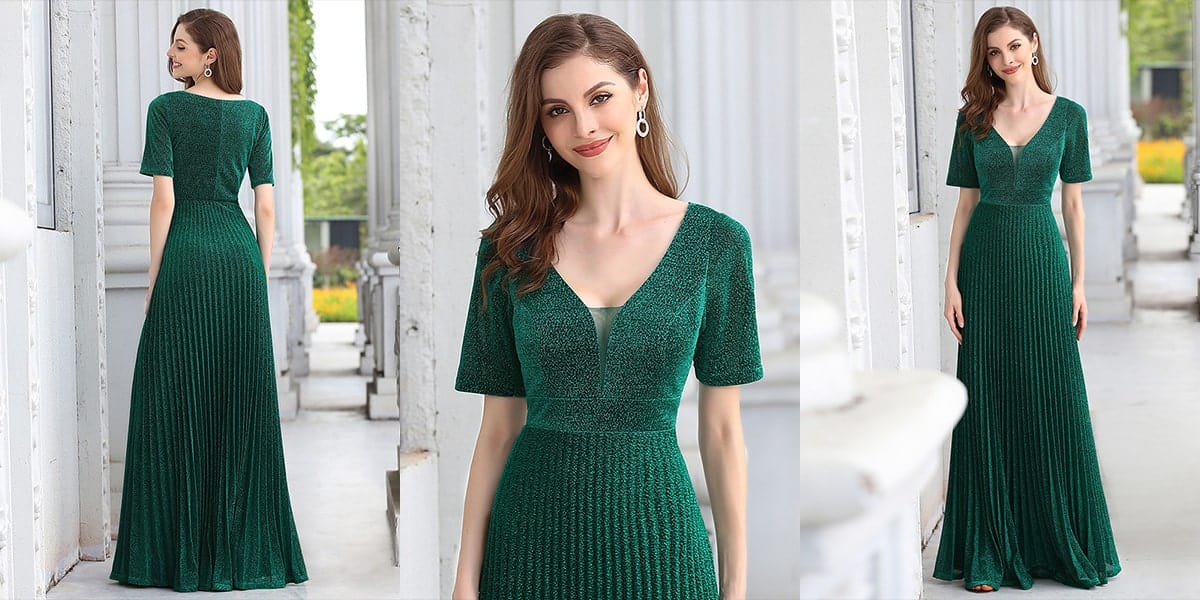 Green is another one of the top wedding color trends 2020. In particular, dark green is lovely for the autumn. The rich and earthy tone is conducive to both formal and laid back weddings. It would be great for an outdoor or barn wedding surrounded by complementing evergreen trees.
If dark green is your color theme for your wedding, you'll want to take a look at this charming deep v neck floor length evening dress with pleated decoration. It has a shimmering fabric and a pleated shirt that adds visual interest to the gown.
Sunshine Yellow Dress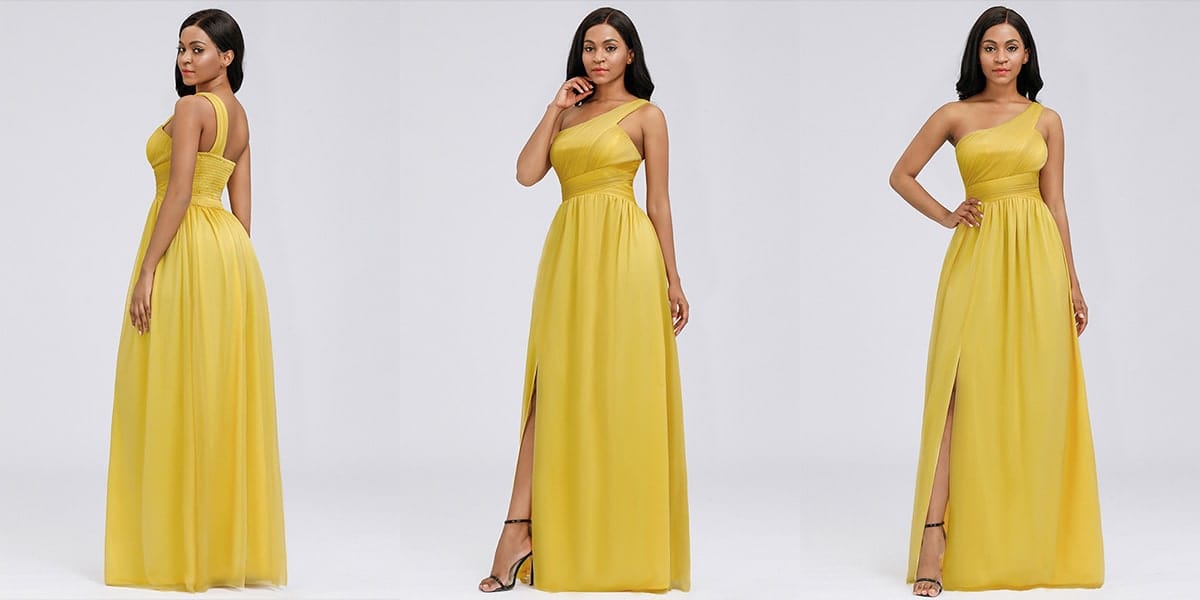 As autumn rolls around, the fall foliage appears when the leaves change color. Use these beautiful colors to your advantage in your wedding colors and feature yellow prominently. This bright color is perfect to add warmth and style to your wedding.
If you choose yellow as your main theme color, check out this women's A line one shoulder slit bridesmaid's dress. It has one shoulder and an angles waistline for a unique look. The slit up the side adds to the drama of the dress. All of your bridesmaids are sure to love this choice.
Rich Purple Dress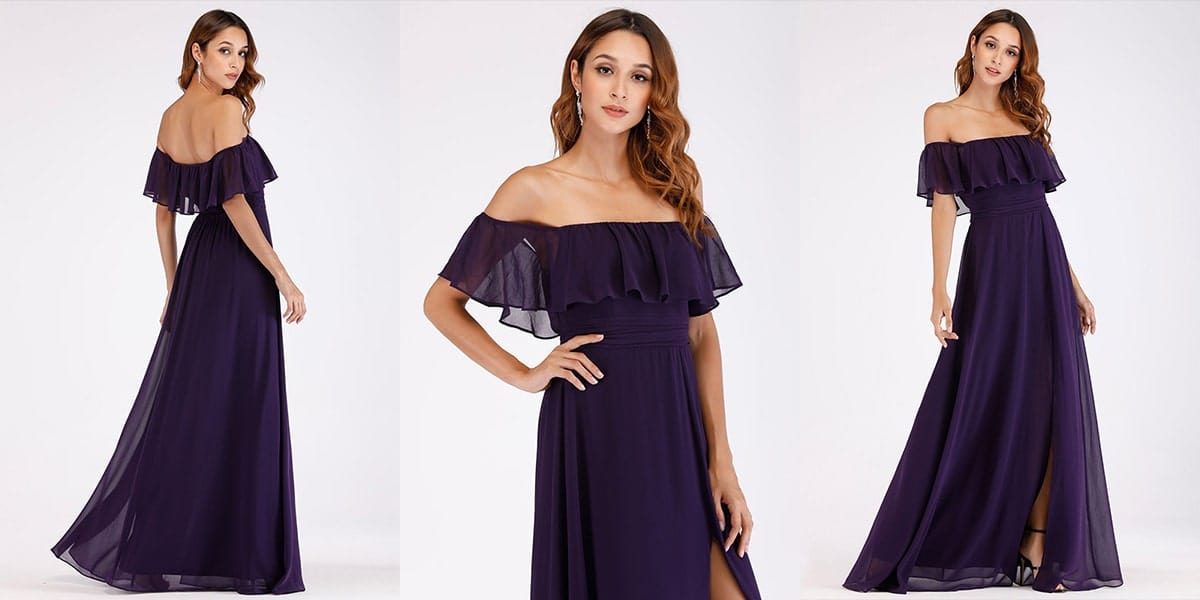 Purple is probably my favorite autumn wedding color. This deep jewel tone looks fantastic in autumn and the rich color feels warm as the air begins to turn crisp.
If purple is the color you favor, you're in luck. Here is a women's off the shoulder ruffle thigh-split bridesmaid dress. There are two purple shades- dark purple and purple orchid- so you can choose the one that suits you best. It has a beautiful ruffle off the shoulder top and a chiffon skirt.
What color is your wedding going to be themed this autumn? Let us know your favorite and check out more bridesmaids' dresses right here!