As we roll into autumn, there are many weddings coming up- is yours one of them? Autumn weddings have skyrocketed in popularity, and no wonder why. Autumn is a beautiful season and doesn't have the stifling heat of summer. The cooler weather also means that you can wear a long sleeve wedding dress. One of the most popular wedding dresses for fall is the long sleeve lace wedding dress. Here's everything you need to know when picking out your dress for your big day!
How to Choose Long Sleeve Lace Wedding Dresses for Your Body
You might be wondering how to choose the best long sleeve lace wedding dress for you. Here's advice on what you should be looking for in a dress to look great.
Petite Figures
If you happen to be a petite bride, there are a couple of tips to help you look your best. First, you will want to stick with lightweight, airy fabrics. These will be flowing and light, and will move with you. Second, it's advisable to stay away from large, oversized skirts with your wedding dress, because they can make you look smaller.
Tall Figures
If you are tall and lean, you might want to try out a peplum skirt, which adds the illusion of curves. A large skirt with a long train may be right for you, as your figure won't be overwhelmed by the voluminous dress.
Curvy Figures
Don't be afraid to check out plus- sized options if you have a curvier figure. Make sure that your dress fits well in order to look the best. You can try a mermaid style dress, or an A line dress with a high waist. Both will look fantastic.
What Shoes Go Best with Long Sleeve Lace Wedding Dresses
One of the great things about long sleeve lace wedding dresses is that there are a lot of different types of shoes that you can wear that with go well with your dress. Let's take a look at some options for shoes.
Nude Sandals. Nude sandals are a great option for basically any wedding dress. They are simple and unassuming, so they let your gown really take the spotlight.
Silver Sandals. If you are looking for something a little more modern and flashy, you might want to try out silver sandals. They'll add just the right amount of shine to your whole ensemble.
Ivory Shoes. Another classic option, ivory shoes will look amazing with your long sleeve lace wedding dress, especially with simple long sleeve wedding dresses. Match your shoes to the shade of your dress as closely as possible.
Long Sleeve Wedding Dresses for Autumn Inspiration for You
Looking for inspiration for your long sleeved lace wedding dress? Take a look here!
See-Through Floor Length Lace Wedding Dress with Half Sleeve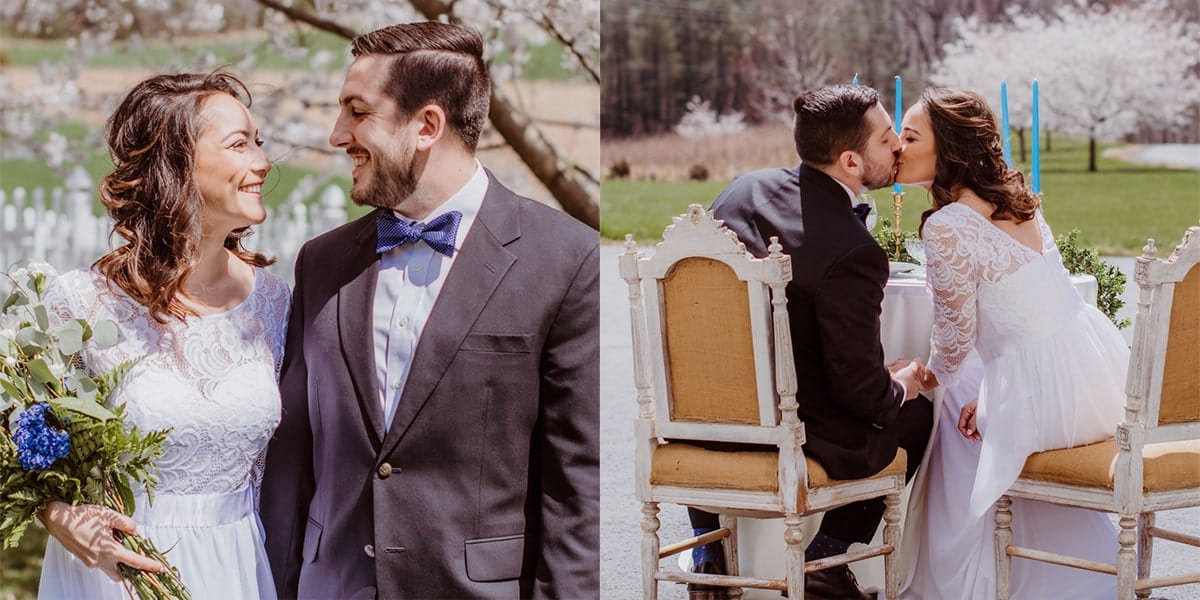 This simple dress is great for petite figures, because it is not so busy as to overwhelm you. The high neckline contributes to a longer, lean look, as well. This is a great option if you want sleeves, but not all of the way.
Women's A-Line Vintage Wedding Dresses with Long Lace Sleeves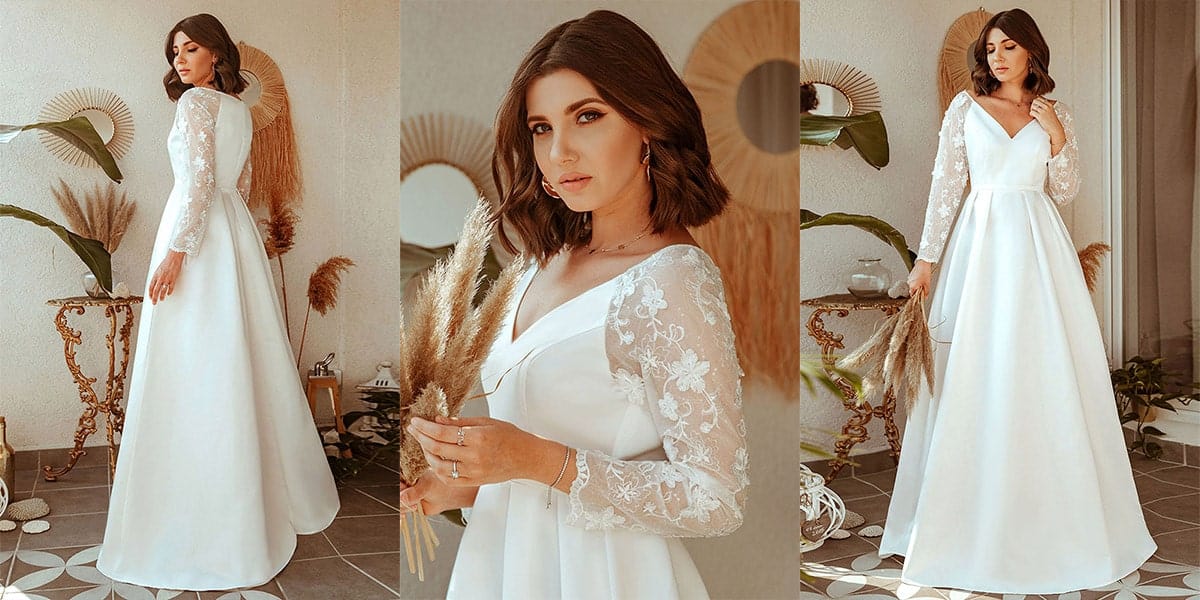 This gorgeous vintage inspired dress has a V neck and long lace sleeves. The V neck would look great on any body type, and it can lengthen the look of your torso so you might want to try it out if you have a shorter one. Try wearing it with ivory shoes; you're going to love the look!
Women's V-Neck Lace Plus Size Wedding Guest Dresses with 3/4 Sleeve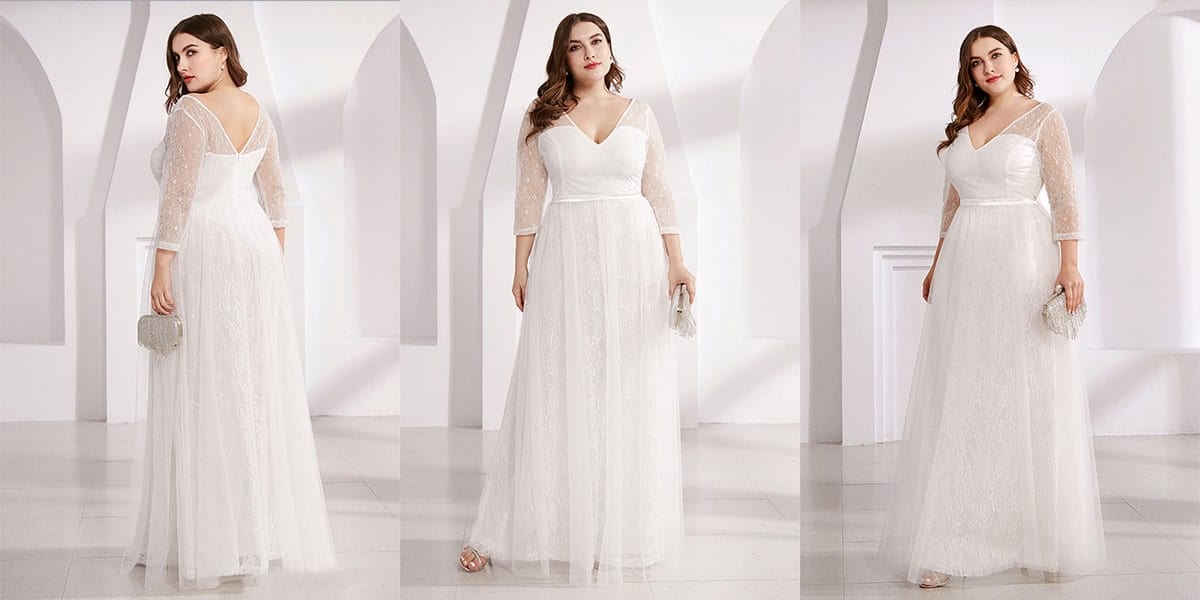 Another minimalist option like the first, this dress is specifically made for plus size and curvy women. You'll find that it naturally fits your figure, and the flowing chiffon fabric glides smoothly over your curves, making you look amazing.
Fashion Floral Lace Print Long Sleeve Wedding Dresses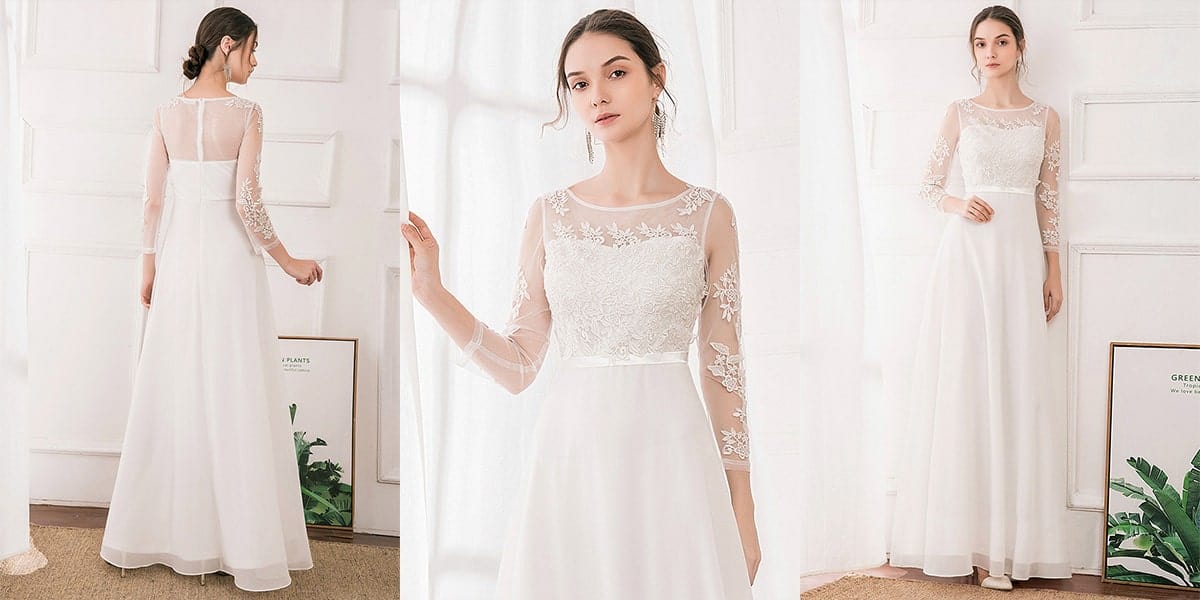 This dress is absolutely gorgeous. With lace sleeves and a chiffon skirt, you'll feel lighter than air. It is a style great for any body type. It's available in sizes 8-20.
Plus Size V Neck Long Wedding Gowns with Lace Sleeves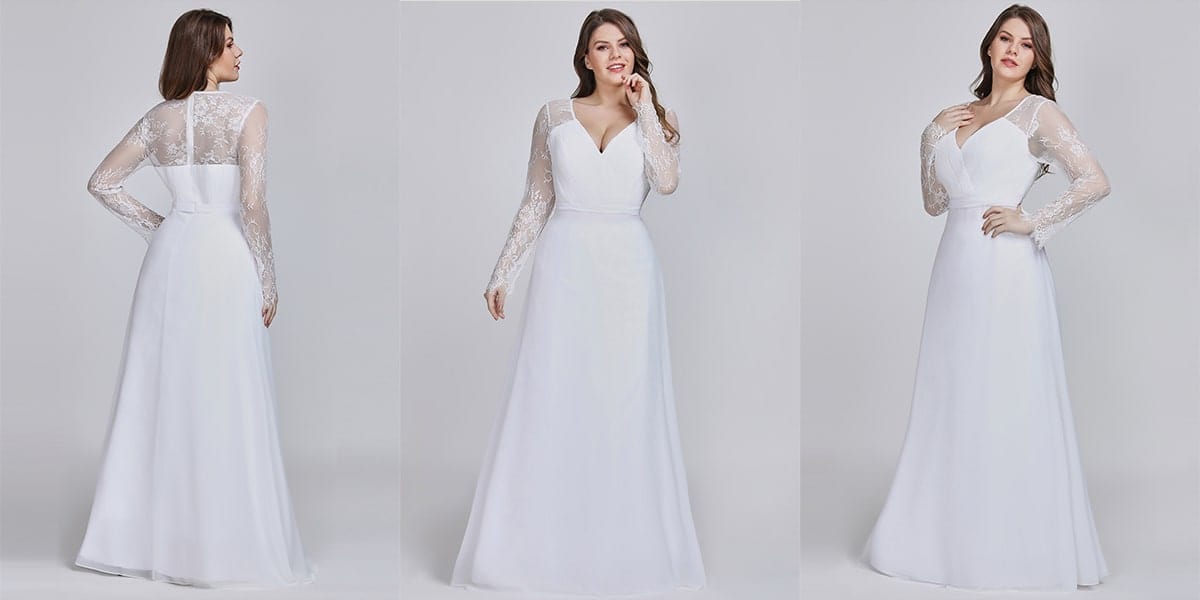 If you are looking for another plus-size option, this plus size wedding dress may be right up your alley. It has a stunning V neck , long lace sleeves, and a chiffon skirt. Pair with your choice of heels and you will both look and feel amazing as you walk down the aisle.
It's hard to go wrong with long sleeve lace wedding dresses. No matter what dress you choose to wear, the most important thing is to be confident. After all, the best dress for you is the dress that you feel best in!