Autumn weddings have become increasingly popular in recent years, which means that fall has almost overtaken summer as the "it" season for weddings. Autumn weddings are great for trading in the casual vibe of a summer beach or outdoor wedding for a formal, sophisticated, chic event.
Additionally, because of Covid-19, many people had to postpone their spring and summer weddings, and are opting for autumn celebrations instead. If you are one of these people, we have some great dresses that are perfect for the season. Are you looking for color inspiration for your wedding this autumn? Well, look no further. Here are our top three burgundy bridesmaids' dresses that are sure to impress this fall.
The Most Popular Color for Autumn Weddings: Burgundy
You might have noticed that burgundy is becoming a hot trend for weddings and other formal events. Burgundy is so popular as a color for autumn weddings this year that it is likely the top color for weddings in the fall. This rich tone complements practically everything. It looks great as the main color for your wedding theme, and looks especially stunning as the color of the bridesmaids' dresses.
Burgundy calls back to historical times when rich deep colors like the red-purple hues of burgundy were reserved only for the upper class folks who could afford the dye. Because of this, burgundy still calls to mind richness and wealth. It is a fully sophisticated color, perfect for the more formal air of an autumn wedding.
Why Burgundy is So Popular
So why is burgundy so popular? Well, there are a number of reasons, and no, it's not just because it burgundy hides red wine stains so well! Like we mentioned, burgundy is a fantastic color for autumn. It matches the gorgeous hues of the changing leaves, and the dark shade of the color is perfect for those crisp autumn days.  Beyond that, burgundy is a color that looks great on everyone. It complements nearly every skin tone: light, dark, or anywhere in between. This color dress can also be paired with many different accessories or hair styles for a variety of different looks.
This rich color also pairs very well with the other colors of fall, like yellows and golds, or other red hues. It would look excellent paired with a deep purple, as well. It is also a color that looks great in a whole host of different dress styles. Looking for some ideas? See below for our favorite burgundy bridesmaids' dress picks!
Top Three Burgundy Bridesmaids' Dresses
Check out these three amazing burgundy bridesmaids' dresses that are just perfect for an autumn wedding.
Off the Shoulder Burgundy Bridesmaid Dress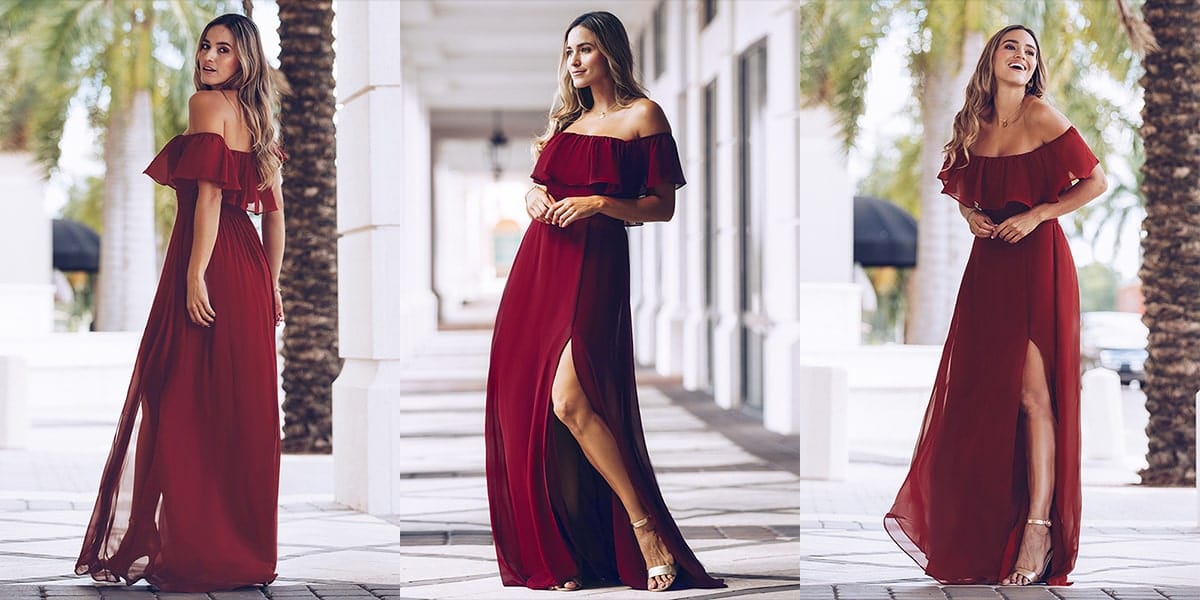 Take a look at this ruffle off the shoulder thigh split burgundy bridesmaid dress. It has a flowy, off the shoulder neckline and a full length skirt. It is lined chiffon fabric throughout the dress. The dramatic slit up the side of this dress also lets you show off whatever beautiful shoes you have matched up with it. For the best effect, this would look fabulous with striking stilettos or glittery heels. As a bonus, it comes in sizes 8 through 26, so you are sure to find the perfect fit for all of your bridesmaids.
Floor Length Lace Burgundy Bridesmaid Dress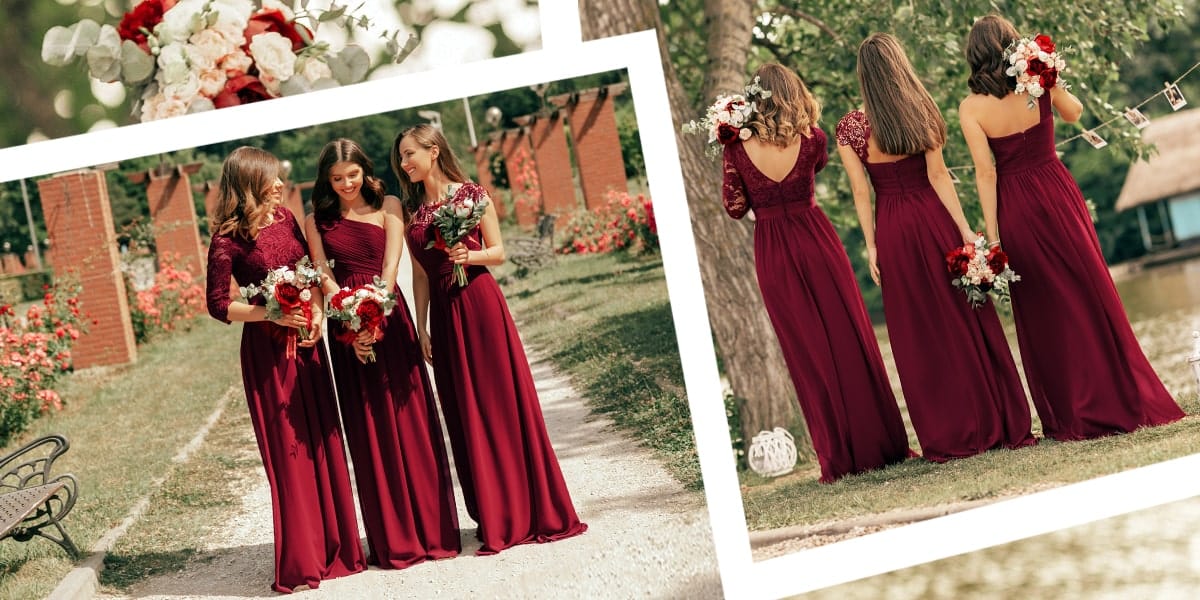 For another option, check out this see through floor length lace evening dress with three quarter sleeves. The sleeves are perfect if your wedding will be outside because they will ensure that your bridesmaids won't get too chilly during the ceremony or the reception. With a lace bodice and a lined chiffon skirt, this dress is elegant and sophisticated. The back is a deep V that would look amazing with a fancy hair updo. Again, in a wide range of sizes (8 through 28) everyone in your bridal party will have the right size.
V Neck Tulle Burgundy Bridesmaid Dress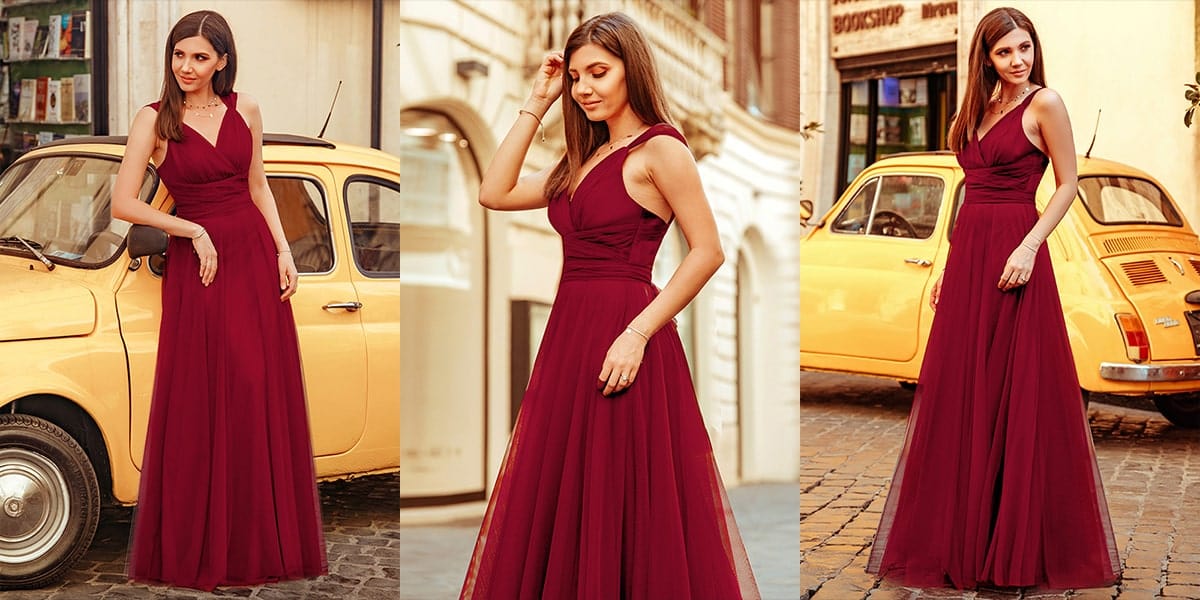 Lastly, we have this stunning floor length double V neck tulle bridesmaid dress. It has a full, flowing skirt that looks like it came straight out of a fairy tale. Perfect for a formal wedding, this dramatic dress will look fantastic on anyone. This dress comes in sizes 6 through 30, which is an even greater range than the previous two dresses, so be sure to check this one out if you need sizes that are on the smaller or larger ends of the spectrum.
Looking for More Inspiration?
Are you looking for even more burgundy dress options or wedding inspiration? Well, we have so many options to choose from! At Ever Pretty, we specialize in formal dresses of all kinds in a wide range of sizes so you are sure to find something that is perfect for your wedding. What's more is that our products are always of the highest quality at prices that are practically impossible to beat. Check out more of our dresses right here!