The silhouette of a wedding dress helps create the style of your bridal look, especially if you are a bride with a petite frame. It is important for shorter brides to choose dresses that elongate their body shape.
Tips on Finding the Perfect Wedding Dress That Makes You Look Taller

Shorter brides who feel discouraged that they are not going to find the right dress; listen up, we are here to help you find the dress of your dreams. Simply follow the tips below to achieve the ultimate look:
A wedding gown with an empire waist can help elongate and subtly add a few inches to your height.
Wedding gowns with a slight flare or flow at the skirt can be flattering.
Try and pick dresses with a low neckline as it creates the illusion of a longer neck which adds length to your overall look.
Vertical designs in either pleats or prints is another way that you can achieve the required elongation.
Now that we are aware of the elements that can be used to finding the right wedding dress, let's take a look at a few styles that are bound to perfectly fit shorter brides.
Ideal Wedding Dress Styles for a Shorter Bridal

Mermaid Dresses
To achieve an elongation in your waistline, a mermaid or a trumpet dress should be your go-to silhouette. The fit and flare design is ideal as the flare at the lower part of your dress will help in balancing out your petite frame. Go strapless on this one for further elongation and accessorize it with dainty pieces.
Sheath Dresses
As the name suggests, a sheath or a column dress is perfect for a petite bride as it is figure-hugging and accentuates your curves. Select one with a defined waistline that sits slightly above your waist so that your legs look longer. Since the seams on this dress run vertically from the shoulders to the hips, it creates a minimalistic appearance.
A-Line Wedding Gowns
An A-line gown is universally flattering and is the best option to turn to when you are in doubt. The upper part of an A-line dress is fitted while the skirt is slightly voluminous right till the ankle but not overwhelming like a ball gown. The A-line gown will flatter your waist perfectly and emphasize your assets instantly.
Cocktail Dresses
You could even go in for a not so traditional look for your wedding ceremony. Short bridal dresses look gorgeous on petite brides. The reason being, you get a chance to show off your bare legs, which ultimately makes you look taller. A short dress is flirty and fun, especially apt for an outdoor ceremony.
Looking for a Wedding Dress for Short Brides? Our Top 5 Picks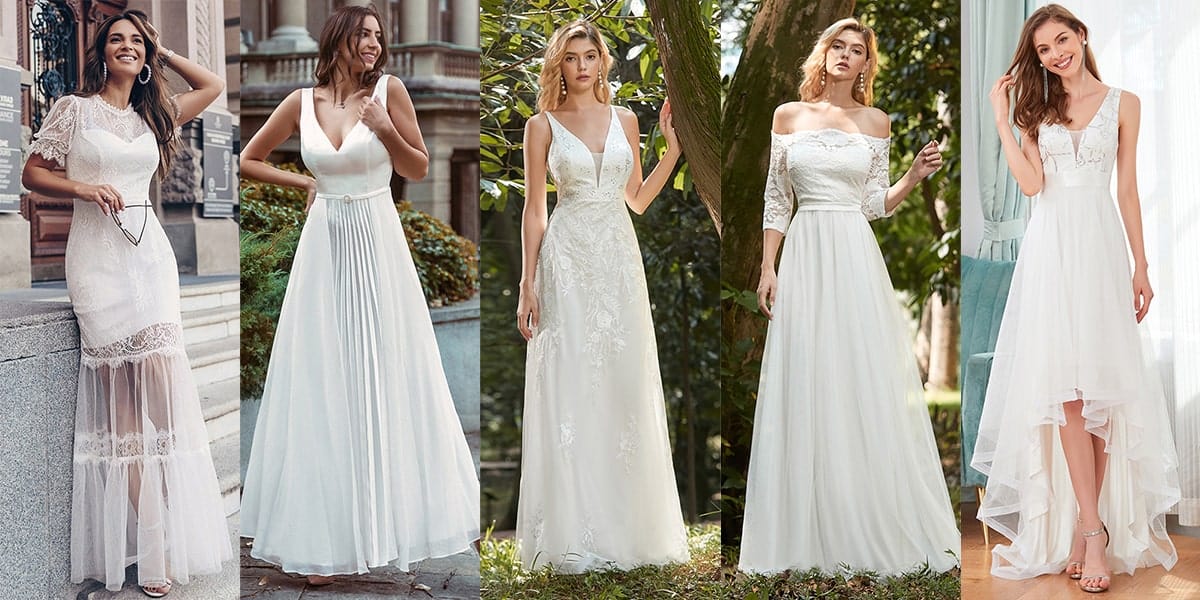 A slender and a fitting silhouette is what we have to target. Here are our top five picks for you to look enchantingly gorgeous on your special day.
Look Dainty in a Delicate Lace Dress with Short Sleeves

The see-through lace design of the dress is unique and is bound to make heads turn. The inner lining is so designed that the lace skirt shows off your sexy legs, therefore giving you an elongated appeal. The high neck combined with the puff sleeves imparts an elegant charm to the dress.
Plunging Neckline and Vertical Pleats for that Oomph and Grace

Vertical pleats add the illusion of length on a short figure. Combine it with a plunging neckline, and you have a dress that is designed, keeping in mind a fun and flirty bride. The elusive belt on the waist transforms the look of the dress by giving it a well defines the waistline.
Floral A-Line Tulle Dress with a Mesmerizing Lace Bodice

An A-line tulle dress is the perfect selection a short bride could make on her special day. Add to it a deep V neckline, and there you have it, an enthralling dress which will make you look super glam. The intricate floral artwork on the skirt and the floral case on the top part of the dress gives it a charismatic look.
Captivating Tulle Dress in a Floral Lacy Off-Shoulder Detailing

The see-through lace on the sleeves and the back imparts a touch of style mixed with elegance. The off-shoulder detailing and the A-line tulle make it a dress so alluring that any bride would be delighted to get into. The off-shoulder design makes it a perfect dress for short brides.
Asymmetrical Sequin Tulle Dress with a Hypnotizing Charm

The high-low hemline of the dress makes it an ideal dress for short brides as it gives them an opportunity to show off their bare legs. The partially visible legs provide an illusion of the bride being a few inches taller. The deep V neckline and a sequin bodice lend a glamourous touch to the dress.
With numerous designs available online, you can pick wedding dresses to suit shorter brides by surfing through the most sought-after brand Ever-Pretty.com and be spoilt for choice.