Finding the right cocktail attire may be harder than you think. There is no set rule when it comes to cocktail party attires. However, there are a few things one should keep in mind when planning out the perfect outfit to wear to a cocktail party this holiday season.
It's Cocktail Party Time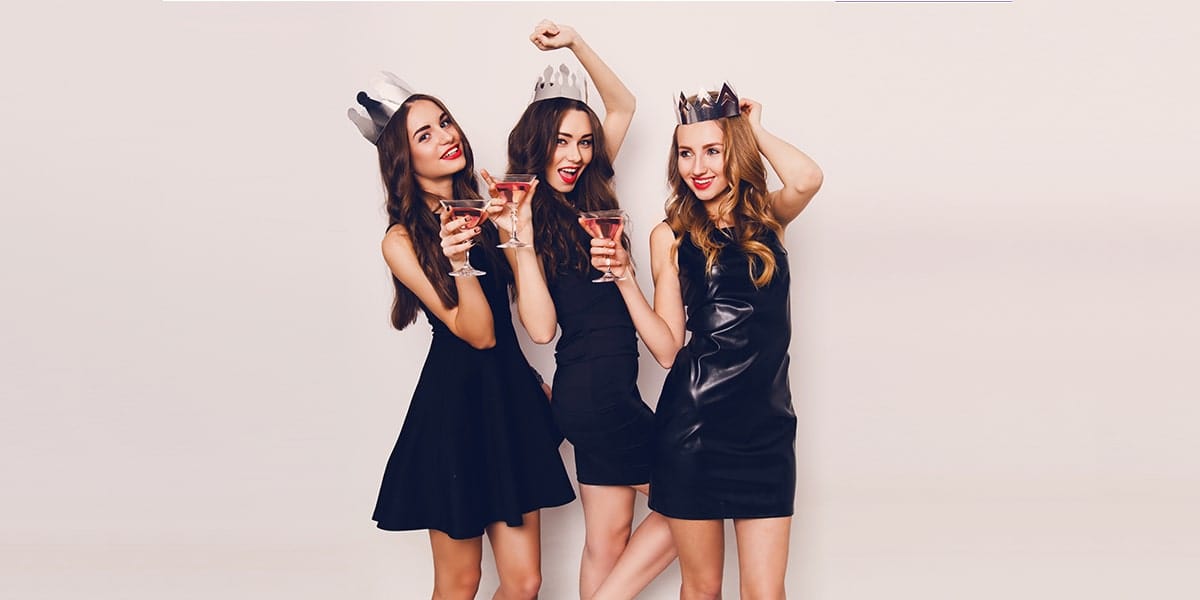 When most people see or hear the word "cocktail attire" on an invitation, they will automatically think of a dress by default. In most cases cocktail attire calls for an above the knee dress and high heels. This may make the high low coctail dress the best attire option for you! Now that it is almost time for the holiday season, it is also time to find the best  high low cocktail dress. The holiday seasons are filled with gatherings of both family and friends, it is also the perfect chance to up ones outfit game in celebration of many memorable events. To decode the holiday season dress code may be easier than you thought. One can accomplish this by planning ahead and purchasing the right attires for the numerous events lined up. Whether it is an office party, family gather, etc. it is important to find the cocktail dress that fits the theme of the event.
A high low cocktail dress is a dress that shows off the legs without revealing the back thigh creating a little mystery. These dresses have become quite popular recently. Finding the right high low cocktail dress is not hard, but you gotta choose one right for your shape. Sometimes people may get confused because not all high low dresses are the same. The dresses actually come in different lengths, styles, trimmings, etc. to fit one's body shape. Many women tend to prefer these dresses for both informal and formal events for its fancy yet simplistic styles.
Styling a high low dress is quite easy, which makes them a popular wear for events. The dress can be paired with pretty much anything and everything:
Pair of high heels – During a special event, heels is must when it comes to cocktail dresses to give off an illusion of beautiful long legs; strap heels are a good option. If you do not like heels, sandals or wedges are also a good option!
Complement with accessories – An elaborate high low dress will pair perfectly with any simple accessory such as stud earrings or a mini handbag.
When it comes to wearing cocktail dress, you must find a suitable high low dress that matches your unique style and taste.
Our Top 6 Flattering High Low Cocktail Dresses You'll Love
Finding the most flattering  high low  dress should be easy, here are our top 6 high low cocktail dresses for you:
Gorgeous Tulle and Sequin Round Neckline A-line Cocktail Dress
Tulle dress is an ideal choice when it comes to elegant and flattering materials. This dress is a perfectly gorgeous evening dress that features a round neck and is sleeveless. It is soft and nice on the touch, and most importantly it is flattering to one's skin, meaning it will make you feel and look pleasant. This soft pink tulle features a see-through fabric and has an A-line silhouette with an irregular hemline. It is a perfect choice for evening parties and cocktails.
Women's Sexy High-Low Sequin & Velvet Evening Cocktail Dress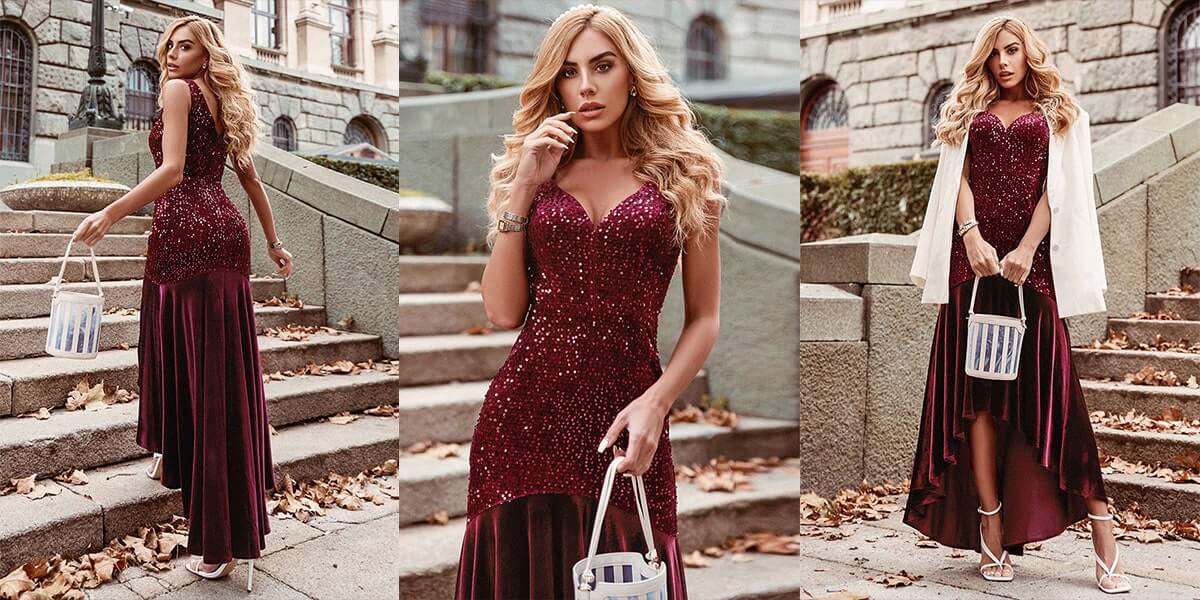 This is a deep V-shaped and sleeveless dress that is flattering a very sexy. It lets show off your shoulder during that elegant cocktail event and still manages to look appropriate. The sequins on the dress give it a perfect and flattering look making it ideal for your apple-shaped body. Apart from cocktail events, this dress is also perfect for evening parties, weddings, and proms.
 Elegant Floor Length One-shoulder Chiffon Cocktail Dress for Women
This one-shoulder bridesmaid dress is another ideal option when it comes to flattering dresses for apple shape bodies. It comes with pleated decorations at the bust areas and its high low design makes it perfect for both formal and informal events.
Sexy Backless Sparkly Cocktail Dresses for Women with Irregular Hem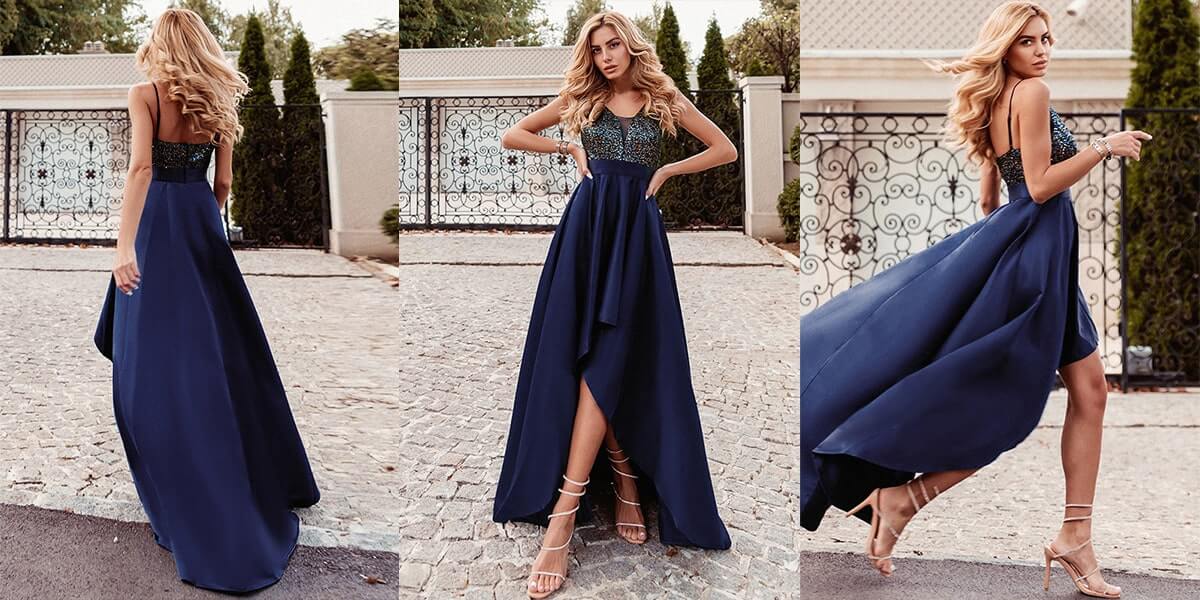 If you haven't found your cocktail dress yet, this gorgeous V neckline and the backless dress is perfect if looking for an alluring look. It is a perfect dress when looking for a cocktail dress to show off your elegant body without showing much.
Fashion High-Low Deep V Neck Tulle Cocktail Dress with Sequin Appliques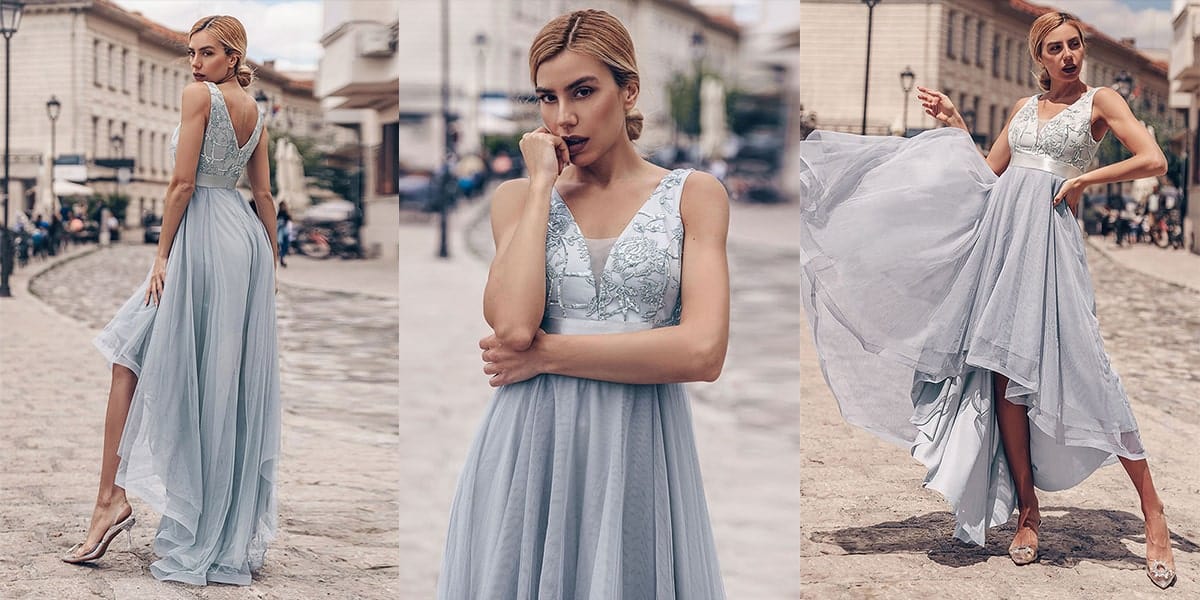 This is another great flattering dress option that features a deep V-neckline and sequin lace bust. It elegant and polished, making it perfect for special occasions, such as cocktail party, wedding, graduation, or any other formal event.
Women's V-Neck Asymmetric High Low Cocktail Party Dresses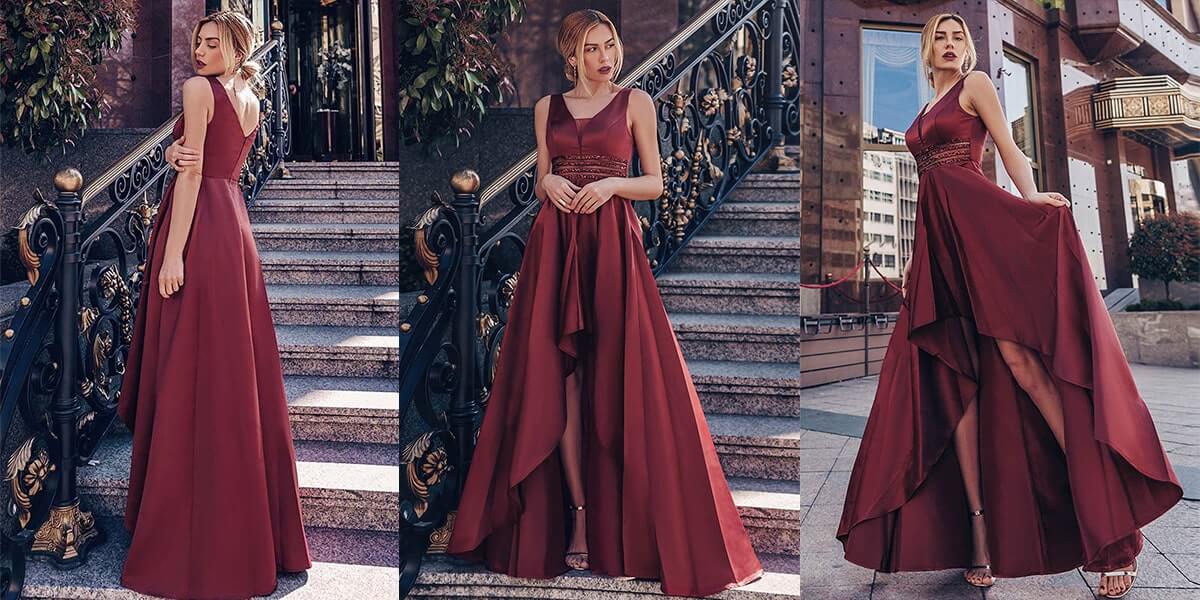 Looking for an elegant and flattering cocktail dress? Then this high low V-neck asymmetric dress is just perfect. This cocktail dress is both alluring and fashionable and designed to be quite comfortable as you stay active while at your occasion.