There is no disputing that 'Squid Game' is easily Netflix's most popular show ever with a record of one hundred and eleven million households tuning in to view the dystopian Korean drama. However, if you're asking us why we're reporting on a television show that may not be as well known for its outfits as other shows out there, the answer is simple: all the bright colors used within the deadly game captivate the eye and mind. So if you're interested in being just as captivating as Netflix's most popular show ever, keep scrolling because we plan to help you update your sequin game for this fall and winter 2021.
1. Now, what is 'Squid Game'?
If you've yet to hear of the show, then here is the briefest rundown I can think of for you!
'Squid Game' is a show based around earning money by playing a combination of children's games that are similar to both 'red light green light' and 'tug of war'. However, the similarities to the childish games end there because when you lose the game, you are not only taken out of the game but killed. Now before you scroll down to the comments with questions as to why anyone would play this- an answer that doesn't revolve around the laid-back costumes and multi-layered color choices we'll get into later- but rather that six of the final contestants will receive a cool forty-five point six billion dollars- something that all the contestants suffering from crippling debt all hope to win.
Phew! Now that we've gotten you caught up on what 'Squid Game' is all about we can move into what we all are really here for fashion.
2. How 'Squid Game' costumes entered both Halloween and the fashion sphere
'Squid Game' premiered on Netflix on September seventeenth of this year, a little more than a month away from Halloween, and became a runaway hit with a growing fanbase. For this reason, many consumers went out on the hunt for either the green tracksuits that the players wore or other 'Squid Game' costume options such as the guards, the 'red light green light doll', or even the overseer. With this demand, suppliers came in with plenty of 'Squid Game' costumes to fulfill the need and thus the popularity of the costume was born.
The next step was to have the show make its foray into fashion.
Thankfully, many people in the fashion industry were already tuned in to watch the show when it dropped because HoYeon Jung, a Korean model who has walked in runway shows for Louis Vuitton and Chanel, was acting in it. However, after it was pulled into Halloween, many fashion influencers and bloggers began to scramble to create tips to DIY the costumes or create looks influenced by 'Squid Game'. If you inhabit any fashion Instagram or TikTok area- I'd bet good money that you most likely saw one of the DIY ideas.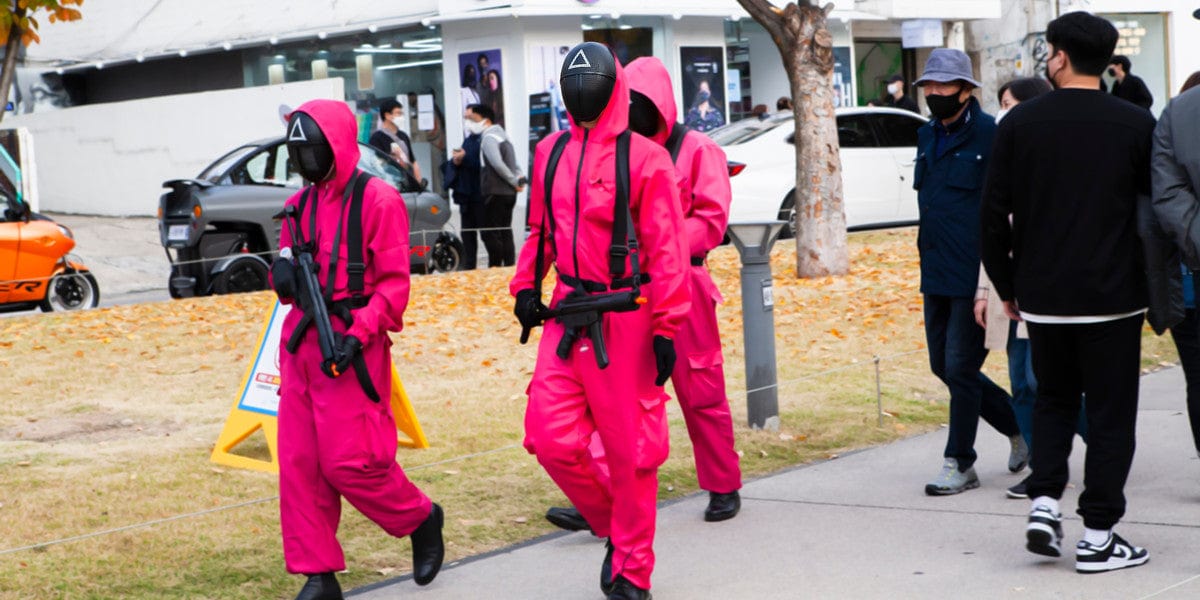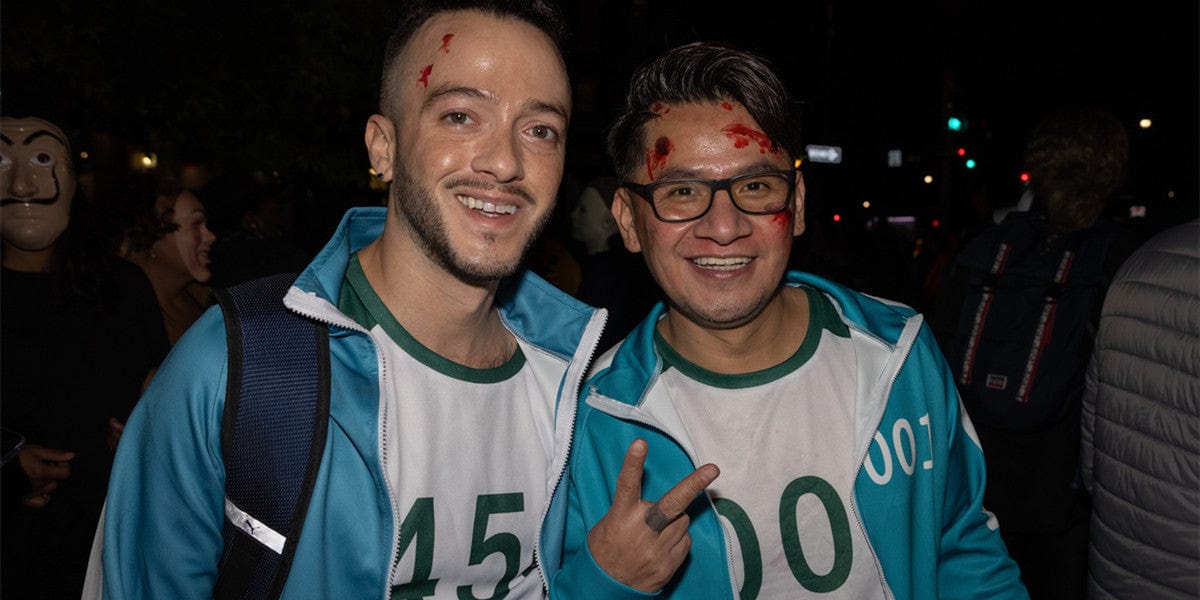 3 squid games costumes and their meaning
1. The guards
The 'Squid Game' guard costumes were inspired by factory workers that Hwang Dong-hyuk, the director, saw when looking into ways to develop the look of the guards with his costume director. The most notable feature of the jumpsuit is the pinky-red shade of the material. This bright color plays up the emotions of the viewer because it seems almost childlike in appearance until you process their hidden faces and guns. Along with this, the black accessories of zippers and belts go further in accentuating the inherent evil that lurks behind the seemingly innocent pinky-red shade.
2. The Players
Similar to the inspiration of the factory workers with the guards' costumes, Dong-hyuk drew from the tracksuit he had to wear during gym in elementary school. The color of the player's costume is also used to lure the viewer into a false sense of calm. The jumpsuit is a teal shade, something that represents both peace and rebirth. However, for anyone that now knows the premise of Squid Game (or even just read the description up above), rebirth from the teal jumpsuit is unlikely unless you are one of the remaining six.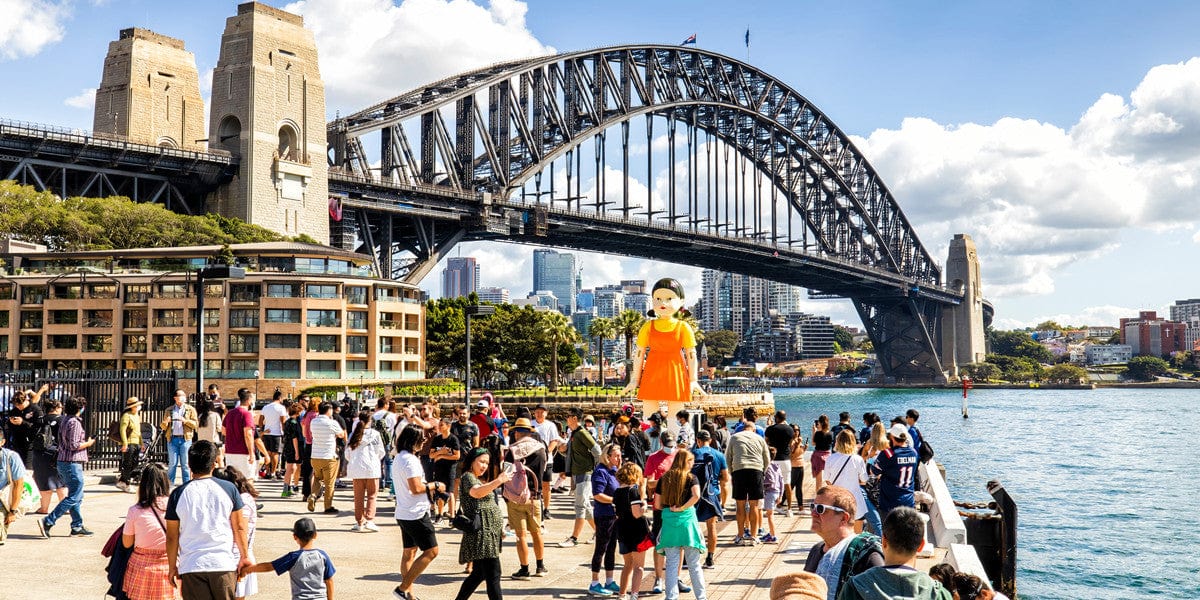 3. Giant 'Red Light, Green Light' doll
The bright-colored outfit for the 'red light, green light doll', doesn't require knowledge about colors and their meanings. One look at the doll with its pigtails, peter-pan collared shirt, and knee-length dress and you are instantly taken back to elementary school days and the clothes that your mother dressed you in before your lunch box was handed to you and you were kissed on the head. The irony of this style is palpable; the doll is the one that watches the players to see if they move and those that do are shot dead on the spot- let's hope this wasn't an activity that any elementary schoolers engaged in.
6 brightly colored dresses for you!
While chiffon is often considered the fabric of spring and summer party dresses, velvet is most certainly the fabric of the fall and winter evening dress. Therefore, this sexy velvet dress is perfect for any winter parties that you might attend. Available in brick red, burgundy and navy blue the dress is both a v-neck and has a low back to show off your curves and skin. So while the colors might all be a bit more mute, it's simply so that you can do all the talking.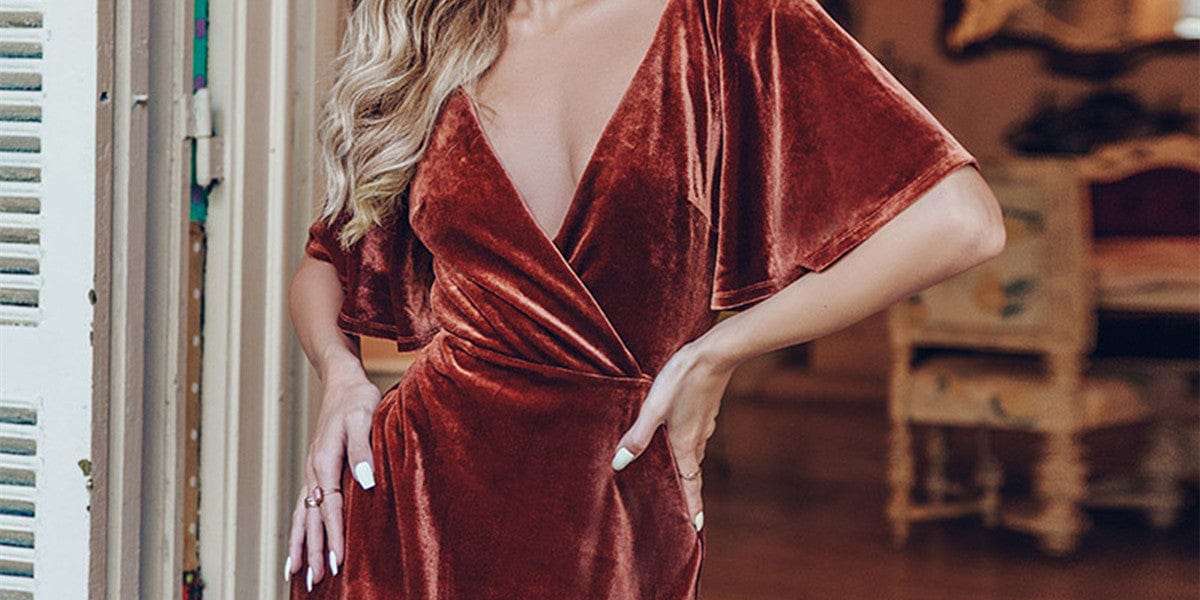 This women's cocktail dress is sure to lead everyone's eyes to you from the brightly colored purple sequins to the plunging neckline and thigh-high slit. Still interested after that description? Of course you are! And in my humble opinion it seems like the type of dress that the winner of Squid Game would wear to a party to celebrate their new found life and wealth. Make sure to sip some champagne in this dress while waiting under the mistletoe!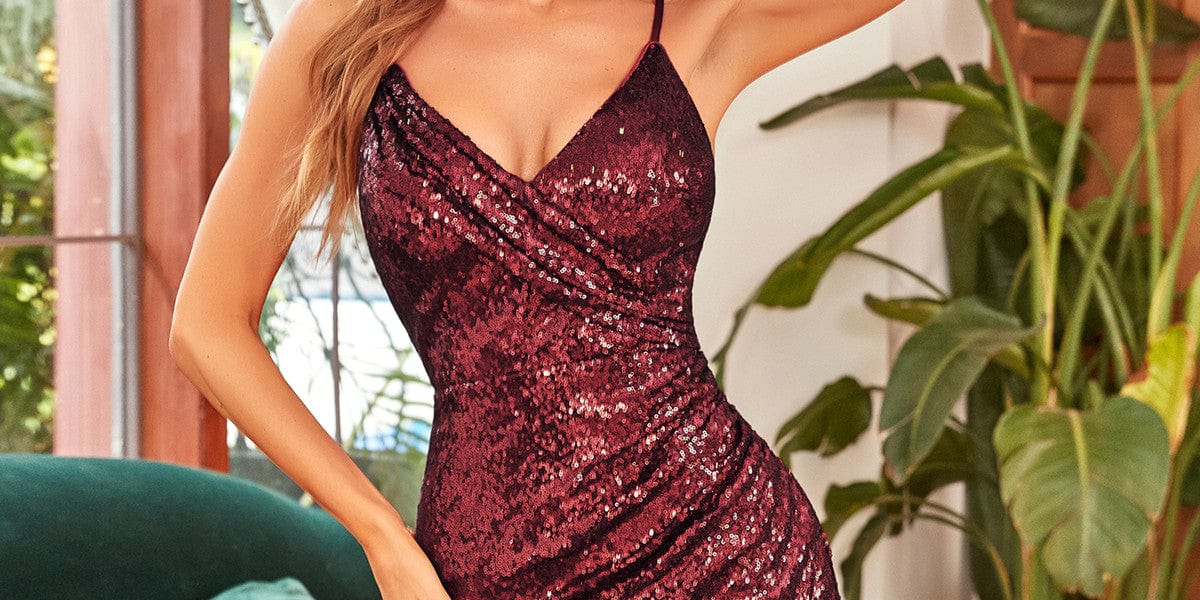 Waltzing in this dress would be a dream, frankly- doing anything in this dress would be a dream. The green satin of the skirt might be reminiscent of the Squid Game player's jumpsuits but the similarity between the track suit and this women's evening dress ends there. This dress isn't a generic, factory made style that's mindlessly thrown out to people. And zebra printed sequins wouldn't occur in a Squid Game costume nor would the thigh-high slit that might only come as punishment from one of the games.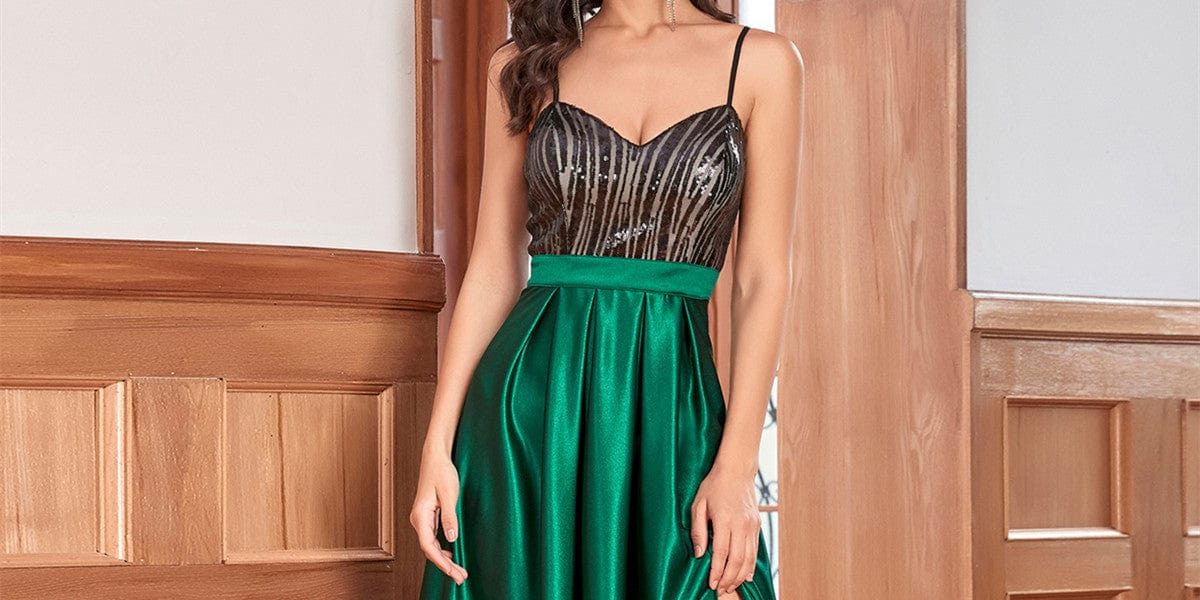 As far as color palettes go, this dress will have you covered since it comes in seven different shades. Each of them in a flowing tulle with an intricate bodice. The sequin embroidered bodice, though, is what immediately catches my eye. Woven sequins in the color of the dress you select will let the light reflect into patterns of peaceful vines.  When it comes to these calming designs in a Squid Game inspired article, I'm sure that you can see the irony, since peace isn't something you'll find in either the show or this sultry dress- so just be prepared to be the talk of the party.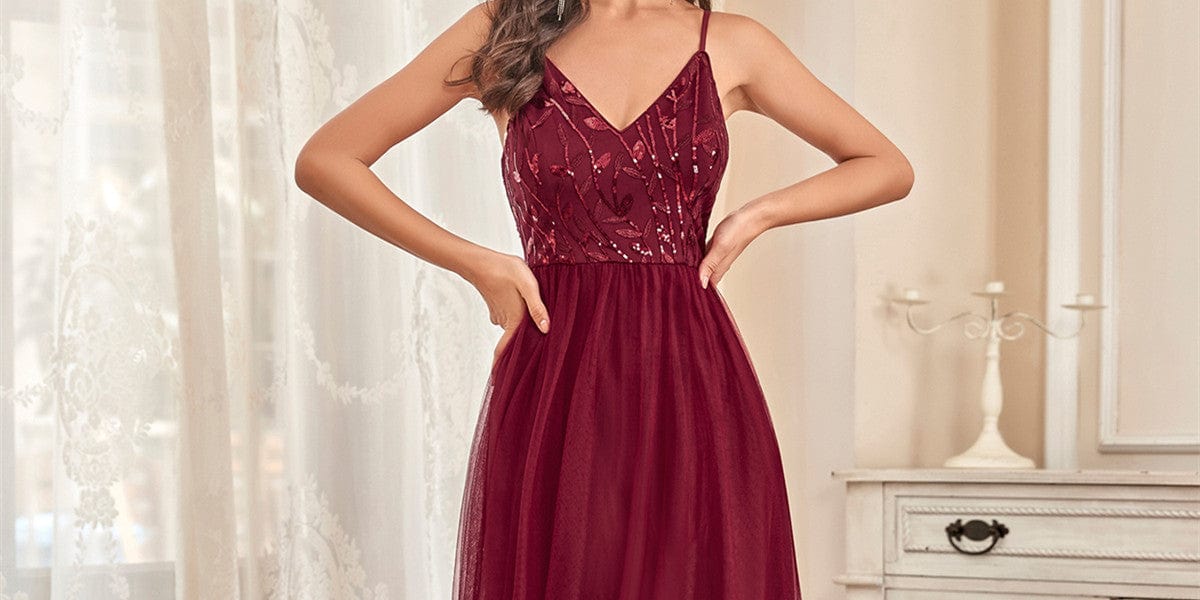 Available in three different sequined shades (burgundy, rose gold and a deep forest green) this sexy V-neck party dress is sure to capture everyone's attention. And that's what we want- isn't it? To be able to show off our jaw dropping curves in a sultry, shimmering evening gown for the holidays. So hit the link above and purchase this dress today...just don't plan on wearing it to the company holiday party.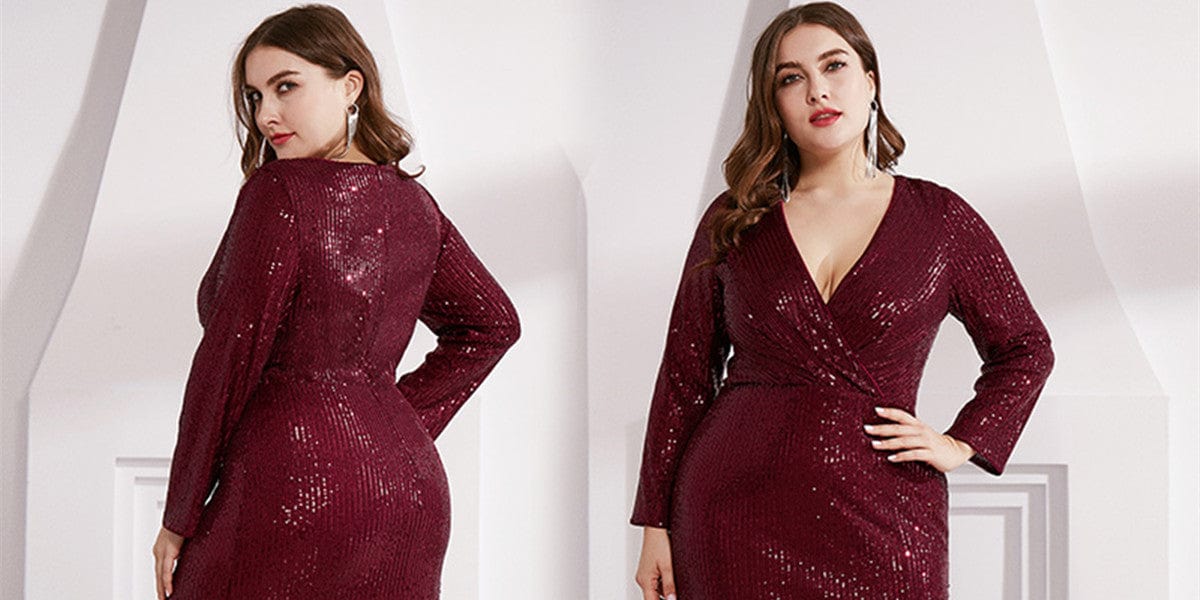 6.Vintage Strapless Ruched Bow Floor Length Evening Dress
Imagine entering your next black tie event in a fluttering deep purple chiffon dress and having everyone turn to stare at you. Well, with this party dress we can turn your dream into a reality. The slit up the thigh will show off your beautiful legs and(ok, that and the fact that Korean model HoYeon Jung who has walked for both Chanel and Louis Vuitton is acting in the show the ruched top and velvet bow on the waist will accentuate your figure. So what are you waiting for? I think this vintage party dress is calling your name!