Everyone has their own unique style and style preferences, so sometimes it can be hard to find exactly the style of dress that you are looking for. This can be even truer for plus size women, especially when looking for plus size fancy dresses for special occasions such as weddings. The good news, though, is that there are actually tons of styles out there that are both beautiful and flattering for every figure.
How to Choose the Best Plus Size Dress Styles for Full Figured Women
While I fully believe that finding the right dress comes down to personal preference, we can all use a few pointers along the way. Since everyone's body is different, though, we can all face unique challenges when it comes to finding clothing that we love how it both looks and fits.
Find the Right Place to Shop
One of the challenges for plus size women is that some dresses don't come in the right size, so options can be limited. And, some "plus size" dresses are not really anything more than larger sizes of every other dress, which, while convenient for many, it doesn't always mean that the dress has been tailored specifically to fit plus-size women's bodies. This can leave you with sleeves and hems that are too long, or skirts that are too wide in all the wrong places. And it's much harder to find a flattering look if a dress isn't really sized properly for you!
That's why the number one tip for finding the right plus size evening dresses is to find a retailer that is an expert in plus size fashion. They will have a range of dresses in all styles and fits, ensuring that you will find just the one you are looking for.
Best Dress Styles for Full Figured Women
Let's be honest- the best dress style for you is the dress that makes you feel your best! That could be anything- from short to long, with sleeves or without, the possibilities are endless. When looking for styles with a little more coverage, it's a great chance to opt for something with short sleeves. They add a delicate touch to the dress but also keep you from being too exposed. On the other end, if you are looking for something dramatic, try out a plus size sequined dress. You'll be sure to get heads turning with something flashy that shows off your figure.
Our Favorite Plus Size Dresses for Women
Whether you are going to attend a wedding or having an evening event, you definitely want to wear a dress that has you looking and feeling your best. There are so many dress options out there, but if you are looking for inspiration, look no further! Here are our five favorite plus size evening dresses for you.
1. Plus Size Tulle Evening Dress with Ruffle Sleeve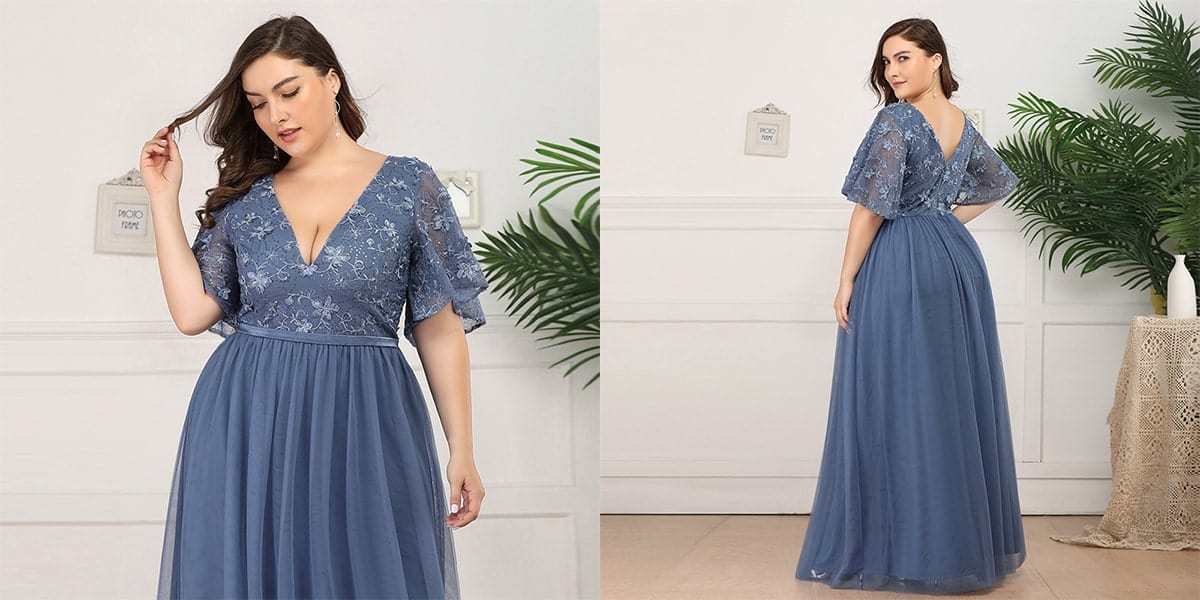 This gorgeous plus size dress in Dusty Navy is a great choice. With a double deep V neckline, ruffled sleeves, and a flowing tulle skirt, you'll feel like the belle of the ball. For a little extra flair, try pairing it with a pendant necklace that shows off the neckline of the dress. Of course, you can wear this dress as a bridesmaid dress if you want.
2. Fishtail Plus Size Evening Dresses with Lace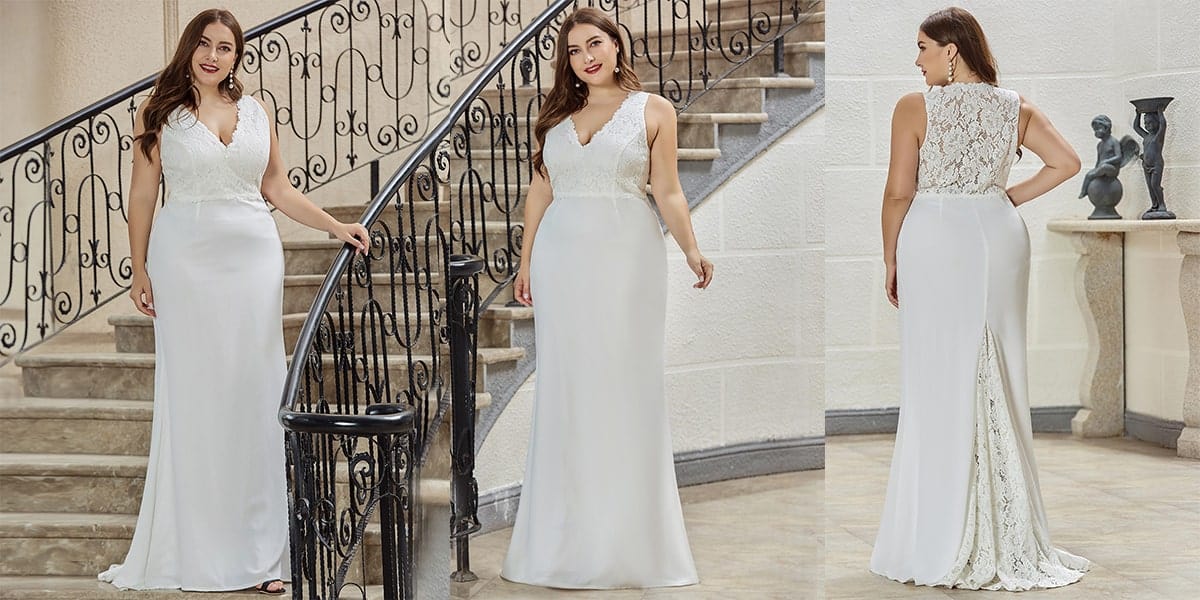 Are you the one getting married? Well look no further. This number is not only a fantastic deal, it is super flattering. In a classic white, it has a lacy bodice, sheer lace back design, and an absolutely gorgeous long lacy train that matches the back of the bodice. You will look totally beautiful as you walk down the aisler.
3. Plus Size Tulle Evening Dresses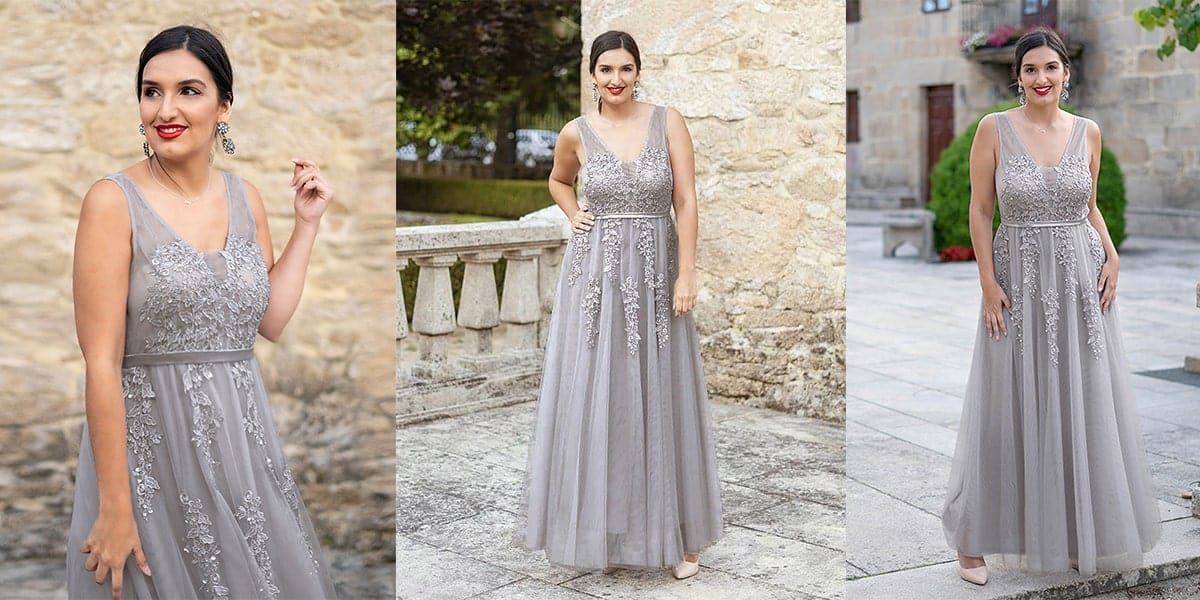 This tulle plus sized evening gown in grey has beautiful and intricate lace detailing and a V neck. It has just the right amount of coverage to not be too revealing, without being at all stuffy. The flowing skirt looks stunning on every figure.
4. Plus Size Evening Gowns for Women with Long Sleeve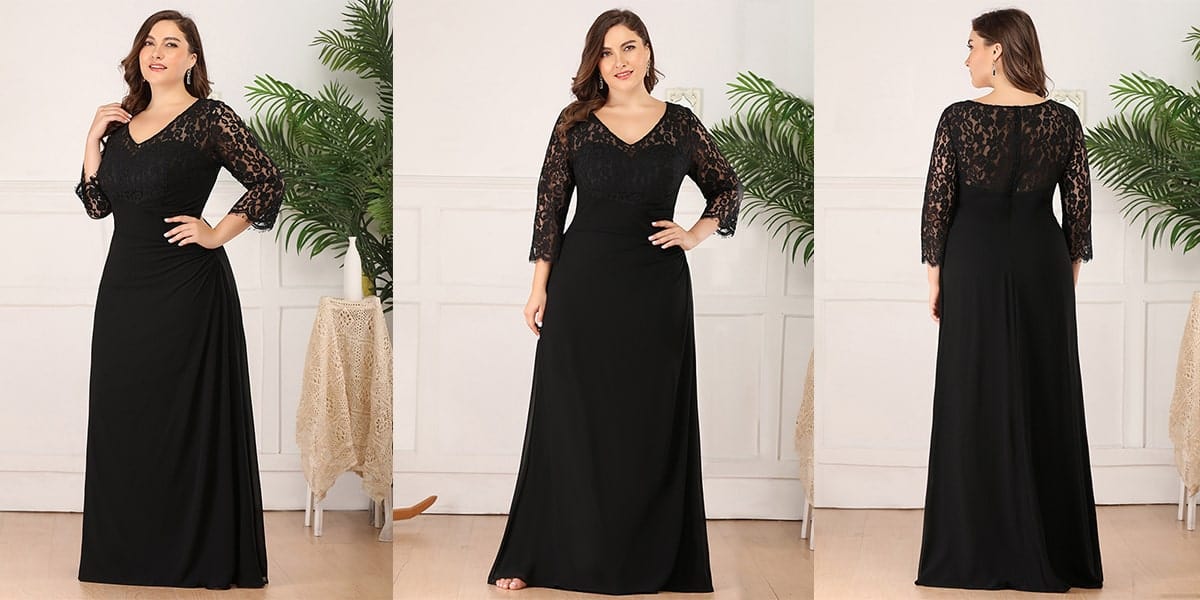 This stunning black evening dress for plus size women has a lacy bodice and three quarter length lace sleeves. This is perfect for an evening or black tie wedding, and is super flattering. The little stretch that it has will keep you comfortable all night long, from the ceremony to the last dance. You can even dress this one down, if you want, by wearing it with a more casual jacket.
5. Chiffon Plus Size Evening Dress with Short Sleeve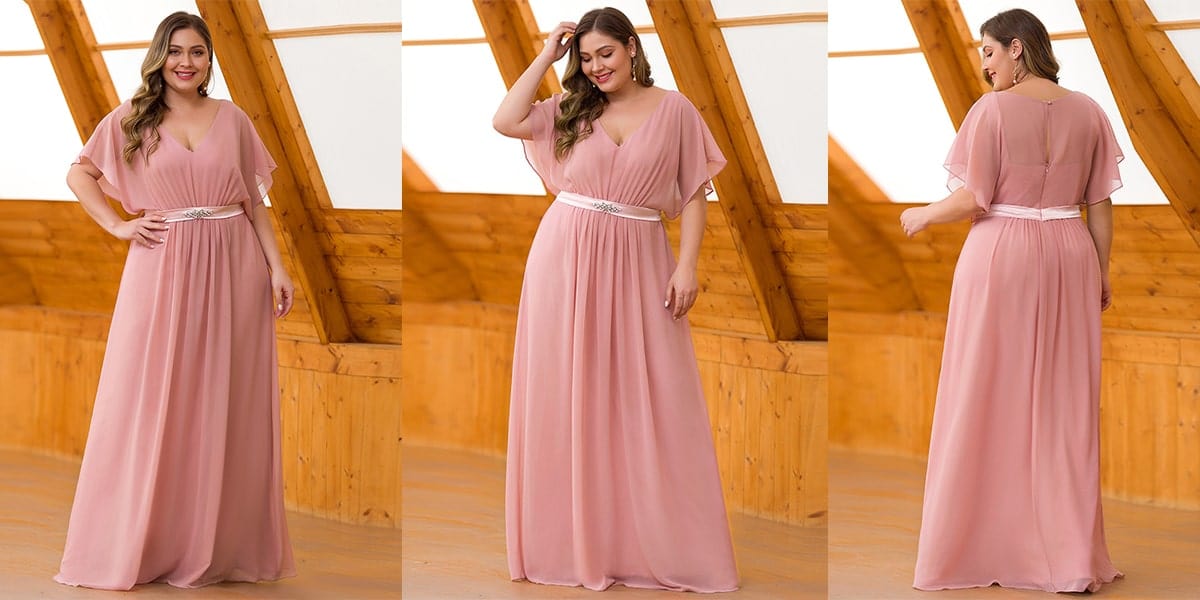 This chiffon plus size gown comes in both mauve and burgundy, so you can choose your favorite. With a V neck and fluttery short sleeves, you're sure to feel floaty and beautiful in this dress, and it has a subtle belt decoration to accentuate the waist.
What do you think? If you have tips for plus sized women on how to look and feel your best in a beautiful fancy dress, leave them below!