Bridesmaid dresses are an important part of the wedding.  They are supposed to be a key part of making everything run smoothly. Bridesmaid dresses are supposed to be beautiful enough to make the wedding magical but understated enough to let the bride shine. Sometimes, it blends with the overall theme and decor of the wedding, sometimes it stands out.
It all depends on the color. There are popular colors that are generally used for bridesmaid dresses. Colors like purple, blue, pink, and so on are examples of colors that many bridesmaid dresses are made in. But there is one color which is not as popular, but it is incredible and amazing as a bridesmaid dress: sage green.
2021 Trend Color: Sage Green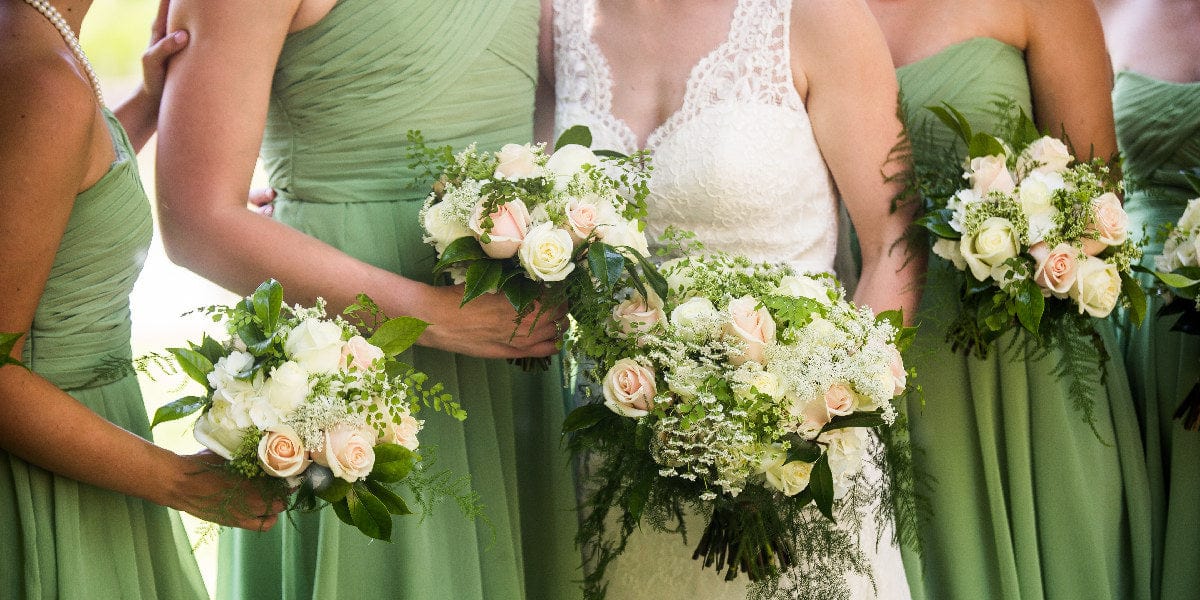 Sage green is not one of the more popular bridesmaid colors. It's rare to hear of a sage green wedding. It is not one of the colors that instantly come to mind when discussing wedding dresses. But the whole point of fashion is that people keep trying new things and breaking the molds that exist. That is why sage green bridesmaid dresses and sage green weddings are now so popular.
Sage green is an earthy grayish-green color, exactly like the culinary herb which it is named after. Sage green primarily represents wisdom, intelligence, and experience. But because it is also green, it has the symbolism and representation of normal green too, such as harmony, nature, and freshness.
Sage green is a lighter, more muted shade of green, so it creates a calming and relaxed effect. It is a very versatile color, as it works well with bright, vivid colors like purple and gold to emphasize their bold quality, but it also blends well with muted colors such as rose quartz, pale yellow, and light grey, to create soft, contemporary palettes. Also, this color works well all year long and in all seasons, and exudes a sense of gentle, understated sophistication. It is an especially beautiful choice for elegant events, whether indoors or outdoors. Sage green not only looks good on everyone, but also makes choosing wedding decor a breeze because it is not a bright, bold color. Sage green goes well with literally any accent colors you want and contributes to an overall timeless event.
5 Popular Sage Green Dresses for Wedding 2021
Weddings are expensive. Everyone knows that. It's the truth. From the cake to music to food for guests and so on, it can be a lot. Most brides really do not need the dresses to make things even more expensive. Therefore, we are featuring sage green bridesmaid dresses that are great and really beautiful, yet affordable. Also, because most of these dresses come in junior, plus size, and maternity sizes, anyone you want can be your bridesmaid.
Here are some of the best sage green bridesmaid dress styles to choose from:
 1. 
Elegant Cold Shoulders Ruched Sleeves High Low Bridesmaid Dress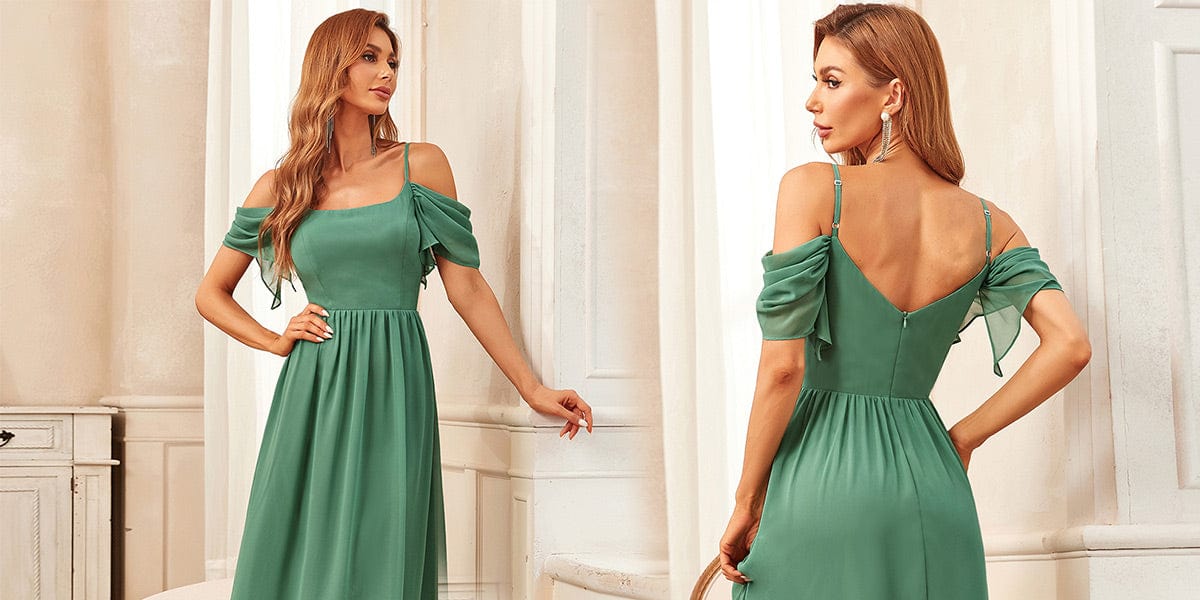 Ruched dresses bring a certain elegance to your dresses. Ruched dresses give a certain princess-y look to your sage green wedding, and this dress is no exception.
Apart from the ruched sleeves, this sage green dress boasts feminine details like a scoop neckline, cold shoulders, spaghetti straps, and a low back. It then gives way to a pleated bottom with a high-low hemline. All your bridesmaids are guaranteed to look lovely in it. This dress is great for weddings because it is sage green in color, and sage green allows you to experiment with color in other aspects of your wedding because it complements other colors so well. Simple and Classy!
2. 
Sleeveless Deep V Asymmetrical Hem Lotus Leaf Long Dress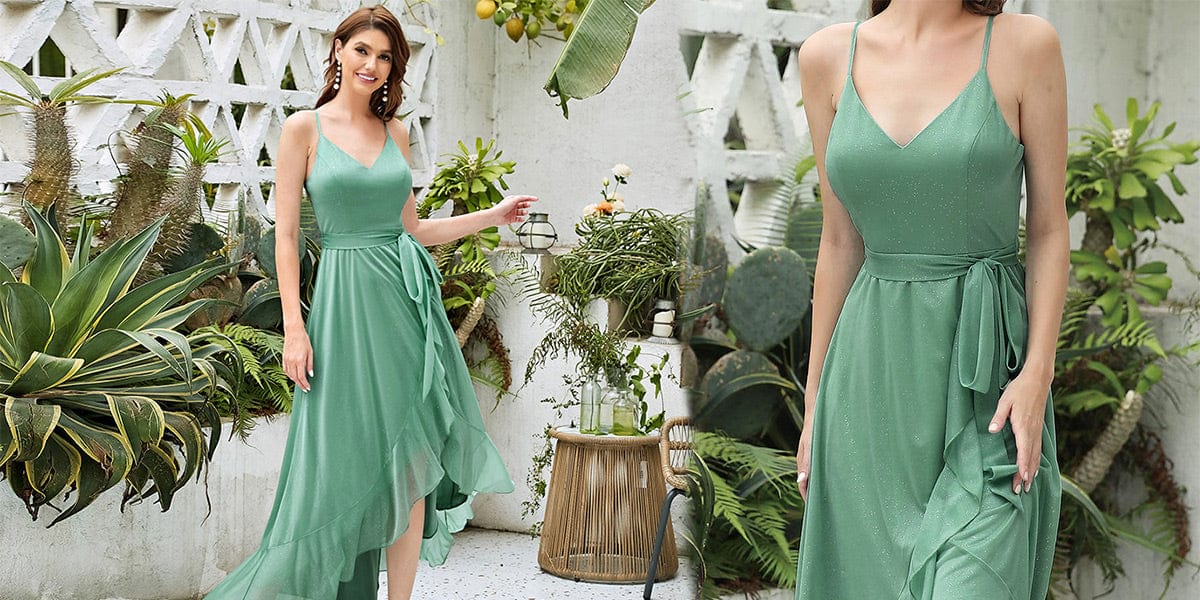 The sage green bridesmaid dresses make a statement. It is bold and unashamed. It manages to be sexy, yet demure and festive. And of course, the dress is really beautiful, especially in a sage green color. It has a deep V neck and a low back square line with sleeveless arms, which is great. A wide and long belt wraps along the waist and ribbons at the side, incorporating a festive detail into the dress. The safe green makes it feel a bit like Christmas. This then goes into an A-Line with a high slit and an asymmetrical hem, all accentuated by a lotus leaf design. Magnificent.
3. 
S

exy Plus Size Ruched Neck A-line Bridesmaid Dress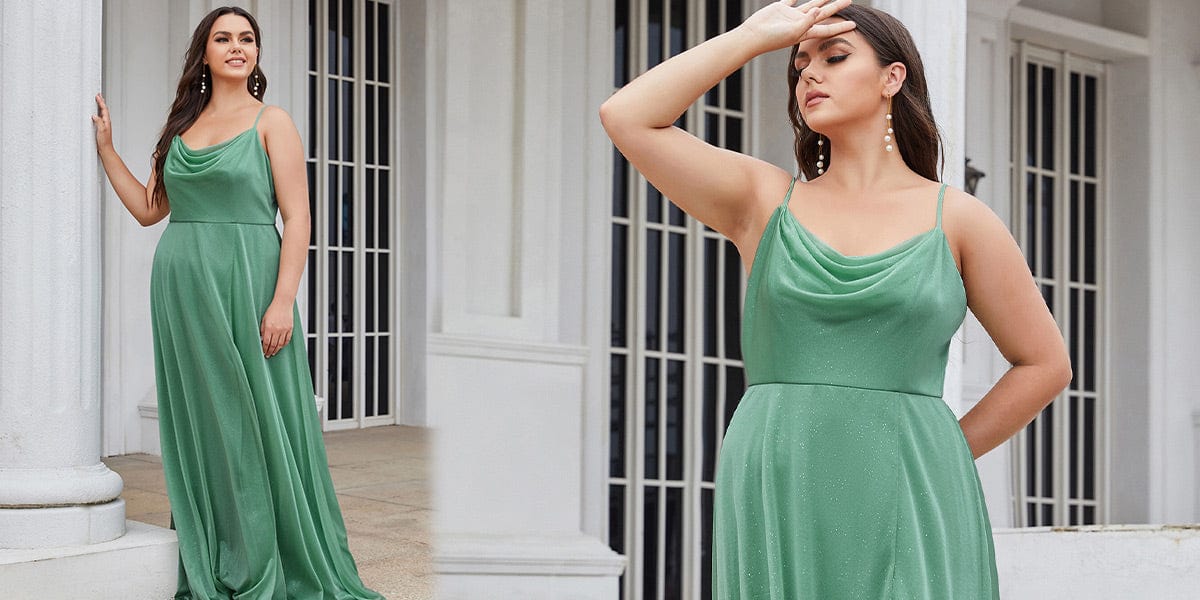 It is a sad thing to admit, yet everyone knows that most bridesmaid dresses are not made with plus-size women in mind. It is as though every designer thinks that only slim, tall women deserve to be bridesmaids. This is why this dress is so refreshing for us, a cold glass of water in a parched desert. Plus, it is a sage green bridesmaid dress, which is a cool and refreshing color.
This sophisticated bridesmaid dress offers some flattering details like a ruched neckline, empire waist, and subtle all-over sparkles! It's followed by a floor-length A-line bottom with a thigh slit. With this spaghetti strap, this dress is saying "Your body is beautiful! Show it!" If you want a sage green bridesmaid dress for your wedding, then this should be high on your list.
4. Glitter Cold Shoulder Ruched Bodice Floor Length Bridesmaid Dress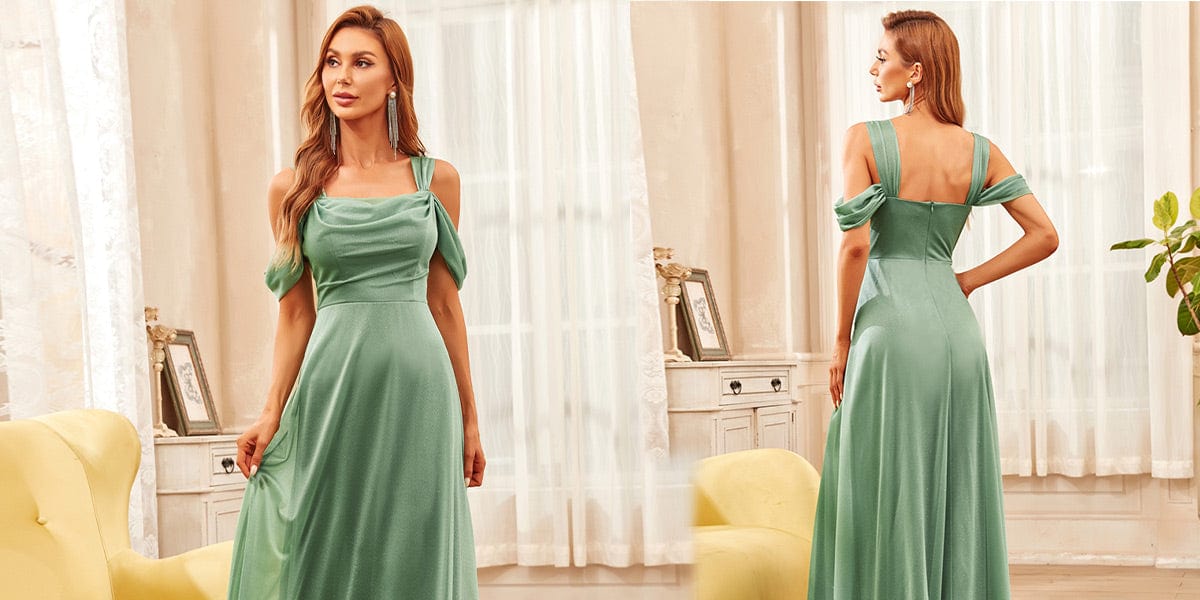 This dress does something great with ruches. It has ruched cold shoulder sleeves and a brilliantly ruched bodice. The subtle sparkles accent the ruched dress enhancing the beauty, and then it cascades its way to a graceful double layered floor length bottom. This sage green bridesmaid dress is very elegant and can be used for very formal events too. This style is popular with sage green bridesmaid dresses because the color allows the style and design of the dress to shine. It is not too bold, so the eyes first notice the dress itself before noting the color.
5. Strapless Empire Waist Wrap Maxi Chiffon Maternity Bridesmaid Dress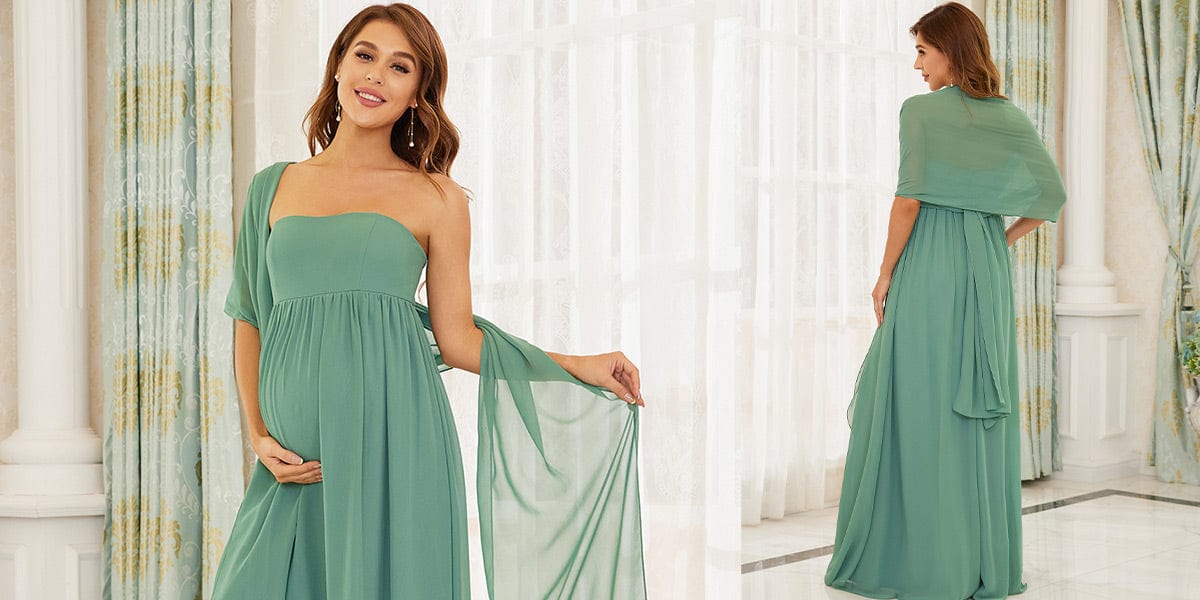 Because your friend is expecting a child does not mean she cannot join you in celebrating your beautiful day. This sage green refined and minimal maternity dress is ideal for expectant mothers that want to be bridesmaids. It is made up of a bandeau top with a square neckline, empire waist, and a long sash that ties on the back. The floor-length maxi bottom has an asymmetrical hem that the pleats help stand out. And finally, it is finished off with a lovely matching sheer shawl; beautiful, practical, and graceful. Sage green is a great option for maternity bridesmaid dresses because sage green is such a cool color for dresses which are meant to be reserved and not too attention grabbing.
Finally, there are also some other styles of sage green bridesmaid dresses we could not cover here, but we have so many other options too that include different styles including daring, sexy mini dresses; off-the-shoulder style dresses with long sleeves and so many others. There is literally no limit to the wonders you and your bridesmaid can do with the sage green color. So go on and have a sage green wedding. It's a great idea!
The ones we have above are just a guide and some great examples that we think are good for your bridesmaids. You could find more styles like it by doing your own research or talking to a designer that you know.