Selecting dresses for your friends and matching them to the vision you want to create on your wedding day, can get a bit intimidating. To top it all, you even need the dress to flatter your best pals body types and comfort levels. Now, this can be quite a daunting task.
5 things you need to consider when choosing long and short bridesmaid dresses
To make thing easier for you let us take a look at the things you need to consider when choosing short or long bridesmaid dresses.
Formality of the Event
Long bridesmaid dresses set an elegant and a festive vibe. They are definitely more formal but can be worn at semi-formal occasions as well. Short dresses, on the other hand, give out a more casual and fun feel. Nevertheless, either one of them can be dressed up or down with some chic accessories to suit the event.
The Weather
It is best to dress according to the weather so as not to have sweat-stained clothes in all your wedding pictures. Go in for a light, breezy fabric or a short dress for a summer wedding and dresses in silks and thicker fabrics in full length for the cold winter months.
Body Type
For a curvy entourage, you could select full length belted dresses to define the waist. For plus size figures, opt for the fit and flare dresses in full length. For a mix of tall and short girls you could go in for short bridesmaid dresses otherwise the length of the dress with swallow your short friend.
Cost Factor
Short dresses could end up to be slightly cheaper as compared to the longer counterpart. So, if you intend to avoid unnecessary expenditure at your wedding, you could reduce the length of the fabric on the dresses and go in for equally stylish short bridesmaid dresses. You could even find plain and simple long ones at attractive rates though.
Follow the Trend
Nowadays, brides have a lot of fun with the lengths of the hemlines by going in for the mix and match trend. It is not a hard and fast rule to have your bridesmaids in identical dresses. You could let them select the style of the dress and yet bring the cohesive vibe by having all dresses in the same color.
Our Top Five Takes on Long and Short Bridesmaid Dresses
After pondering over on the above pointers, I'm sure you must be looking for some inspiration. Let us take a look at some exceptional styles that we have picked especially for you.
Charismatic One-Shoulder Shimmery Gown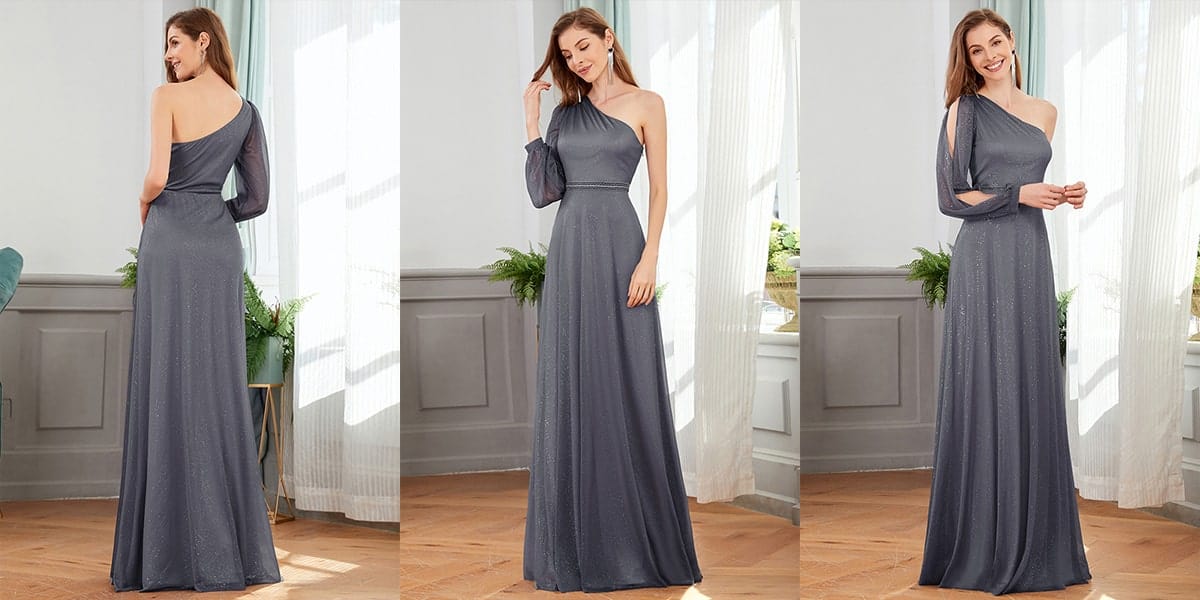 Your bridesmaids are going to charm like demi-goddesses in a gown designed with so much panache. This style is perfect for autumn bridesmaid dresses owing to its full-length structure combined with the patterned long sleeve with a chic slit. The delicate belt gives the gown an elegance that is beyond compare.
Fun and Playful Spaghetti Strap A-Line Short Dress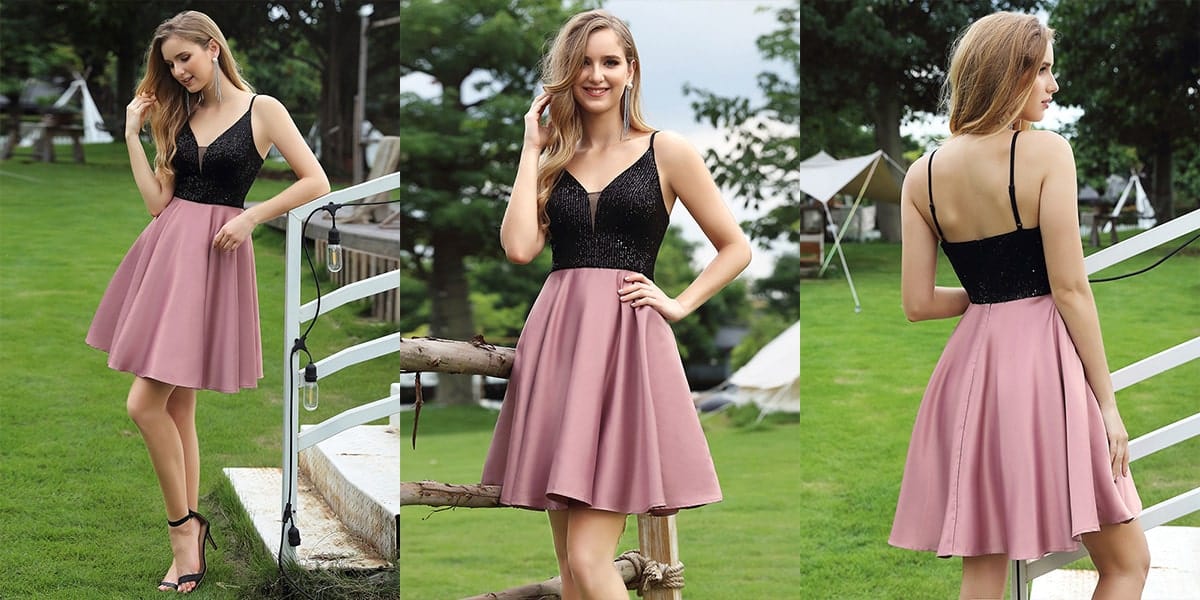 This will be your go-to dress if you want a super fun entourage of bridesmaids. This V-neck spaghetti strap dress, screams stylishness from top to bottom. The intricate paillette work done on the bodice gives it a dressy appeal, ideal for a ceremony. The A-line silhouette of the skirt looks gorgeous and screams condifence.
Look Ethereal in a Floor Length Ruffle Sleeves Gown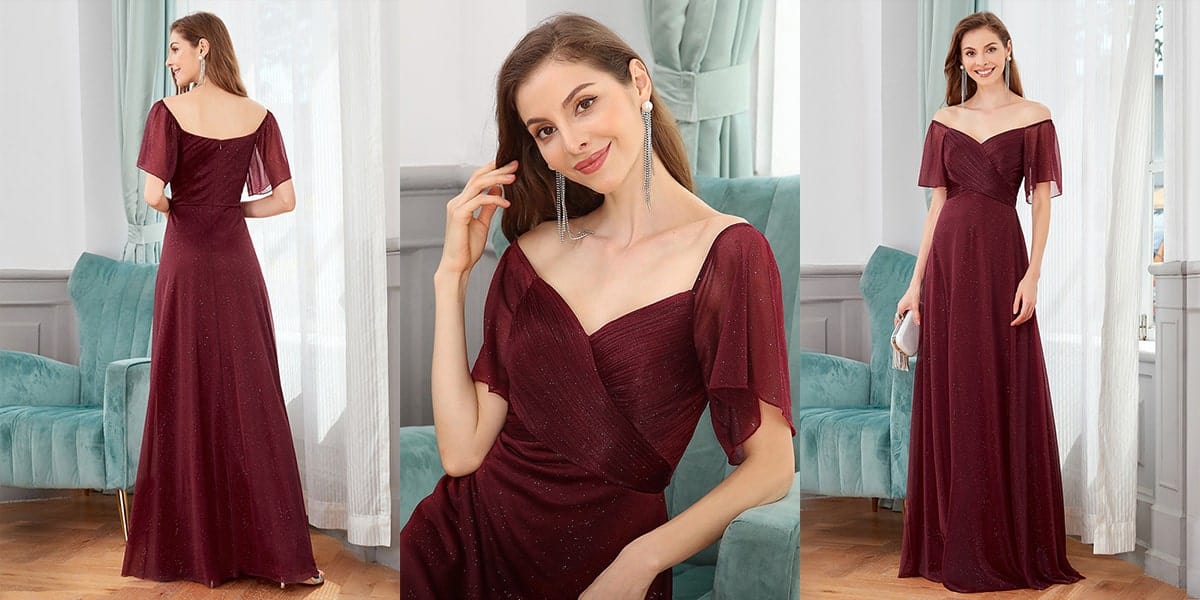 When an exclusive design on the top part of the dress combines with an off-shoulder style, magic is created. The short ruffle sleeves intensify the affluent look of the dress. The subtle hint of sparkle all over the gown adds to the fairy-tale charm thereby making the gown look captivating. Imagine all your bridesmaids walk around in such a classy number!
Enchant your Guests in Fascinating Asymmetrical Tulle Dresses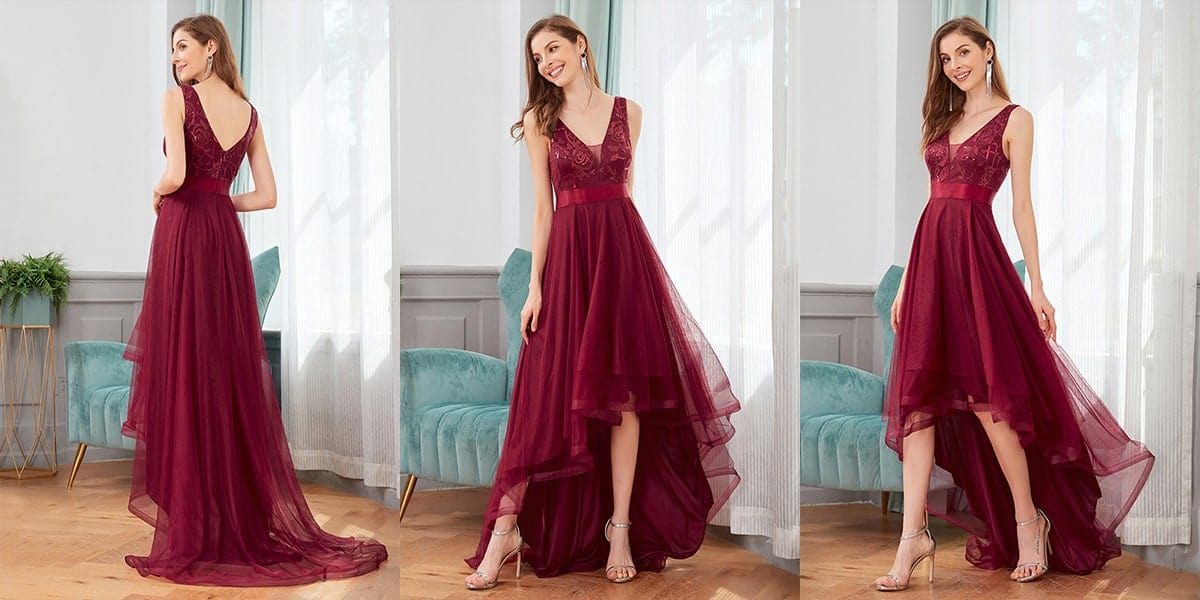 The uniqueness that an asymmetrical dress brings in with its flair is breath-taking. Combine it with a bodice that has a V-neckline with work done in sequin applique and there you go; your girls will look enchanting. What more, the lovely ladies can effortlessly dance the night away without being afraid of tripping over!
Mesmerizing Floor Length Lace Gown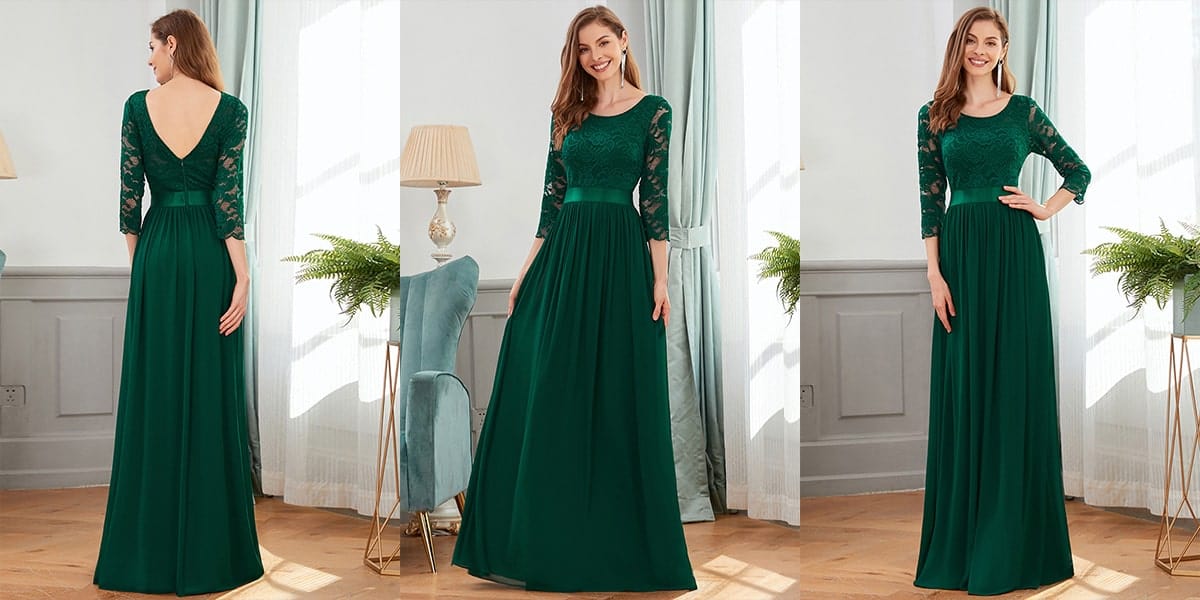 Enthrall one and all in this classic lace gown. The see-through lace on the sleeves imparts an enigmatic appeal to the dress. The fit and flare style with a matching belt makes it a figure-flattering silhouette. The dress is bound to look ideal on any body type, thereby making it quite a versatile one.
By keeping the above facts in mind, you can easily select the ideal length of dress for your bridesmaids which harmonizes the theme of your wedding ceremony. Suppose you are following a particular color scheme, having the bridesmaid dresses in the same color or maybe even certain elements of it on their dresses, will greatly correspond to your wedding theme. Whatever length of the dress you decide, do make sure that the style of wedding outfit complements your own bridal attire!