Hauntingly Chic, Spooky, and Fun Halloween Party Ideas
Unbelievable yet true, the year has whizzed past us and Halloween is just around the corner! The spookiest day of the year is soon approaching and there is excitement in the air already. We are ready to unleash the delight and fun combined with that exciting, spooky fright that Halloween entails.
Let us gear up to celebrate the season with some party tricks from our bag of treats that we have picked from a gazillion fun ways to applaud this night full of mysterious fun and games.
Tips on Planning a Perfect Halloween Party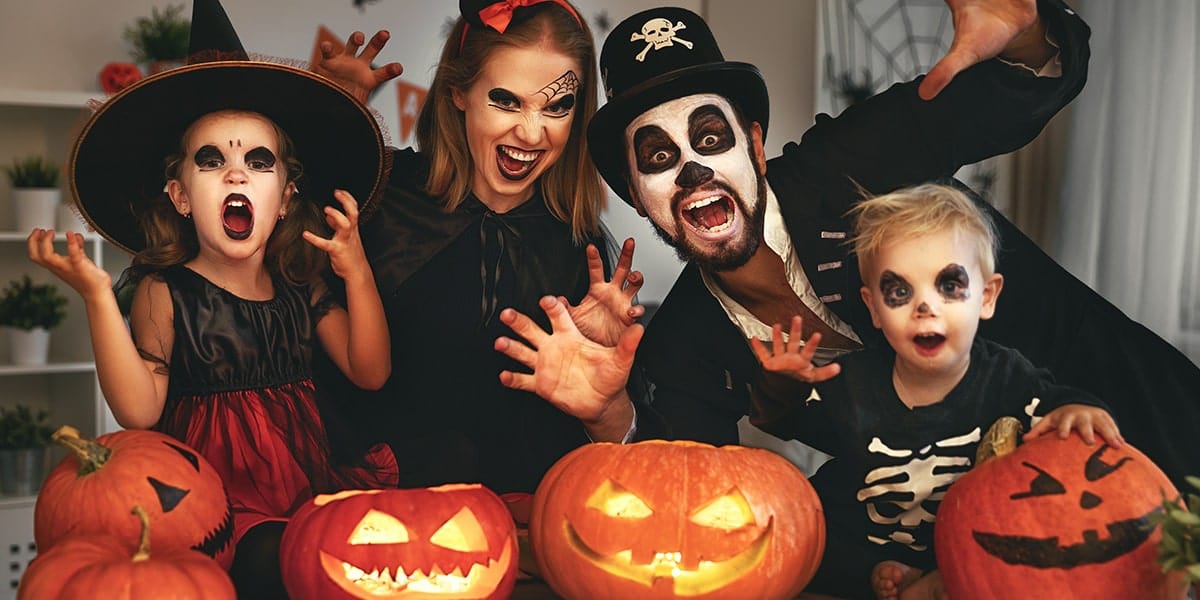 With the unanticipated pandemic this year, Halloween celebrations are bound to be unique. You could plan on a virtual get-together with a masquerade party or could even plan on celebrating the night keeping six feet distance yet keeping things stylish and spooky.
Here are a few tips on throwing a Halloween party to commemorate this already extraordinary and bizarre year.
Decorate your party venue by creating an eerie ambience to bring in the Halloween cheer. Being creative without stressing out is not difficult with simple DIY ideas like adorning candy corn around a candle or hanging a few cut-outs of foam bats to get your guests into the spirit of Halloween.
Create a playlist with tunes complementing the ominous ambience of Halloween. You can get a ready-made playlist from YouTube or else you can get creative and just take inspiration from various music sites. Having an unnerving backdrop music to your party will get everyone into the Halloween mood.
Get Creative with the Lighting
Appropriate lighting is bound to set the right Halloween vibe. Lower down the lights of your house and create a dingy setting with either all-blue, all-red or all-green lighting. You could even go in for those glow-in-the-dark creepy pair of eyes to liven up the night.
The Halloween evening is incomplete without ghoulish get-ups and savage costumes accompanying it. So, get creative and paint your face or do up your hair to complement the costume you intend to wear. You could plan to host a costume party and have some chilling skeleton trophies as gifts or party favors for all.
You and your gang could binge watch scary movies together on Netflix. A night spent watching freaky horror flicks, with lots of friends sounds like a Halloween full of fun and frights. 
Host the ultimate fright fest with our Halloween party tips and tricks to make it a night to remember.
Our Top Five Ensembles for the Ultimate Halloween Party Dresses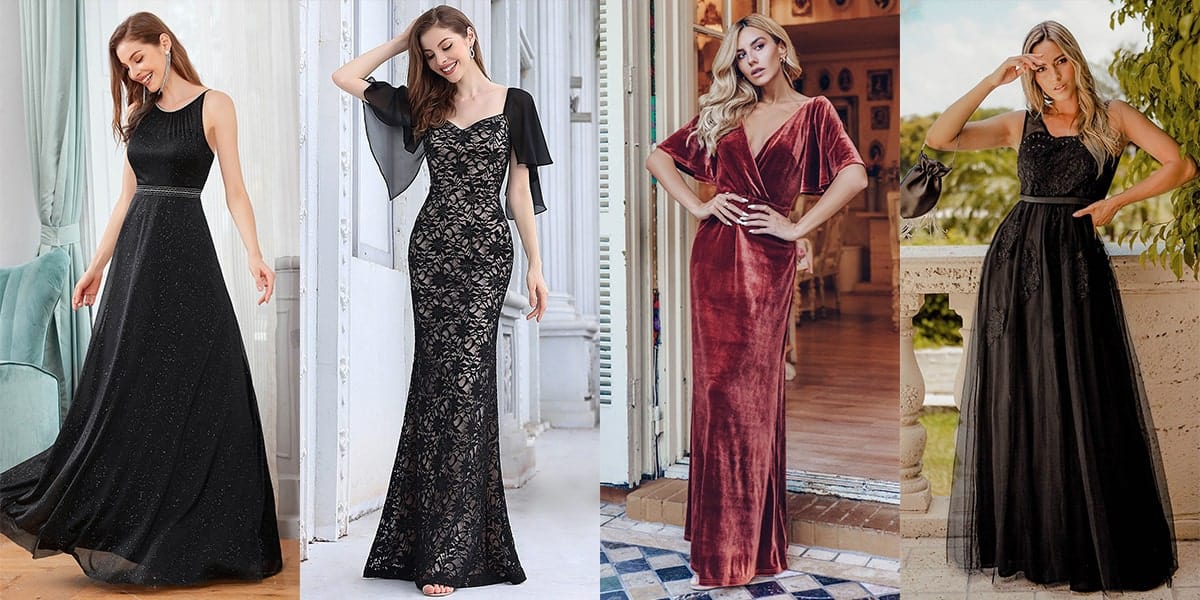 It's totally up to you to decide whether you want to dress up in a spooky, silly or a sultry attire. Here are some of the basic Halloween Party Dresses which you can either dress down or dress up as the occasion calls.
Glitter Like the Night Sky in a Shimmery Black Dress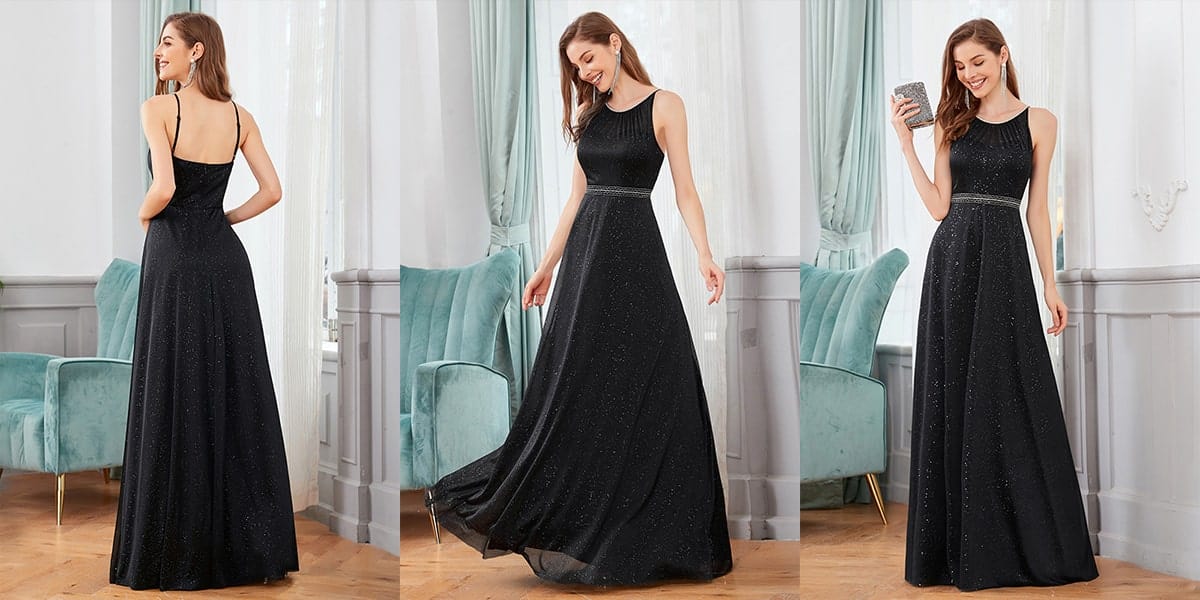 Black is a go-to color for Halloween parties. Just add shimmer to the long black gown and there you have it, a mesmerizing fabric that is going to fascinate one and all. The rhinestone detailing on the neck and at the waist brings in the glimmer that accentuates the festive charm of the dress.
Stun Everyone in a Tulle Dress with Sequin Tassels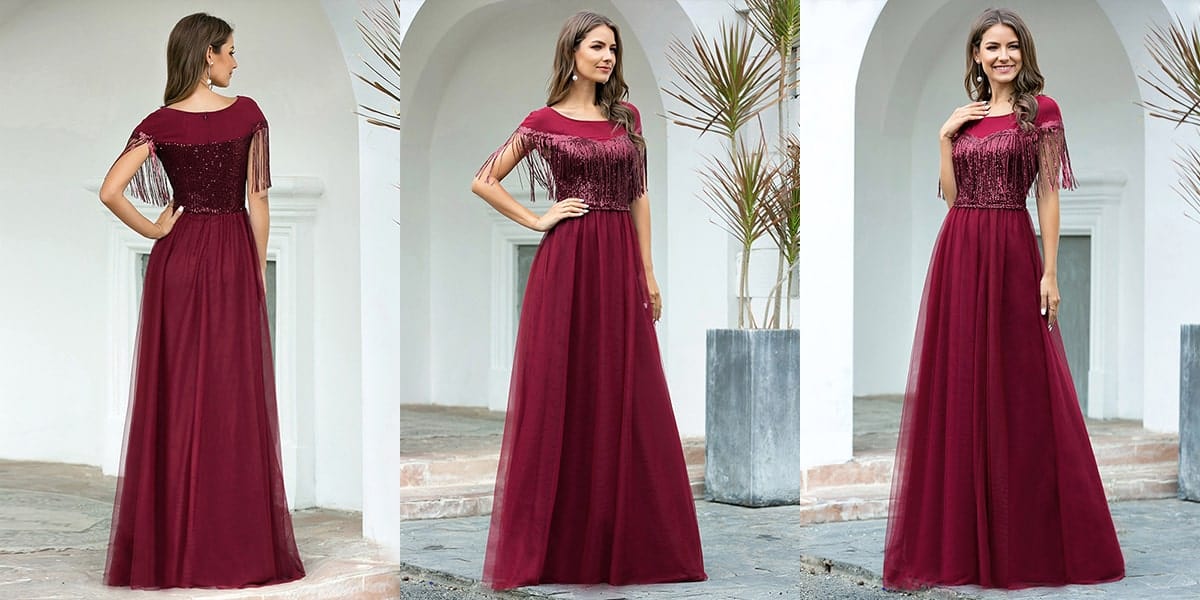 Adorn an elegant floor-length tulle dress that has tassels in sequin covering the entire chest area. The drama that this dress will bring into your Halloween party is sure to make you the center of attraction. Designed in an A-line style, this dress is sure to flatter all body types.
Lacy Extravaganza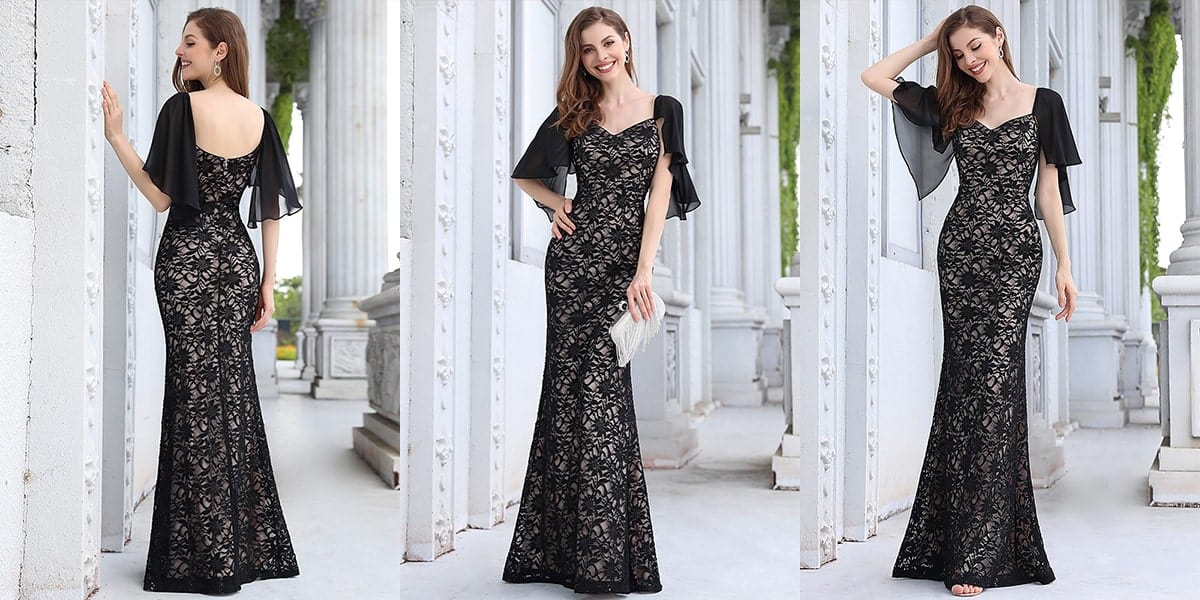 You can never go wrong in a lace dress, so why not bring magic to your Halloween party by adding ruffle sleeves to your lacy attire. The floor-length fishtail silhouette combined with designer necklines in both the front and back add to the mysterious wonder of the dress.
Enthrall in a Velvet Double V-Neckline Gown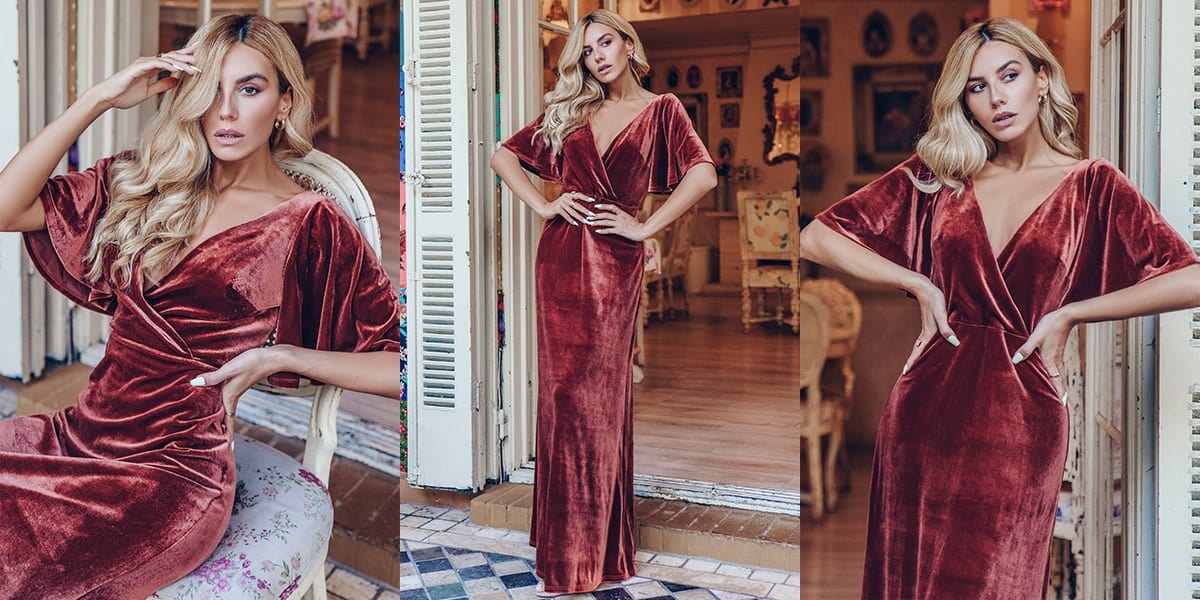 Halloween is the time when you can go in for a dress that is a little over the top just to bring out the spooky night delight. This dress does exactly that. The brick red color in velvet combined with the fun element of the ruffle sleeves and the deep plunging neckline is perfectly enigmatic.
Cryptic Yet Enticing Tulle Dress with Lace Applique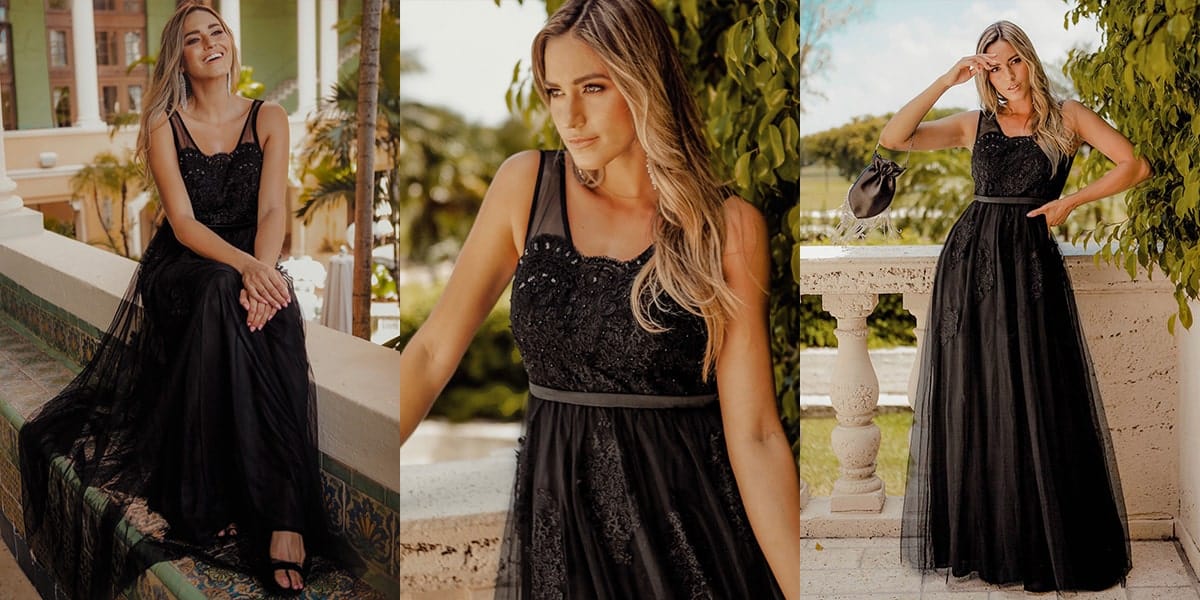 When lace combines with black, magic is created – or should we say black-magic, that is ideal for this fun Halloween night. The floor-length tulle skirt and the bodice of this dress have been intricately decorated with lace and rhinestones which make it an impeccable silhouette for you.
Although the Halloween parties this year may look a little different from those of yesteryears' — that is not a reason to give up on the idea of dressing up in your wildest costume and enjoying your favorite time of the year, Halloween. Cheers to an awesome Halloween 2020!!