Some weddings are extravagant, some weddings are simple; either way, it is a day of happiness and celebration. The main characters of the wedding are definitely the bride and groom, but we cannot overlook the importance of the bridal party. They are the true backbone for our bride to-be. This is why we are here today to talk about sequin bridesmaid dresses and why are making a comeback in 2021.
Trending RN: Sequin Bridesmaid Dresses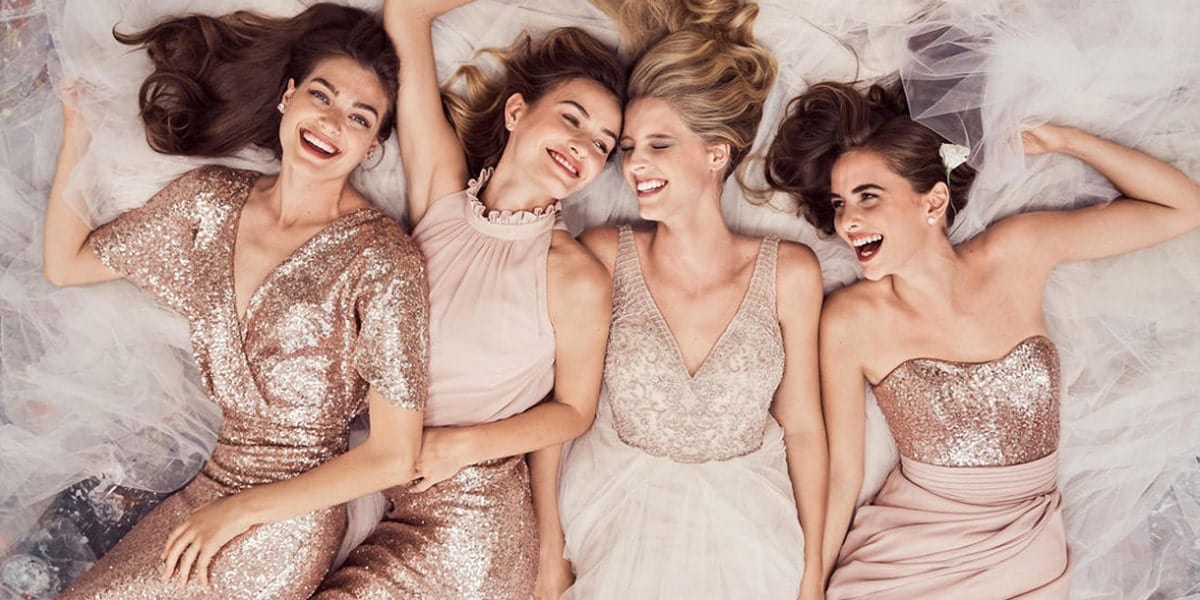 Sequin bridesmaid dresses are absolutely perfect for any wedding; the dresses come in various colors and styles so the bride can definitely find one that compliments her style. Although the bridesmaids will shine brightly in these dresses, they won't be shining brighter than the bride of course. The sequin dresses are just here to bring the wedding to the next level.
Sequin dresses have been around for a long time; these sequins are a timeless and elegant fashion statement. If you have a hard time choosing a theme for your wedding day, these sequin bridesmaid dresses will solve these problems. These dresses are one of the safer trends that won't fail you easily. A dress embellished in luxe sequins will bring out the sexiness and beauty of your ultimate bridesmaid squad.
How to Choose THE Sequin Dress for your Bridesmaids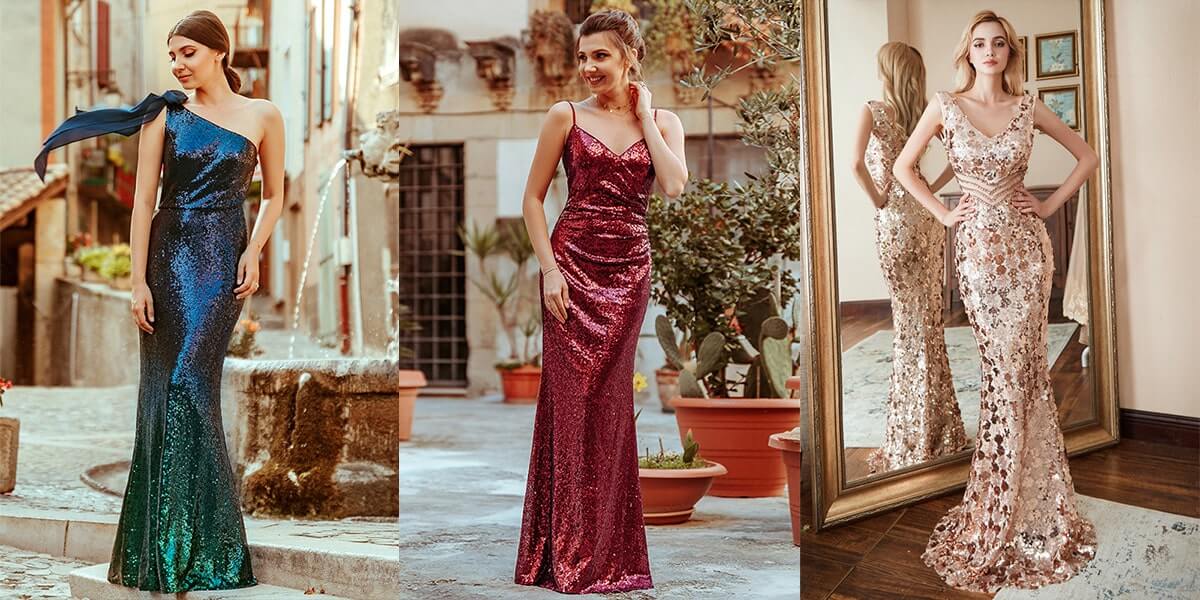 Before choosing the dress, you need to identify the theme of your wedding and the look you want to go for. Your search for the perfect sequin bridesmaid dress can start once you, the bride, has found the wedding dress. Based on the style of your wedding dress, you can find a bridesmaid dress that compliments both you and your bridesmaids. Here are some top tips on how to choose the best suited sequin dress:
Research both online and offline for inspirations
With the help of pinterest or the most recent edition of ELLE, you can use these as guides to plan the looks for your bridesmaids. This is the perfect opportunity to use your imagination and put together some of your ideas and the wedding look inspirations. This will help you find the right color and style which will make it easier for you to dress shop.
Having a budget/cost plan
We have dreamed of that luxurious wedding day ever since we were young. So we need to learn to make the most out of what we pay for. We need to keep a budget in mind as well before we start dropping the big bucks. The price range of sequin dresses is quite wide so you will easily find something in your budget.
Showing off your personality
When choosing your bridesmaids dresses, you got to show off a bit of your style. This can help personalize the overall vibe of your wedding and making it truly yours. You can do the dress shopping either alone or with your fellow bridesmaids. Remember to stick to your ideas and looks as this is your wedding, you fellow bridesmaids are just there as a guide.
Placing the order in a timely manner/order etiquette
Ordering online can be a little trickier when it comes to bridesmaid dresses. The fit may be off or the color doesn't match. It happens but we need to keep in mind to buy the dresses in advance to avoid sticky situations as such.  
The ideal fit for your bridesmaid is buying the dress that fits their largest measurement. Their wait, bust, and hips are the most important measurements to keep in mind. This is because it is easier to tailor a larger dress to a smaller one than the dress not being able to fit at all.
Our Top 5 Sequin Bridesmaid Dresses for The Perfect Wedding
Finding the perfect dress takes some time and research. It is definitely no easy task, considering there are many aspects that needs to be cared for such as style, fit, budget, etc. We are here to help recommend or inspire you with some of our favorite sequin bridesmaid dresses.
Sexy Floor Length Sleeves V-neck Mermaid Evening Dresses

A floor-length dress is appropriate for both a simple and luxurious wedding. This elegant sleeveless V-neck evening dress has an alluring look that makes it perfect for your bridesmaids. It also features fishtail skirt, which gives the body a more appealing look.
Elegant Double V Neck Fishtail Long Tulle Evening Dress with Sequin

Are you looking to dress your bridesmaids in a trendy outfit? Then this beautiful evening dress is perfect for the job. This beautiful dress features a deep double V-neck and long tulle that complements one's figure very well. The colors are very universal and easy to style.
Sexy Off the Shoulder Mermaid Sequin Evening Gowns for Women

When it comes to sequin dresses for your bridesmaids, this off the shoulder mermaid dress is not only stunning but also flattering for any figure. It also features a fishtail skirt which has been designed to hug your body and show off your curves.
Shiny V Neck Sequin Evening Party Dress with Long Sleeve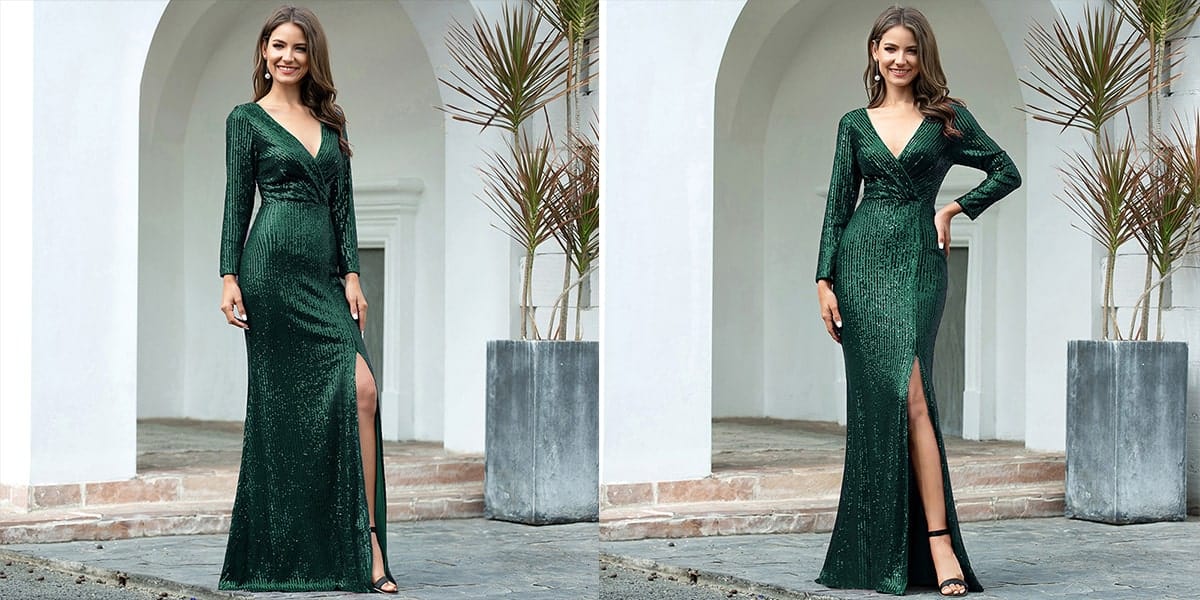 This sequin evening dress is just what you need for your bridesmaids. It features a V neck and comes with a thigh-high slit to give it a sexy touch.
Delicate Embroidery Sequin Fishtail Evening Dress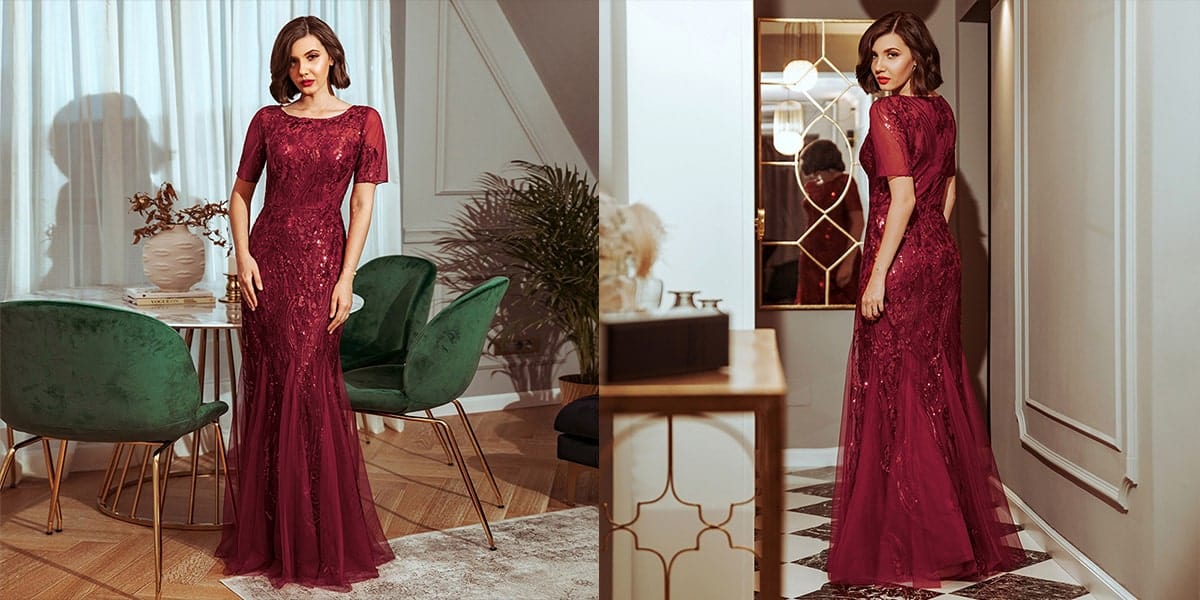 If planning to doll up your bridesmaids, this alluring floor-length dress your best option. This beautiful dress features a classic neckline and other delicate details to bring out that sexy look.