Introduction
Selecting a plus size dress that compliments your full figure could be quite a task. A dress that best suits your personality is important when it comes to confidence and comfort. The right dress will help you gain all the love you deserve because who doesn't want a little love and reassurance?
Being able to select a dress you feel comfortable and confident in is a crucial skill every plus-sized woman needs to acquire. Come along as we take you through the path of selecting plus size dresses that'll change your life!
Know Different Dress Styles for Your Body Shape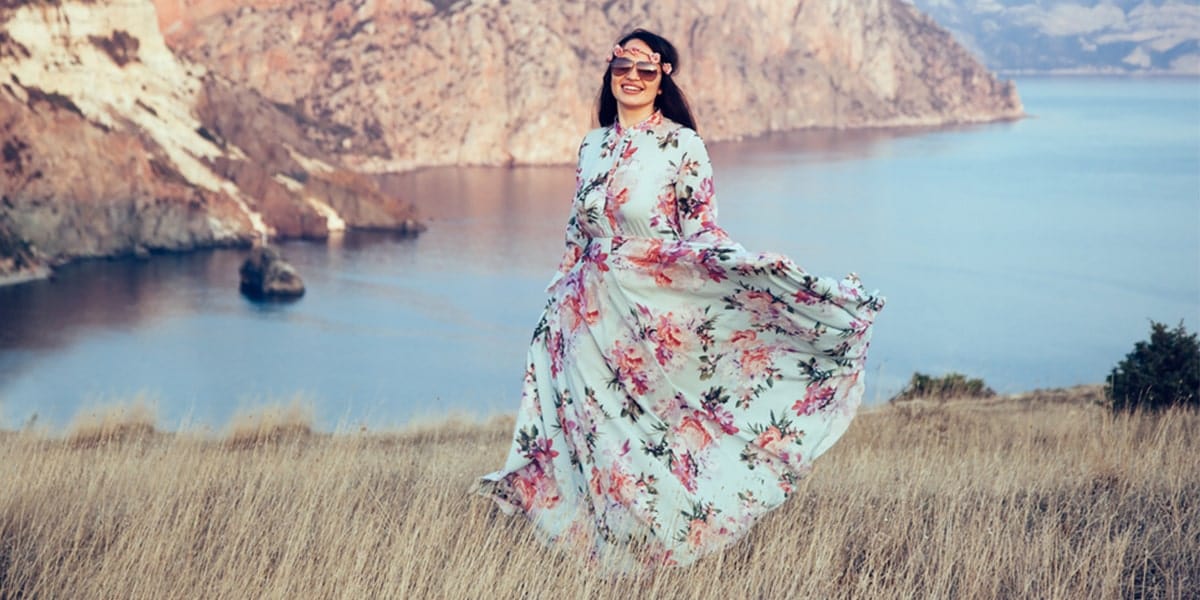 Wearing a plus size dress that creates the perfect silhouette of your figure is the best way to look snazzy and satisfied. Understanding the right dress style will give you a bold and sexy vibe you need to rock that dress. Here are a couple of styles for you to look at:
A-line
You can never go wrong with A-line silhouette dresses. They give you that hourglass look, a torso that clings to your bust, a little tuck at the waist, and a triangular flare below. A-line dresses are perfect for all body shapes. No wonder why most plus size dresses for weddings adopt this style.
Peplum
The beauty and femineity peplum dresses bring is unmatched. It is the perfect style for plus size women with a rectangular shaped or hourglass figure. Lately, ruffles have been added to the waist to make you look even curvier with a snatched waist.
Wrap Dress
Nothing quite strikes a balance between style and convenience like wrap dresses do. This dress style has a way of highlighting your curves while having maximum comfort. The good thing is that it's suitable for all body types. This way no one has to miss out!
Maxi Dress
With the right choice of style, maxi dresses will do wonders for any figure. A side slit, open neckline, and defined waist will make you look cuter and of course, sexier. Using a belt can help completing the overall look.
Empire Waistline
Empire waistline dresses are perfectly fitting for pear-shaped and hourglass figured women. It draws attention to the aesthetics of your bust while allowing a flare design under the waistline. They come in different lengths giving you a variety of choices. Either way, they always appear gorgeous and you are missing out if you don't own a dress with an empire waistline yet!
Top 5 Style Tips for Plus-size Fashion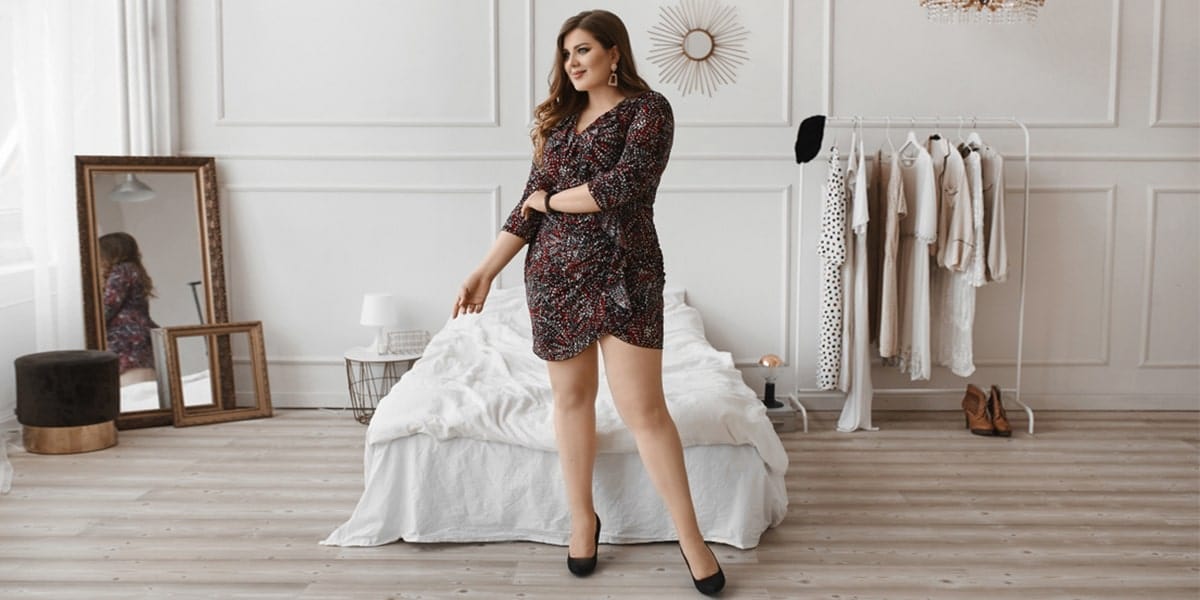 Just so we make sure you're on the right trend of plus-size fashion, we have some pretty important tips for you. Whether you want to wear jean pants, nice tees, jumpsuits, or dresses, here are the 5 top style tips made just for you!
1.   
Fitted or too tight?
You need to be able to breathe in any clothing you wear. Your undergarments making an appearance is proof that your dress is a little tight. Tailoring your dress is essential in keeping it fitted - not too loose and not too tight.
2.   
Rock a pair of shoes
Wearing the right shoes can boost your style from zero to a hundred. Avoid wearing tight shoes that may make your feet look bloated and make sure to match the color to the outfit of your choice!
3.   
Understand your silhouette
Embracing your body shape makes it easier to pick a figure-flattering dress. Selecting a dress that doesn't match your silhouette will cause the overall look to look mis-shaped or awkward. Ruining the whole essence of comfortable dressing.
4.   
Accessorize
A little bling can never hurt anyone. Wear your favorite jewelry, belt, or bag; whatever made you feel the most "YOU." Having a little pouch will make it convenient to fit all your must-haves in there as well as making your outfit a little more stylish.
5.   
Invest in good fabric
Prioritize purchasing quality fabric that wouldn't rip or fade easily. Quality fabric will make a huge difference in your overall look!
6 Curvy Plus Size Dresses for Curvy Plus Size Women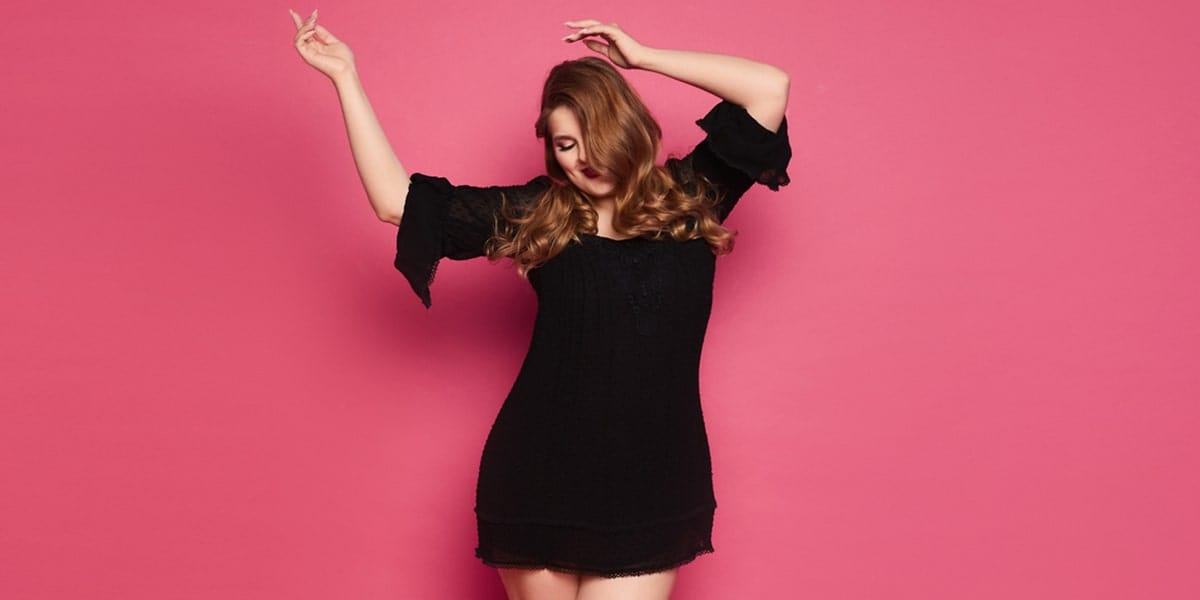 At Ever Pretty, we find pleasure in handpicking gorgeous dresses and presenting them to you. This way, you don't have to spend countless hours looking for what to wear online. Today, we have selected the six flattering plus size dresses just for you.
Gorgeous Long Empire Waist Evening Dress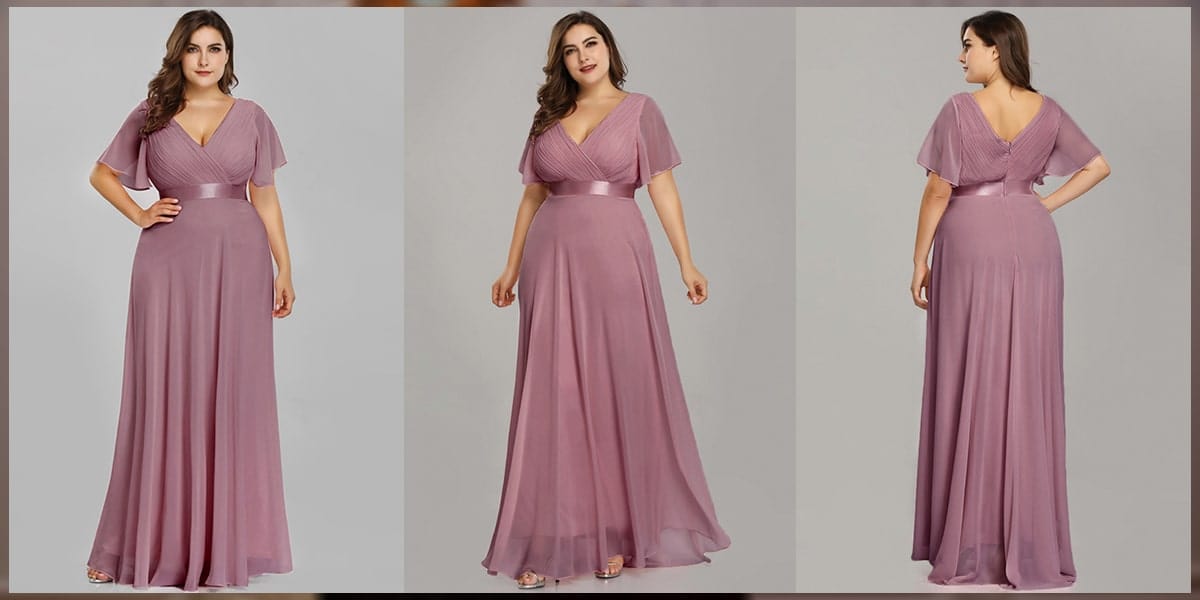 V-neckline, empire waist, and flutter sleeves – every feature of this adorable plus size dress highlights the beauty of your bust. The inner-paddings of this astonishing dress gives you all the comfort you need to slay in it. Rock this dress with a pair of heels, and watch how jaws drop as you walk past the crowd.
Astonishing Women's Embroidery Evening Dress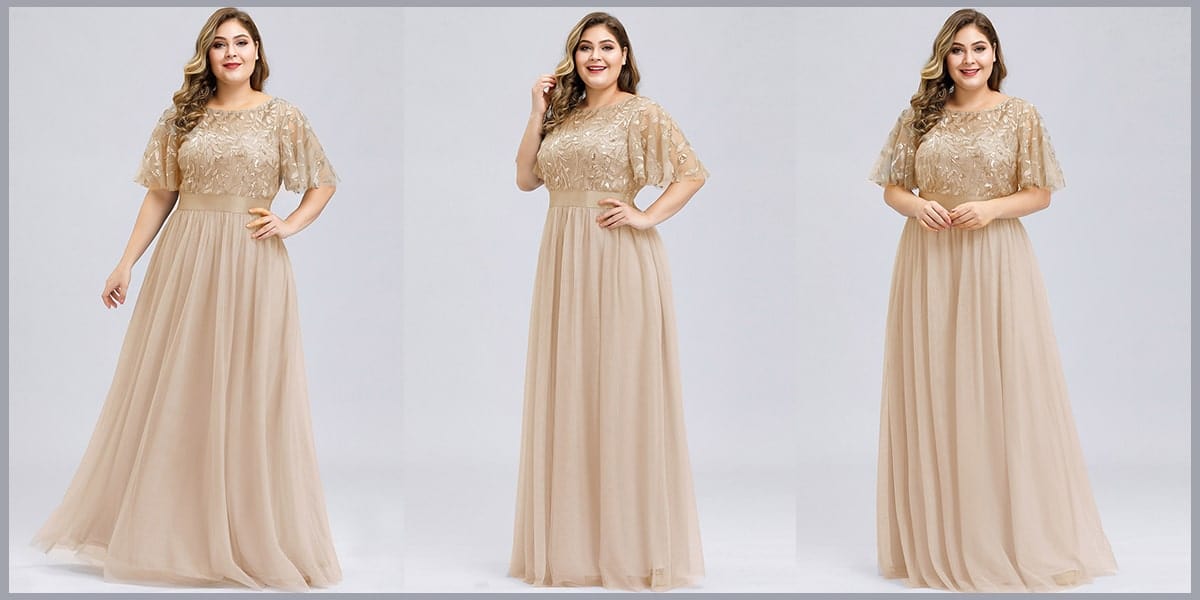 With a round-neckline, some ruffle sleeves, bodice adorned with shiny embroidery, and a long skirt that graces the earth. You sure would look stunning at weddings dinners, and proms. The belt design gives your waist a firm grip and embraces the hourglass silhouette, making you sexier than you could possibly imagine.
Elegant See-Through Floor Length Lace Evening Dress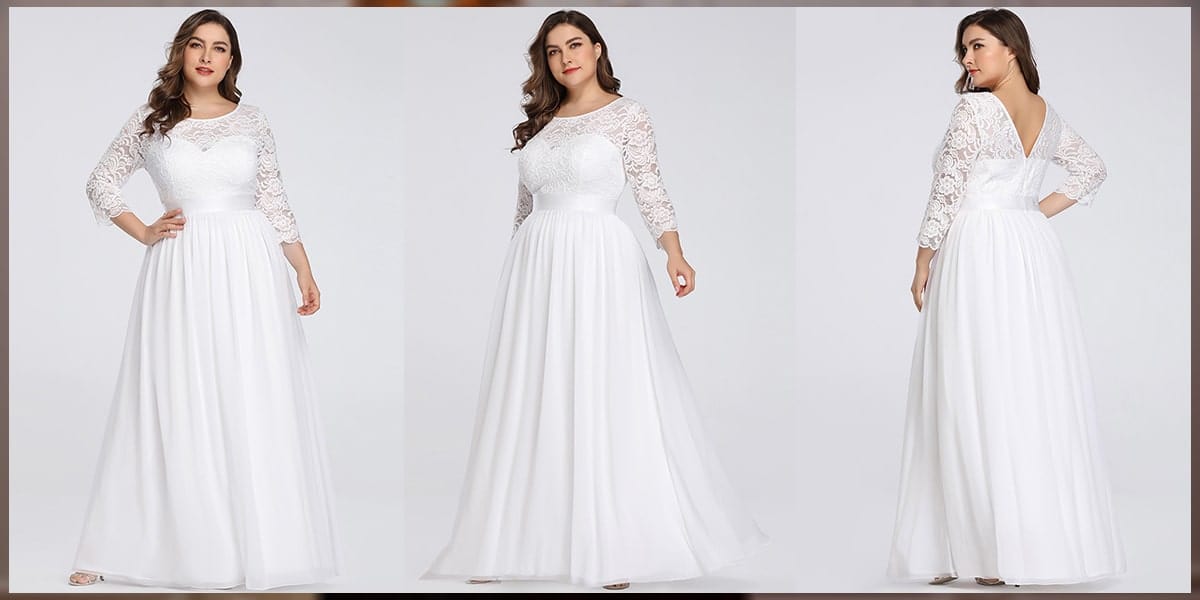 Every single feature of this adorable laced half-sleeved dress qualifies it as one of the best plus size dresses for weddings this season. With a ruched waist that brings out your admirable figure and a v-neckline at the back of this dress; it will make every inch of your skin look drop dead gorgeous.
Stunning A-Line Sequin Evening Dress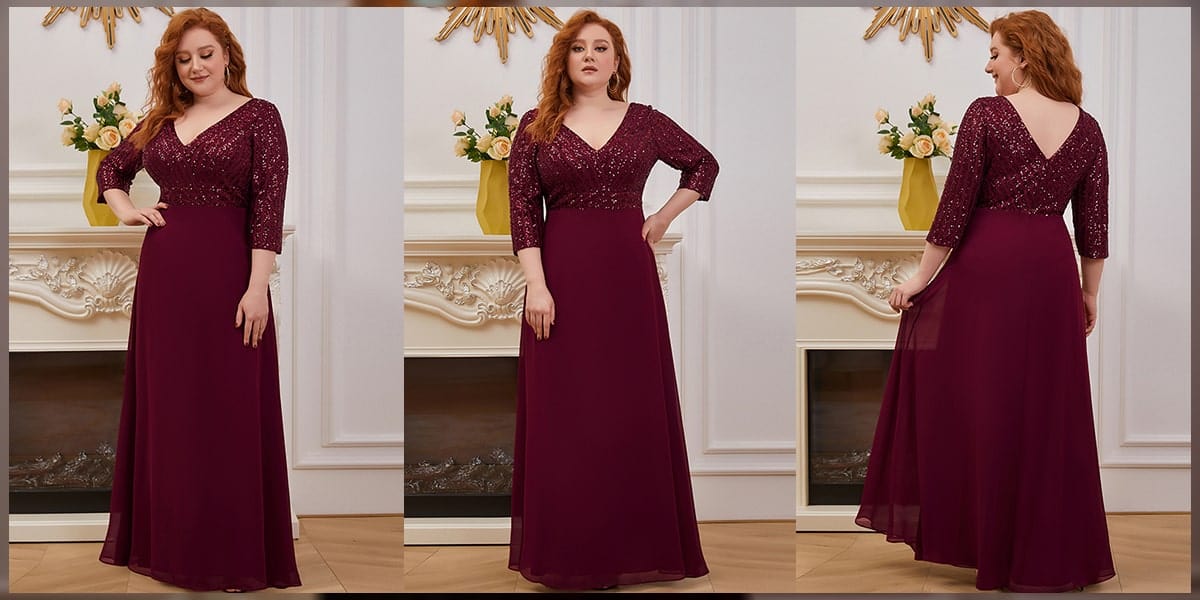 Need a plus size dress that screams royalty for your next big event? Then you should give this astonishing double v-neck dress a try. Its shiny sequin stripes fabric gives your torso the right amount of sparkle that keeps heads turning in your direction. You sure are going to look drop-dead gorgeous with its A-line skirt that complements your full figure.
Classy Plus Size V Neck Long Evening Gown
Class at its peak! This exquisite plus size dress with a ruched v-neckline and bust will give you that sophisticated look you require in looking like a princess. Its lace sleeves are dashing and gives off a romantic vibe for your upcoming event.