Looking your best at any evening event is the perfect way to steal the show and blend in perfectly. Knowing your body type is the foundation to choosing the best evening dresses. At EverPretty, we are no stranger to evening dresses, hence the need to help you make a pick effortlessly.
In this article, we'd be giving you professional tips and advice that'll guide you through choosing the best evening dresses uk has supplied this year.
Three different body types you need to know
Your body type is the silhouette your body presents without clothes on or in a straight dress. To get to know your body type, you'll be measuring your curves; waist, bust, and hips. Want to know where you fit in? Here are the three most common body types you need to know;
Rectangle Body Shape
You may fall under the rectangular body shape category when your bust, waist, and hips have equal measurements. Most times, the measurements aren't the same, but they visually appear that way, as there's no significant difference.
Pear Body Shape
When your butt, hips, and thighs are visually bigger than your upper body, you fall under the pear-shaped category. Ladies with this body silhouette usually have narrow shoulders and waists with wider legs to create an overall body balance.
Hourglass Body Shape
The hourglass body shape is not as common as the pear and rectangle-shaped silhouette. The bust and hips are about the same size, with a slimmer and defined waist. Not all women with this body shape have thick thighs. The hip to bust ratio is all that matters, and both are curvy.
5 Important Steps to Finding the Perfect Evening Dress for your Body Type
Before making payments for that dress you've got your eyes on, here are some steps you need to take to ensure that it is going to flatter your body shape and size;
1.   
Assess your body type
Wearing an evening dress that suits your body type is the first and most important step in choosing the perfect dress. With the right match, you can easily embrace your best features and enhance your least favorite. Wearing an evening dress that complements your body type is the best way to leave a memorable appearance.
2.   
Shop with a budget
Sticking to a budget makes the selection process easy, as there are many evening dresses out there. Whether you're waiting for a discount or sales, keeping a specific budget in mind will help reduce the amount of time you will spend searching for the right dress.
3.   
The right fit
Oversized dresses will cramp your style and hide your body silhouette. Choose a dress that's just your size, so it can hold on to your favorite body parts properly and make your figure visually appealing, making any dress work to your advantage.
4.   
Colors that pop
The color of your dress plays a huge role in perfecting your evening dress choices. Black evening dresses are astonishing, especially when they come with shiny fabrics or embroidery. However, they sometimes blend with the night, making it difficult to notice your gorgeous dress. Try out other bold colors like red, navy blue, burgundy, and their variants for that extra pop.
5.   
Highlight your curves
Select a dress that gives detail to your body shape. For the pear-shaped body type, dresses with attractive bodice that accentuates your slim shoulder beautifully should be your main focus. You can also try out flowy A-line gowns or dresses with empire waist.
Fishtail dresses are the right pick for the hourglass body silhouette. It hugs all the curves and leaves a little flare at the bottom for an even sexier look.
For the rectangular-shaped body type, creating your silhouette is ideal for selecting the perfect evening dress. Blouson dresses, A-line skirts, and other dresses that highlights the waist will make you look dashing.
6 Perfect Evening Dresses for Different Body Types
Now, for the moment you've been waiting for. Below are the six perfect evening dresses that'll  make you stand out on any occasion;
1.   
Radiant Off-shoulder Maxi Long Dress
Keep it classy in this gorgeous navy blue A-line dress. With a flowy A-line skirt and fitted bodice, this evening dress is suitable for all body types. The polyester fabric gives it a shiny luster that captures the lights as you strut into the venue.
2.    
Plus Size Long Empire Waist Evening Dress
Be the sexiest girl in the room in this figure-flattering evening dress. Empire waist, v-neckline, ruffled bodice, and flutter sleeves that give you more style, this stunning dress is one of the best plus size evening dresses in the UK.
3.   
Double V-neck Lace Wedding Dress
Fill the air with romantic vibes in this breathtaking minimalist evening gown. Its deep v-neckline and ¾ laced sleeve make it the perfect evening dress if you love to accessorize.
4.   
Round Neckline Floor Length Evening Dress
Look simple and stylish in this sheer half-sleeved burgundy floor-length evening dress. Its A-line tulle skirt gives you an hourglass silhouette, making you the prettiest version of yourself.
5.   
Shiny V Neck Sequin Evening Dress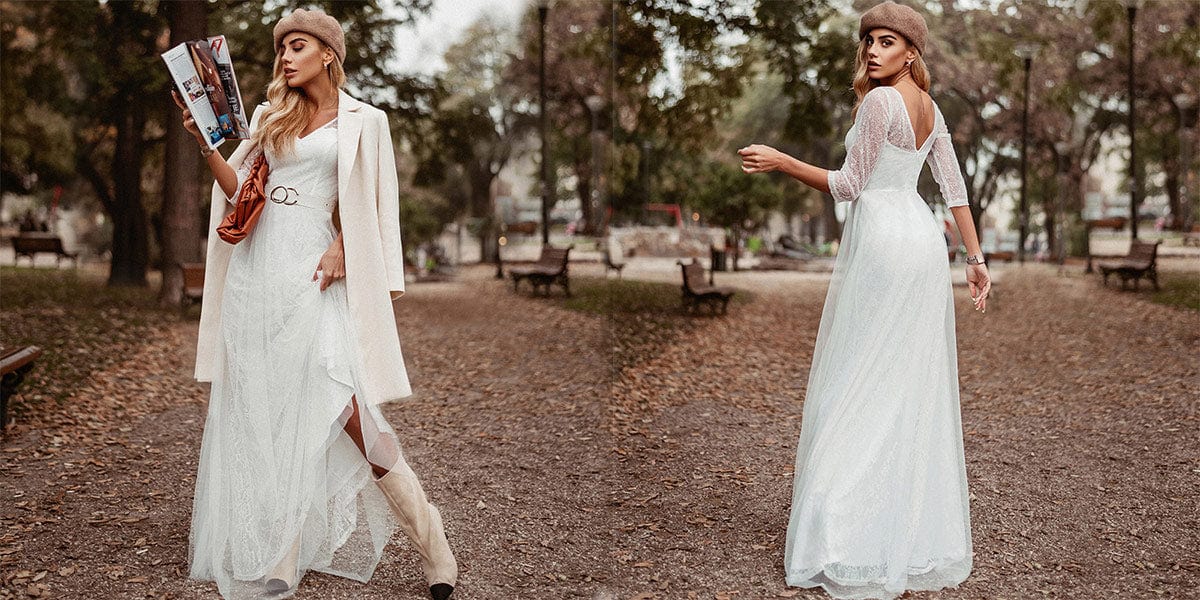 Want to keep the whole room talking about your dress through the night? Then try out this ravishing sequin dress with a thigh-high slit and a deep v-neckline that lets you show off your beautiful skin. There's no way you'll walk in unnoticed in this evening dress with shimmer.
6.   
Plus Size Sequin & Velvet Maxi Evening Dress
Mix and match at its peak! With a velvet bodice with a deep v-neckline and a sequin fishtail skirt, you'll look like the star guest of the occasion. You're going to look effortlessly glamorous in one of these.