We all know that in general, clothes shopping can be rather complicated for women. Although many of us really enjoy buying clothes, the choosing process is not as simple as it may sound. This is especially true when your size is not "standard", you know, what's usually seen in store windows. When your size is smaller or bigger than standard, it can get even more complicated.
In this article we're going to devote ourselves to plus size occasion dresses  and clothes shopping in general. Even if you have a party coming soon or not, having some ground rules on how to choose your clothes may be useful in the future.
If this is something you think you may need in the future or present, then go ahead and read everything you need to consider and know when shopping plus size. You will thank me later!
Essential Rules for Plus Size Dress Shopping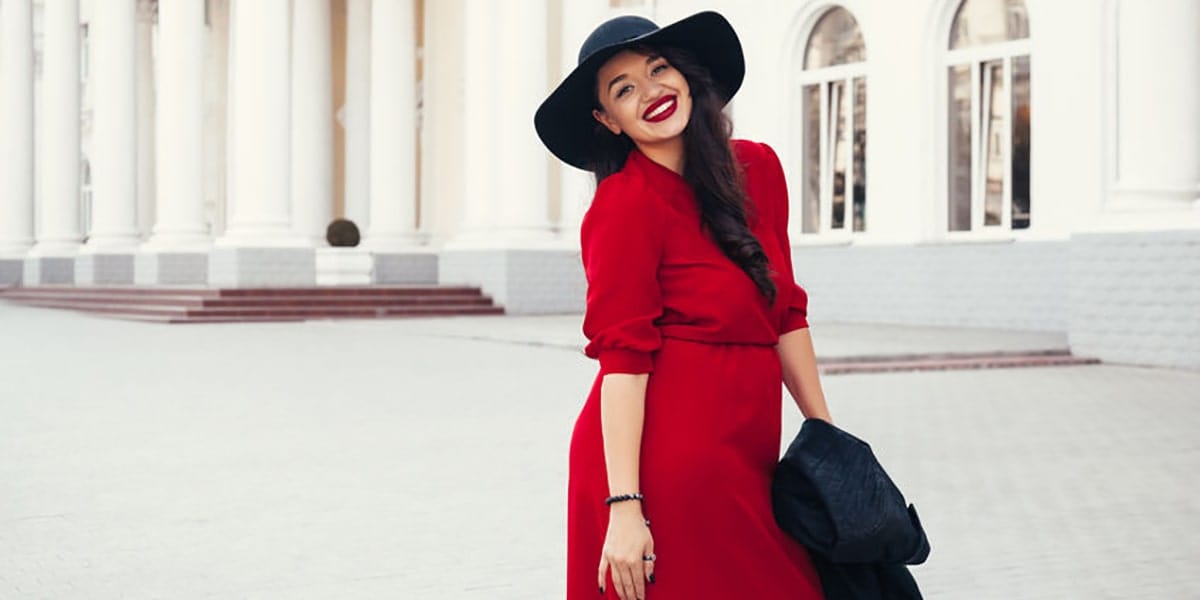 If you're a plus size (or if you're not), you've probably been out shopping many times feeling a bit lost regarding what to choose and how to choose it. Here's a list of basic rules you need to follow in order to achieve a successful clothes choice.
NO baggy clothes: you may think they got you covered, but the real fact is they are unflattering for your figure, especially if they are in bright colors or funny prints. Always focus on clothes that flatter your attributes and shape.
Black is not the only option: sometimes we tend to think black provides a slender figure look and white, on the contrary, enlarges your image. Well, the first thing is true, but the second is totally incorrect. It's ok to wear black if you like it and you feel comfortable in it, but make sure you don't fill your wardrobe with black. White, if combined and chosen properly, is an excellent choice. When choosing this color try to avoid flimsy fabrics. Go for materials that are thicker and will provide better support instead of highlighting any bumps.
Date go to for bright colors: again, remember black is just one among many options. The old rule "plus size people shouldn't wear bright colors" is no longer a valid excuse. You should wear the colors you really like, always combining them properly. If you are too used to dark colors but want to start changing, begin with small things like accessories, shoes and bags. As for clothes, choose a cut and fit that makes you feel comfortable.
Don't abuse the empire waistline: this style can certainly be very flattering for your figure, but you have to consider some details. If your bust is small or your bottom wide, the Empire waist does fulfill its purpose. However, if you carry most of your weight in the belly or if you are big-breasted, you should stay away from this style since it may give an unwanted maternity image. Give fishtail skirts a chance instead.
Don't avoid denim: jeans are always classic and easy to combine. The news is you don't have to choose baggy jeans. Believe it or not, skinny jeans with a slim, fitted cut can absolutely elongate your legs length providing a slimming effect.
The Latest Trends of Plus Size Dresses
Don't know what's the latest trends of plus size dresses? Let's now take a look at some plus-size celebrities and their outfits for you to grab a few ideas of plus size evening dresses uk. Celebrities always lead the fashion trends, right?
Adele
This popular and amazing singer's style is characterized by waist belts that enhance her figure and half or long sleeves for a perfectly elegant look. In this picture we can see her wearing a shiny round-neckline dress with a belt and sleeves.
Mo'Nique
This stunning dress is proof that anyone can wear white. It features a square neckline, a tight waist that highlights the natural body shape and a floor-length skirt. White with beautiful black flower decorations, this dress is a beautiful white option for a formal event.
Amy Schumer
Rebel WIlson is wearing a star dress for the Oscars. All covered in gold sequins, this floor-length dress features an impressive one-off-shoulder neckline and a draped detail on the waist. All in all, an absolutely stunning option to be on the spotlight.
Affordable Plus Size Formal Dresses
Looking for some plus size formal dresses uk? Take a look at this section, in which you can find 5 different types of plus size dresses for your next event.
1. Elegant Double V-neck Dress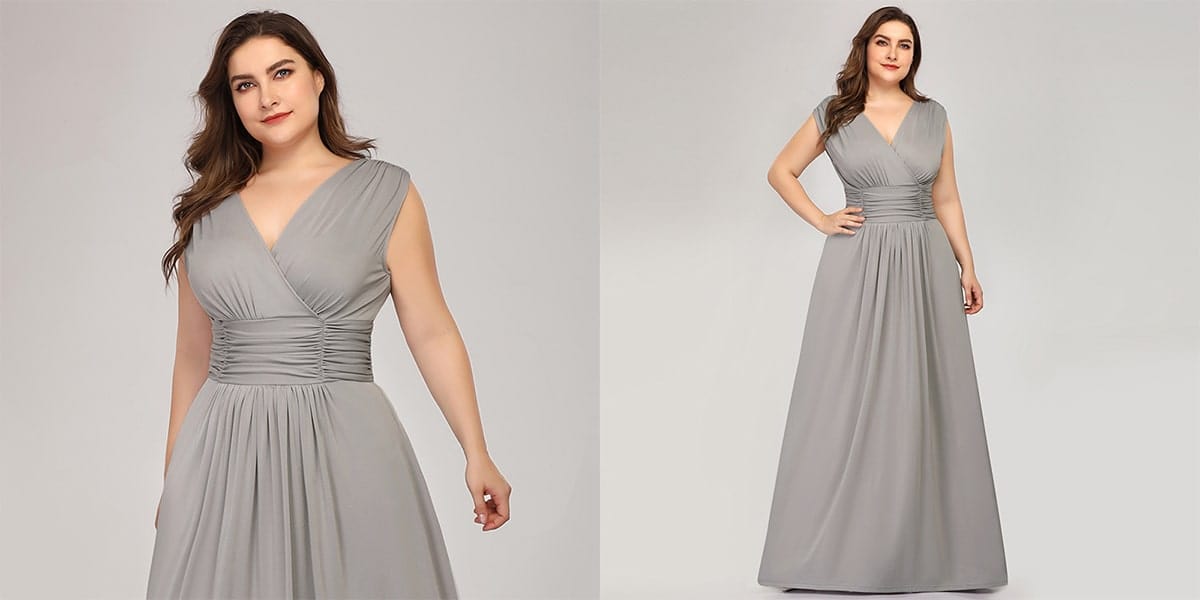 Although it may look simple, this floor-length double v-neck dress with a runching in the chest and waist is perfect for those who are shy when choosing dress styles. Combined with bright-colored accessories and shoes, this figure flattering dress can be your perfect option.
2. Sexy See-Through Lace Dress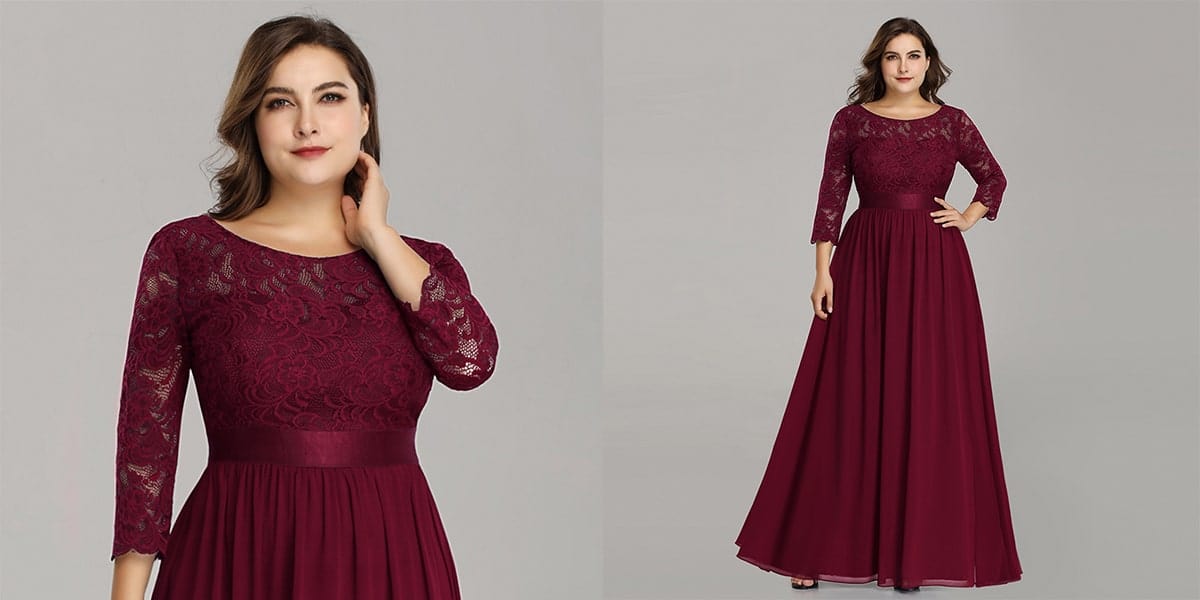 This beautiful see-through dress features half lace sleeves, a ruched waist that flatters your curvy figure, a classical round neck and a floor-length skirt. If you like a bit of transparency maintaining an elegant style, this is a great option for you. As it is padded you can comfortably wear it with no bra. Choose it in burgundy, blush, navy blue and many more.
3. Delicate Embroidery Fishtail Dress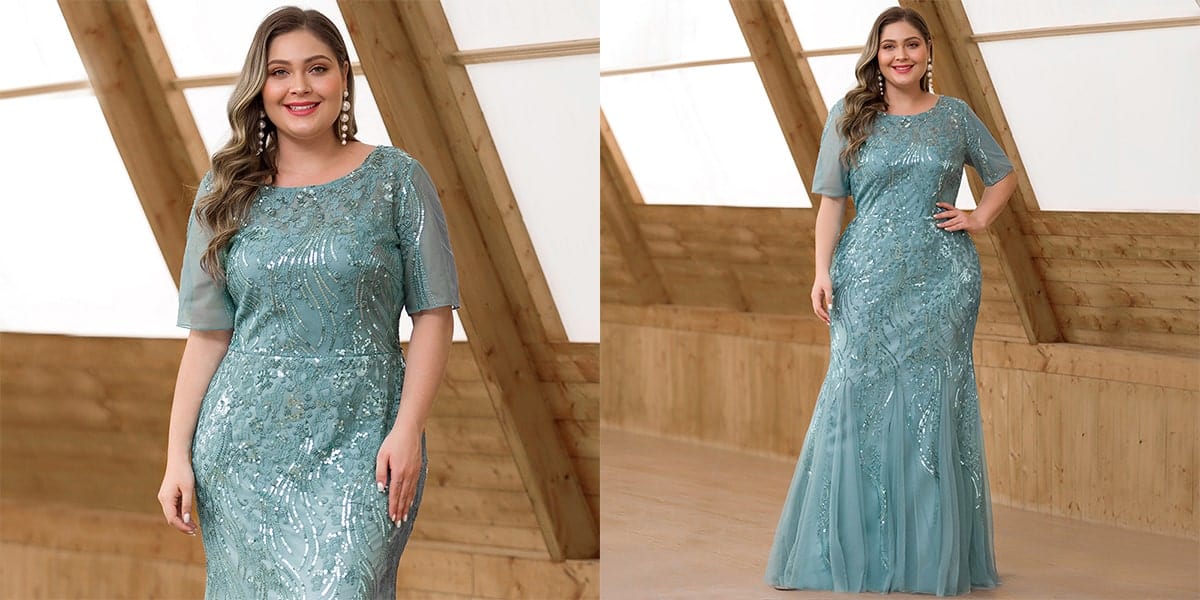 This absolutely delicate dress is sequined and features a floor-length skirt made with tulle, a classic round neckline and romantic see-through half sleeves. This beautiful dress is a great option if you like shines and delicacy. You can choose it in dusty blue, burgundy, gold, purple orchid and many more!
4. Sequin Mermaid Tulle Dress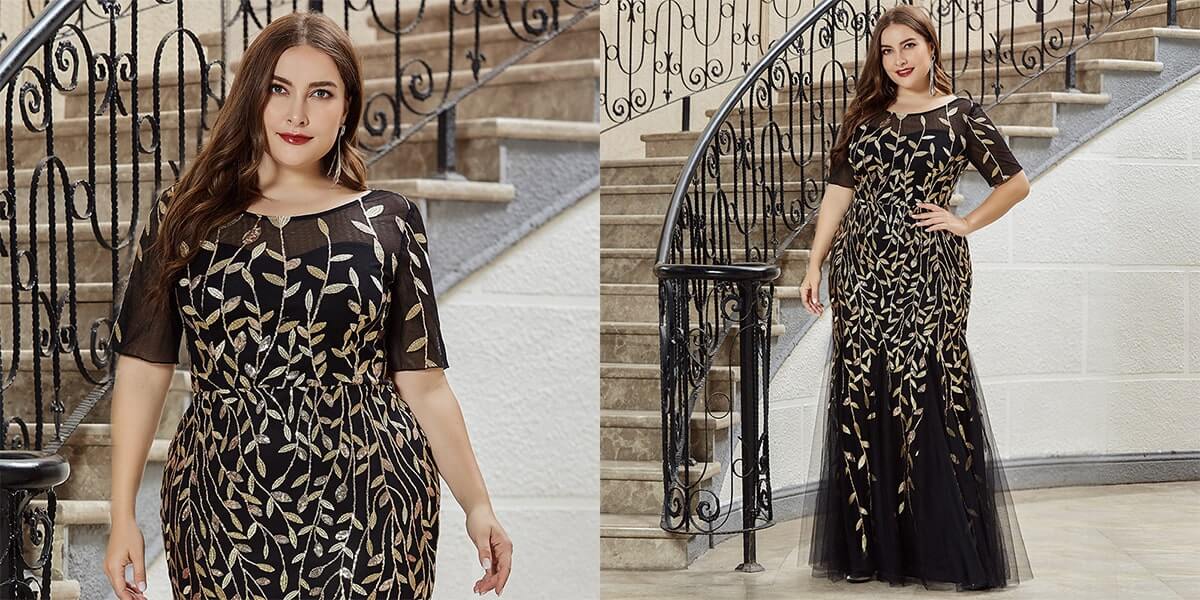 This stunning sequin tulle dress features a shimmery leave design all throughout the dress, half sleeves, a sheer round neckline and a floor-length skirt that embraces your natural shape. If you are looking for a sexy yet elegant look, go ahead and choose this one. It comes in gold, silver, dusty navy, purple orchid and many more.
5. Sweet Flowy V-Neck Dress
Want a fairy-tale look? This absolutely sweet and delicate V-neck evening dress features fluttery sleeves and a delicate belt that flatters your waist together with the maxi skirt. Fresh, comfortable and easily combined, this amazing gown comes in mauve and burgundy.