The wedding date is set, the party place has been booked, which means the two most important things have been taken care of. Now you're starting to focus on the details to have the most beautiful day and night of your life.
To make your wedding day unique, one of the other issues you need to take care of is the best support group you've chosen to stand next to you: your bridesmaids. Choosing your own wedding dress is a handful and yet you need to choose your bridesmaids' ones. As stressful as this may sound, you can still make it and survive the process. Whether it's the bride who's reading this or the bridesmaid, no need to panic: we've designed this guide to help you choose the best bridesmaids dresses 2023.
5 things to consider choosing best bridesmaid dresses 2023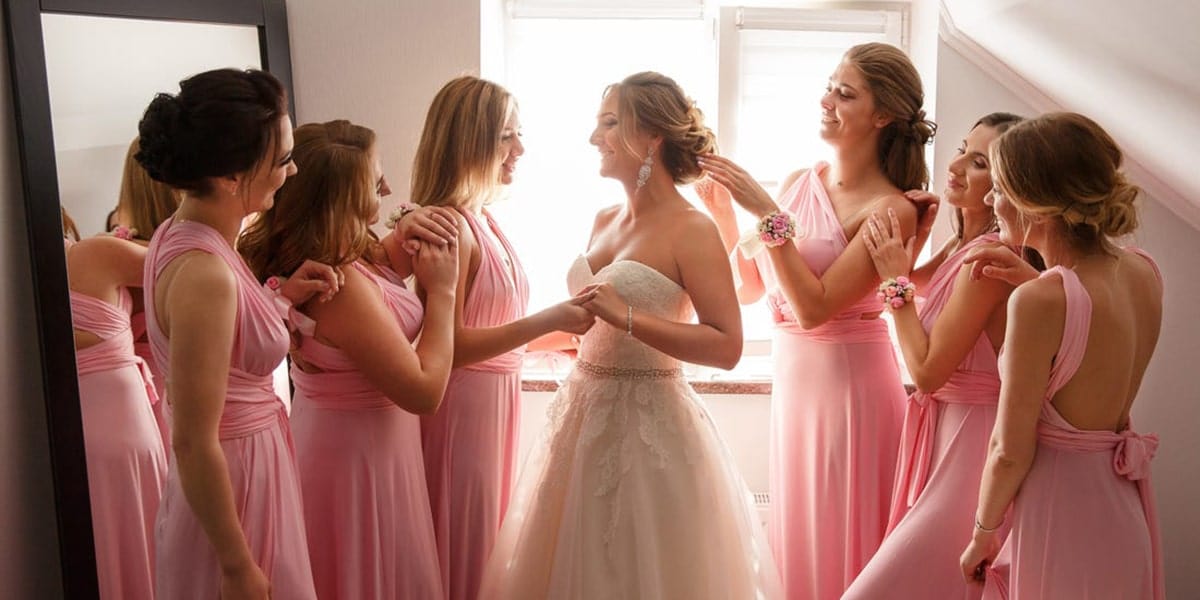 The color: this is probably the first and most important thing to do. Once you have decided on the color, the rest will be easier. To do so, take into account your preferences but don't forget about your girls' preferences. You could ask them what they'd like and then make a decision. A bolder option is having a multi-colored team: you choose a few colors and your bridesmaids choose one of them each. Whatever you do, make sure they feel comfortable with your choice. Always remember that the color of the

cheap bridesmaid dresses

should be in harmony with the wedding theme; for example, if it's a beach wedding, the dresses should be of a soft, pastel color. If the wedding is in a romantic garden with flowers, the dresses could match the flowers colors.
The dress style: well, this is the most difficult part and can take time, so be patient. Nowadays using a different dress style for each bridesmaid has become very trendy. You can talk to each girl and ask them what style they prefer; this, actually, will save you some work. If you prefer to select only one dress type, make sure all of them like it. Some fashionable bridesmaids dress style nowadays? Off shoulder, one shoulder and v-necklines; sleeveless, spaghetti straps, maxi skirts, empire waist, and the list goes on and on.
The shoes: They should also be comfortable enough to stand next to you during your wedding and to dance all the party long!
Makeup and hairstyle: It is recommended that the bridesmaid first tries on the dress and put on some makeup as a trial. In this way, it can easily be seen if the makeup fits the dress or not. As regards hairstyle, ways remember that a dress is nothing if the hairstyle does not accompany. Although the bridesmaids' hairstyle shouldn't overrun the brides', it has to be elegant and well done.
Affordable Bridesmaid Dresses That Won't Break Your Bank
We gave you a list of five things to consider when choosing the bridesmaids dresses and outfit in general; now, to help you find affordable bridesmaid dresses online we want to provide you with a list of 6 cheap bridesmaid dresses under 50 for you and your girlfriends to choose from. Go ahead, meet your girls group and decide on which cheap bridesmaid dresses UK under £50 you will choose for that special day.
1. Romantic Empire Waist A-line Lace Bridesmaid Dress
This gorgeous, sleeveless bridesmaid dress with an empire waist features a high neckline, a floor-length flowy skirt and an embroidery top. Altogether, this beautiful bridesmaid dress is an excellent choice if you are looking for a romantic style on your wedding dress.
2. Beautiful High Low Bridesmaid Dress
For a more relaxed bridesmaid style, this high low, flowy ruffle dress is a good choice. This beautiful bridesmaid dress is ideal to wear at a wedding during the day or for a relaxed night party. Whatever it is, any bridesmaid would feel flattering on this dress!
3. Elegant A Line Midi Bridesmaid Dress
This amazing sleeveless bridesmaid gown it's a perfect elegant choice for the bridesmaids to stand by the bride on her special day. It features a high neckline, a bust made of beautiful lace and a stunning floor-length skirt. A perfect combination for the perfect night!
4. Sweet Off Shoulder Bridesmaid Dress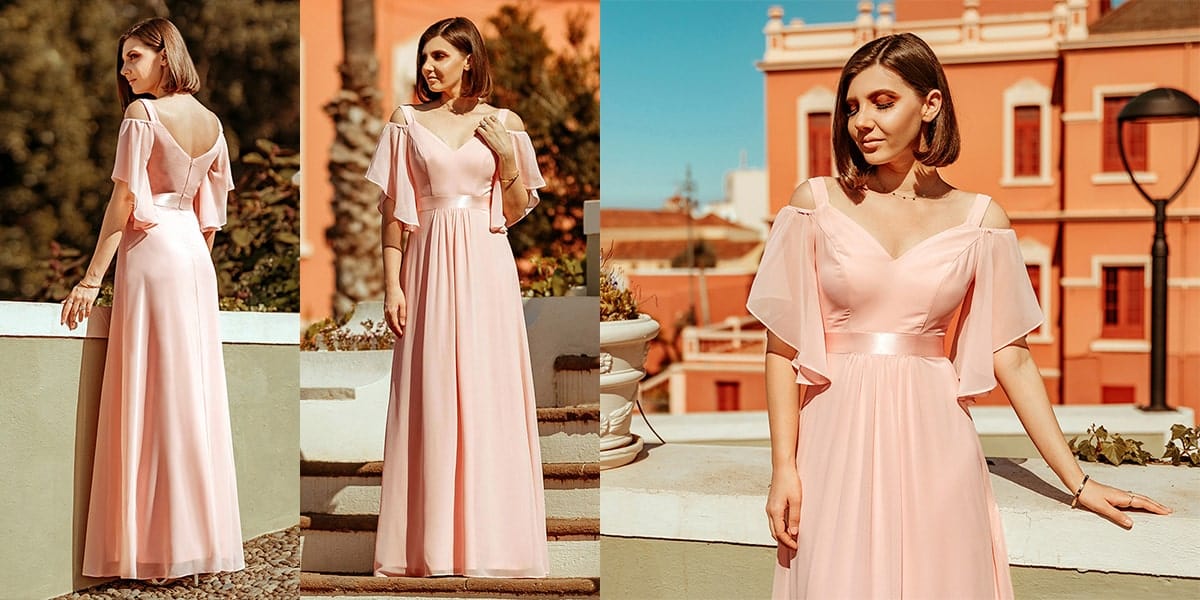 This incredibly sweet bridesmaid dress features an off-shoulder neckline with ruffle sleeves and a floor-length, flowy skirt. The amazing combination of the v-neckline and the delicate belt makes it a perfect dress for the sweetest of bridesmaids. If you are looking for a sweet, delicate look, this is your perfect option.
5. Stunning V-Neck Floor-Length Bridesmaid Dress
This stunning double V-neckline bridesmaid dress features an empire waist, flutter transparent sleeves and a subtle high low tulle hemline: everything a dress needs to features every body type. For a group of bridesmaids with different body types and sizes, this could be the correct choice as all of them will feel completely beautiful.
6. Impressive Spaghetti Strap Long Bridesmaid Dress
Last, but not least, this delicate bridesmaid dress features sexy spaghetti straps, a floor-length flowy tulle skirt, a deep V-neckline and a runched bust which adds detail and elegance. This dress features flatter your silhouette and enhance your shape. If you want a dress which is not so complex yet it's sexy, this could be the ideal option for you.