As your baby bump starts growing and noticing, you probably start feeling your body's changing and you don't fit in all your regular clothes any more. You certainly don't need to worry about this since of course it's totally normal and of course there's a solution: maternity clothes. These clothes are always designed for you to feel completely comfortable during your pregnancy and also to look trendy and beautiful.
The first thing to know is that you don't need to go, buy a whole new closet full of maternity wear and break the bank. This article will help you decide when to start buying your maternity clothes without blowing your budget and we'll also give you some ideas of beautiful, comfortable maternity dresses for you to choose and start feeling the sexy, beautiful mommy you are!
When to Start Buying Maternity Clothes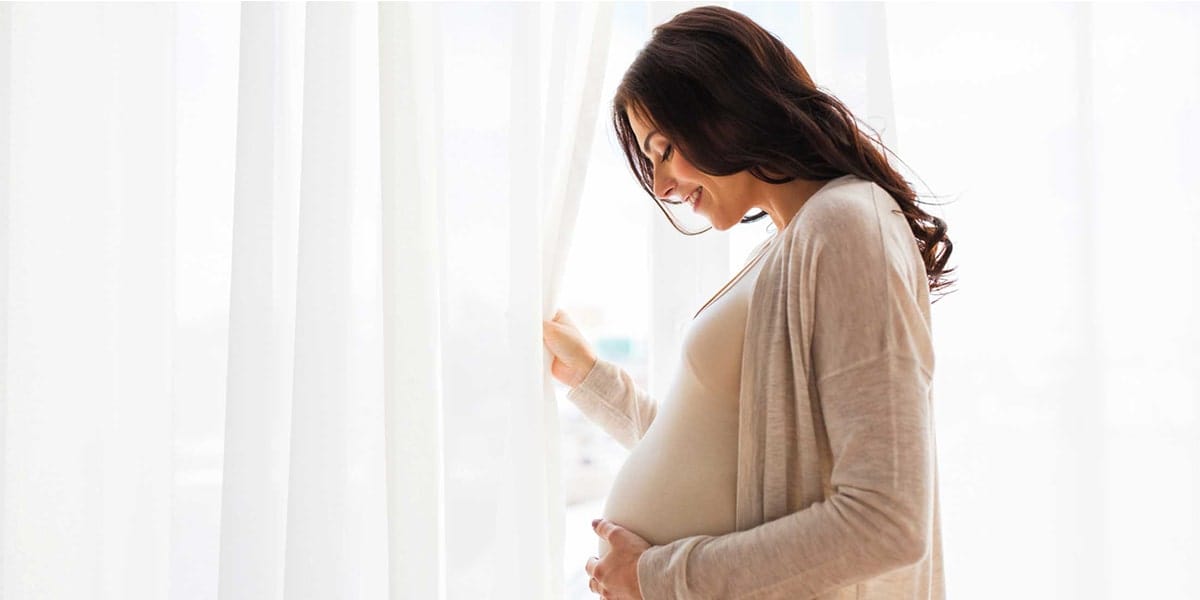 There's no standard rule about when to start buying maternity clothes. The exact minute you get pregnant, you usually start feeling small emotional and physical changes little by little. As your baby bump starts growing and showing, you start facing some daily difficulties such as bending or putting on your shoes, not to mention that your clothes get smaller and smaller for you. So, when is it the best moment to buy new clothes? We've designed this guide with some tips to help you know when it's time to go mommy shopping!
Put the focus on your bump: during the first three months your belly will probably continue to look the same and you will be relaxed about clothes, but generally after the fourth month the changes appear, so when clothes begin to feel tight on your belly area, it's time you start wearing larger clothes.
Pay attention to your breasts: Maternity clothes is not just all about dresses and t-shirts; you need to consider the underwear. As women's breast, for obvious reasons, tend to get bigger during pregnancy, chances are you will also need to buy new bras. Same rule applies here: as soon as your bras start feeling tight, it's time to change.
Shoes: This is not the case with all women, but you may notice your feet change their usual size, especially if it's a hot season. Be ready for this, and when you buy new shoes, make sure you don't spend too much as later your feet could go back to their normal state.
Don't wait till the last minute: Bear in mind that buying your maternity clothes shouldn't happen the moment you need to wear them: you may feel too heavy and tired to go shopping. Be smart: buy your maternity clothes during the 3rd and 4th month and have them clean and ready to wear!
Comfortable Maternity Clothes You Should Have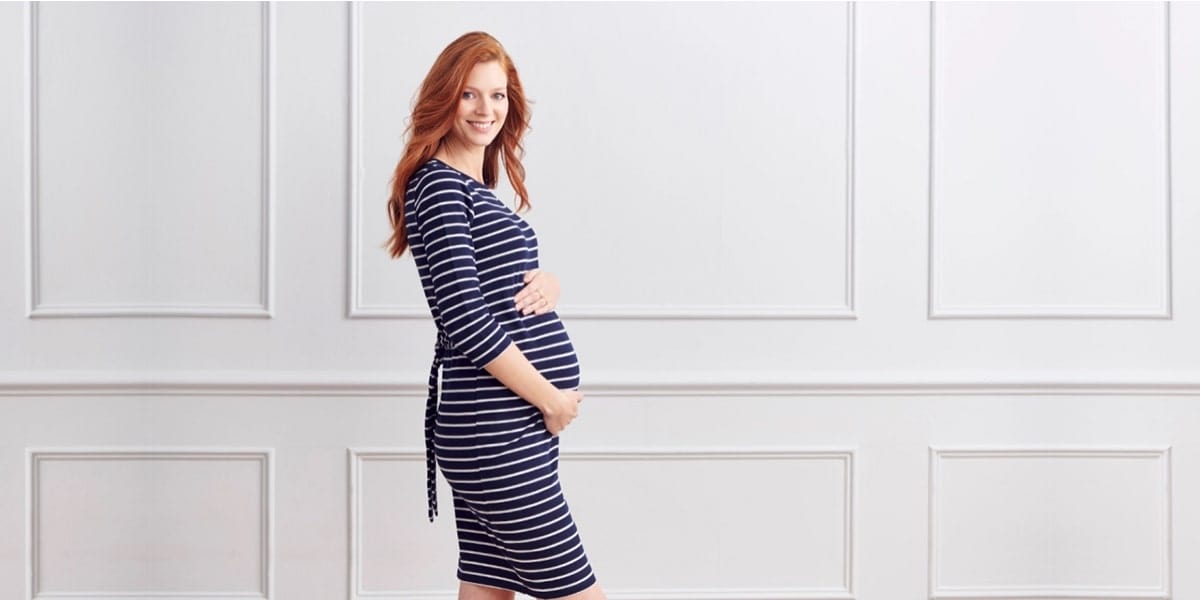 After giving you some clues on when to start buying the appropriate clothes for your pregnancy, we want to offer you a list with comfortable maternity dresses you can choose from to enjoy your baby bump as it grows. Take a look at these best maternity clothes 2020 and get ready to be a trendy mommy!
1. Fresh Elastic Bodycon Sleeveless Maternity Dress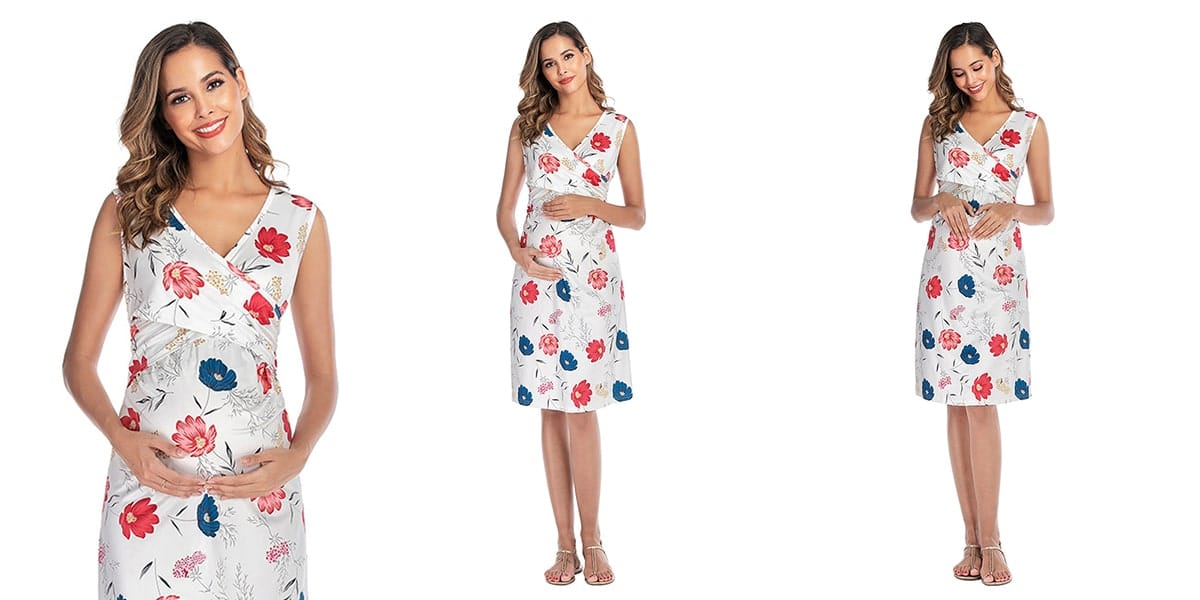 If you want to feel fresh this season during your pregnancy, this floral maternity dress may be the answer to your needs. It's sleeveless and made of soft fabrics for you to feel totally comfortable. Ideal for all semi-formal occasions: you won't have to worry about dressing nicely and being comfortable anymore.
2. Stylish V-Neck Long Sleeved Maternity Dress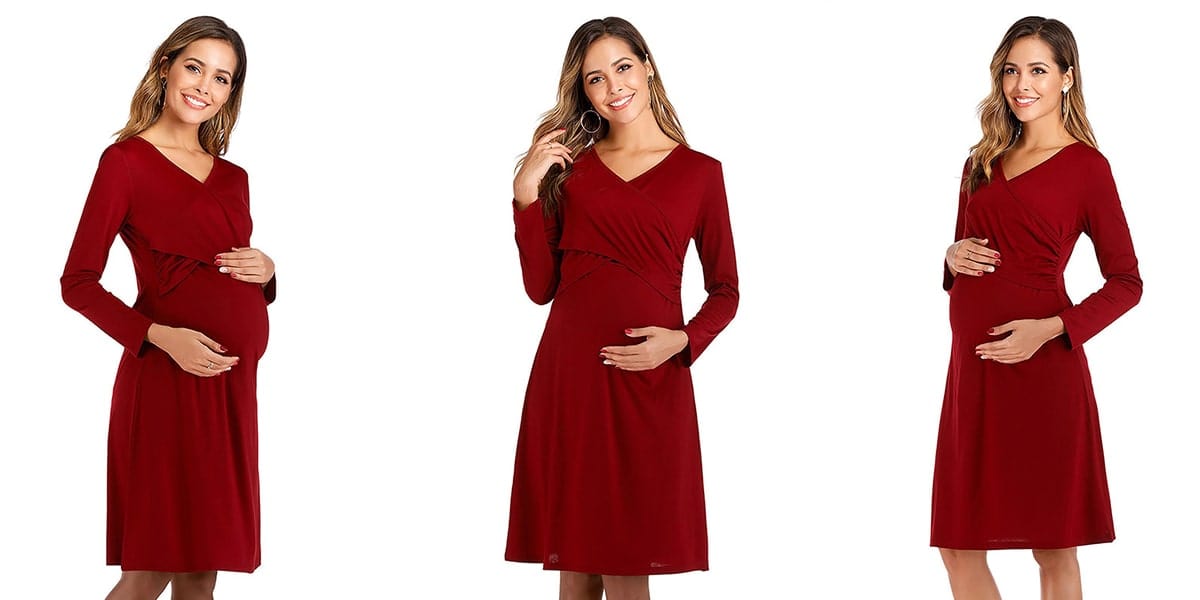 If you tend to feel a bit cold, this long sleeved maternity and nursing dress is ideal for you. It's made with soft, stretchy fabric, it's knee-length and it features a lift up bust for an easy and comfortable nursing access. If you want to feel beautiful and comfortable as your bump grows, this stylish dress is perfect for you.
3. Formal Ribbon and Lace Maternity Dress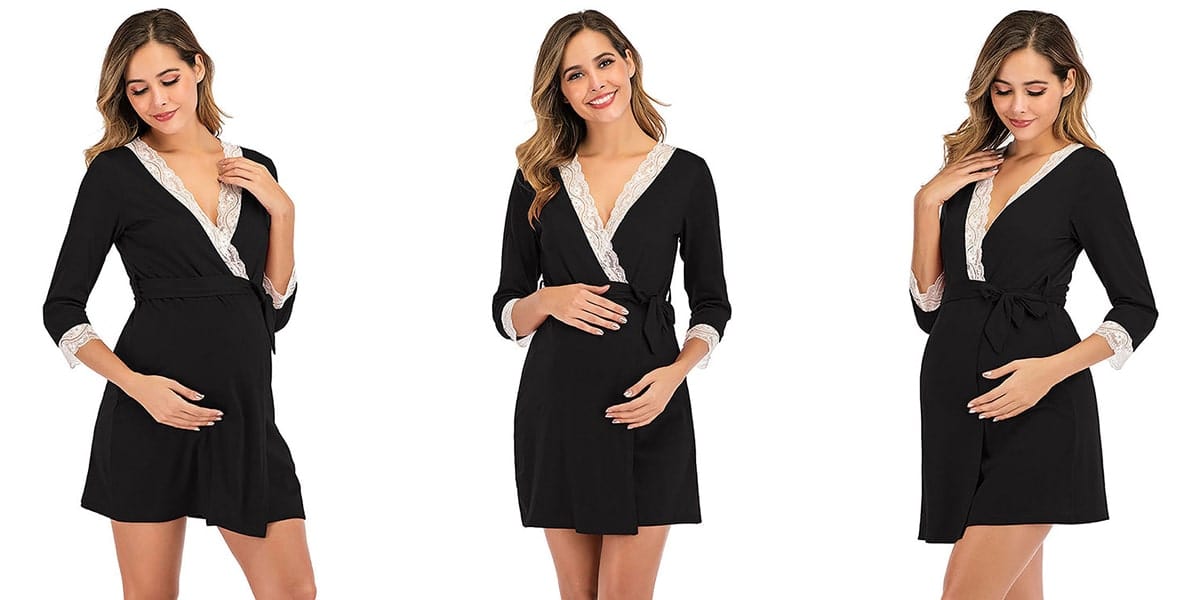 During pregnancy, formal dresses are a must-have. This trendy formal maternity dress has been designed to flatter your shape and provide you with an easy and comfortable nursing access. It features a V-neckline, half sleeves and a delicate adjustable ribbon around the waist for you to adapt as your bump grows. With delicate white lace around the neckline and cuffs, this stylish formal maternity dress will give you a feminine and sweet look.
4. Short Sleeve Printed Maternity T-Shirt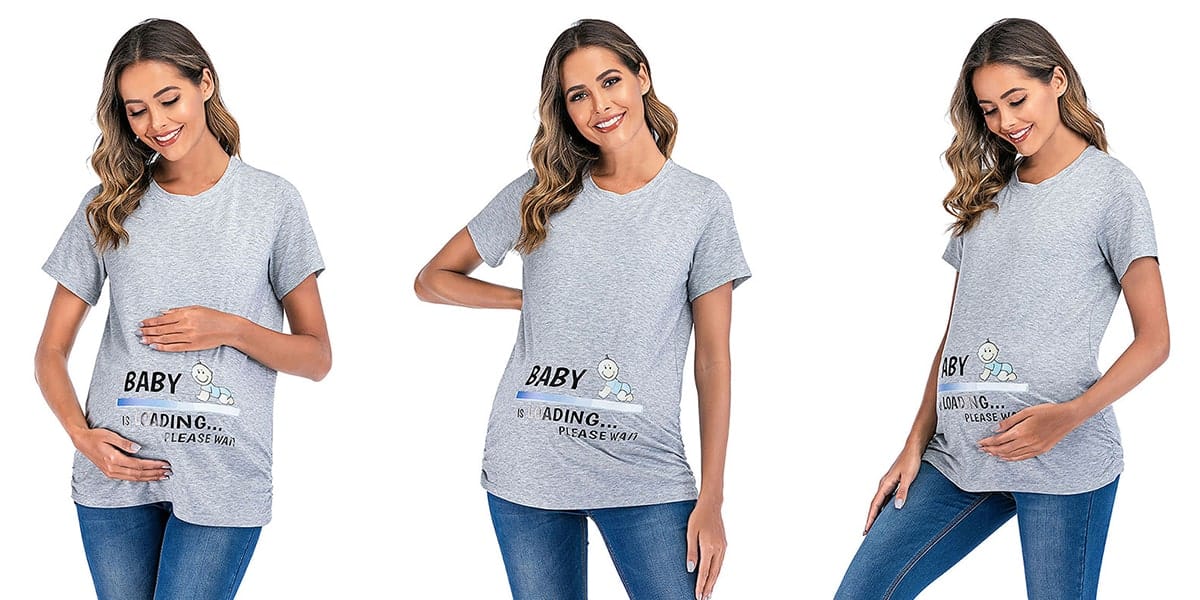 If you are looking for a casual maternity t-shirt with a creative design, take a look at this one. It features a sweet pattern of a baby and the phrase: "Baby loading…please wait". With a classic round neckline and a soft, comfortable cotton fabric, you won't want to take this t-shirt off!
5. Sexy Formal Lace See-Through Maternity Dress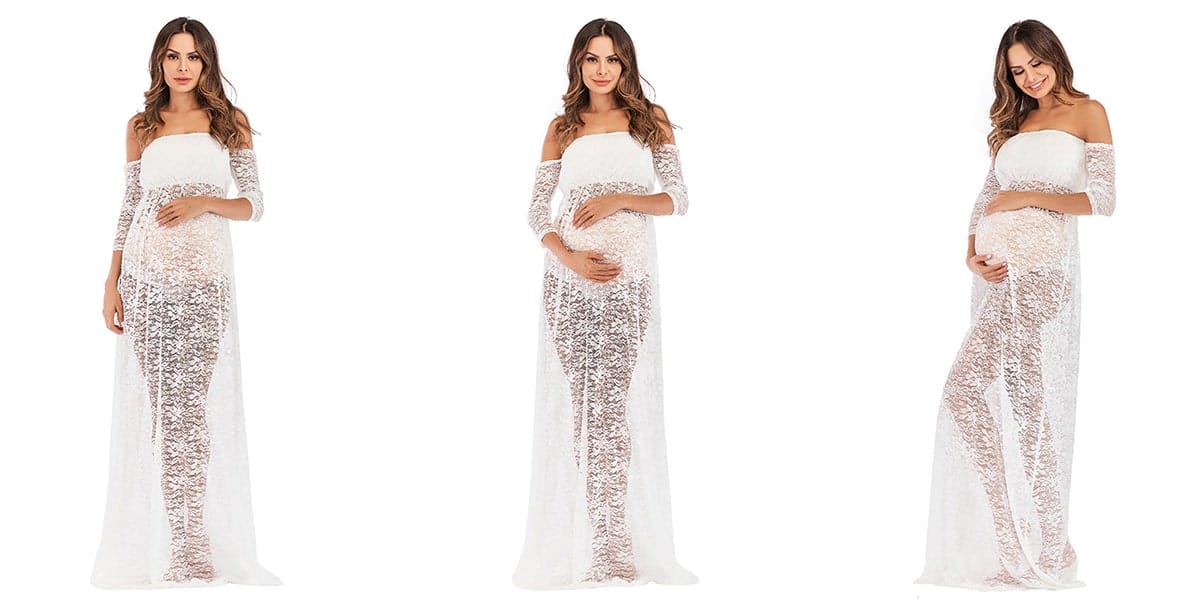 If you have a party coming and you have no idea what to wear because your baby bump keeps growing, this could be a good option for you. This formal maternity dress features a strapless neckline, half sleeves, a floor-length skirt and it's made of sexy, see-through lace. All in all, the complete combo to go to your formal party and rock the night!