New year, new trend? You are absolutely correct, a new trend wave just hit the fashion industry. Starting 2021 off with a BAM. Good news is that bridesmaid dresses were not left behind. Any wedding is the perfect opportunity to give your bridesmaids a chance to slay their look; matching the aesthetics of your wedding. This event will give them the confidence and spirit of good cheer they were looking for as well as the extra spark you needed to help keep you wedding bright and colorful. Also, a little girl-friend time definitely doesn't hurt!
Amidst the preparation for your wedding, selecting the right dresses for your gal pals can definitely be overwhelming. With the help of this article, you'll save some time and energy searching for the right dresses. You'll also get the chance for your bridesmaids to rock the the best bridesmaid dresses in 2021- they will be talking about it all year long.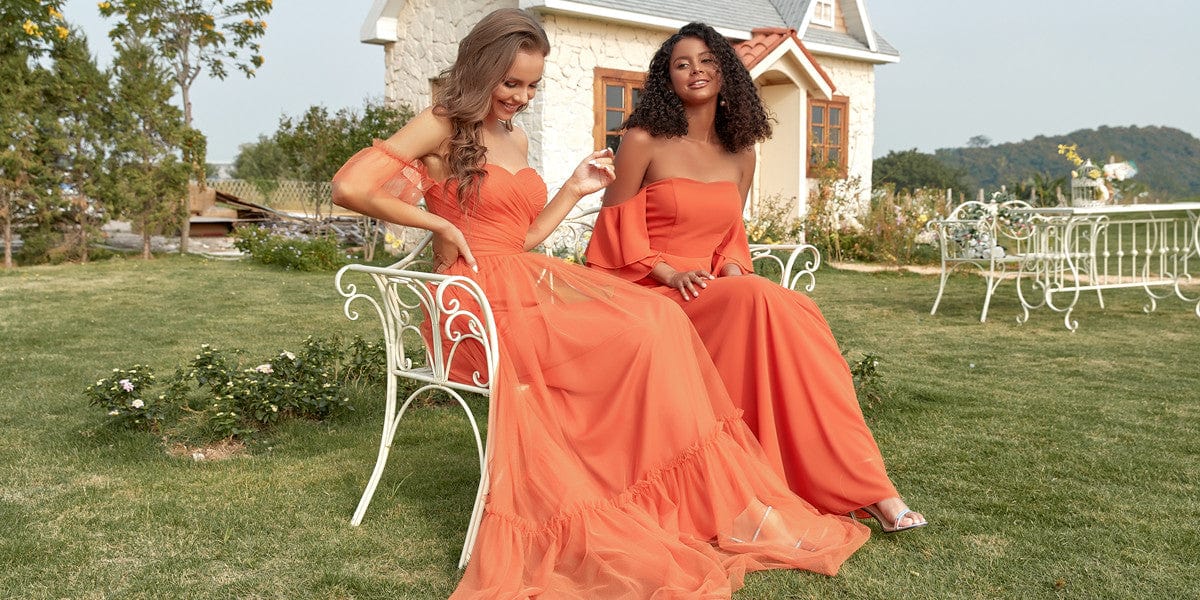 New Bridesmaid Dress Styles for 2021
It is already 2021, bridesmaid dresses don't have to be boring anymore. Bridesmaids do not have to wear matching styles like it's a school uniform. Whether it is the flattering necklines, bright colors, or patterned fabric, the goal is to keep it unique and classy. Without further ado, here are some of the best styling ideas that'll suit your bridesmaids:
Cowl Necklines
The cowl neckline is proof that fashion never really dies. This style goes as far back as the '90s, and it is no surprise that it is still in 2021 Vogue. I mean, who would want to let go of this timeless style? A trend that helps your bridesmaid flaunt their glowing skin and beautiful jewelry. One good thing about cowl necklines is how they complement another classic look; slip dresses with spaghetti straps.
Bridesmaid Jumpsuits
Have bridesmaids that love to go hard on the dance floor? Need a style that they can move freely in without worrying about ripping their dresses? Jumpsuits are just what they need to dance their hearts out. With a lot of designers hopping on this trendy style, we now have it in varying necklines, fabrics, colors, and lengths. Jumpsuits are versatile, and there's no way we're letting it go in 2021.
Mix & Match
Today, bridesmaids don't necessarily need to wear the same dress as previous traditions. It is time to get creative and diversify. Wearing different fabrics, prints, and patterns that they feel comfortable in; adding that pop to your wedding theme and photographs. Bear in mind that you need them to wear  colors that blend to avoid the case of color contrast.
Nature's Gold
Rust and terracotta color hues are the next big thing for bridesmaids this year. Not only does this limited yet v.ersatile style give your BFF's the chance to mix and match, but also gives their skin that glow. Especially if you are having an outdoor wedding in autumn. The sunset will even be jealous of your girls as they slay in orange hues and varying rusty shades.
Velvet
If there's one thing we're sure of, it's the fact that velvet never gets out of style. The fabric's thickness for cold seasons, the aesthetics for a mix&match, as well as the inseparation between velvet and bridesmaid dresses.  All colors look beautiful on velvet, and there will be no limitations to the color hues for your wedding theme.
Ruffles
Here's one sure way to give your bridesmaids a romantic look as they honor your special day. Ruffles always come in handy when you need to mix simplicity with class in 2021.
Luxe Satin
Comfort should be just as important as style if you want comfort for your bridesmaids. Luxe satin is easy on the inside and astonishingly lustrous on the outside. Give your girls a reason to not only look gorgeous but feel the touch of this fabric as well.
5 Trendy Bridesmaid Dresses We Pick for You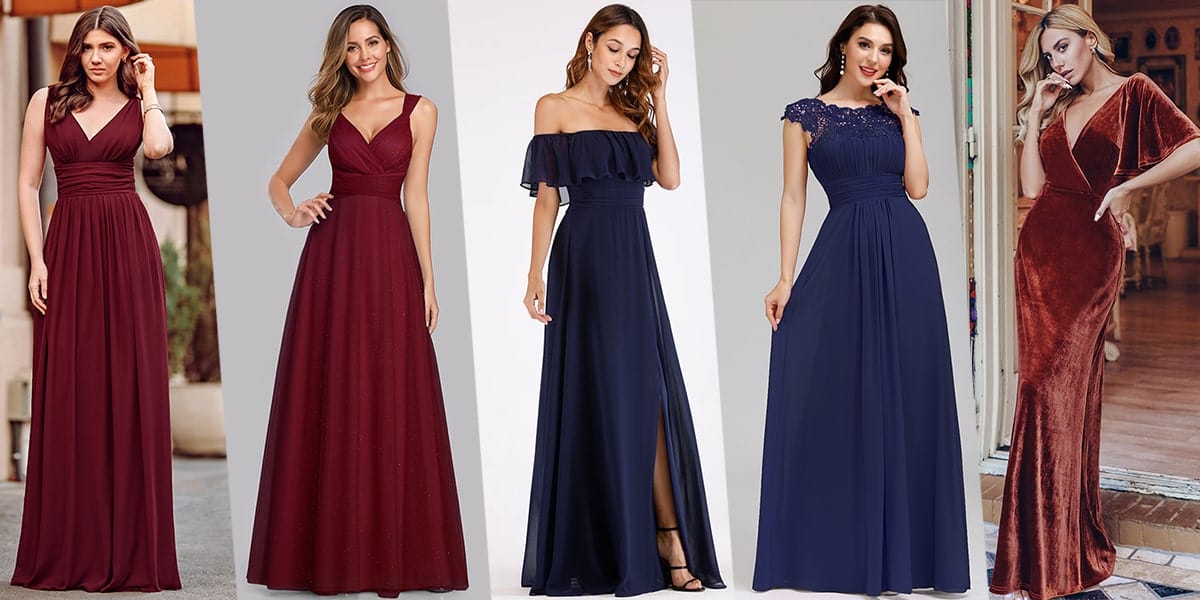 At Ever-Pretty, your appearance is just as important to us as it is to you and your bridesmaid. Keeping you updated on the latest fashion trend is what we do. So we picked 5 of our best dresses that your girls can wear on your special day.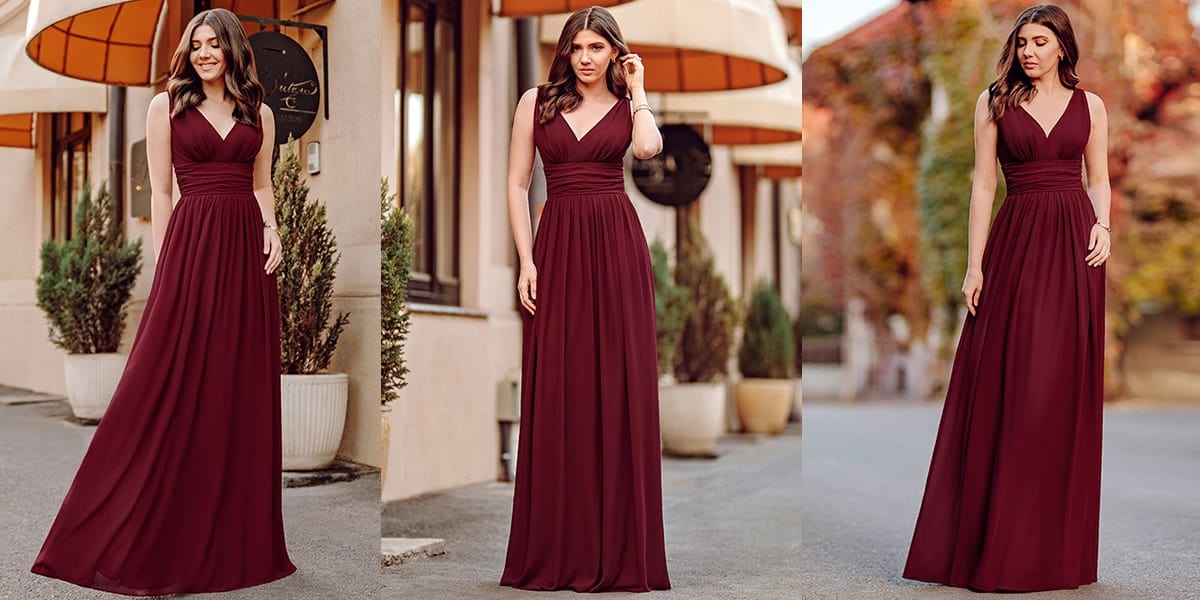 Ever-Pretty Sleeveless V-neck Burgundy Chiffon Maxi Bridesmaid Dress
If you think there is no class in simplicity, this burgundy bridesmaid dress will give you a second thought. The V-neck and sleeveless style let your bridesmaid showcase their flawless skin as they glorify it with the most flattering pieces of jewelry. This chiffon maxi dress is also perfect for summer weddings with enough room to breathe in.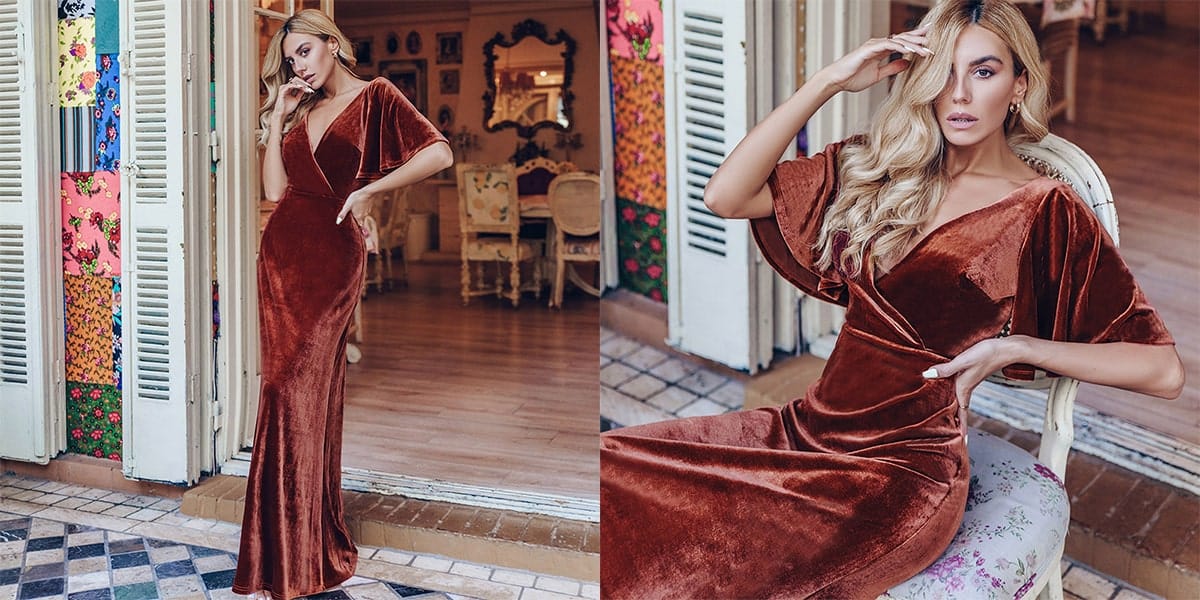 Ever-Pretty Double V-neck Red Velvet Bridesmaid Dress
Nothing screams royalty like the mixture of velvet and terracotta. With ruffle sleeves and a double V-neck design, this gorgeous figure-flattering dress will forever remain timeless. Your bridesmaid will never forget this look as they smile and walk graciously at your wedding.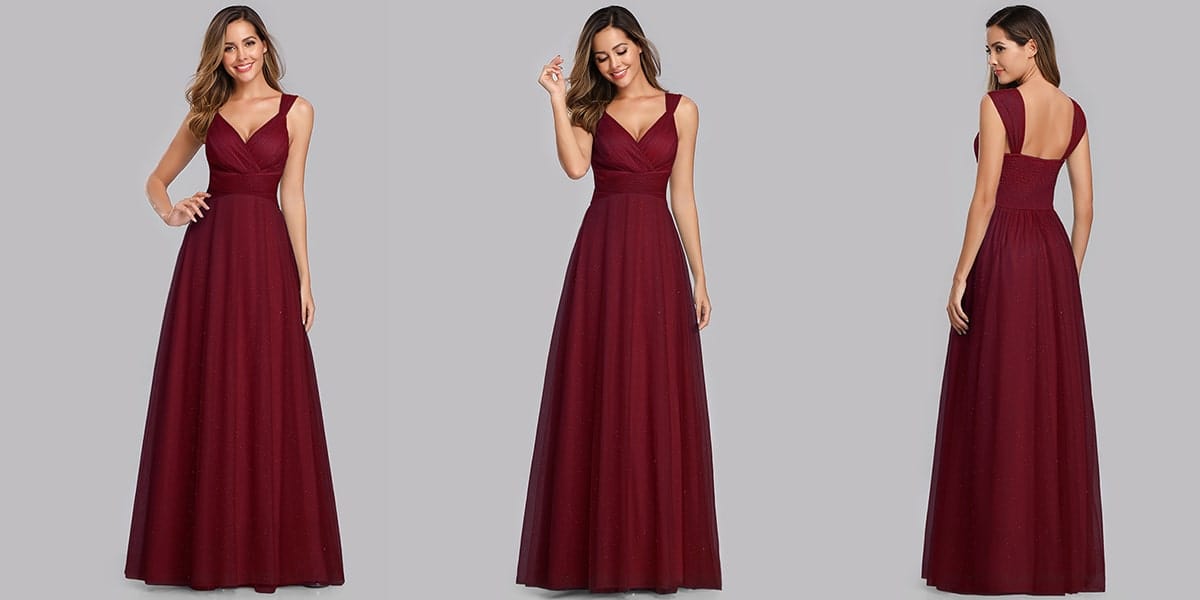 Ever-Pretty Floor Length Spark Tulle Burgundy Bridesmaid Dress
You can never have enough burgundy bridesmaid dresses in 2021. Not only is this color appealing, but it also suits a variety of fabrics, and this exquisite V-neck tulle dress is yet another reason why. Featuring ruches at the bust and waist, there is a trending bridesmaid dresses absolutely no way your bridesmaid won't look dashing in this dress.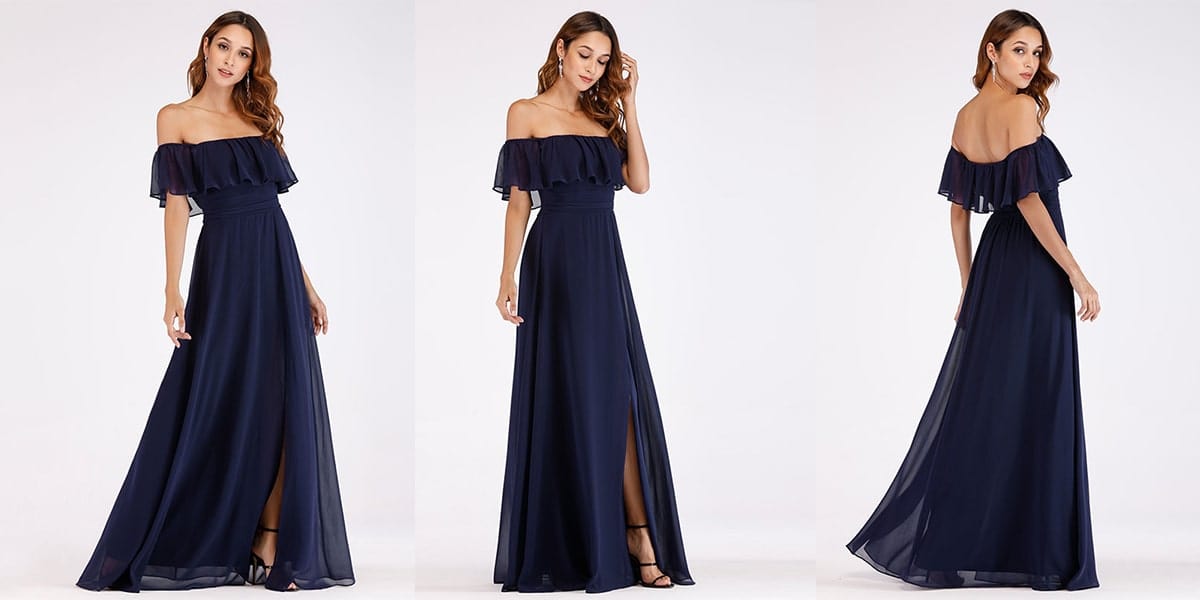 Ever-Pretty Off-The-Shoulder Ruffle Thigh Split Bridesmaid Dresses
To give your bridesmaid the chic and sweet look, you'll need to put your bride squad in this floor-length navy bridesmaid dress. The off-the-shoulder and thigh-high split feature is unarguably sexy. This snazzy collar-bearing dress is irresistibly romantic, showing enough skin to grace your neck with the prettiest necklaces.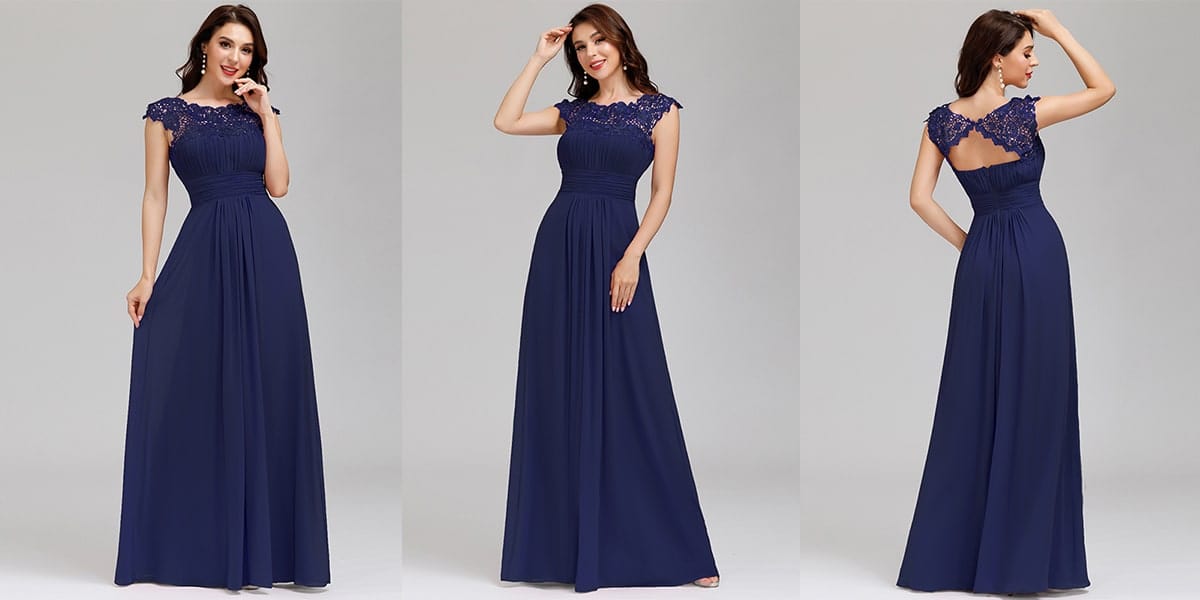 Ever Pretty Elegant Maxi Long Lace Cap Sleeve Bridesmaid Dress
Seems like navy blue is taking the fashion industry by storm. Ruching in the bust and waist, floor-length, and rhinestone decorated neckline, this stunning chiffon lace cap-sleeved dress will give you a run for your money, as your friends of honor shimmer on the day when you say "I do".
Recommendations for your bigger bridal party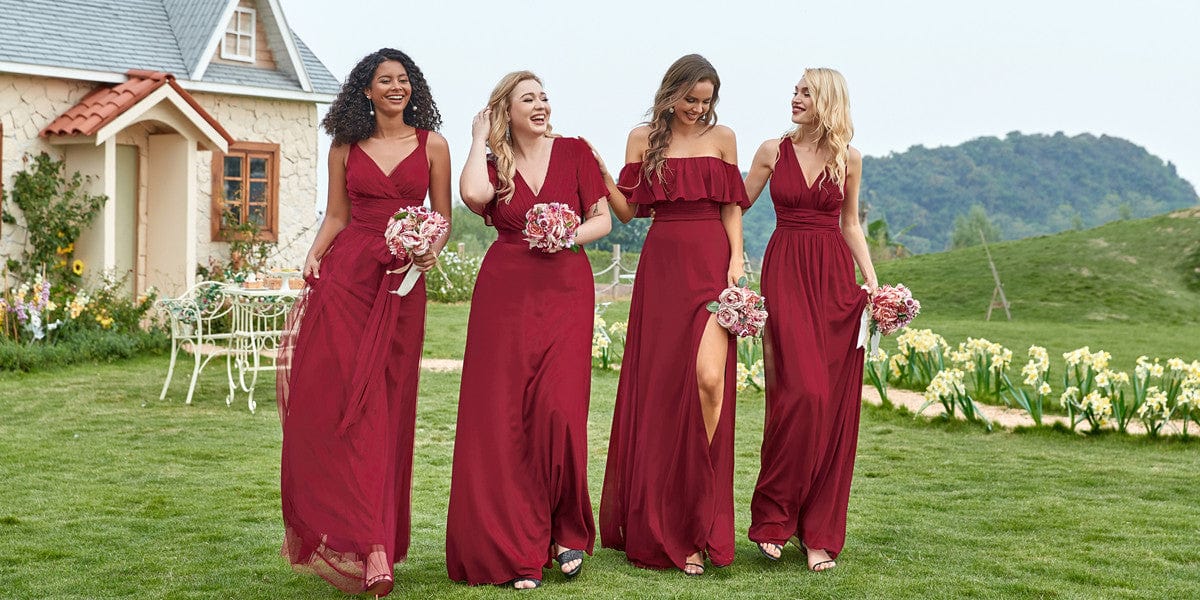 Sometimes, selecting a few people to be a part of your bridal train could be difficult, especially if you know a lot of people. You might be tempted to have a lot of them by your side on that day. However, there's only so much you can do due to the pandemic that has pretty much placed restrictions on the size of your bridal party.
Before you make that final call and go ahead with having all of your BFF's on your bridal crew, here are a couple of factors to consider, aside from COVID-19 of course:
The cost
It's all about the money! Having a bigger bridal party means spending more money on venue, rehearsals, meals, hair, makeup, maybe bridesmaid dresses too! A larger bridal train also means more guests. So, take a look at your budget before making that choice.
A perfect schedule
Getting all 15 or 20 of your girls to be in one place at a set time and date is hard work. They most likely have busy schedules. Be aware and expect unpredicted cancellations and unexpected absences during rehearsals, and even worse, the big day.
Too many captains on a ship
There is a higher chance that your ship will sink when you have a bigger bridal party. Too many opinions on what dress to wear, venue, hair, food, and so on; the list is endless. Complications set in when there are too many opinions to listen to.
Drama
You're most likely mixing friends from different social circles when you're going big with your bridal party. While some might get along quite well, some will most likely disgust each other. Drama can ruin your big day and stress you out.
Your preference
Having a big bridal party to make everyone happy is a bad idea; you're only being unfair to yourself. Only go for it if it's something you'd love to have. 
Final Words
There is nothing as beautiful as having your favorite girls look their best on one of the most important days of your life. It is your big day and it is a big deal to them too. These dresses are absolutely irresistible; your bridal squad will look forward to wearing these dresses to other occasions and not lock them away in the attic. Whether it is a big bridal party or not, remember to stay safe and help your girls look spectacular on this special day. Best wishes!
You can find more posts by clicking here:

Cheap Bridesmaid Dresses UK Under £50 
Complete Guide to Choosing A Mother of Bride Dress