Spring is a season known for its growth and what better time to get married and grow in love than in spring? With spring weddings, there is usually a lot of flowers and pale, yet bright colors, the greens, soft blues, pinks, and the entire paste palette. Choosing what dress to wear to a spring wedding as a guest can be overwhelming and time-consuming as there are so many options; so many colors, so many silhouettes, so many styles to choose from.
You don't have to worry anymore. We are bringing to you not just tips to choose and style your spring wedding dress outfits, but have also brought to you the top five best and most affordable dresses we money can buy!
CHOOSING A SPRING WEDDING GUEST DRESSES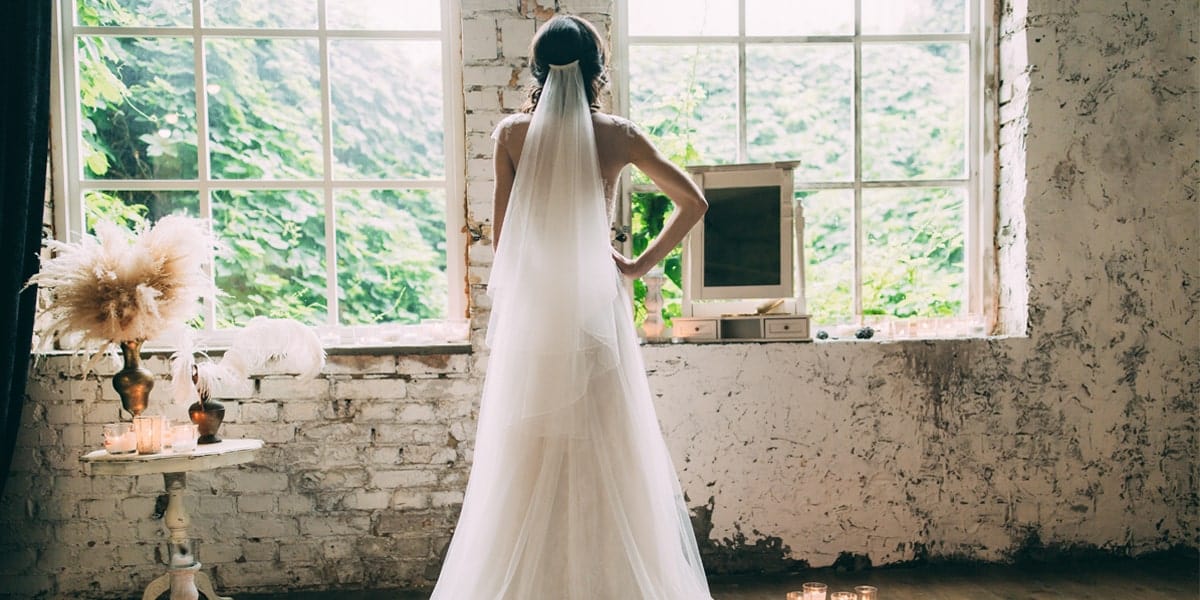 It is easy to get carried away with the colors and flowers when choosing a dress as a guest to a spring wedding, but there are some tips that should be considered before making a choice.
LOCATION AND STAYING ON THEME: Getting carried away is very easy when dressing for a spring wedding, however putting the location into consideration is very important. Light, sleeveless, and even dresses are often considered as outdoor wedding guest dresses, while indoor weddings usually favor a more different kind of dressing.
Most weddings are usually formal events so regardless of the season. So, if it is a formal wedding be sure to pull out the jumpsuits, and the formal dresses. However, if it is a more casual event, then wearing things like this could make you overdressed.
Pro-tip: the location and the design on the invitation usually give an idea of what the wedding theme and decor would be like.
WEATHER MATTERS: In as much as spring seems to be the right season for a wedding and also provides many options when choosing clothes, it should not be forgotten that spring has slightly unpredictable weather. In some spring months, it could get chilly and sometimes even with chances of rain. Be sure to always have that in mind, maybe packing a shawl or a coat, or even opting-in for long-sleeved dresses to keep you at bay when the weather changes.
SEASONAL HUES, MUST OR NOT? : When we think spring, we think pastel colors; we think floral print and a whole lot of bright colors – even lighter fabrics. These are classic spring wedding guest dress ideas that never go out of style. However, you shouldn't be afraid to try something new and think outside the box as long as it stays on theme with the wedding!
EXPERIMENT WITH THAT JEWELRY: spring is the season for colors and what better time to experiment with colorful and bold jewelry than spring? Just make sure to keep your wedding guest dresses, elegant and simple if you're going to pair them with big and bold accessories.
MAXI OR MINI? The fun thing with spring is you can rock either of these lengths as a wedding guest either based on the type of wedding or the weather. Choose something that is both stylish and comfortable for you is all that matters.
AFFORDABLE WEDDING GUEST DRESSES FOR SPRING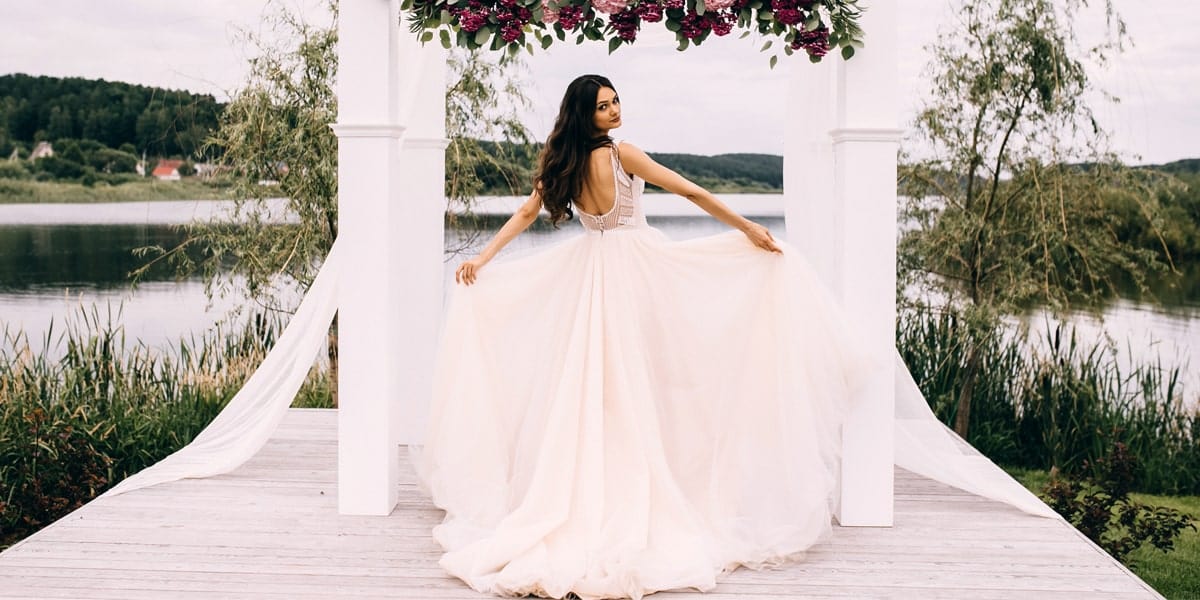 With all of these tips in mind, we have gone scouting the internet for the best and most affordable spring wedding dresses for you to wear in 2021.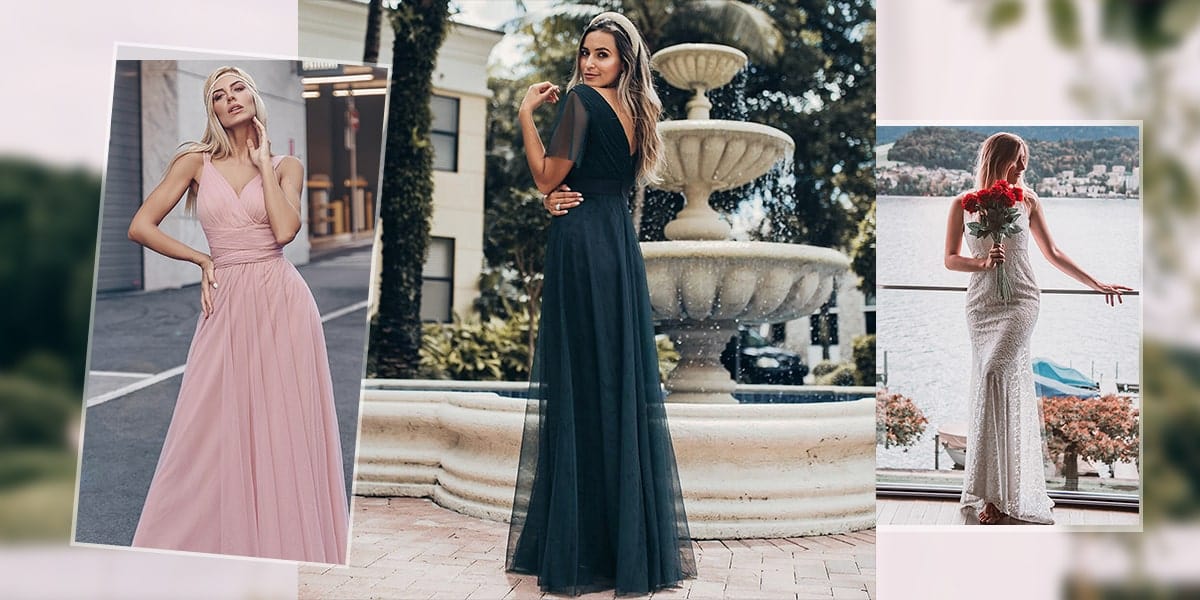 Burgundy Beauty: if you're attending a more formal/black tie spring wedding, then this dress is perfect for you. The color is not the regular classic spring color, and it is both soothing and aesthetically pleasing to the eyes, which is expected for a spring wedding. However, the lace bust, maxi-length, and high neckline make it a perfect wedding guest dress for those who want to look elegant and chic without going way overboard.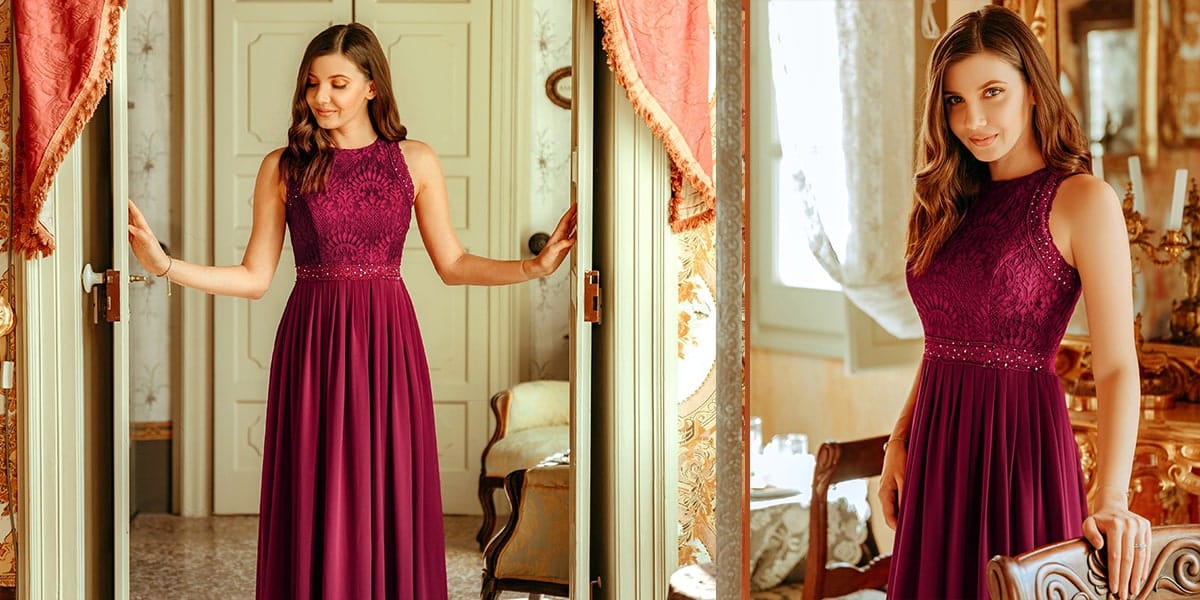 Purple Plus-sized Perfection: Perfection? Yes. Even the color of this dress 'purple-orchid' screams spring perfection. The V-neck and empire waistline make it a very figure-flattering dress. Add the flutter sleeves and the very subtle high-low hemline and all you can see and feel is divine.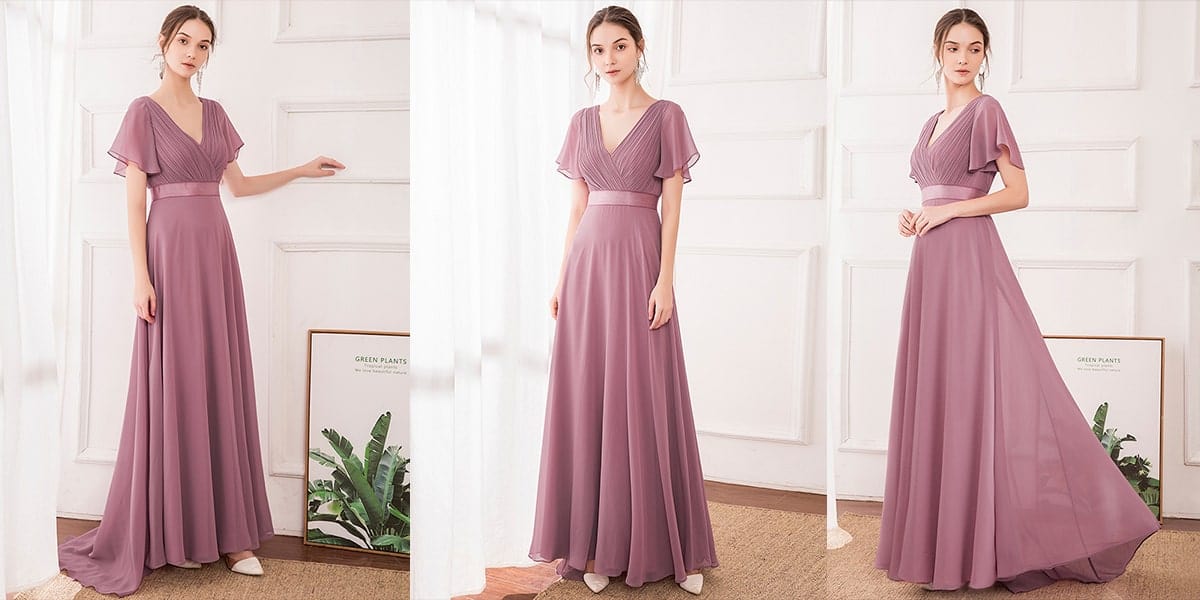 Blushing Belle: Sleeveless, V-neck, and a full skirt? In blush tones? Can we hear spring romance wedding guests? Pair this with some gorgeous sandals and you're good to go. The simplicity of this gown with its skirt pleated halfway is to die for.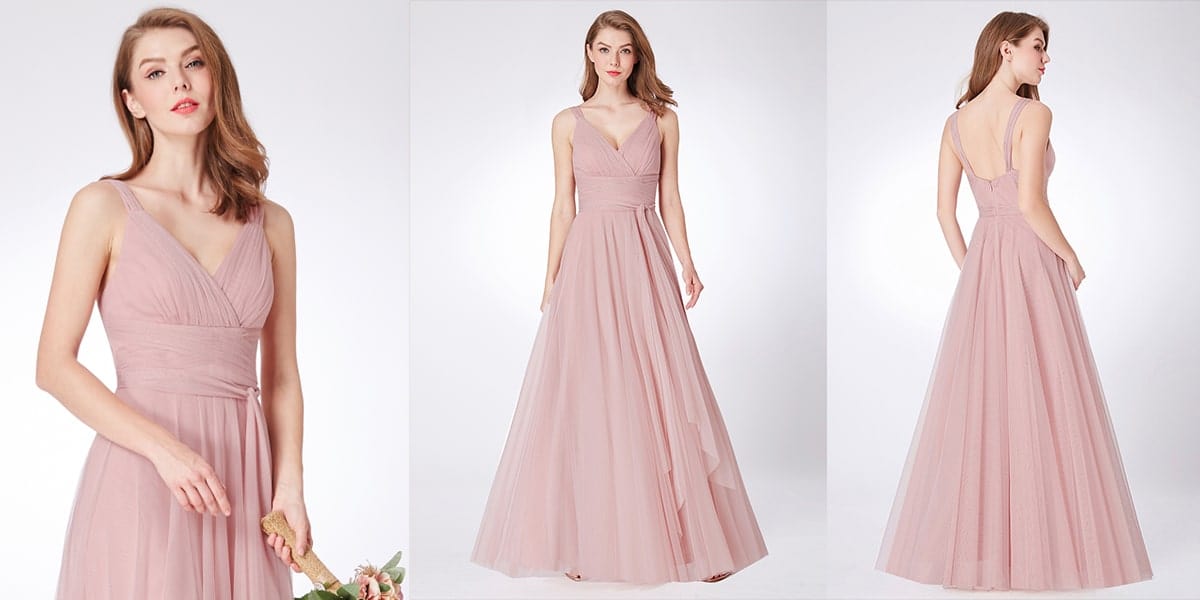 Beautiful and Blue: If there's anything we love about this dress, it's that it is body-type friendly; from our plus-sized queens to the slimmer ladies, anyone can rock this dress. It has a deep double v-neckline, flutters sleeveless, and an empire waistline. Look effortlessly elegant at any spring wedding in this blue gown.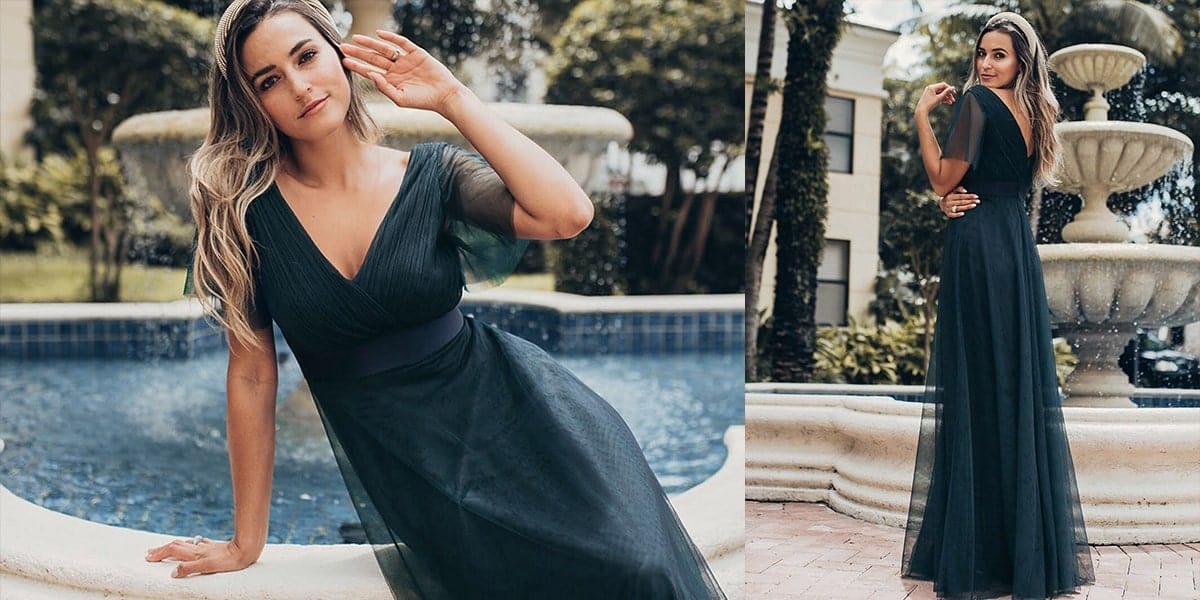 Wowing in White: Okay, so hear us out. It's 2021, a lot of brides no longer mind other people wearing white at their weddings and if the bride at the wedding you're attending is one of such brides then we might have found the perfect dress for you. This is a sleeveless and sexy lace dress with a deep V-neckline and a mermaid figure-hugging skirt. This dress is sure to make a spring statement.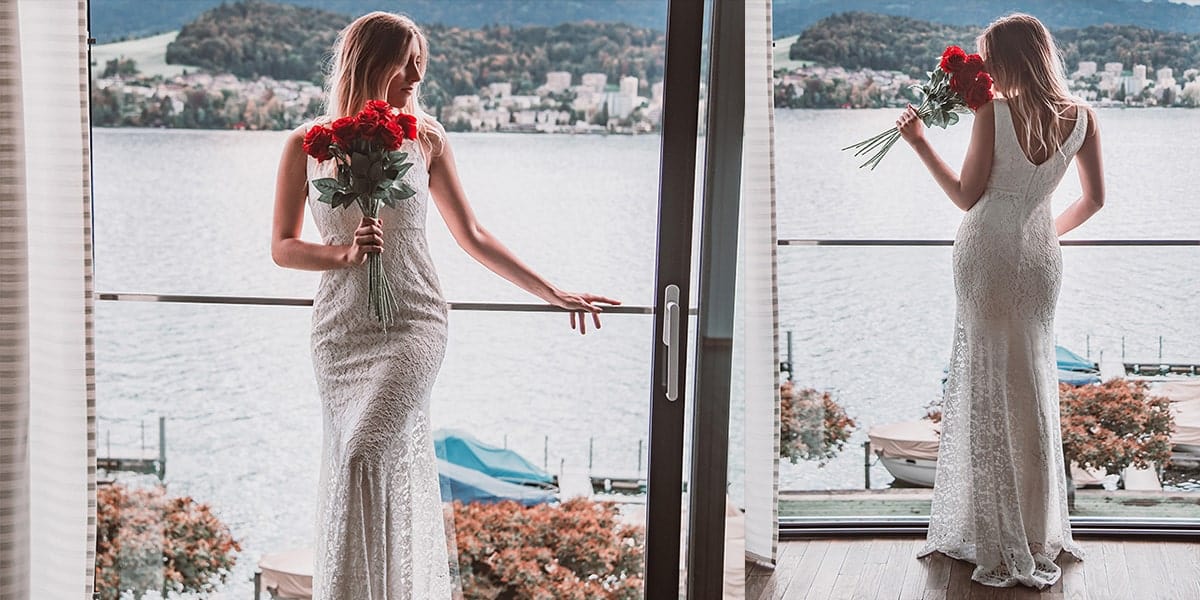 You don't have to feel exasperated or confused from the various dress options spring brings anymore.  You now have the best five wedding dresses that'll make you look drop-dead gorgeous  when you get invited to a spring wedding right at your fingertips.  At the end of the day, you know what best suits you, and that you can look stunning and be comfortable at the same time.