The discipline of Yoga comprises a group of mental, spiritual and physical practices that originated in ancient India back in 3000 BCE and it has been practiced nonstop for thousands of years. Nowadays, yoga is an easy escape for coping with stress, muscle stiffness, reduced body balance and general physical and mental discomfort including chronic pain. Its practice includes assuming postures usually called poses or asana, breathing exercises, meditation, lots of stretching and flexing, and balancing. However, if you are a newbie and have never practiced yoga but want to give it a try, don't let it scare you; you don't need to be a professional to start.
In this day and age more and more people are leaning on this discipline in order to obtain its many benefits since it can:
Relieve chronic pain such as lower back pain, carpal tunnel syndrome, arthritis and headaches.
Lower blood pressure
Reduce insomnia
Help you lose weight
Help you manage stress
Create mental clarity and calmness
Increase your body awareness
Sharpen concentration
Increase your flexibility
Increase your muscle tone and strength
Improve your energy and vitality
Improve your metabolism
Protect you from future injuries
As you can see, the benefits of practicing yoga are countless, so if you are looking for a new physical activity to take up, why not giving a try to yoga? All you need is your own willingness and the correct clothes. Yes, as you've read, using the right clothes when practicing yoga is a key to success: you need the correct support and comfort that best workout clothes can provide you. Below we'll give you some tips on what to wear to your yoga class and what not to wear. If you follow those tips, your yoga lesson will be a total success.
Tips on what to wear and what not to wear to your yoga class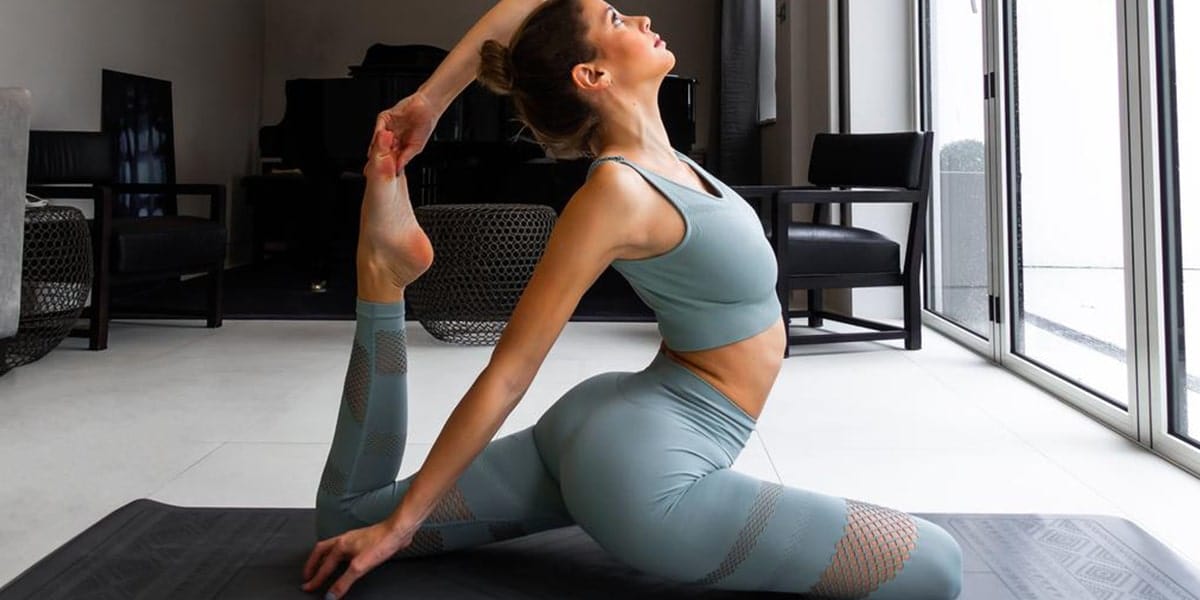 As we said before, practicing yoga doesn't require much, you can even practice yoga at home if you want; there are hundreds of yoga lesson videos online. What do you need? The right workout wears for women to feel comfortable and supported. From yoga pants for women to sports bras, here's a list of the best workout clothes to wear to yoga lessons as well as what not to wear.
Tops: to practice yoga you can wear basically any top you like as long as it's the correct fabric: cotton blend. Wearing cotton blend fabrics will assure you comfort since yoga requires many challenging poses and you don't want tight materials pressing your chest. Feeling bold? You don't need to wear a top; your sports bra will be enough.
Don't  choose fabrics that are too rigid, especially if they have sleeves.
Pants: The ideal bottom for yoga are legging pants as they provide you with limitless freedom of movement. Make sure the waist is not too low as this will make you feel uncomfortable when bending. If you are going for pants, make sure they have an elastic band that allows you to bend and stretch in whatever direction and position you can imagine. In addition, they shouldn't be too tight. Remember you need a margin to stretch and bend.
Don't  choose jogging pants with a tie since it does not stretch and it can create too much pressure on your stomach when bending.
Bras: choose sports bras that is convenient and support your breasts correctly. If the bra is too loose, you will feel uncomfortable when moving. If they are too tight, you'll feel breathless. When wearing it, it should feel comfortably supportive around your chest, neck and back.
Don't  wear traditional bras: they are not designed to make the dramatic movements yoga requires and they don't cover enough.
Shoes and socks: we have some good news here: you don't need to spend a cent on footwear since yoga is best practiced barefoot. You may start the lesson with your shoes on, but soon after you will need them removed, so don't waste your energy selecting them.
Beautiful Yoga Workout Clothes
Take a look at this beautiful yoga clothes and with the tips we gave you above, go ahead and choose the best workout wears for women to start practicing this beautiful discipline.
Comfortable High Waist Yoga Pants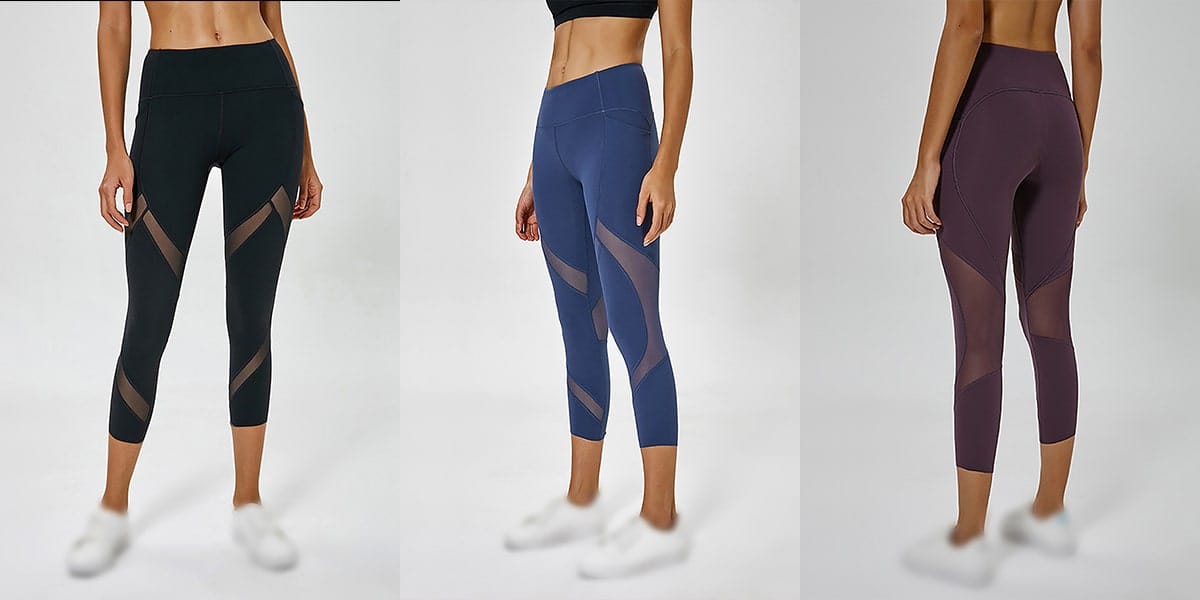 These absolutely comfortable yoga pants feature a high waist with a wide waistband for a better fit and support. Made with the highest quality in a unique mesh design, they include a pocket for you to keep your keys or phone near you. When speaking of comfortable sport tights, these are a must-have.
Sexy Crossed Back Yoga Bra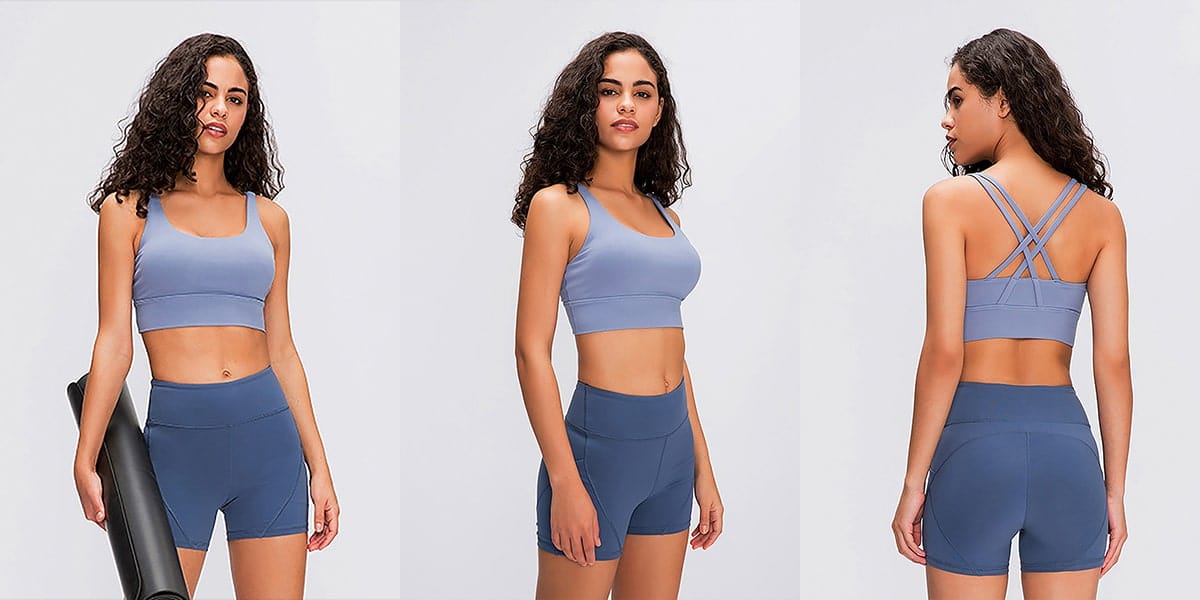 Apart from being sexy, this sports bra is absolutely comfortable. It features a scoop neckline and it has a delicate strap detail on the back. It's carefully made of a soft, smooth fabric that will totally take care of the most delicate skin of your body, allowing you to feel a cozy sensation while working out.
Chic Long Sleeve Yoga Top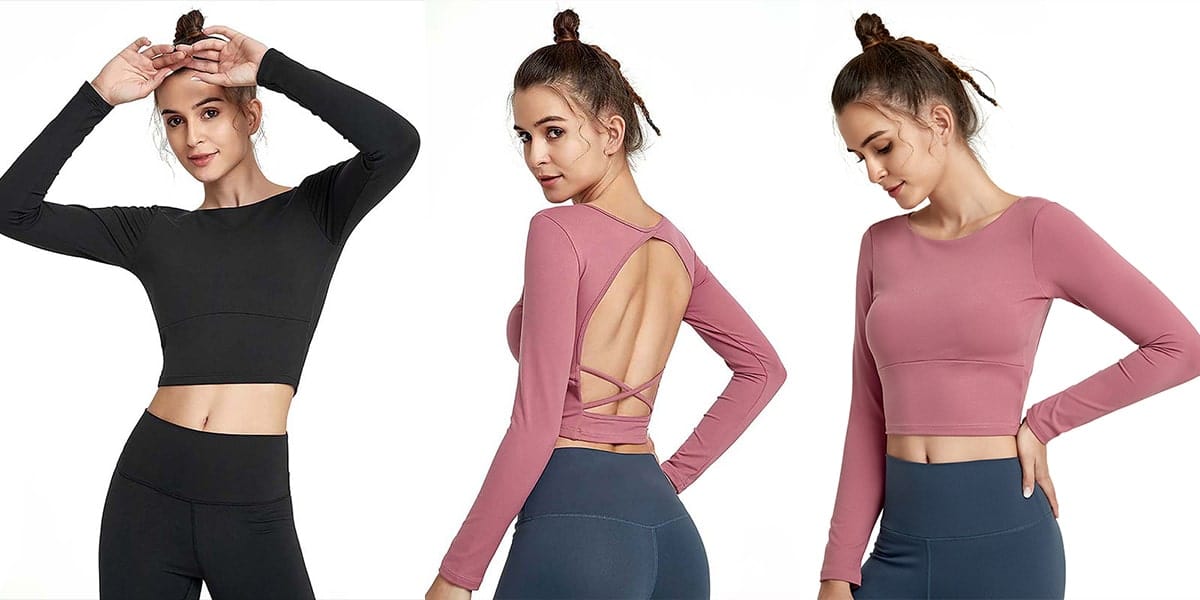 If you are looking for something that's chic yet conservative, go ahead and choose this yoga top. Featuring a high neckline, a strappy detail on the back and long sleeves, this yoga top is the best choice for a perfect coverage and the highest comfort. It is padded, so you don't have to worry about wearing a bra if you don't need it.
Stunning Seamless Yoga Outfit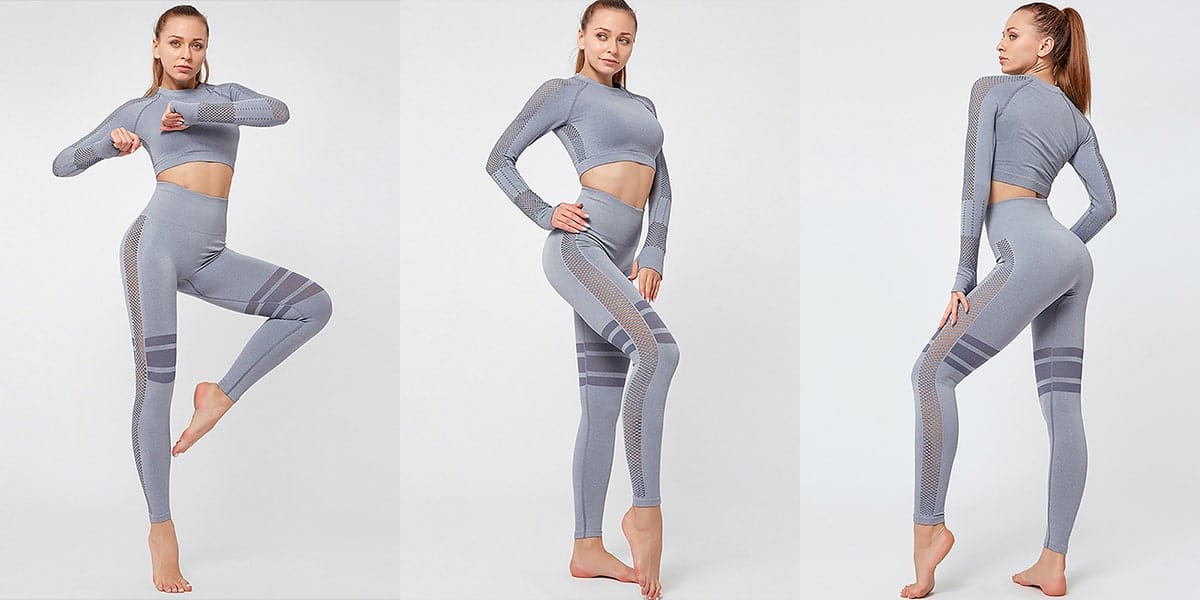 For a complete yoga outfit, this top and tights match will solve your problem instantly. The seamless high-waist pants and long sleeves top are made of a soft, high-quality fabric that will avoid any type of discomfort. If you don't know how to combine your yoga clothes, go ahead and choose this outfit.
Delicate Double Spaghetti Strap Yoga Top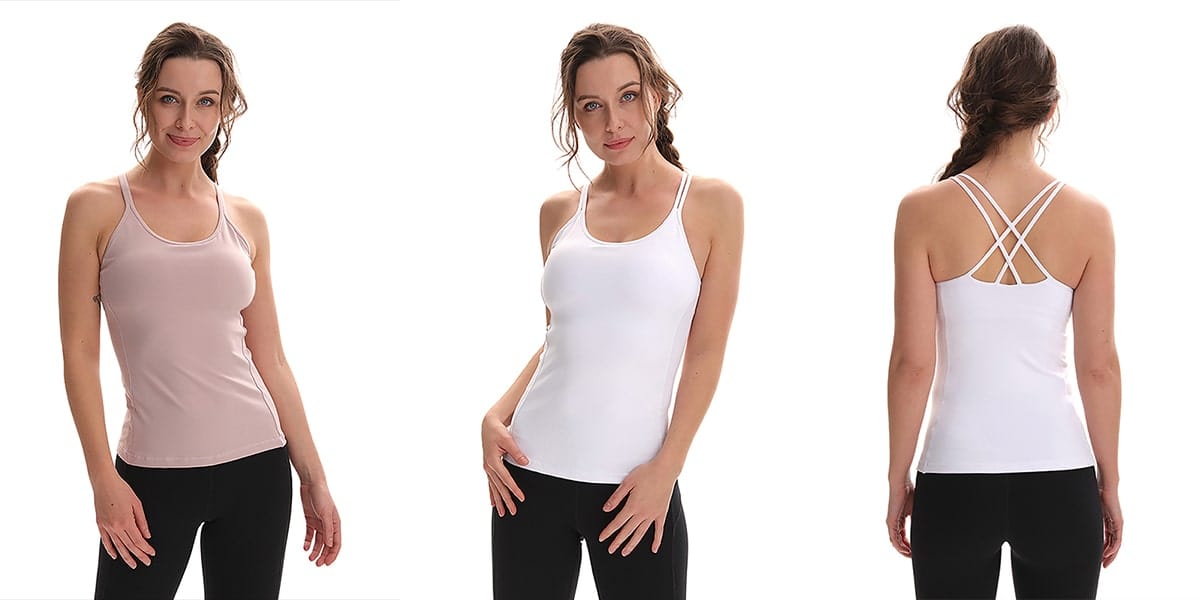 A different and fresher yoga top option is this absolutely delicate double spaghetti strap top with a crossed strap back which adds a touch a beauty to your back. Made of soft, high quality fabric that will take care of your skin and allow you to make wide movements without limitations. It is padded, so forget about the bra!
All in all, these are the ideal workout wears for women together with the dos and don'ts when getting dressed for your yoga lesson. Grab your yoga pants for women, a suitable top and bra, and you'll have the best workout clothes to start today's yoga lesson!