There are two types of people in this world: those who grab an old t-shirt they don't wear anymore and use it for sleeping, and those you have a real, comfy pajama to sleep at night. Which are you? If you belong to the second group, then you're reading the correct article.
Having the correct pajamas to sleep is of great importance to rest properly and recover energy during the night. In fact, if you don't get a proper sleep you'll probably feel tired and moody the next morning, won't you? In general, an adult needs between 7 to 9 hours of sleep a night, so don't try to fool yourself by believing you can survive with less than that.
Sleeping well have myriads of benefits for your emotional and physical wellbeing:
It improves your patience
It reduces stress
It improves your attention and concentration
It improves your memory and makes you more alert
It strengthens your immune system
It helps you keep a healthy weight
It reduces the chances of contracting an infectious disease
It puts you in a better mood
As you can see, sleeping well is vital for a high-quality lifestyle. You basically need your bed and some good pajamas. In this article we are going to guide you through choosing your ideal and best pajamas for women for you to start enjoying perfect night's sleeps and improve your overall health.
Complete guides to select right pajamas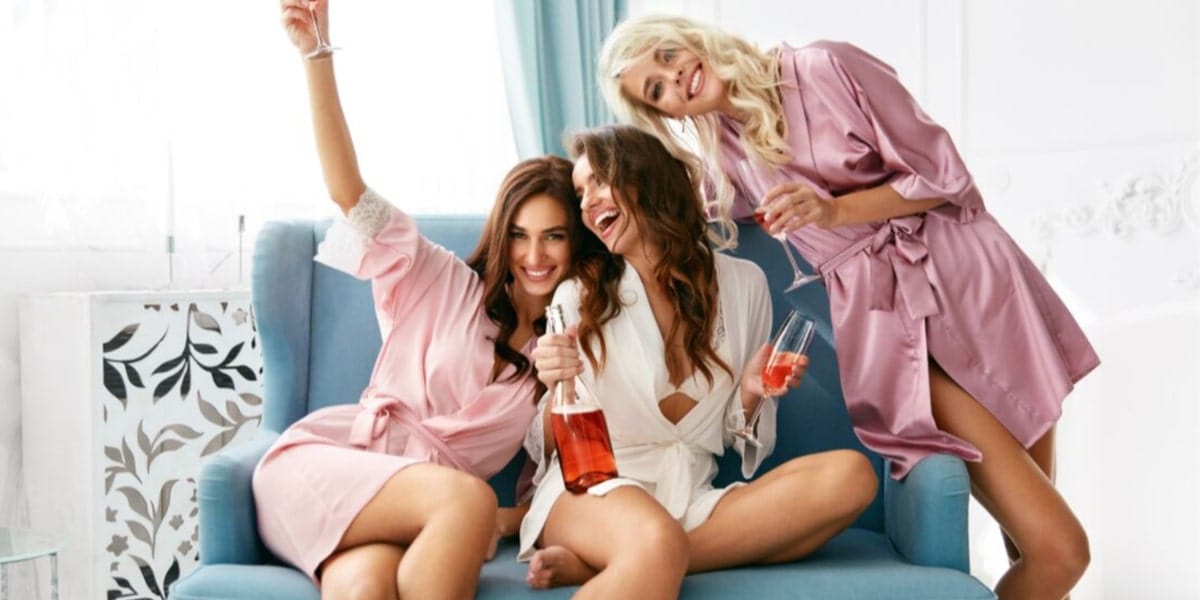 To select ideal, cute pajamas for women we're going to give you some recommendations. Basically, what you need to do is focus on 4 different details:
Fabric: when choosing your ideal pajamas, a great strategy is going for something that feels good on your skin. This is vital to help you regulate your body temperature during the night. The two most common pajamas fabrics are:
Silk: A natural thermoregulatory that automatically keeps you warm if it's cold, and keeps you cool if it's hot. It's soft and sexy. The only negative aspect is that's a bit slippery and it can move from its place when sleeping, but it's not really a big issue.
Cotton: It's a natural type of fabric, really light and soft to the touch. It allows air circulation, making it highly breathable. It's highly comfortable. A negative aspect of it is that it doesn't dry moisture so if you tend to sweat a lot in your sleep, this may not be your best pajama fabric
Fit and design: Of course the fabric is not all. The pajamas' fit and its design will help you make the right decision. If you choose extremely loose pajamas, these may move over during your sleep, making you feel uncomfortable and even cold. Make sure they are not too loose nor too tight, and if they include elastics, make sure they aren't tight either as this can cut off your proper circulation. Another factor to consider is its length, and this depends solely on the weather and your personal preferences. Whereas long pajamas cover you more, short pajamas provide you with a wider range of movement.
Color: We have some good news here! Your pajamas are private and you wear them at home, hence you don't need to combine them properly. For this reason, you can take advantage of this and choose the color that you love, that favorite color of yours that sometimes you cannot wear out in the streets because it's not subtle or easy to combine with. Express yourself!
Best Pajamas for Women 2020
After the guide on how to choose the best pajamas for women, we want to show you some silk pajamas and other women's' cotton nightgowns. After taking a look at each of them, you'll know you've fallen in love with at least, one.
Comfortable Silk Pajamas Set for Women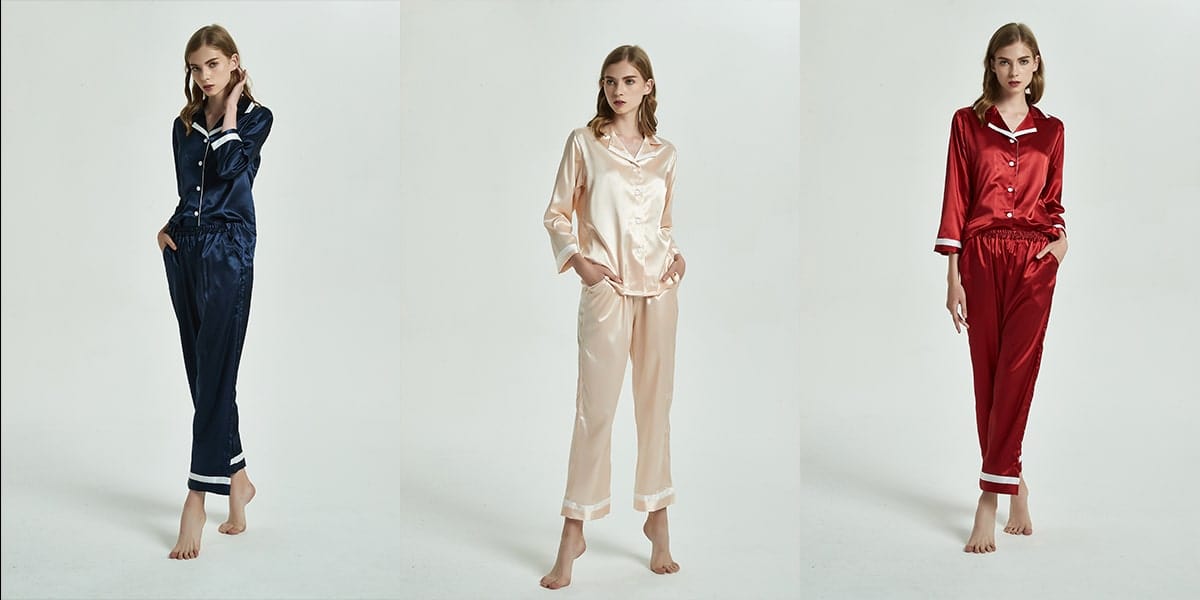 This beautifully designed pajamas set is made of a smooth, glossy imitated silk fabric which looks just exactly like real silk but it's more affordable. It features buttons at the front, a V neckline with a turn-down collar, two useful pockets on the trousers and full sleeves. Ready to have some sweet dreams?
Chic Long Sleeve Cotton Pajamas Set for Women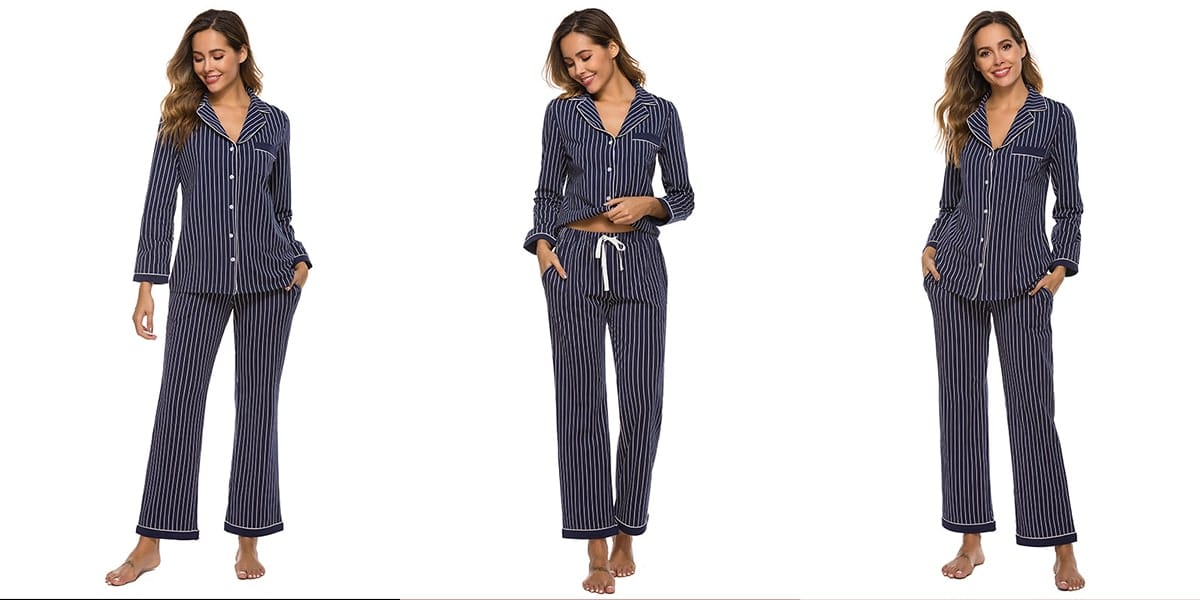 This totally chic striped or polka dots pajamas set features a regular fit, long sleeves, a shirt with buttons and a pocket and it's made of soft, comfortable cotton. To stay at home relaxed and feel comfortable, this set is a total must-have in your night wears drawer.
Delicate Printed Pajama Robe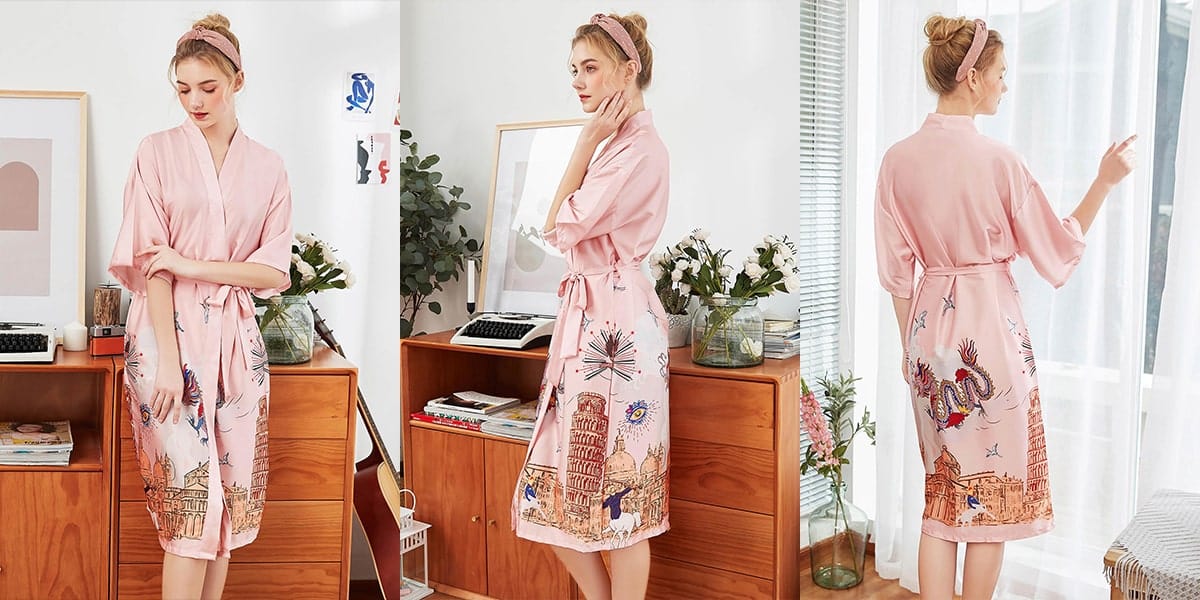 To feel comfortable at home during spring and summer seasons, this delicate robe features half sleeves and a V-neckline and it's made of soft, breathable silk. With beautiful European prints, this beautiful pajama robe has every detail you need to relax and feel absolutely comfortable.
Practical Short Silk Pajama Robe for Women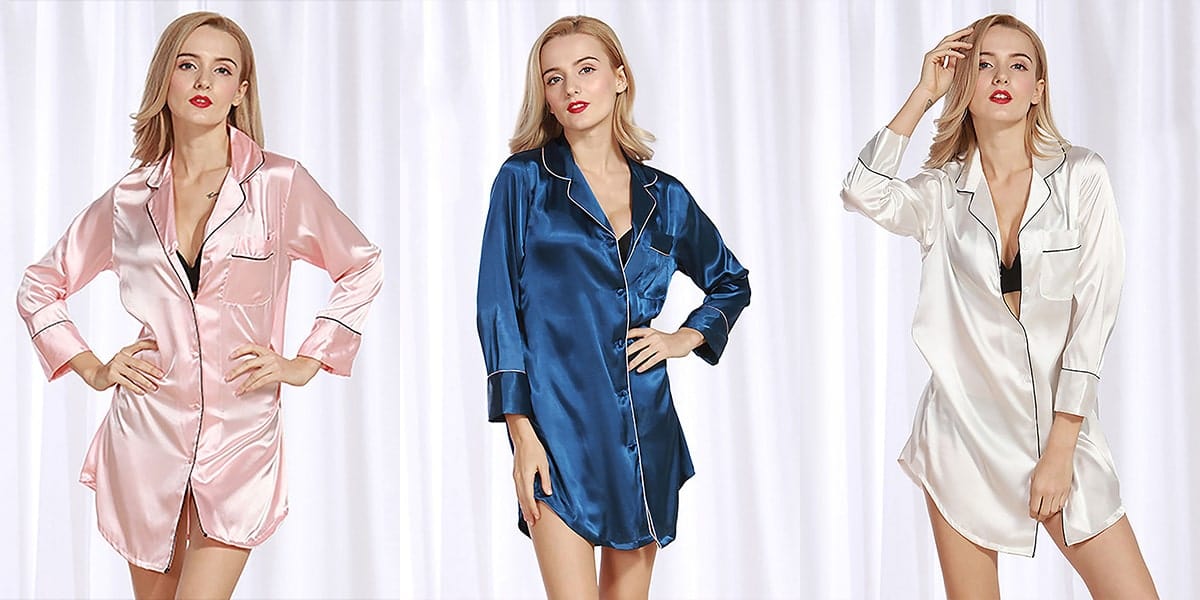 If you are more of the kind of women who like sleeping on their underwear or with no clothes at all, this sexy robe is the perfect complement. Inspired by Coco Chanel in her silk pajamas back in the 20s, this delicate long sleeves pajama robe really makes a statement. Made of imitated silk fabric, this stunning robe features buttons at the front and a deep V neckline chest with a pocket.
Lovely Velvet and Silk Pajamas Set for Women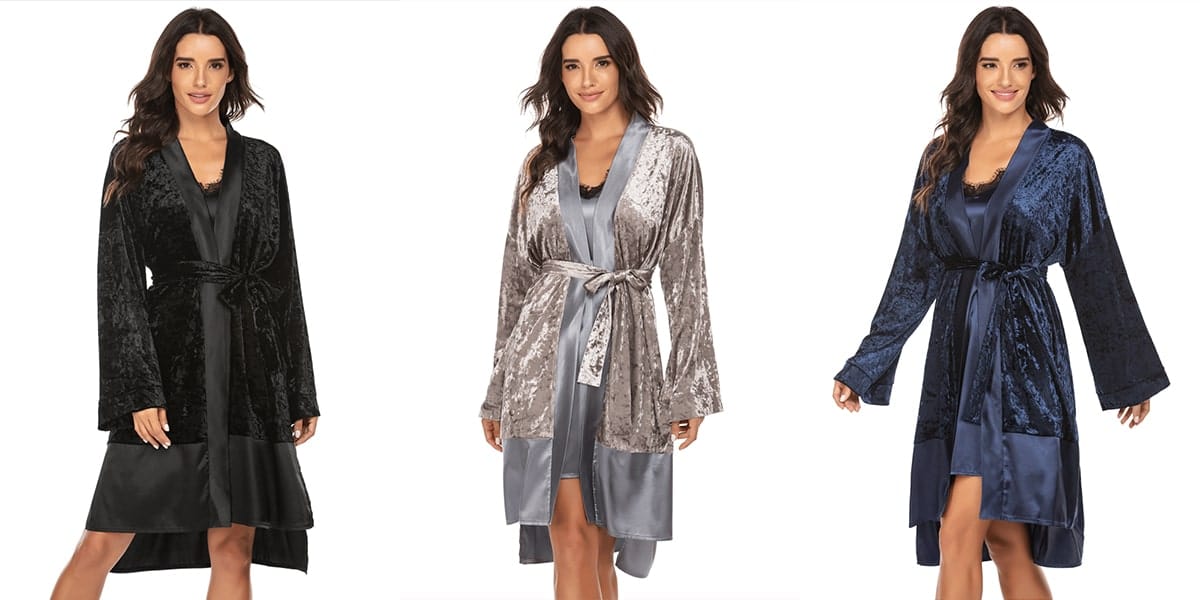 This lovely and sexy pajama set includes everything you need to be comfortably relaxing at home: made of imitated silk and velvet, it features a V neckline robe with delicate lace edges and long sleeves. Fall deeply in love with this sexy women's nightgown set!