Fall weddings have something magical, enchanting, and soul-touching. Think of the perfect in-between weather - it's no longer freezing and dry like during winters or hot and humid like it is in summer. The weather is chilly. The cool temperatures promise cozy outdoor wedding venues, and the renowned golden foliage of the season makes things even better. As a guest invited to a fall wedding, you want the perfect outfit that blends in with the season without sacrificing a sense of style. However, the problem is one thing.
Finding the perfect fit for the big day is no easy task - you have to consider dozens of things, which can be pretty overwhelming. But don't worry. This post will walk you through everything you need to know to choose the best wedding guest dresses in 2021 - including some of the best examples you can choose from.
3 Guides to Choose Your Best Wedding Guest Attire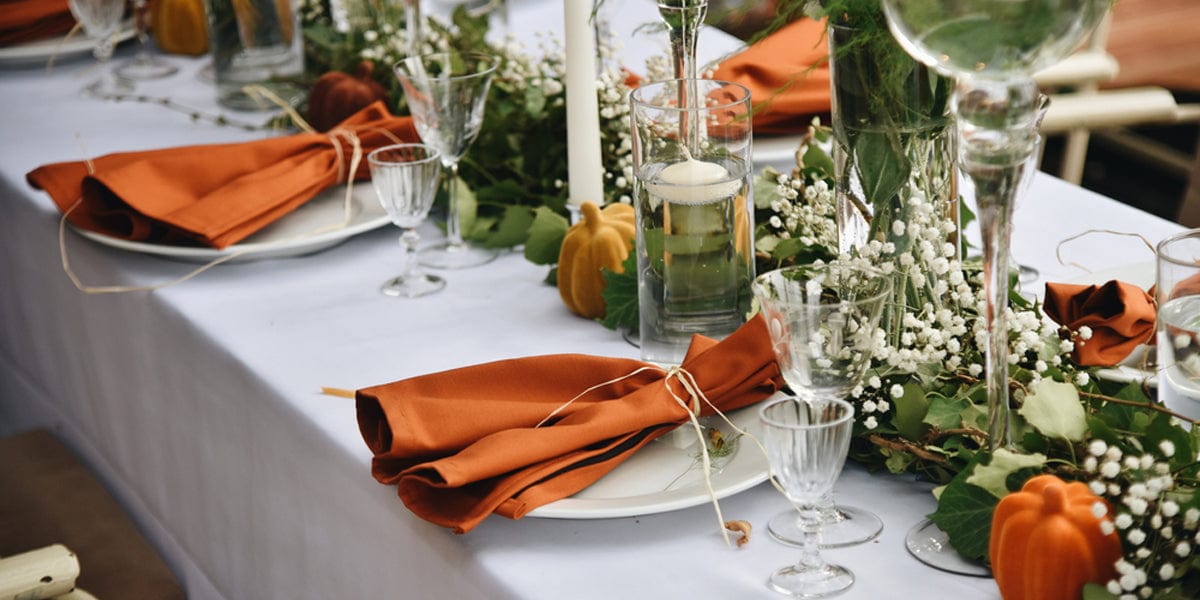 1. The requested dressing code
In most weddings, the couples usually want to set a theme. They want to set up the wedding mood by ensuring things are as formal or casual as they wish. Therefore, the dressing code of the wedding you're about to attend should be your first lead to choosing the best outfit
Here are the popular wedding themes (dress code) that define what you'll wear as a guest. 
Seeing 'white tie' as the dress code in the invitation letter means wearing the most formal wedding guest attire - think of royal banquets or state dinners dressing codes. This might sound a bit extra for a wedding, but what other option do you have if that's what the engaged couple wants? Plus, you don't want to be the awkward guest at the event. 
That said, what should you wear? 
Full-length dresses are non-negotiable in a white-tie wedding. Here, no knee-length dresses. No cocktail dresses. A white tie ceremony demands the likes of a strictly formal, full-length A-line, ball, or sheath gowns. 
Compliment the outfit with beautiful jewelry, lovely make-up, and an awe-inspiring hairstyle. Finish off with adorable sleek dress shoes to magnify the glamour. Also, you can go for the elbow-length white silk gloves if you like - they might be appropriate but not a must. 
A black-tie wedding reflects an evening occasion with a formal dressing code. But not strictly formal like in white tie. Here you can wear a formal gown of any length. You can go for the full-length gown or a formal cocktail dress that's less revealing but in rich fabric and tone. You can complement the black-tie dress with accessories like a necklace and matching earrings.
A casual fall wedding gives you plenty of outfit options, if not the freedom to wear anything you like. But that doesn't mean you jump into shorts, tennis shoes, or running gear. It doesn't mean you get into your club-intended attire and convince yourself you're going to a wedding. 
Here's the thing. Wear smart casual wedding attire. Keep your outfit elegant and easygoing. For instance, you can opt for a stylish midi dress for a perfect casual outlook. Alternatively, go for an eye-catching midi-skirt or in-fashion cropped pants and pair each with an on-trend top. 
For footwear, block heels, wedges, or sandals can help you paint an adorable impression with your casual wear. 
2. Location and Time
If the dress code isn't specified on the invitation card or letter, it's up to you to select a decent outfit. An outfit that radiates beauty and falls in line with the location and time. 
Take a fall beach wedding, for example—the dressing code demands a relaxed outfit with light fabrics, colors, and prints. Also, maxi dresses are preferable to short dresses due to the windy conditions at the beach. More than that, the beach cancels any intent to wear high heels or stilettos - your footwear should be appropriate for walking on the sand. 
Apart from location, time is also a critical consideration. If the fall wedding is expected to extend till late, wear something that can easily transition from day to night or carry something to cover up yourself (like a shawl), provided it'll get cold in the evening. 
3. Stick to Some Basic Rules
Rule one: Don't upstage the bride
Understandably, you want to dress to kill and attract as much attention as possible - just don't compete with the bride. 
For instance, wearing a white prom dress or a maxi gown with a train may steal the people's attention to the bride, or even worse, they may confuse you for the bride. The best you can don't wear white garments unless it's part of the dress code for the fall wedding. 
Rule two: Don't wear anything too skimpy
 Avoid cutaway and plunging neckline dresses or see-through fabrics. In short, don't show too much skin. If you must wear such outfits, take caution because they tend to be sexually suggestive to some or may appear indecent to others. Don't pick low-cut outfits, and keep your high heels to the correct length.
3 elements of wedding guest dress in trend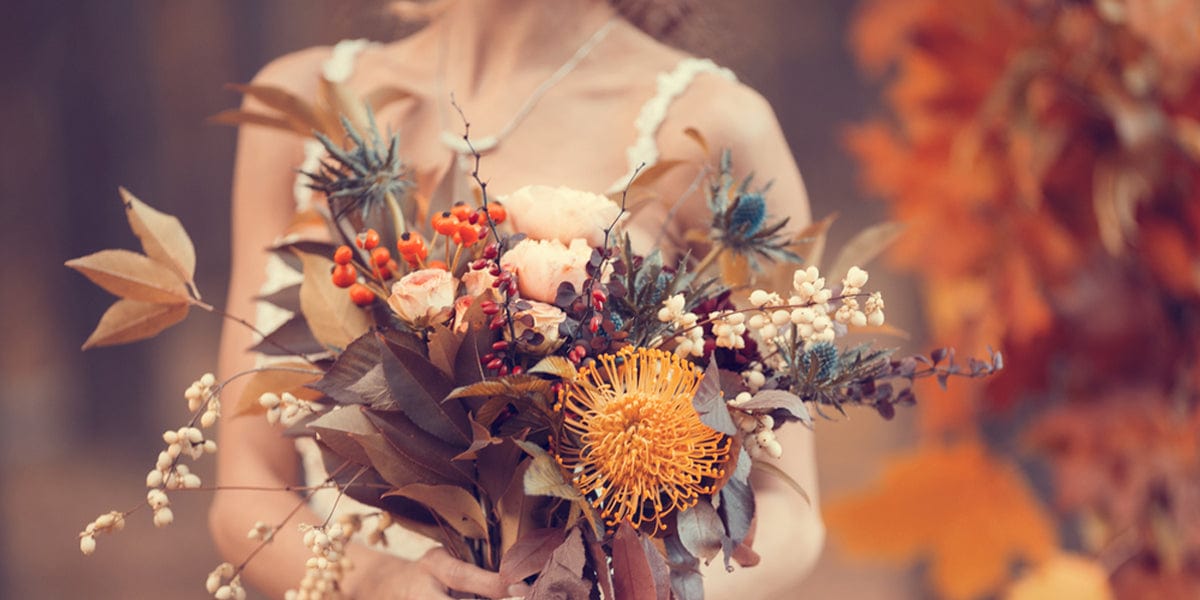 Whether you're looking for wedding guest dresses UK,U.S, or any other part of the world, you want an on style fashion gown. But what are some of the elements of a wedding guest dress in trend?
 1. Neckline Shapes
Neckline shapes for wedding guest dresses in 2021 have been a significant trend. For instance, if you love showing off some cleavage, deep V-neck, strapless, and sweetheart necklines are quite popular this year.
 2. Cheery colors
As a major gown element, color is one of the biggest trends in wedding guest dresses in 2021. The trend is turning towards colors that bring a good vibe and illustrate positivity – bold, bright and cheery. Some hot colors for 2021 gowns include; bright pink, fiery red, and sunny yellow.
 3. Open backs
With dozens of creative ways to open up the back, 2021 has come with all kinds of gowns with open backs that show off the shoulder blades and more flattering parts of the spine – it's up to you to choose your ideal design. On a side note, prom dresses and evening gowns with open backs blend perfectly with a more modest cut in the front.
8 best Wedding guest dresses you'll love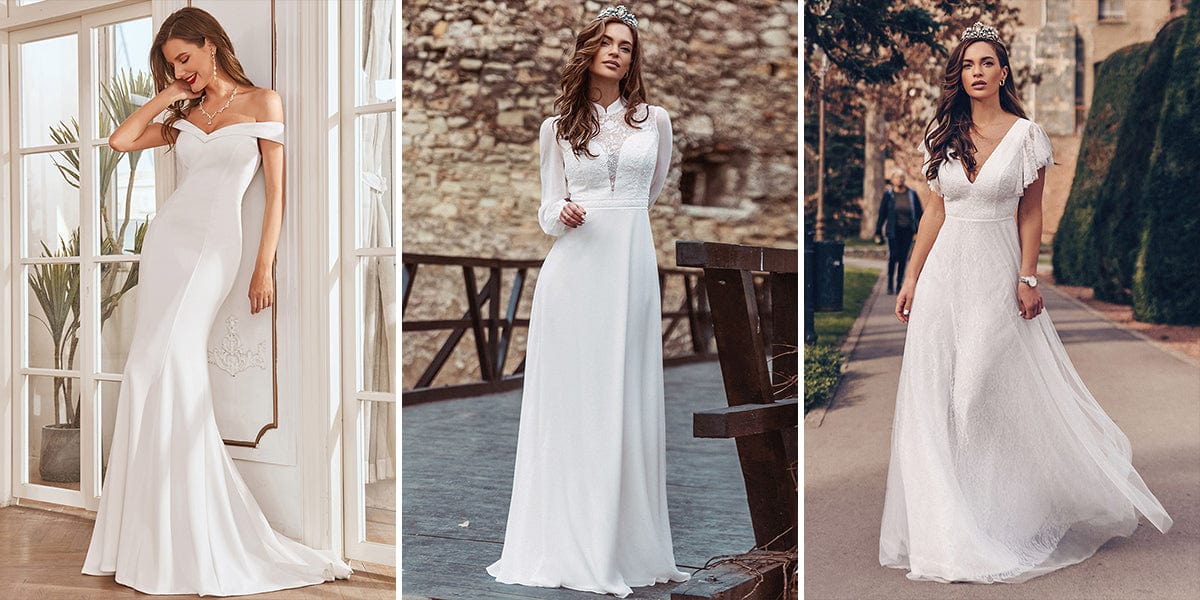 Now that you know how to choose the ultimate wedding guest attire and understand the elements to look for, let's look at the best 8 elegant dresses for wedding guests.
Double V Neck Lace Bodice Floor Length Tulle Wedding Dress
V-necks are sexy, sophisticated styles that can either flaunt or tease depending on how you wear it. Our double V-neck lace bodice floor length tulle wedding dress will have you feeling flirty on your wedding day.
It is suitable for eloping to a wedding and it features a floor-length flowy skirt. This dress will show off your feminine side in a sexy, romantic way.
Cap Sleeve Lace V-Neck Floor Length A-line Wedding Dress
This cape sleeve dress creates the dramatic feminine statement of your fantasies. The delicate cap sleeves are stunning and they are perfectly designed to enhance your decolletage. The gorgeous skirt flows beautifully from the bodice to the waist covering your feet.
The beautiful lace details on the arms gives the dress classic vibes and a beautiful touch of class and luxury vibes.
Plain Solid Color Off Shoulder Mermaid Wedding Dress
An off shoulder detail will add elegance to your wedding gown. Off shoulders are on a trend right now and that's because the look is truly timeless and classy. You can't think of a fairy-tale attire without the romantic image of an off shoulder mermaid wedding dress.
Any you deserve to look majestic on your wedding day, don't you? An off shoulder mermaid gown should be your first choice. Choose our plain solid color off-shoulder mermaid wedding dress and don't forget to share, like and pin it for your friends to see.
Gorgeous Deep V Neck Long Sleeves Wedding Dress
If you are a bride looking to emphasize your upper body, then our deep V-neck long sleeve wedding dress should be your first choice. A V-neck is super-sophisticated and can create a show-stopping vibe on your wedding day.
V-necks are a timeless' brides favorite wedding accessory. It will be the ultimate in drama dress with the dark color and the beautiful lace will add the ultimate fairy tale moment.
Simple Chiffon Wedding Dress with Chinese Style Collar
Our chiffon Chinese collar wedding dress is the ultimate comfortable, yet sophisticated wedding dress. It is exactly what dreams are made of. It won't weigh you down as you take your first dance because it is light, sheer and breathable.
This pretentious, fancy gown will blow your mind completely. The fabric isn't tight or stuffy, it is elegant, ethereal and perfect. Our simple chiffon wedding dress with a Chinese style collar will definitely make your dreams come true.
Elegant Simple Deep V Neck A-Line Lace & Tulle Wedding Dress
A deep V-neck, A-line wedding dress will add some sizzle into your ceremony. The A-line silhouette is very comfortable, because it perfectly fits the waist and flows into a gorgeous, voluminous skirt.
If you are looking for a gown that highlights your upper body, then our elegant simple deep V neck A-Line lace & tulle wedding dress will be the perfect choice. The shape is such a classic and the details in the dres will definitely highlight your inner persona.
Elegant Maxi Lace Wedding Dress with Ruffle Sleeves
Whether you are going for the minimal and sleek look or traditional but romantic vibe, this elegant maxi lace wedding dress with ruffle sleeves will be the ideal wedding dress for you. this dress is simple yet sweet and is perfect for the simple bride who wants to keep things relaxed.
The flattering sleeves will highlight your waist while the flowing skirt gives you extra gilt and glamour. The sleeves give the dress a classic touch which balances glamour and class.
Elegant A Line Long Chiffon Bridesmaid Dress With Lace Bodice
A-line dresses with lace a bodice is the ultimate head-turning dress for the timeless bridesmaid. This dress is unique, beautiful and versatile. It is a magical statement that will stay in your memories for ever.
The delicate bodices features an intricate lace that every bridesmaid will love.It doesn't get more classy than an elegant A-line chiffon bridesmaid dress with lace bodice.