What to Wear to a Beach Wedding?
Many people dream of getting married on the beach, with sand caressing their well-manicured toes and the sun setting on the horizon. Whether the destination is a far-flung coastline, the beautiful Caribbean islands, French Polynesia, Down Under, or the Mediterranean--it's time to dress boldly.
Beach weddings are the perfect occasion for wearing bright, sexy, and easy-going attires instead of the traditional formal, semi-formal, or cocktail outfits. Now you can opt for a relaxed, casual, and more comfortable dress code.
When you choose what to wear, remember that the couple picked the beach to maintain high energy levels and reduce stress during their big day, do the same for them with your choice of outfit.
Just like with any other occasion, you must dress according to the formality of the event. The only difference with a beach wedding is that you will have to make small changes in fabric and accessories.
Go for confident, beachy vibes if both the wedding and reception occur by the beach, in the sand. However, a simple, plain outfit will be enough if the wedding overlooks the beach, for example, on a patio or a rooftop.
Why is Beach Wedding So Popular?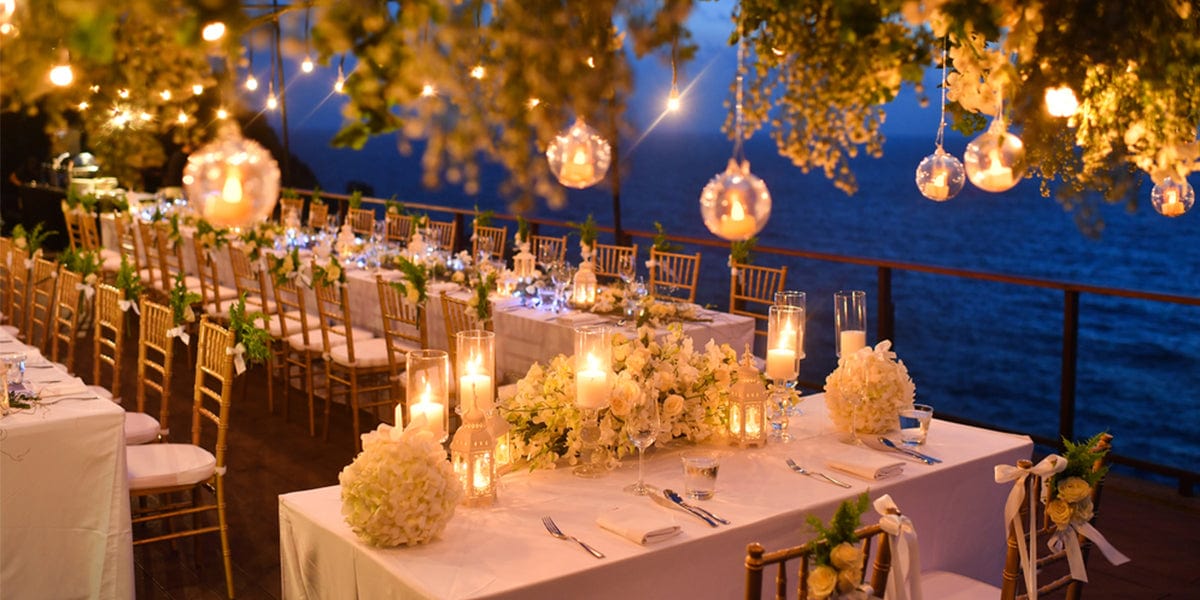 Beach weddings have grown in popularity over the last few years. For most people, beach weddings are a hassle-free way to get married. Dress up in a beautiful dress/ jumpsuit or a lightweight suit and walk down a tropical-themed aisle after finding a fantastic beach
Beach weddings are romantic. The waves are softly gliding against the sand while the breeze gently blows through the bride's hair. Birds are chirping, soft tones of instrumental music are playing in the background, and golden hues of the sunset are filtering through into the venue. This is the perfect backdrop for some pretty amazing pictures.
It easily blends in with the honeymoon
One of the most amazing things about a beach wedding is that you can easily tie the ceremony and the honeymoon into one breathtaking beach holiday and enjoy it with everyone you care about at the same time.
You are already in your dream destination; once the wedding is over, you can hop back into a beach house or hotel and start the honeymoon. You will easily avoid the trouble of having to deal with fatigue, travel twice, jetlag.   
You are free to enjoy the sandy beached of the emerald coast as soon as you finish with the vows.
Beautiful, incredible wedding photos
What better than those beautiful beach wedding photos overlooking the ocean during sunset?
Professionals call it the golden hour because of the perfection because the photos are bound to be excellent. Your skin glows in the sun, and the pictures are so romantic.
Other brides prefer the peace that comes with early morning weddings. The waves are still low, noise levels are insignificant, and the world will be waking up to them as newly-wed brides or grooms.
For all the value you get, beach weddings can be considered affordable. You will cut down on the costs of booking a venue followed by a reception, planning costs, and all the other unnecessary extras.
The beach is already beautiful enough; you don't need to spend a lot on decorations. The simplicity of the blue ocean, white sands, and greenery is the perfect backdrop for your once-in-a-lifetime wedding.
Elegance, simplicity, and comfort
You don't have to compromise on elegance and class for this occasion. Go for chic, sophisticated outfits in soft, light fabrics. Quit the stiletto heels for a day and prioritize comfort. Men usually wear light-colored suits. You can even choose a theme color for the guests if you wish.


Your Guide to Beach Wedding Attire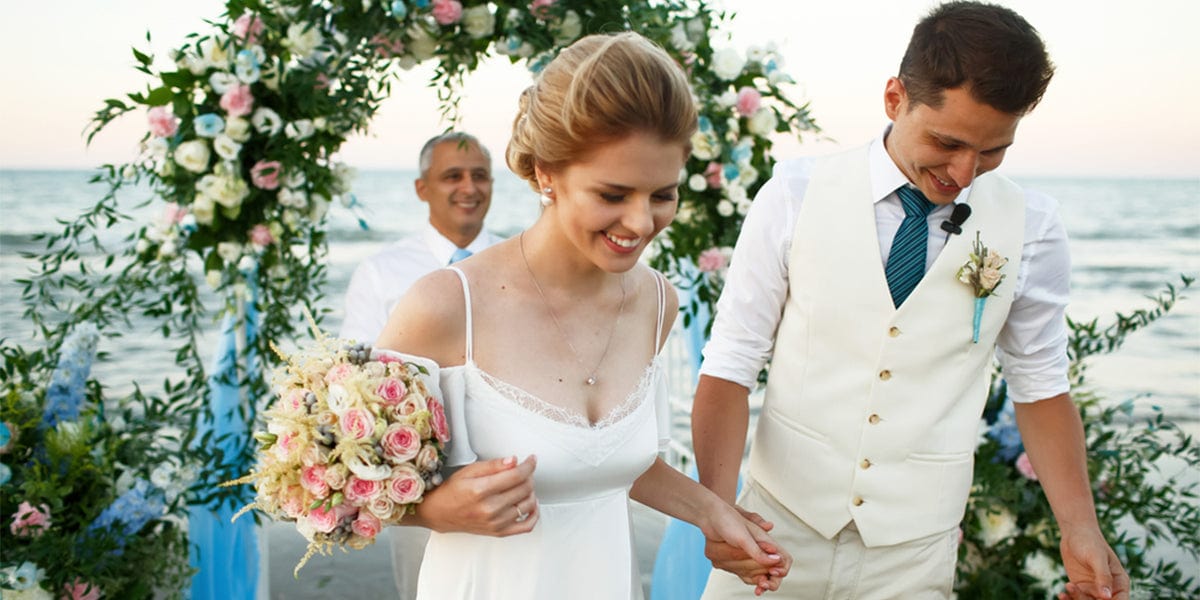 A beach wedding attire allows you to keep calm and still look flawless. Be daring with your look, and don't hold anything back.
Take full advantage of the occasion with these ideas;
Choose strappy, backless, loose-fitting outfits
Wear fancy, strapless outfits that are perfect for the weather and the occasion. It would help if you looked good without frying yourself up in the sun. You have so much room to play around with your look. Take advantage of that.
Choose light fabrics such as chiffon or light cotton. Whether you choose a sundress, jumpsuit, or wrap dress, make sure it is stunning.
A beach wedding brings cool, sunny oceanic vibes. If you want an island feel, go for bright colors such as pink, pastel, yellow and light green. Floral prints and patterns will also blend in perfectly with the exotic, tropical beach theme.
Maxi dresses come in so many beautiful forms; off-shoulder, one-shoulder, or completely strapless. A beautiful dress will boost your confidence and make you look and feel gorgeous. With the breeze at the beach, you can try dresses with a little bit of movement.
You will look great wearing the figure fluttering, ruffled, layered, or asymmetric dresses. Flowy dresses are much easier to walk in on the white sandy beaches.
The right jewelry will spice up your beach outfit. Beaches are known to house treasure, so don't be shy about a gold anklet or a colorful beaded bracelet. The correct form of jewelry can add a touch of class and sass without looking formally pretentious.
Sand and sandals are a perfect combination.
Glittery sandals are a unique choice if you want something special. When the rays of the sun hit your feet, the sandals will sparkle like stars in the night sky.  Add a little height with some low wedge sandals
 if you prefer heels to avoid looking a little extra.  
You might even find yourself walking barefoot and enjoying the amazing sand beneath your feet.
5 Beach Wedding Gowns Perfect for an Oceanside Wedding
Your beach wedding dress should be nothing short of extraordinary. Whether you choose a supremely decorative dress or an incredibly casual one, a wedding dress should perfectly suit your personality and style.
To start, choose swingy chiffon, lace, crochet, cotton, or lightweight fabrics.
If you prefer a more casual look, mid-length, asymmetrical gowns with a bit of sophistication can do the trick. Add to the spectacle by incorporating lace trim, embroidery, floral embellishments layers, or a massive train.
Here are the five best beach wedding dresses perfect for all bridal styles;
Simple, clean strapless design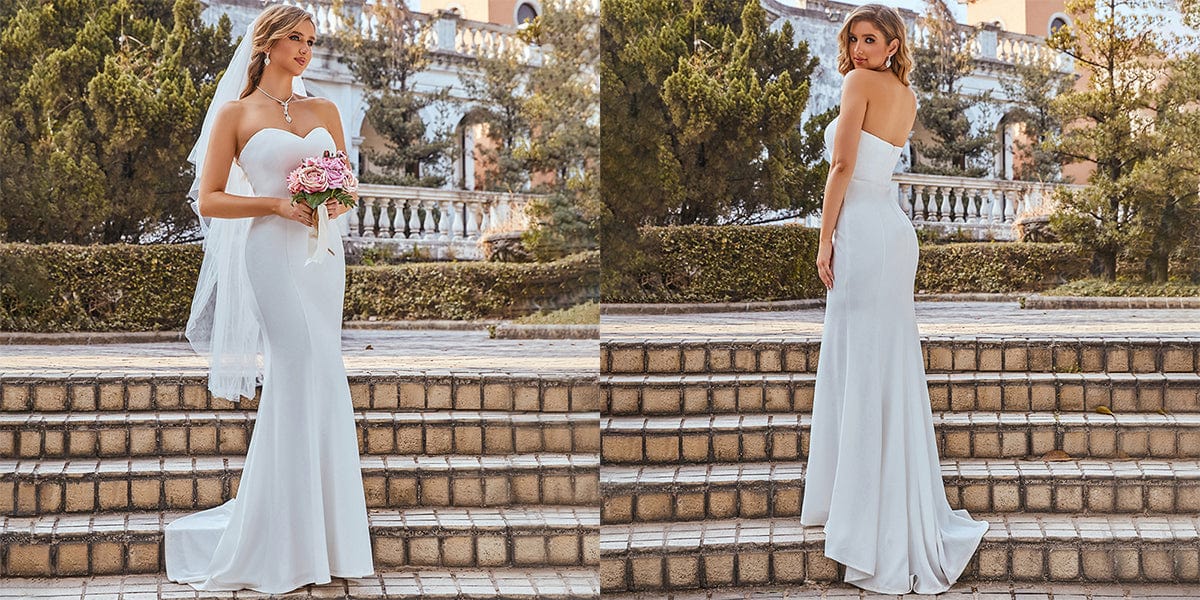 Choose this simple strapless dress with a subtle sense of sophistication if you want to turn heads. It gives the classic beach vibes, and you can be sure to stay cool throughout the day. Choose a light, breezy fabric for the dress if you expect some wind.
Jeweled earrings and a beautiful, flashy necklace will add extra sass to this dress.
Dress up for the day and turn heads with this dress which perfectly balances graceful elegance with casual beach vibes.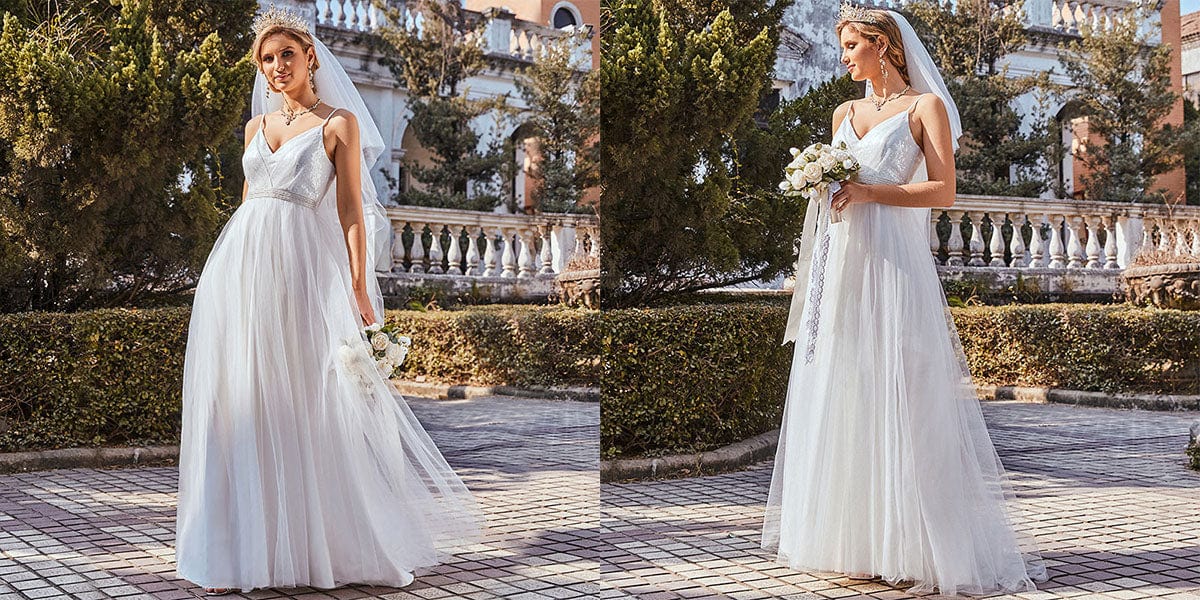 A beach backdrop naturally makes a white maxi dress an easy and obvious choice.
You can choose a casual and carefree white maxi dress for your beach wedding. It has a laid-back feel that will complement the fresh and fun beach wedding theme. You will wow guests with the visual appeal of your delicate choice of dress.
The playful length of the dress will compliment you and your partner's great look as you take the floor during your first dance.
Off-shoulder mermaid dress
Be bold enough to show some skin in a fashionable, sexy, off-shoulder beach wedding dress. You will look like a goddess as you walk down the aisle. Your wedding pictures will look perfect too. You will make the beach feel even hotter in the effortless design of an off-shoulder mermaid gown.
Add some tasteful and elegant jewelry to the glamor so that the dress pops up even more. Some silver earrings, necklace, or bracelet won't hurt your case. Throw in one or two of them to add a lovely finishing touch to your perfect wedding gown.
Elegant, see-through lace maxi dress
Lace adds a breath of freshness to any wedding dress. After all, breathability is what all beach wedding brides are obsessed with these days. You can never go wrong with the romantic, fresh vibes of vintage or modern lace. The sexy cutout and see-through lace will keep you cool while looking gorgeous.
Make the dress flowy and add some simple accessories and light makeup. This combination will be the picture-perfect outfit against the blue oceanic water, white sands, and golden rays of the sunset.
Sleeveless, Double V coastal wedding gown
This dress is so elegant that almost everybody can nail it. It has been perfectly designed for the sun, the sand, and the sea. When we think of a beach wedding, the sleeveless, double v gown is more than enough.
The roomy fit is perfect for the beach; you can be sure you will stay cool throughout the day.
It is so graceful; it sweeps the ground you walk on with every step you take. Sleeveless shoulders add a touch of casual elegance to the dress. It is a dress you will never forget many years after your wedding day.