It can be really hard to get moving or do any type of exercise these days. Due to Covid-19, unfortunately we all have to stay at home. The good news is there are actually all sorts of ways to stay active while staying at home. To keep their health and wellness from dipping, many people are choosing to do exercise from their homes. Practicing yoga is one great way to exercise even if you cannot get out of the house or go to a gym. One of the great things about yoga is that it doesn't require special equipment- if you have the right clothes, you can practice anywhere!
Yoga is Trending
Did you know that the practice of yoga is over 5,000 years old? It has been around for thousands of years, and it is still practiced. Clearly, yoga has always been popular, but it is particularly trending right now. As people practice social distancing because of the coronavirus, they have realized that yoga is one exercise that can be done from anywhere. It's not just traditional yoga that is trending, however. People are doing all types of yoga, from chair yoga to aerial yoga. Yoga is becoming more and more popular with more people, as evidenced by the fact that 59% of yoga practitioners are beginners. What's more is that over 460,000 British participate in a yoga class each week.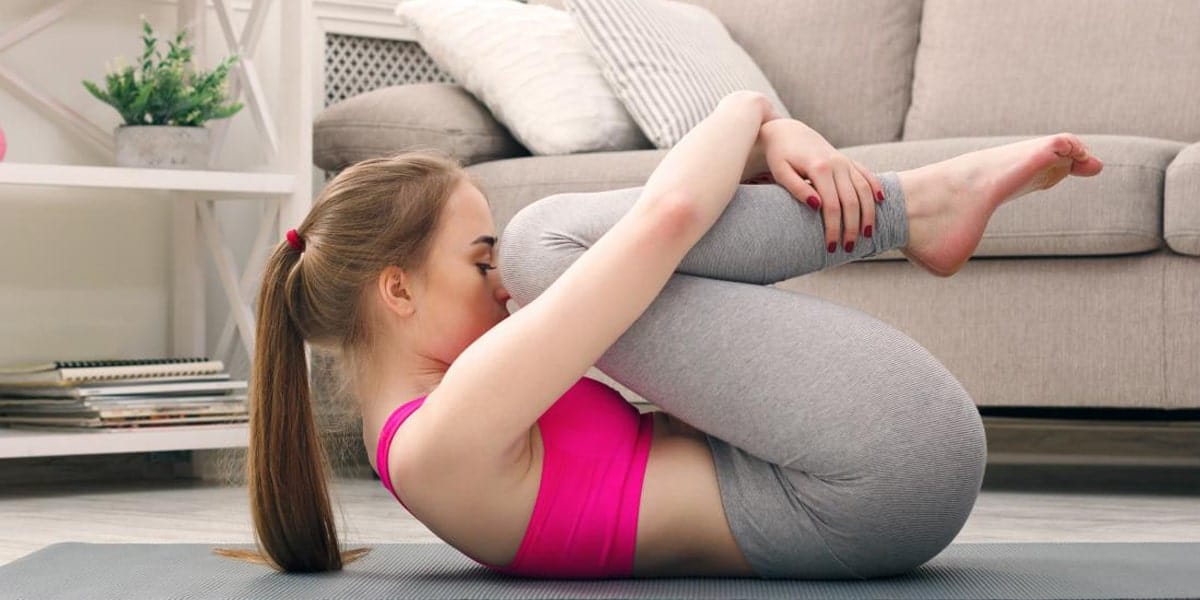 If you're relatively new to yoga, you might be wondering what to wear. It is important to select proper clothing so you are comfortable and able to move well, because yoga requires so much flexibility from you (and your clothes!). Well, you have all sorts of options. There are a few things to keep in mind when selecting yoga clothing.
Comfortable
The clothing should be comfortable so you can focus on yoga instead of getting distracted because your clothes aren't right. Depending on what type of yoga you are doing, it can get quite intense and you'll be working up a sweat. In this case you'll likely not want to wear anything with thick fabric because you will overheat. Moisture wicking fabric is also a great idea. Yoga pants, are, of course, a popular option, but many people prefer leggings or sports tights.
Flexible
Yoga requires a lot of bending, twisting, and otherwise contorting your body. This means that your clothes need to b e flexible, as well. Whatever you wear it should be just as flexible as you so that your clothing does not restrict your movements.
Effortless
Another way to choose the right yoga suit, the easy, and stylish, way, is to buy a full yoga workout set with top and workout leggings. Yoga suits like these sets look fantastic on anyone. They're also a great time saver when getting ready- no more wondering what matches what.
Need some suggestions? Keep reading!
Top Rated Women's Yoga

Outfit

s for You

If you are looking for some fantastic options for yoga attire, here are five top picks of yoga suits, whether you want short sleeves or long, patterned or solid, or anything in between:
Classic Long Sleeve and Leggings Yoga Suit for Women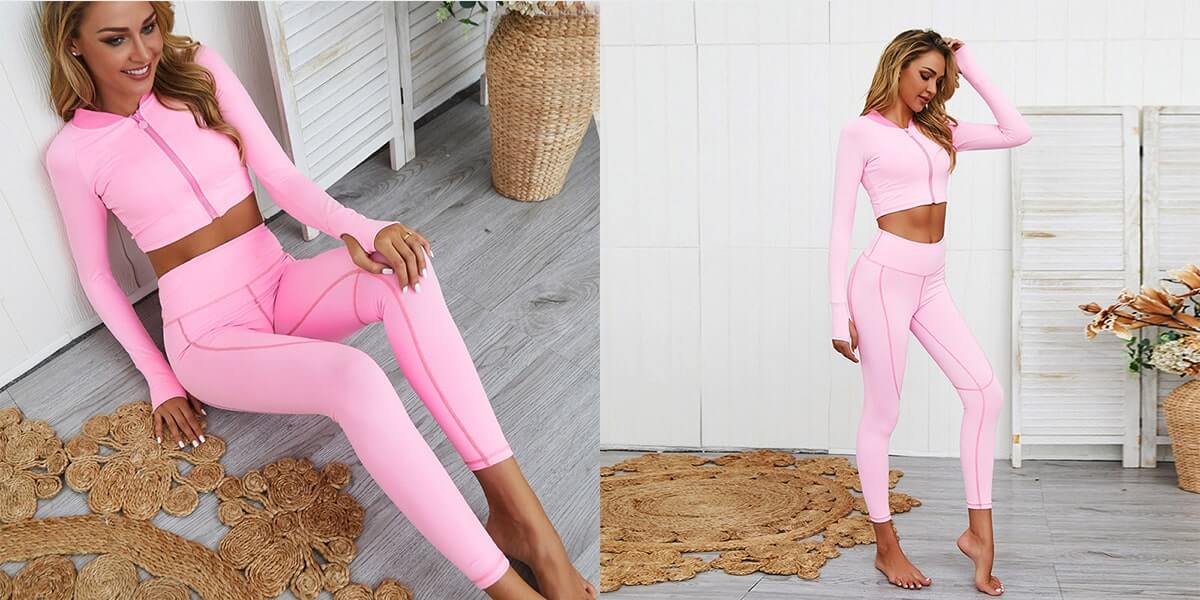 This classic long sleeve and leggings is perfect for cooler weather. It is a peppy pink set with pink leggings and pink cropped zip-up top. Can't get enough of it? Great news- it also comes in a forest green. The top, since it has a zipper, can also be paired with another cropped yoga top or sports bra so that you have the option of keeping both layers on and having long sleeves, or going with short sleeves options.
Floral Printed Sleeveless Yoga Sports Set for Women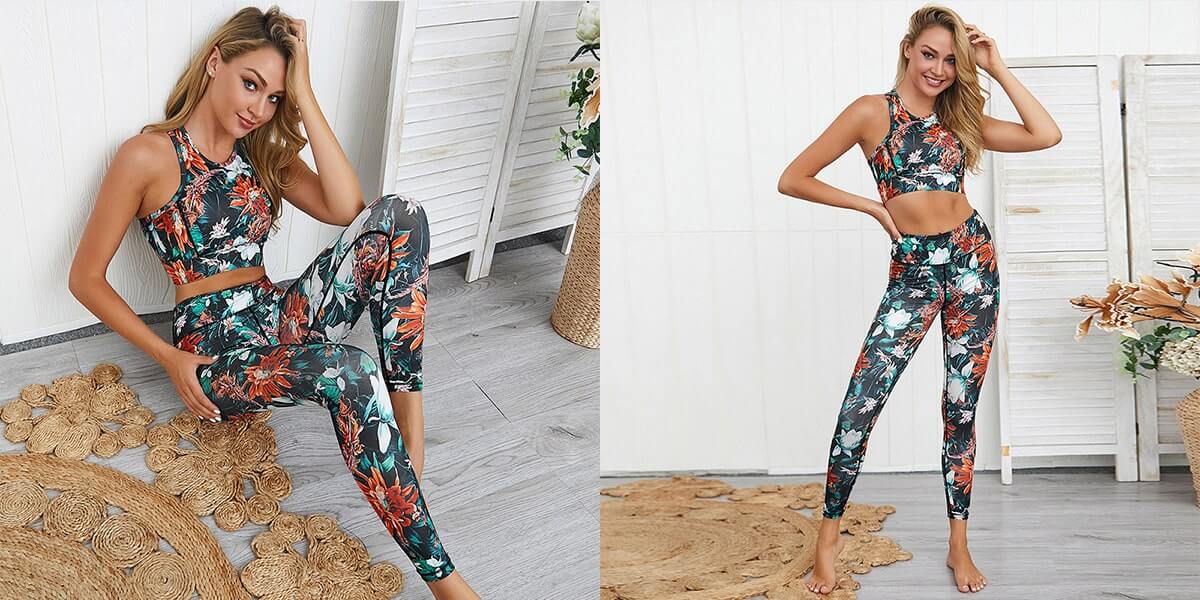 Take a look at this gorgeous floral printed sleeveless yoga sports set for women. It has a bright, beautiful floral pattern, sporting flowers that are orange and white. The yoga suit consists of a sleeveless cropped workout top and matching legging. The material is so soft and you'll be both extra comfortable and extra stylish wearing this outfit. It also has quick drying fabric, perfect for yoga workouts.
Camouflage Printed Yoga Sports Set with Short Sleeves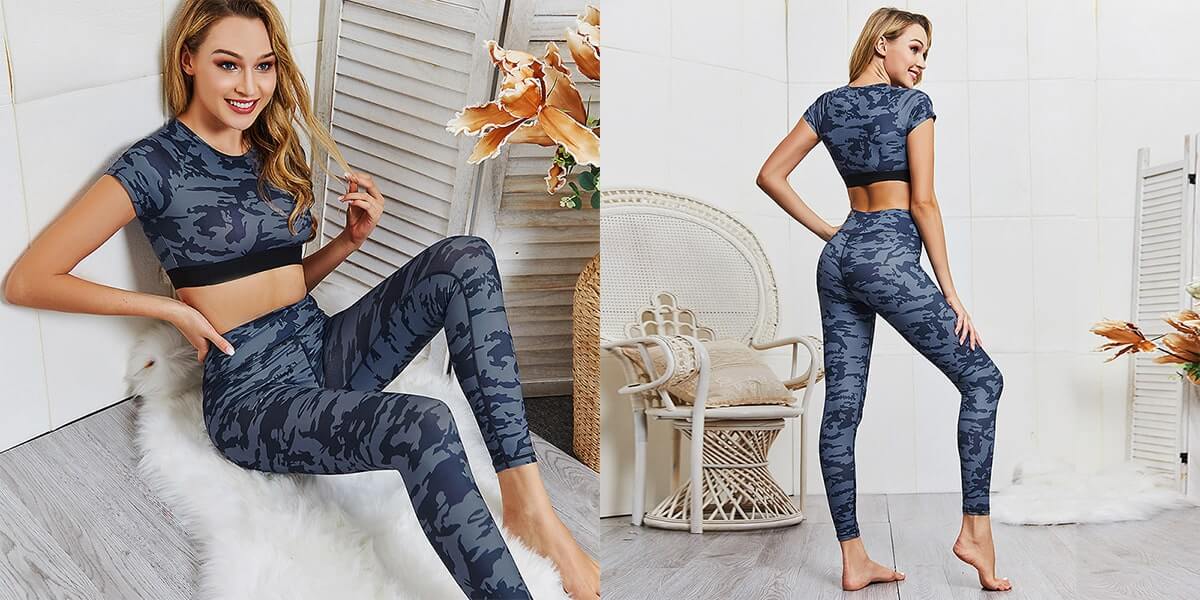 This Camouflage Printed Yoga Sports Set with Short Sleeves will keep you cool and comfortable throughout your yoga session. With a blue camo pattern and cute capped sleeves, this outfit works for yoga during any season with some of the best workout leggings.
Sexy Leopard Print Open-navel Yoga Sports Set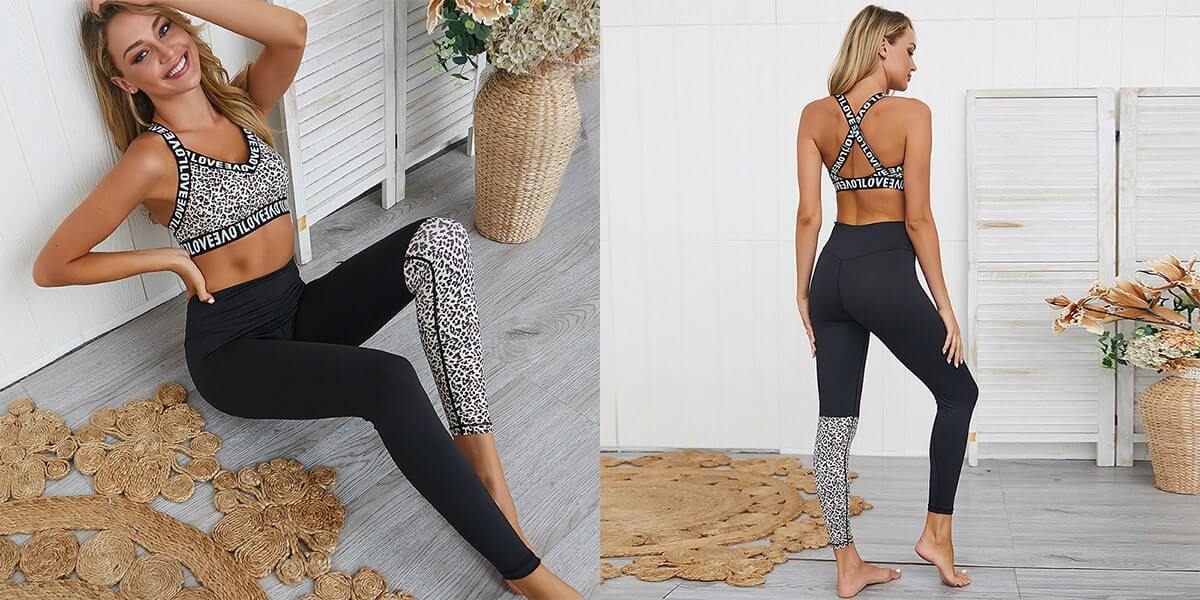 Take your outfit to the next level with this eye catching number. This Sexy Leopard Print Open-navel Yoga Sports Set, comprised of leggings and a sports bra, is not just good-looking, it's one of the best yoga clothes for women. It's perfect for any type of yoga. It's especially a great choice for hot yoga or other very active yoga because of its quick drying fabric.
Seamless High Waist Stretchy Yoga Top and Pants Set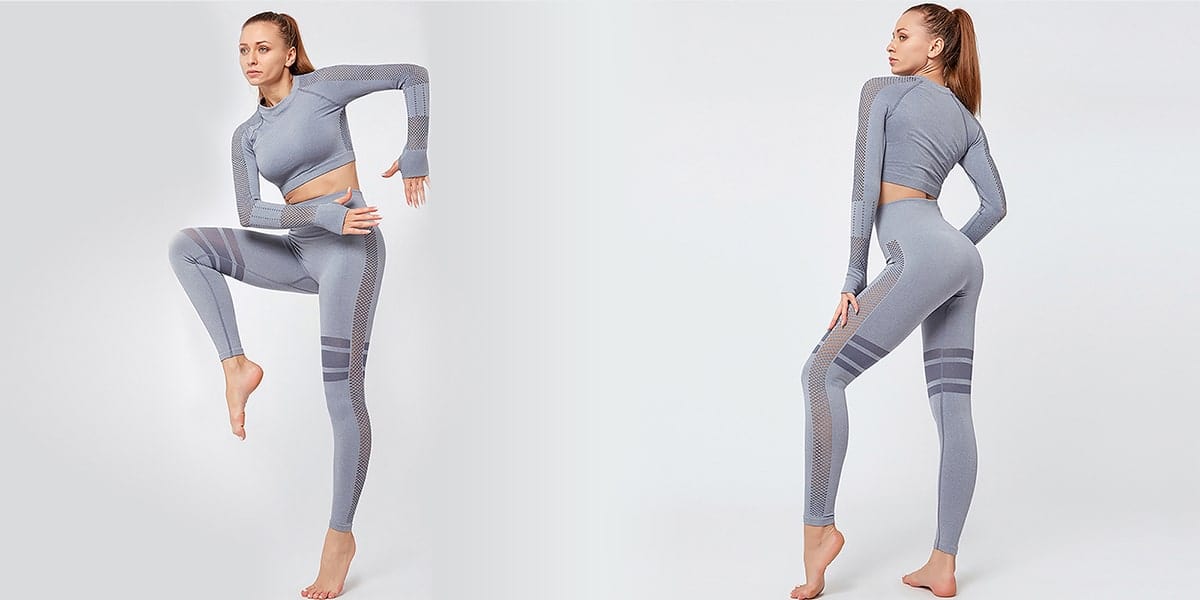 If you're looking for something with a little more coverage on top, check out this seamless high waist stretchy yoga top and pants Set. It has high-waisted leggings as well as long sleeves. Don't worry; it's not too much on the conservative side, though, because the top is cropped. This great set comes in three colors: green, gray, and pink, so you can go wild and get it in multiple colors.