Who doesn't want to feel like a princess on their wedding day? When it comes down to it, showcasing your style and choosing the right style can boost your confidence on this important day. Finding the dream wedding gown is no simple tasks, especially with a limited budget and countless styles to choose from. It definitely can get stressful when shopping for the perfect dress. However, we got a plan for you. Shopping for a simple wedding dress can solve a lot of these unnecessary problems while still feeling like a princess. With the right guidance and info, you can successfully buy a wedding gown without any stress. For any minimalistic bride, a simple wedding dress with subtle details will best suit your needs.
Top 5 Tips to Style a Simple Wedding Dress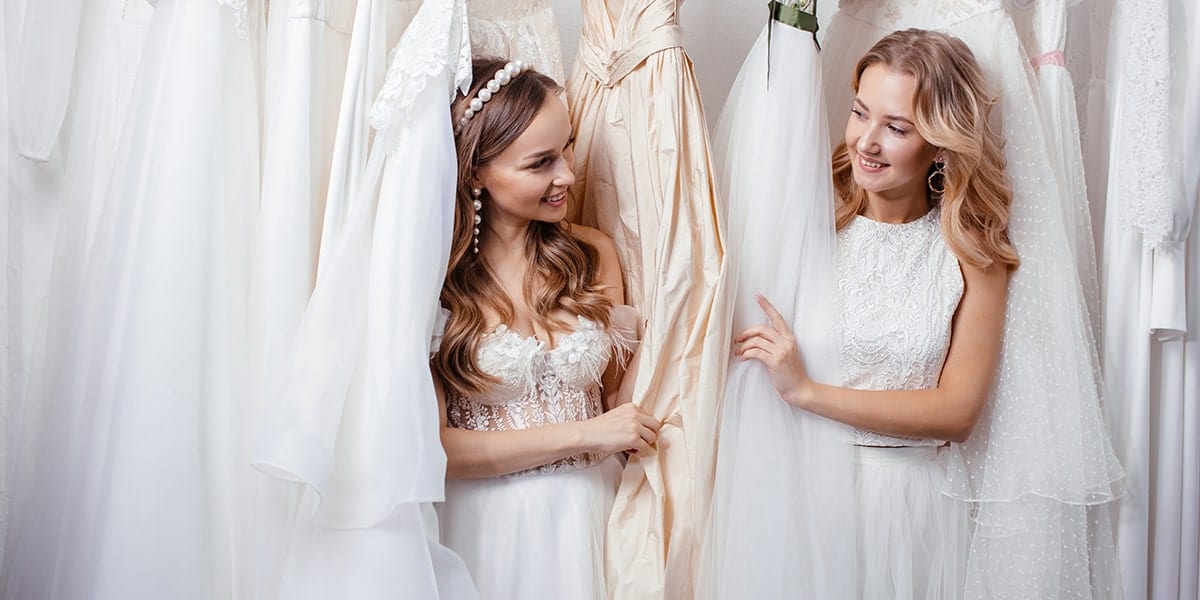 As a minimalistic bride, a simple yet elegant wedding dress may be the most appealing. Knowing how to style your simple wedding gown can give off a more classy and complete look. Let's take a look at 5 fun tips on how to style a simple wedding dress.
Accessorize –Apart from the standard wedding band and ring, accessories such as necklace, veils, bracelets, shoes, etc. can upgrade and enhance the overall look. This should be kept in mind when shopping for your dress.
Simple long veil –Having a simple wedding dress with clean lines also comes with a simple lace edge veil. This cannot be missed! Veil's make or break the overall look.
Bridal Bow – As a minimalist bride, you are probably looking for a clean and simple dress, nothing that is too dramatic. I get you, this is why I recommend a bridal bow. The bow can be worn on one's shoulder or in the back, anything that pleases you!
Modern detailing – To spice up your simple wedding dress, one can incorporate modern detailing such as embellishments, sequins, intricate necklines, etc.
Tailor it –Making sure that you are wearing the dress that accentuates and flatters your body shape is extremely important. You don't want the dress to be wearing you, now do you?
Top 10 Simple yet Elegant Wedding Dresses You'll Love
Finding the right wedding gown involves many steps to make sure you have chosen the dress that pleases your heart. When it comes to minimalist wedding dresses, finding a simple style with a unique design should be your goal. The following are our top simple yet elegant wedding dresses made especially for you.
Simple Deep V Neck Satin Wedding Dress with Tasseled Sleeves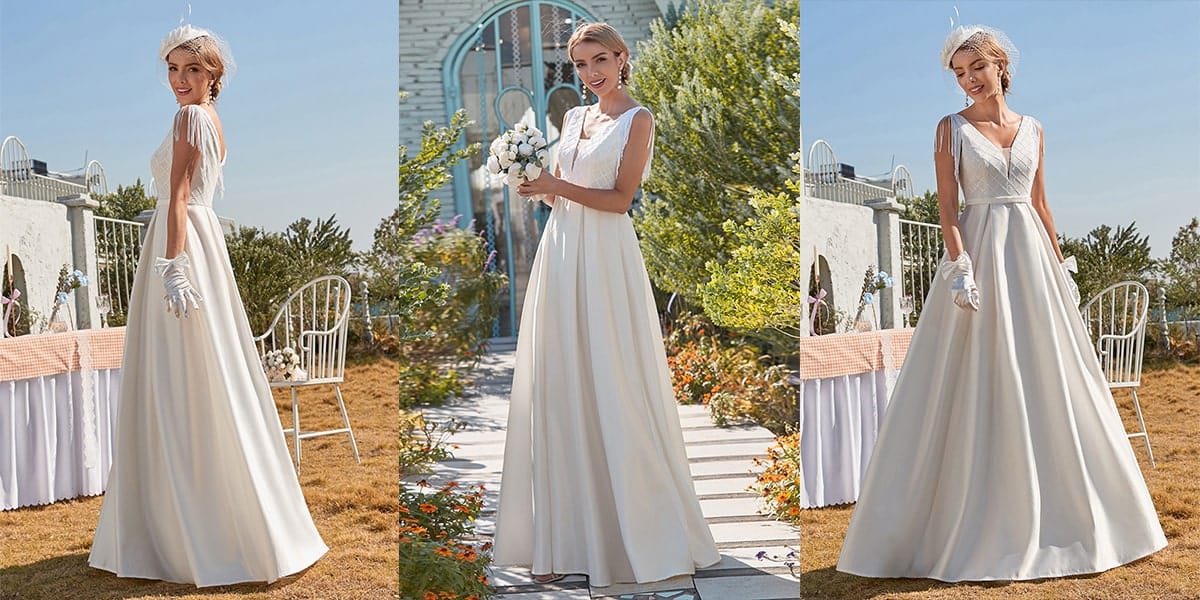 This simple deep V neck satin wedding dress is the go to dress for your most important day. Its V-neck feature and tasseled sleeves give the dress an alluring look. It is a perfect option for brides looking for a simple yet stunning dress.
Minimalist Maxi Tulle Wedding Dress with Long Sleeves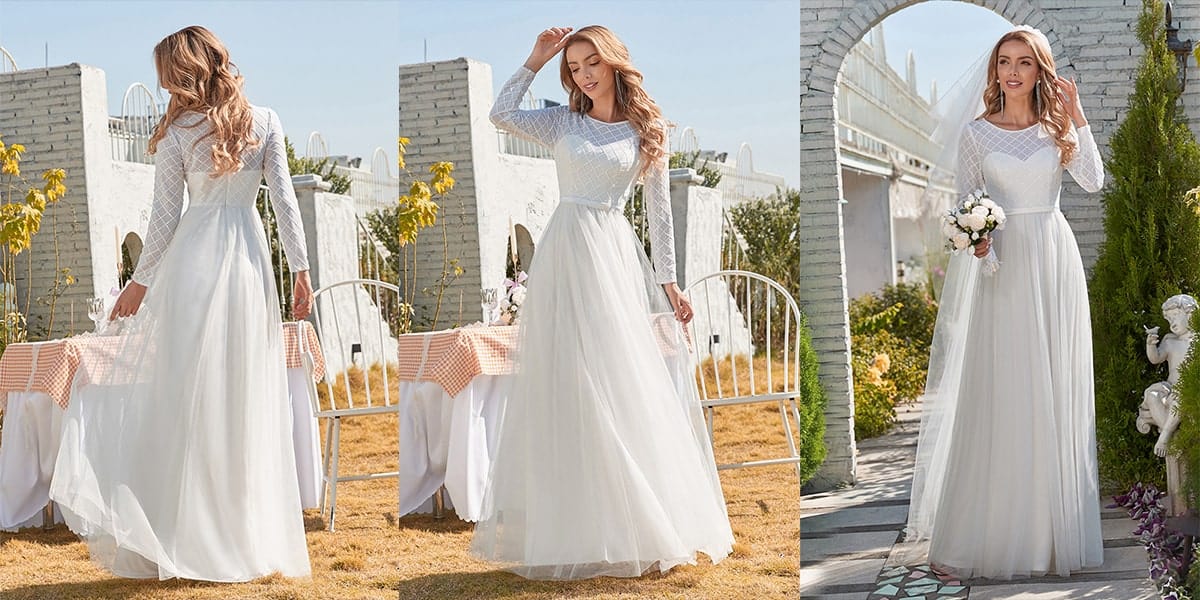 If you are planning for your wedding with a tight budget, this a stunning maxi wedding dress is the one you are looking for. This is a beautiful dress that features a rounded neckline with long sleeves, it also complements the body very well. Its design gives it a classic style and is best for an indoor alter.
Women's Long-Sleeved Chiffon Wedding Dress with Appliques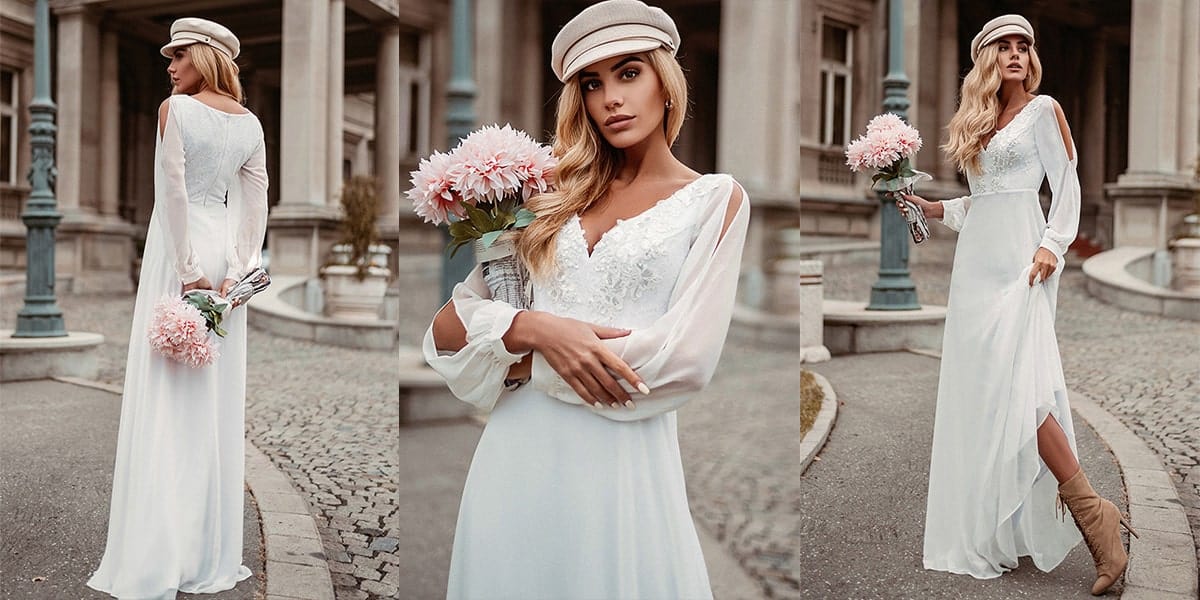 A chiffon wedding dress is just what you need for the big day. This long-sleeved and deep V neck dress comes with a vintage touch making it perfect for those brides who like this vibe.
Simple Chiffon Wedding Dress with Chinese Style Collar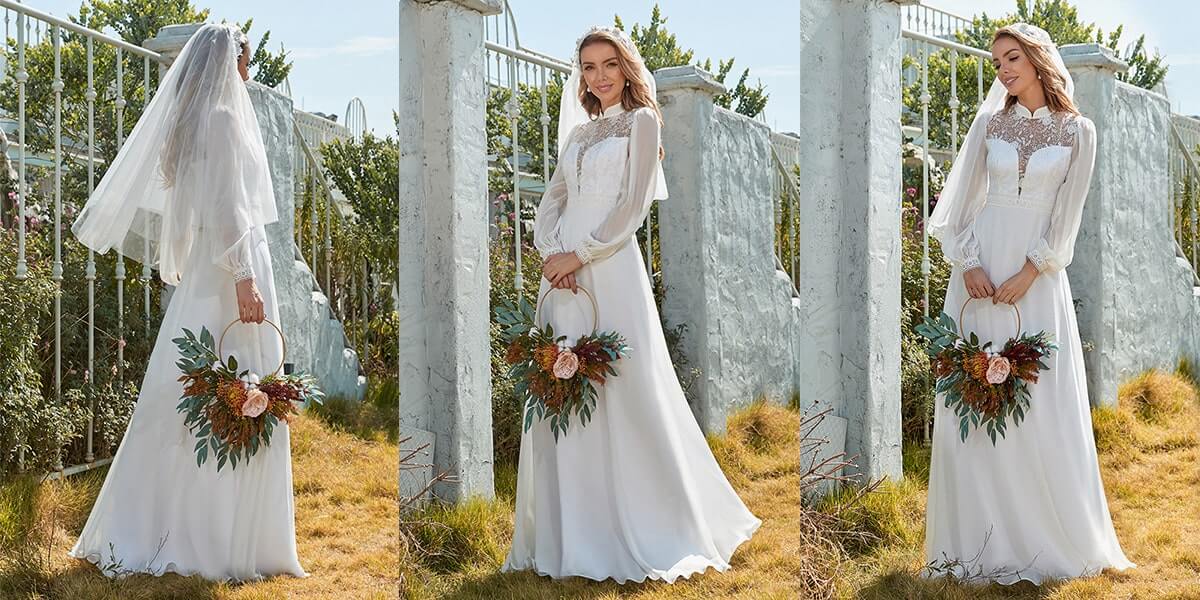 If you haven't found your dream wedding dresses yet, then this dress is perfect for you. Its features include a high Chinese-style collar and full-length puff sleeves. The dress is carefully designed to hug your curves and show off your sexy body.
Plain Lace & Chiffon Wedding Dress with Puff Sleeves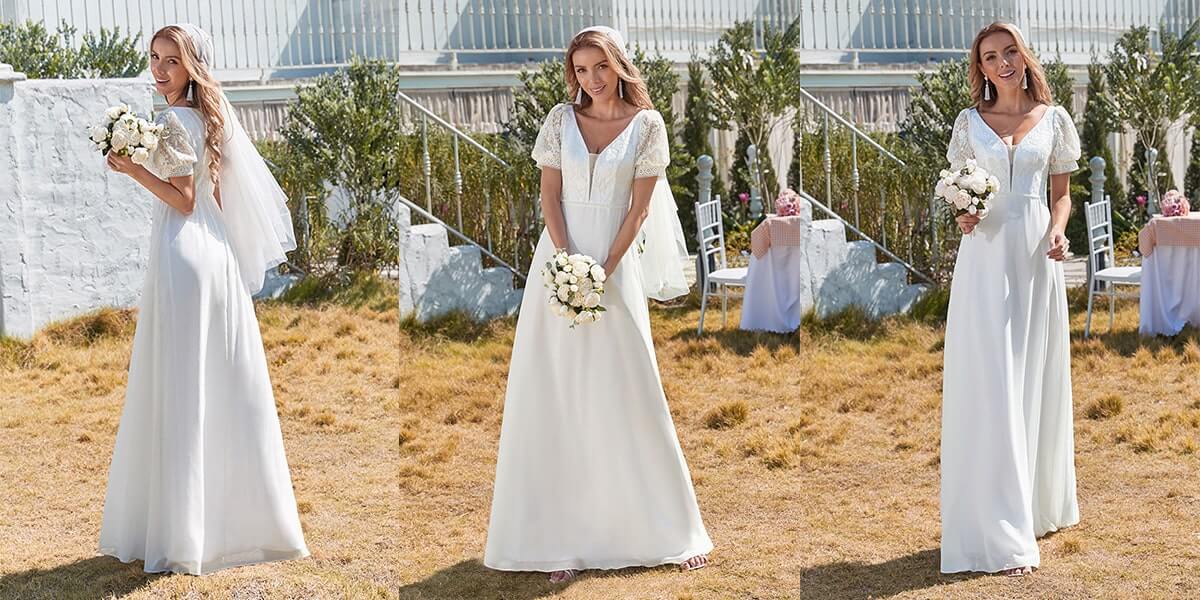 When it comes to lace, this stunning chiffon wedding dress with puff sleeves is perfect for your big day. It's well designed to show off a flattering figure; ideal for anyone who wants a vintage dress with modern touches.
Simple V Neck Wedding Dress with Floral Embroidery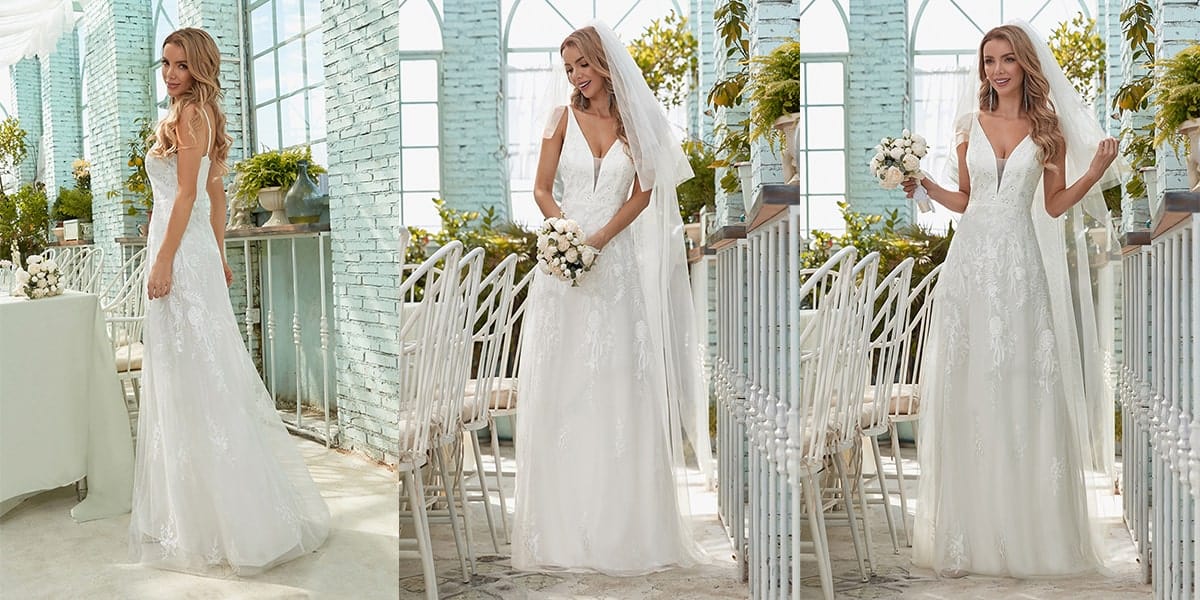 This is a V-shaped wedding dress that is not only flattering but also sexy. Its floral design gives it an alluring and eye-catching design. The low-cut back is something that you will instantly love.
Plain Maxi Fishtail Wedding Dress with Ruffle Sleeves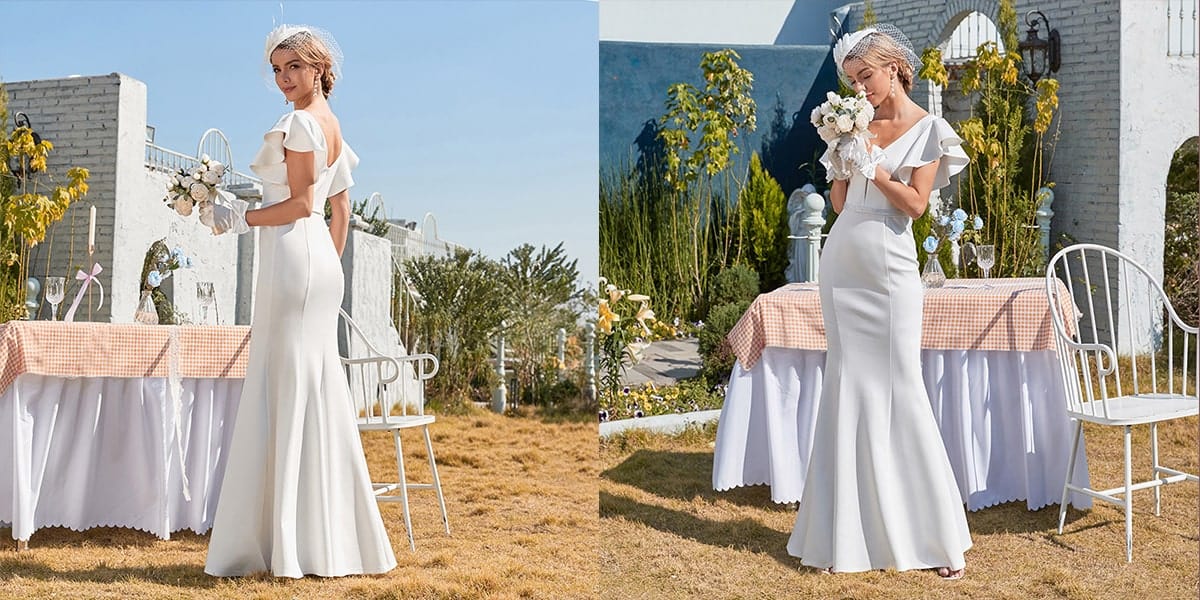 This is another excellent wedding dress option that features a deep V-neckline, flutter sleeves and a rhinestone band. It is both elegant and polished, making it perfect for a bride who's looking for a fancy yet simple design.
Elegant Simple Satin Wedding Gown with Lace Long Sleeves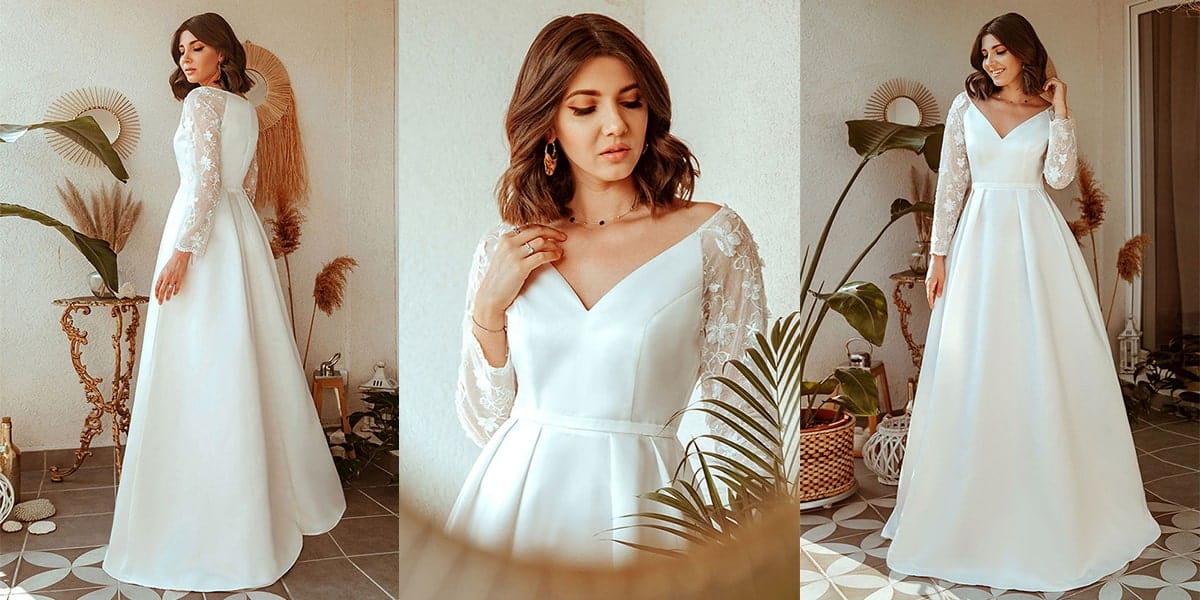 This long-sleeve bridesmaid dress is another ideal option when it comes to minimalist brides, especially with apple-shaped bodies. This dress will flatter any figure and make you look like a princess.
Simple Casual Lace & Chiffon Wedding Dress for Bridal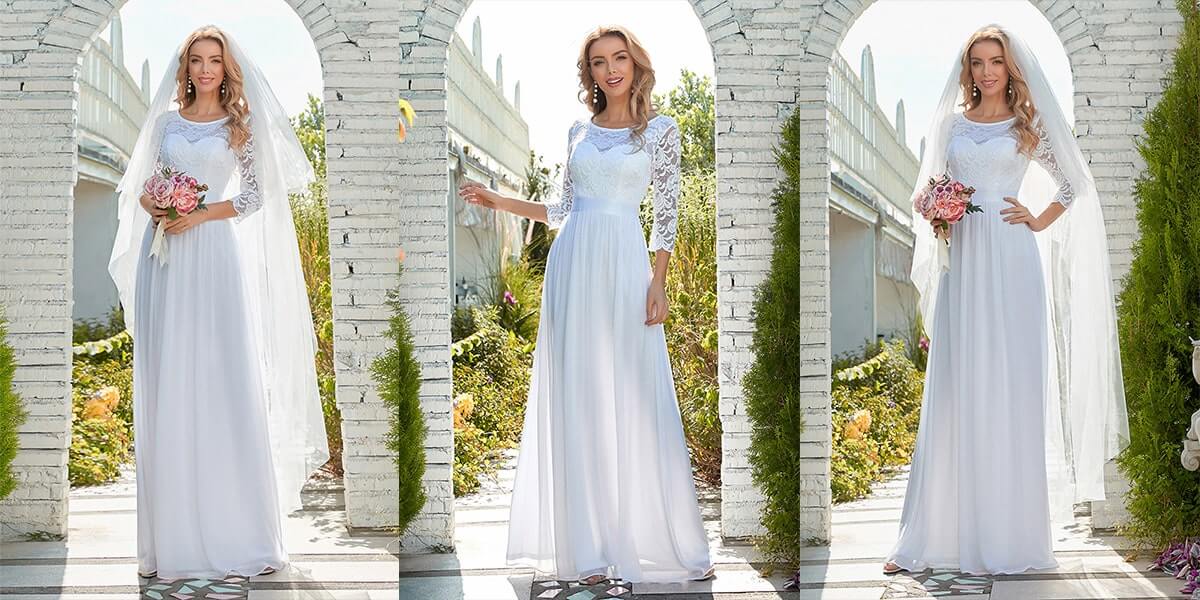 If you haven't found your dream wedding dress yet, this gorgeous chiffon dress is perfect if looking for a classy look. Its lace sleeves give it a classic tone and picture-perfect silhouette.
Minimalist V-Neck Chiffon Wedding Dress with Long Sleeves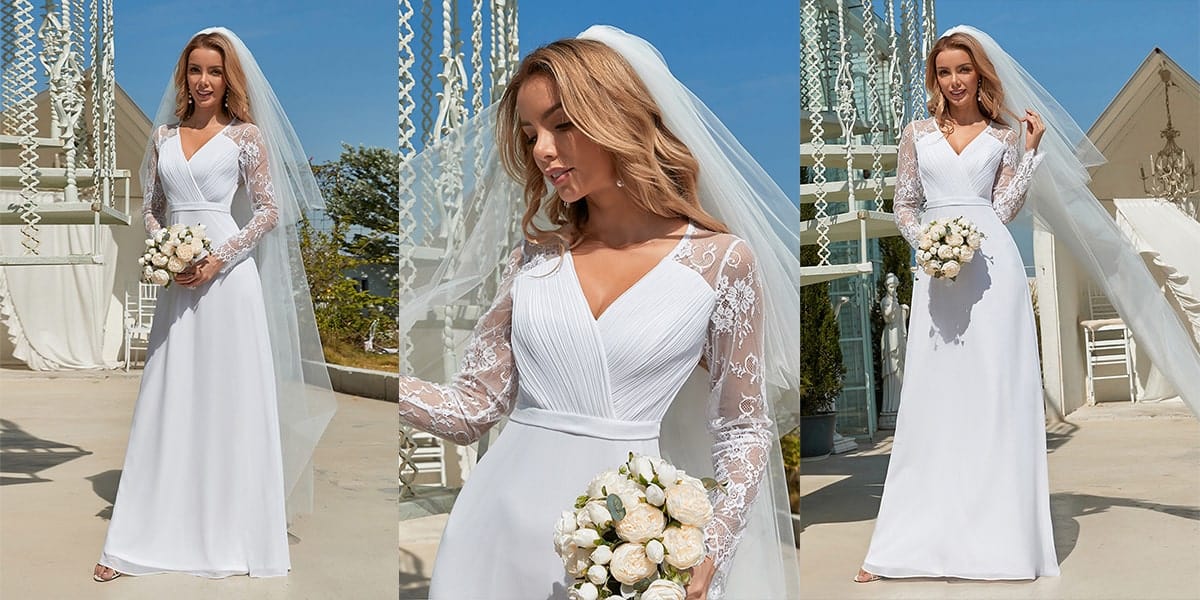 Are you looking for an elegant yet simple wedding dress? This V-neck asymmetric dress is just perfect. This dress is both alluring and fashionable, primarily because of its full-length lace sleeves.