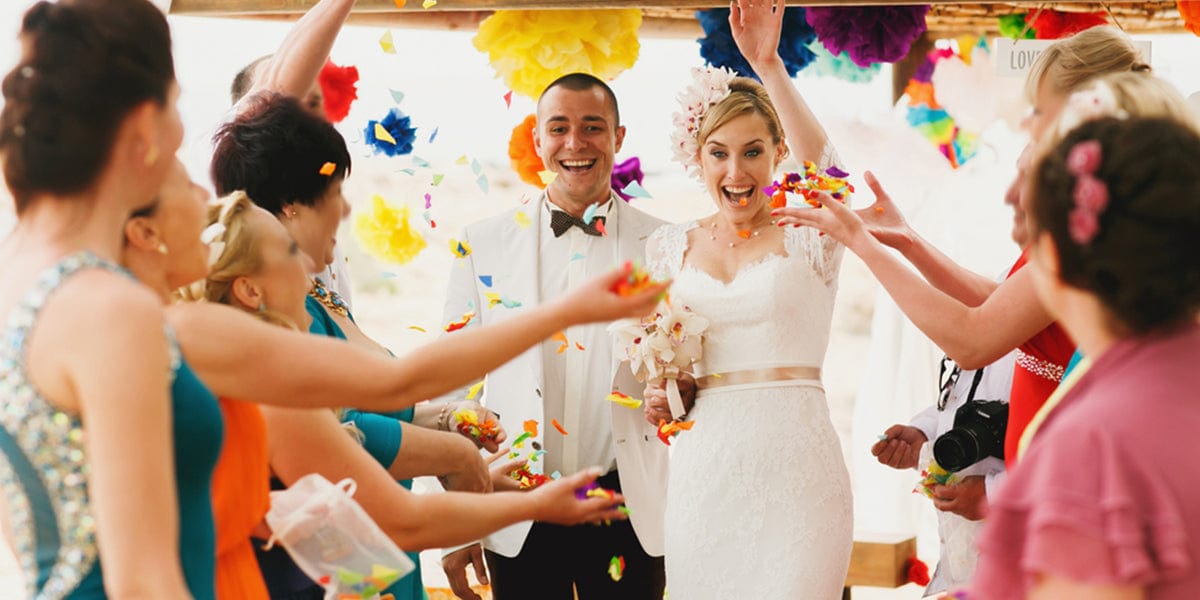 Wedding themes and style trends are always evolving. Most recently garden, rustic, boho, modern, traditional, and so forth have increasingly become popular. Couples value experiences over aesthetics these days. Emotional atmospheres have become the new focus of couples planning to wed in 2021 and 2022 and 2023.
They focus on creating highly intimate, personalized wedding themes that highlight all the special moments for themselves and their guests. While some couples dream of a private wedding on some quiet beach away from the rest of the world, others desire the glitz and glamor of big weddings.
From the ashes of a pandemic have new elements of design, new wedding themes, and state-of-the-art experiences risen, all created to capture beautiful beginnings.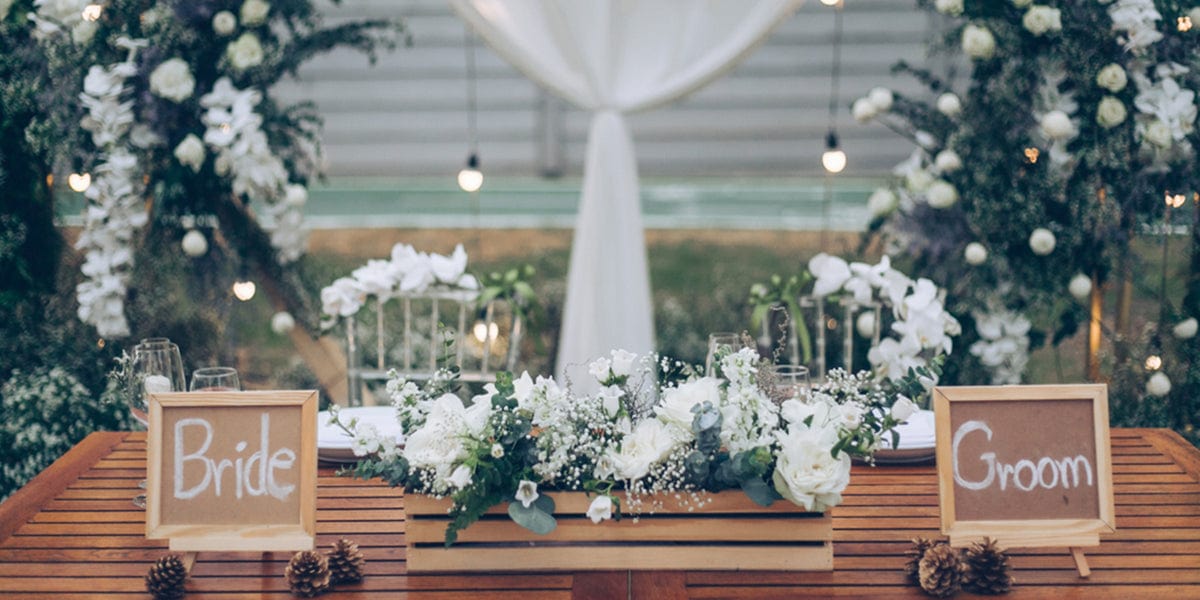 Here are 5 of the most popular wedding themes you can easily match with multiple venue styles
1. Outdoor theme 
Outdoor weddings were more of a necessity rather than a luxury throughout the pandemic. They grew in popularity in 2021 and are going to be as trendy in 2021 too. Outdoor weddings are not only lovely but they also bring sweet, natural vibes to the occasion.
Recently, most couples chose secret gardens and secluded beaches as their venues. Alternative options such as urban rooftops, vineyards, open-air marquees, and farm stays are also popular as they present extra dining and dancing space for guests.
2. Rustic theme
Nearly half of all 2021-23 weddings had some rustic elements, making it the most popular wedding theme yet. The style is wide-ranging and is not limited to the traditional vintage furniture and wagon wheels most of us are used to.
Think about beautiful vineyards, warehouses, heritage homesteads, cellar doors, and everything in between. Such venues can be matched with muted hues and earthly elements easily. Rustic elements add relaxing, laidback, nostalgic vibes and a strong sense of chill to the wedding. Your guests can enjoy some outdoor roast and band music for the after-party.
3. Traditional theme
Traditional weddings are those that have some classic, romantic vibes to them. It could include themes of a white wedding and the use of traditional venues such as a ballroom reception that follows a church ceremony.
Other popular traditional wedding venues include botanic gardens and art museums, private estates and luxury hotels, or Art Deco banquet halls and heritage buildings.
4. Bohemian theme
Boho themes reigned in 2023 and they don't show any signs of stopping. The Bohemian style borrows some chill, laid-back ideas from both outdoor and rustic themes. Boho style and design lean towards rich, polished colors and local music, food, flowers, and drinks.
Beach weddings, which are also super popular, borrow a lot from this theme. Other couples prefer restaurants, warehouses, wineries with accessible gardens or courtyards for their boho themes weddings.
5. Modern theme
Modern themes are truly stylish. They incorporate bold, bright colors with vibrant, festive vibes. Most couples choose highly polished, sleek, and minimalist venues with huge windows and some kind of loft-style.
The modern wedding comes with loads of polished fabric, remarkable installations, lots of candles, and many others. Most of the venues need to have modern lighting, high ceilings, bare wood beams, and concrete floor.
2023 Wedding Color Trends You Should Know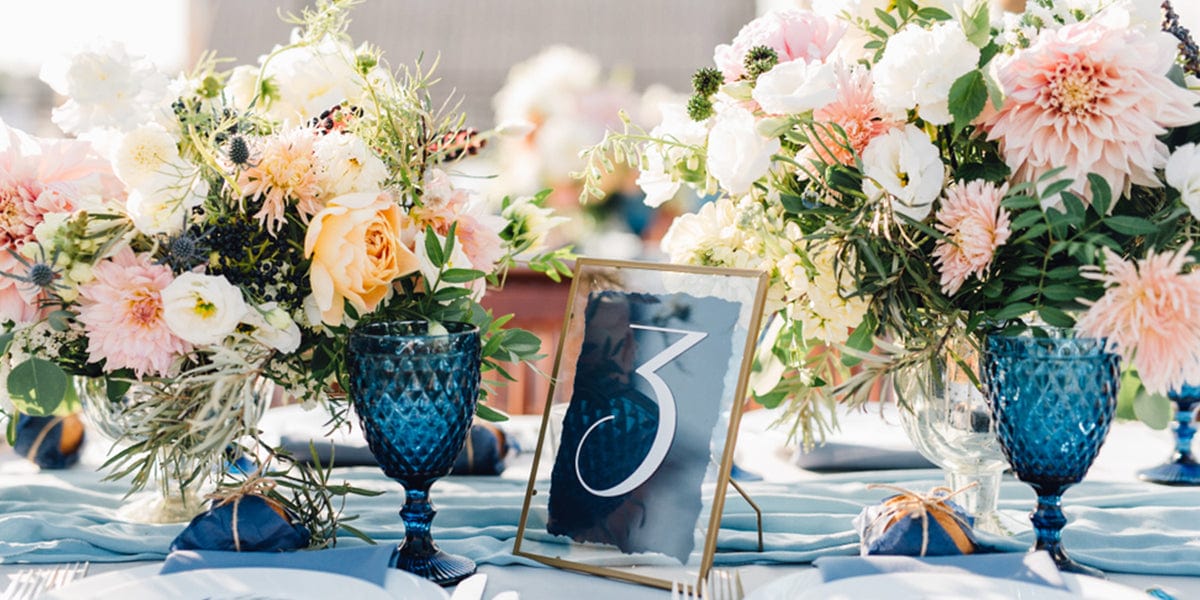 Light, mood-boosting hues have become the most prominent wedding colors in light of the pandemic. Softer, washed out and more sophisticated hues of pink, grey, and blue dominated the trends in 2022 and they will be carried on to 2023 without a doubt.
So, which colors are these?
Burgundy Bridesmaids' Dresses with Rose Gold color scheme
The sultry red hue of burgundy dress is stunning and will certainly look gorgeous on every bride. It may be popular for winter and fall weddings but other couples have chosen it for the warm weather too. Burgundy is the color you need if elegance is your priority.
Pair this color scheme with oatmeal beige or rose gold and a grand ballroom, museum, or historic estate kind of venue if you want to make a bold statement. Décor items such as table runners, candle holders, vases, and burgundy-colored flowers will create a stunning look that will blow away everyone's mind.
Gold/Silver Metallic with Navy and White
Navy and white with a splash of gold are colors that will never go out of style. Navy has so much class it gives weddings a touch of elegance and sophistication. Add some gold and the occasion becomes ten times as formal.
Gorgeous shades also include icy blue, but deeper shades work best for winter. Other couples chose bold, royal blue, and sapphire hues for the bridesmaid dresses. Complement the rich, luxe tones of blue with dark red or lush greenery for ultimate sophistication.
Blush Pink Dresses with Mint Green
This color combination is perfect for the outdoor wedding theme. It is vibrant, upbeat, and fun. Whether it's a beach, urban rooftop, or backyard, blush pink and mint green will work perfectly fine. Think of blush pink bridesmaid dresses paired with beautiful lush green bouquets wrapped with blush pink ribbons.
Something about a combination of blush pink and mint green reminds us of ancient sea glass and pretty flowers. You can also pair blush pink with other shades of pink such as watermelon pink and peach pink.
You can add a little shade of light blue to make the blush pink pop out.
Marigold Yellow, Slate Gray with a splash of Blue
Gray dresses, marigold yellow bouquets, and blue table cloths are the perfect color combination of a classic outdoor wedding. Ideal venues for this color scheme would include historic mansions, vineyards, and country clubs.
This color has become a major hit because the bridesmaids look great in gray dresses combined with the navy-blue suits of the groomsmen. Adding some marigold yellow details on the bouquets or the venue makes the colors shine.
A florist will help you choose the best kind of flowers – daisies, roses, or daffodils – which you can pair with elegant vases and gray ribbons to improve the overall décor. 
Our Top 5 Wedding Dress Picks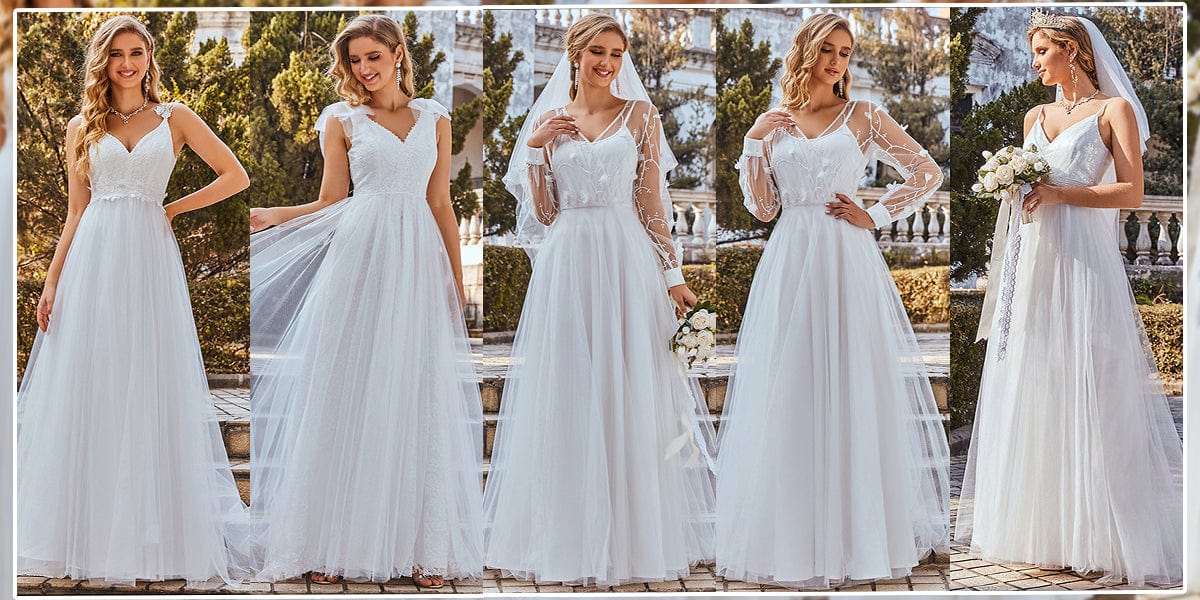 We have simplified the process of finding the perfect dress for your wedding. This list covers all the stunning gowns perfect for an outdoor wedding, an urban rooftop wedding in a luxurious hotel, sleek and stylish modern weddings, and everything in between.
1. V Neck, Sleeveless Simple Wedding Dress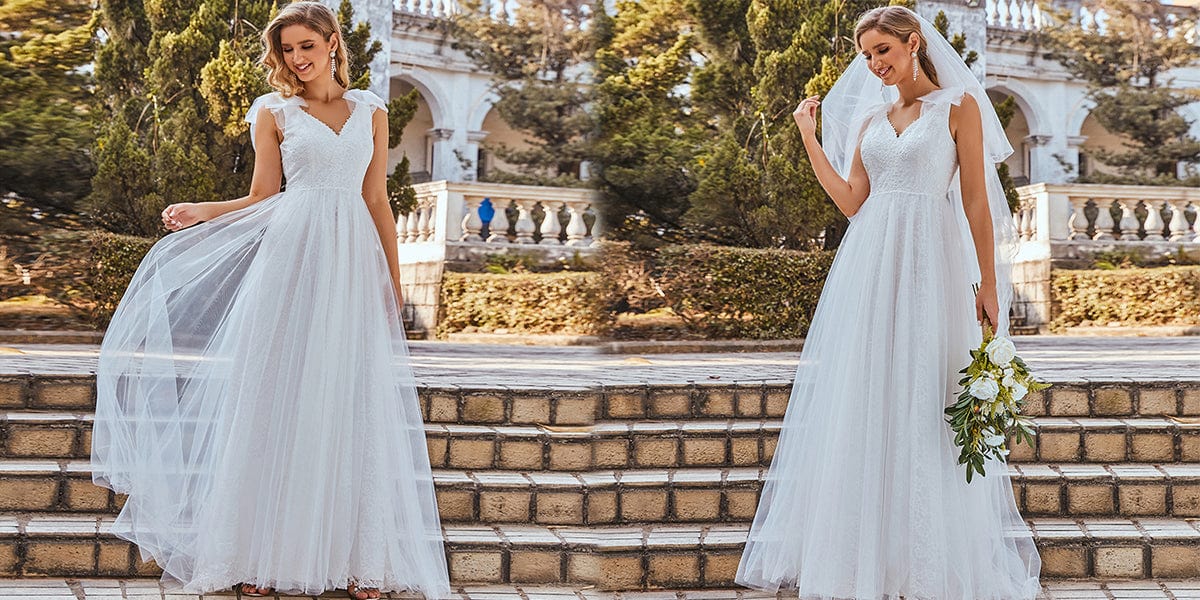 This is the right gown for every bride who wants to draw attention to their shoulders and upper body. It is flattering and enhances most body shapes. The V-neck, sleeveless wedding dress is a sophisticated choice that will enhance your arms, shoulders, décolleté, and neck. 
It brings classic elegance to your outdoor wedding and gives you a sexy, timeless look.  
The simple sleeveless will make you just as beautiful as the scenery. It is the perfect dress for the fashion-forward bride.
2. Lace Bodice, Floor Length Tulle Wedding Dress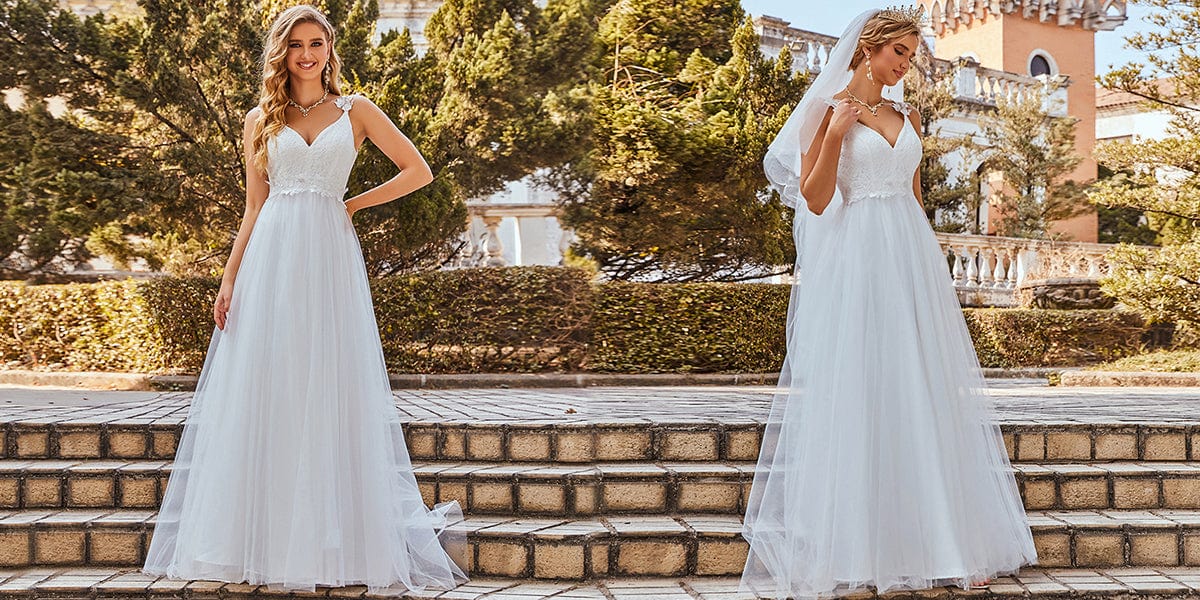 Lace is not only versatile and unique but also elegant and timeless. A lace bodice elevates a simple, plain wedding dress into a magical and memorable gown. There are many varieties and additions to lace that can make it spectacular.
You can play around with botanical patterns, delicate beading patterns, graphic designs, or even bold embellishments. Our beautiful Double V-Neck Lace Bodice Floor Length Tulle Wedding Dress is a sight to behold.
It is something every bride will fall in love with.
3. A-Line Tulle Wedding Dress
An A-line tulle wedding dress is exactly what you need for your wedding. It is a figure-flattering choice that makes for the perfect traditional-meets-romantic kind of bride. You can wear an A-line wedding dress for any celebration and in multiple venues.
A-lines dresses have one of the most comfortable silhouettes a bride can choose for their big day. It perfectly nips the waist, adds volume to the hips, and flows loosely over the lower half of your body.
This wedding gown adds glitz and glamor to the occasion. 
4. V-neck Floor-Length Wedding Dress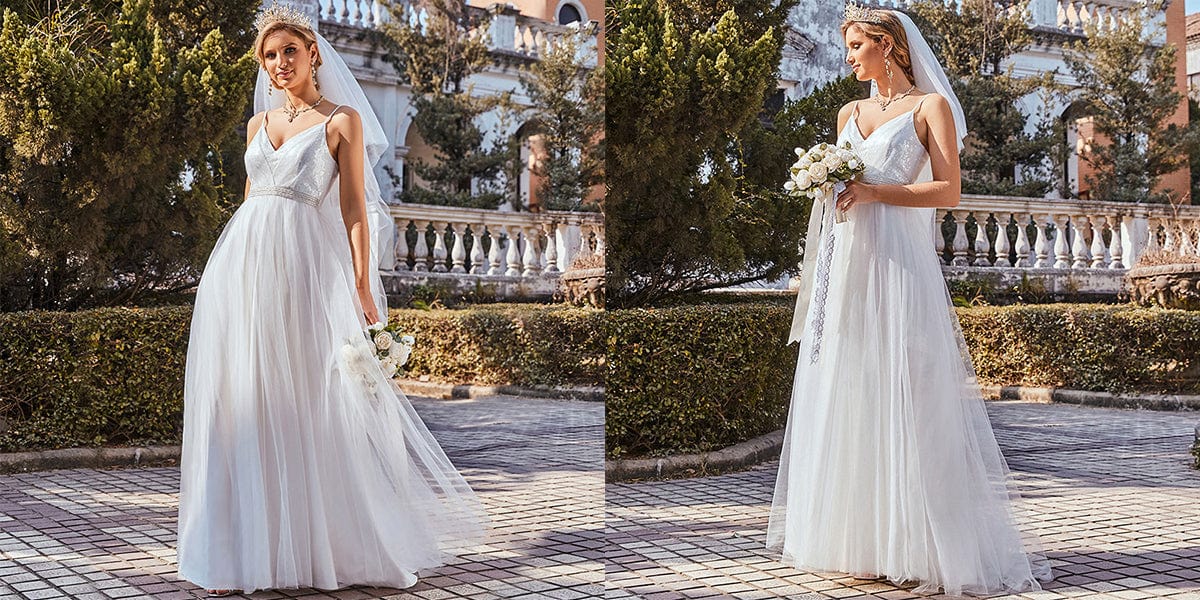 There is nothing better than a beautiful, comfortable, floor-length wedding dress on a summer day. Also known as a maxi or full-length dress, the floor-length design is available in either bold, solid, and patterned designs or loose fitting and form-fitting sheaths.
Floor-length wedding dresses are a ground-breaking choice most designers are loving this season. It doesn't matter how you interpret it; this wedding trend brings glamour and sophistication to all occasions. 
5. Strapless, Mermaid Wedding Dress 
Is there a better day to express your inner romantic self than on your wedding day? And what better way to do so than with a strapless, mermaid wedding dress? A strapless wedding dress is daring and sexy and it perfectly flatters your décolleté.
You can wear this dress, no matter what your style is.
Indulging in a maximalist gown for your special day is the best thing you can do for yourself. And it doesn't get more extra than a beautiful piece of a strapless, mermaid with some gorgeous accessories.
You deserve the best, go for it.