Maxi dresses Have Become a Popular Choice in summer 2023
When it comes to summer fashion, maxi dresses are a no-brainer; a full-length gown that hovers barely over the ground is always a good choice. With social plans returning this season, a flowy floor-skimming dress will undoubtedly be the only item you want to wear when it's too hot out there.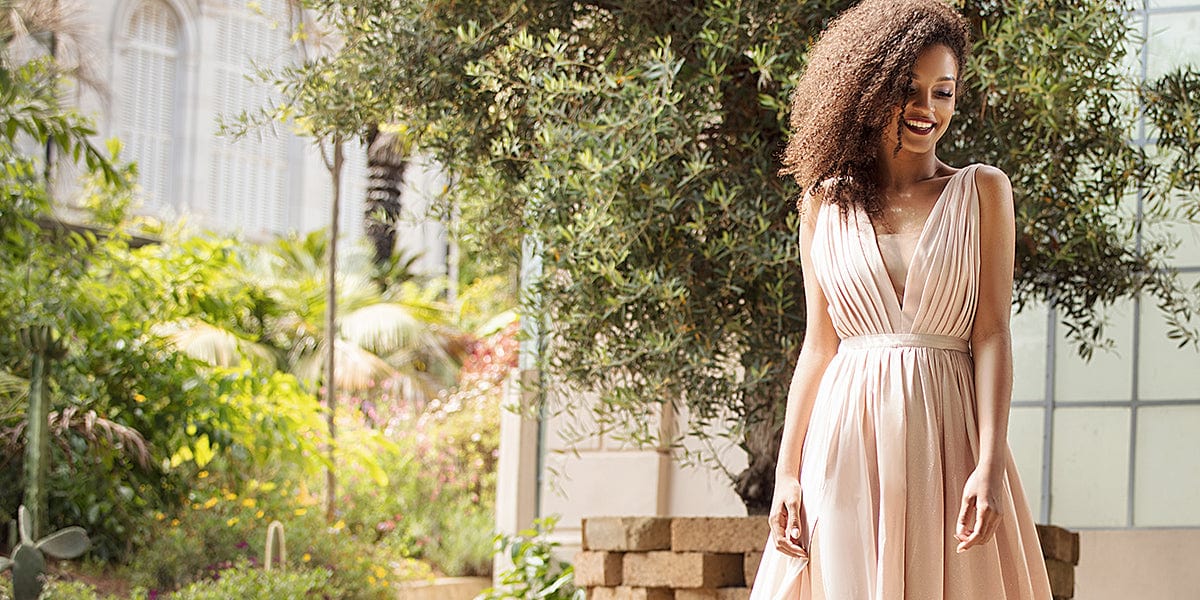 Depending on the sleeve length and material of the dress, you may wear maxi dresses in any season. A maxi dress with long sleeves adds a dressed-up look and is suitable for cooler weather. A maxi dress with short sleeves or off-the-shoulder sleeves will add a trendy touch to your outfit. There are also sleeveless and colorful dresses with spaghetti straps or strapless that are perfect for hot summer days.
Keep in mind that maxi dresses have been around since the 1970s and aren't going away anytime soon. Because of the great range of designs, styles, colors, and materials available, they have a lot of staying power. A solid-color maxi dress in a classic style will get you through changing trends; they're simply an investment.
How to style maxi dresses For Summer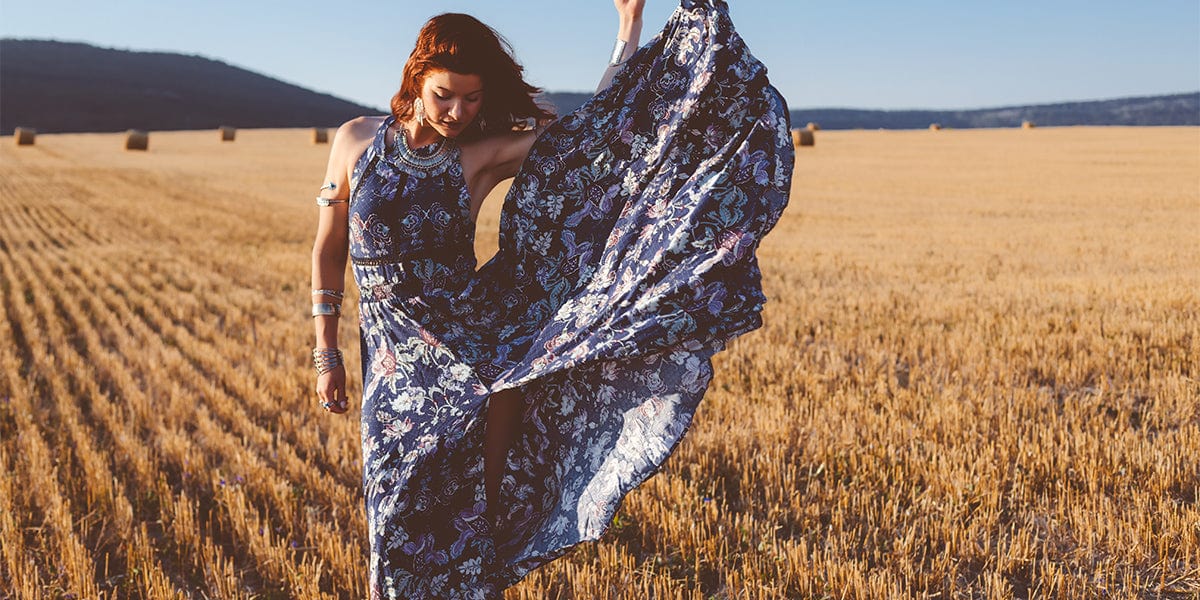 There are various ways to style a maxi dress for summer, allowing you to wear the same one over and over and yet look different. There are limitless ways to wear a maxi dress in the summer. And because they're so easy to dress up or down, you can wear them to everything on your summer schedule, from birthday celebrations to weddings to backyard barbecues.
Cinch the waist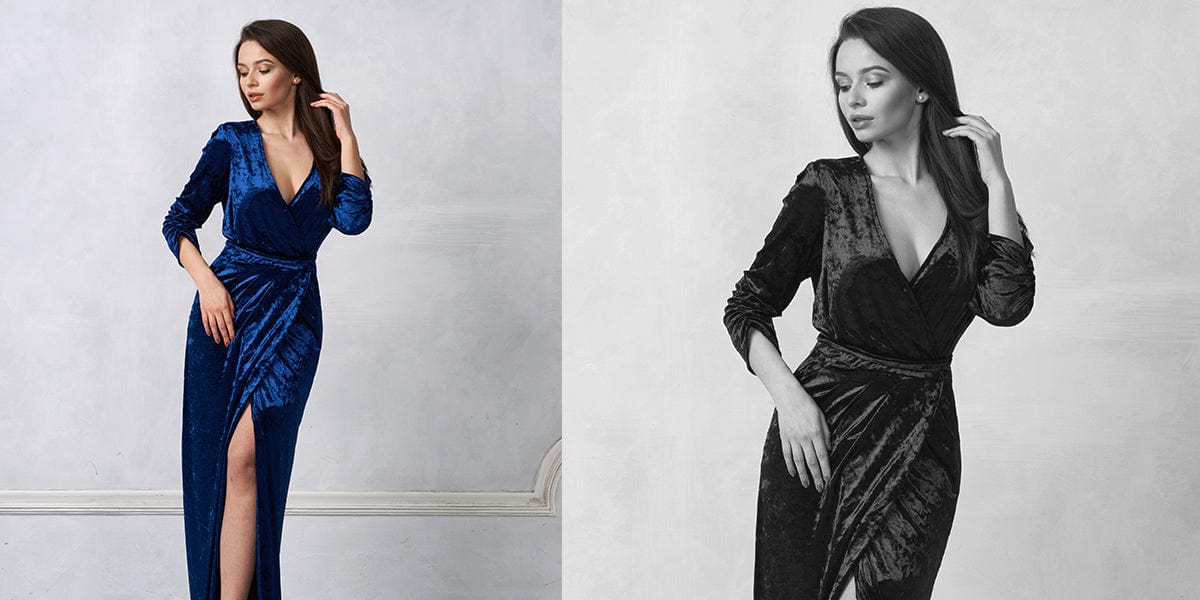 Maxi dresses are often flowy and unstructured. Thus, why not cinch your waist with a belt or a belt bag to make it appear more attractive on your figure? This will bring some structure and give your maxi dress a sleek and attractive appearance.
Layers a white t-shirt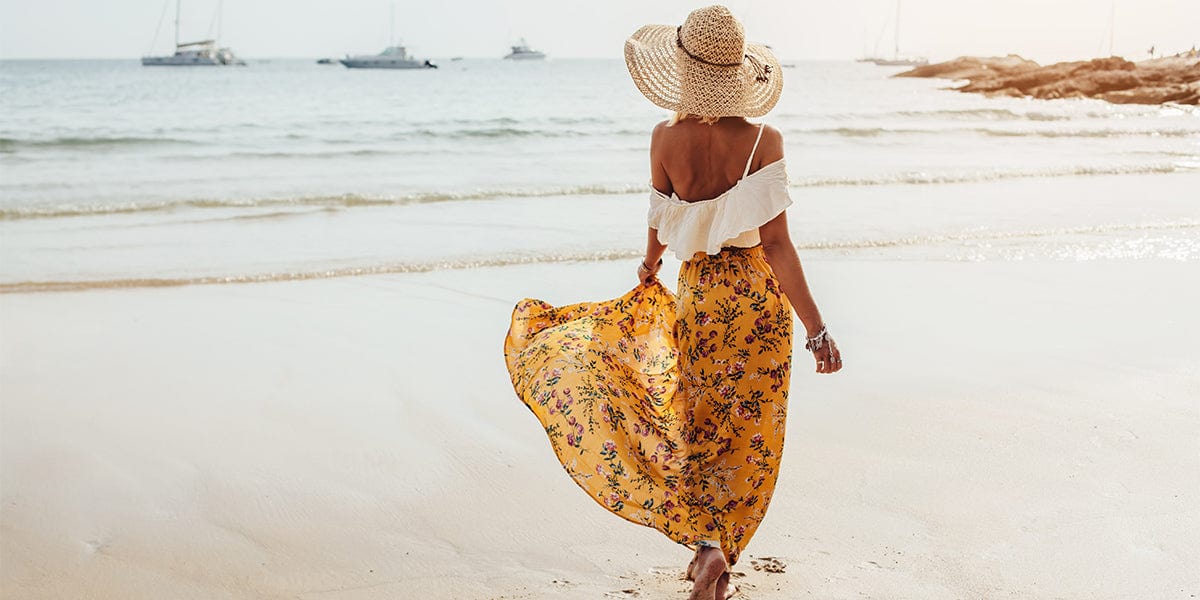 For a beautiful and comfortable appearance, wear your maxi dress with a t-shirt. You may wear your t-shirt over the maxi dress and tie it, or you can wear it beneath the maxi slip dress for a more modern look. This outfit is perfect for summer trips or morning dates.
Pick the right accessories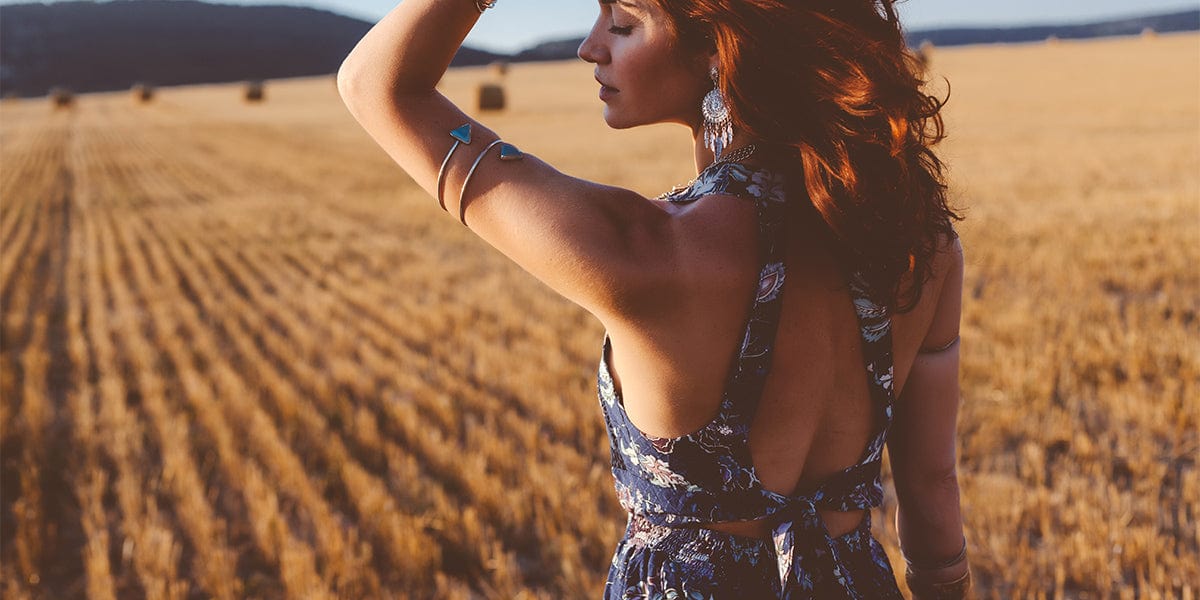 Consider using sunglasses as an accessory for a beachy and summery style. You may accessorize your maxi dress with hoop earrings or simple dangle earrings for an everyday outfit. Style it with bold jewelry for special events and elevated outfits. Just be sure you accessorize it correctly, keeping the occasion in mind. To complete the style, use minimal items and a sleek purse for workwear.
Wear it as a skirt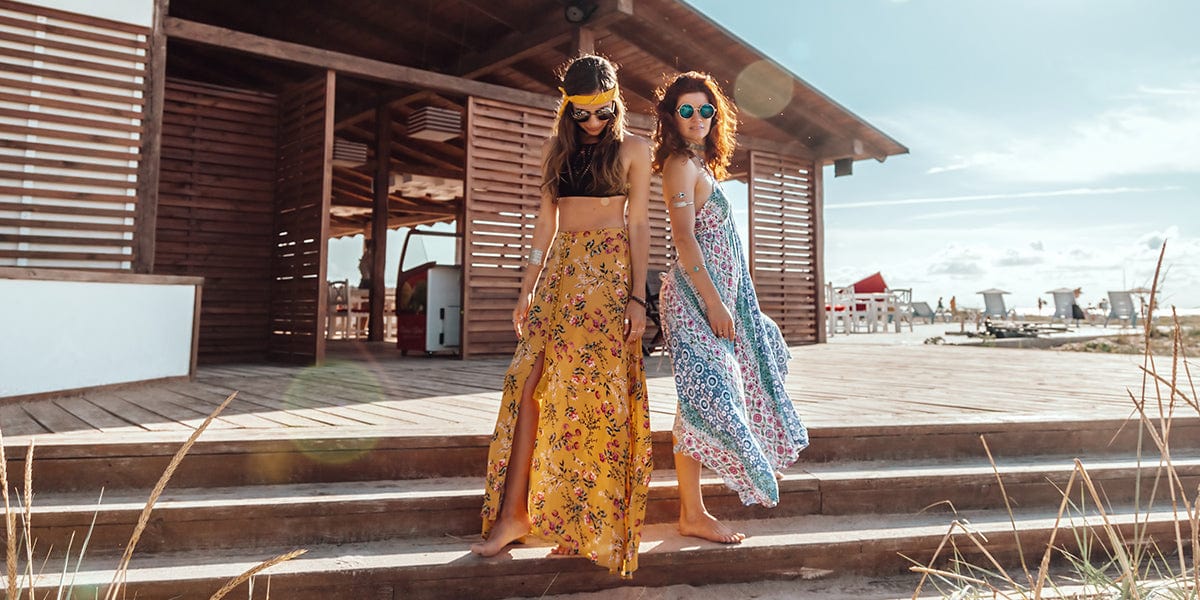 Consider Wearing your maxi dress as a skirt for a more casual look. Simply pull the bust of your dress down to your waist and fasten it with a belt. For lar perfect appearance, add safety pins and secure them securely. Then you may wear it with a nice crop top or shirt.
Of course think of the shoes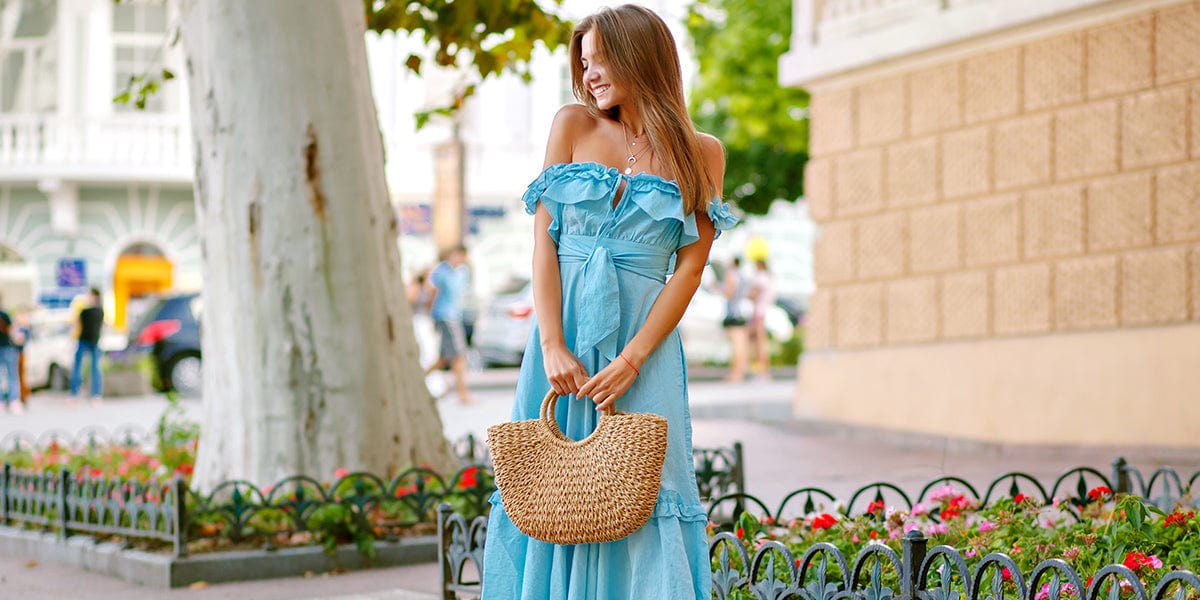 Your footwear choice may complement or ruin your maxi dress outfit. For effortless elegance, avoid flip-flops in favor of Roman sandals, lace-ups, or tall strappy sandals.
Wear a Slip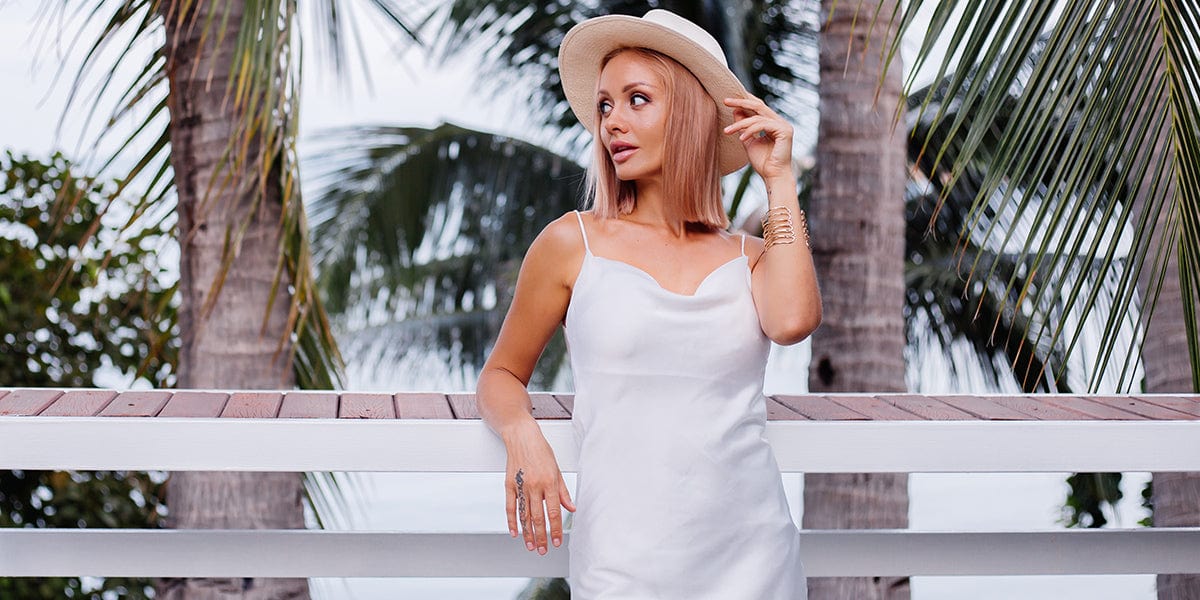 A pro fashionista tip is to wear a slip underneath your maxi dress for a smooth finish, especially if you're going to a wedding or dinner date!
Our Maxi Dress Recommendations
Now, considering all of these steps, the second difficult choice you have to make is what dress to wear depending on the occasion. Well, we managed to curate a list of the best-looking dresses for each, suitable for every body type and style you want.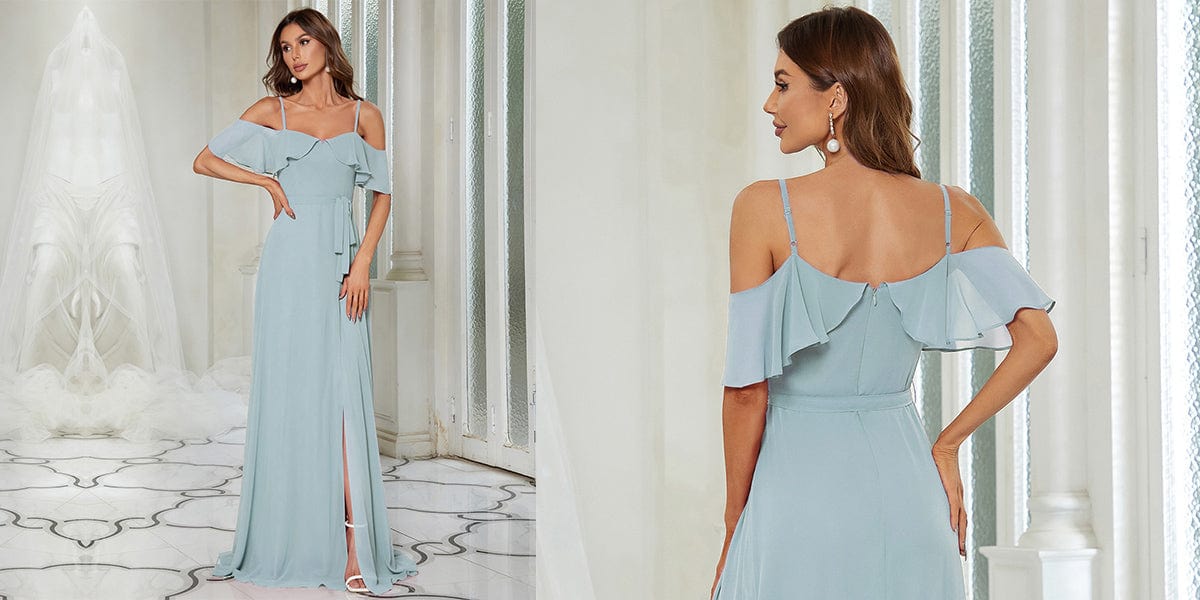 This dress with its dainty chiffon, sky blue color, and ruffle sleeves will grab everyone's attention immediately. Ruffle sleeves almost make any dress look better, and this elegant cut and style put you in the perfect position to be the best bridesmaid on the occasion.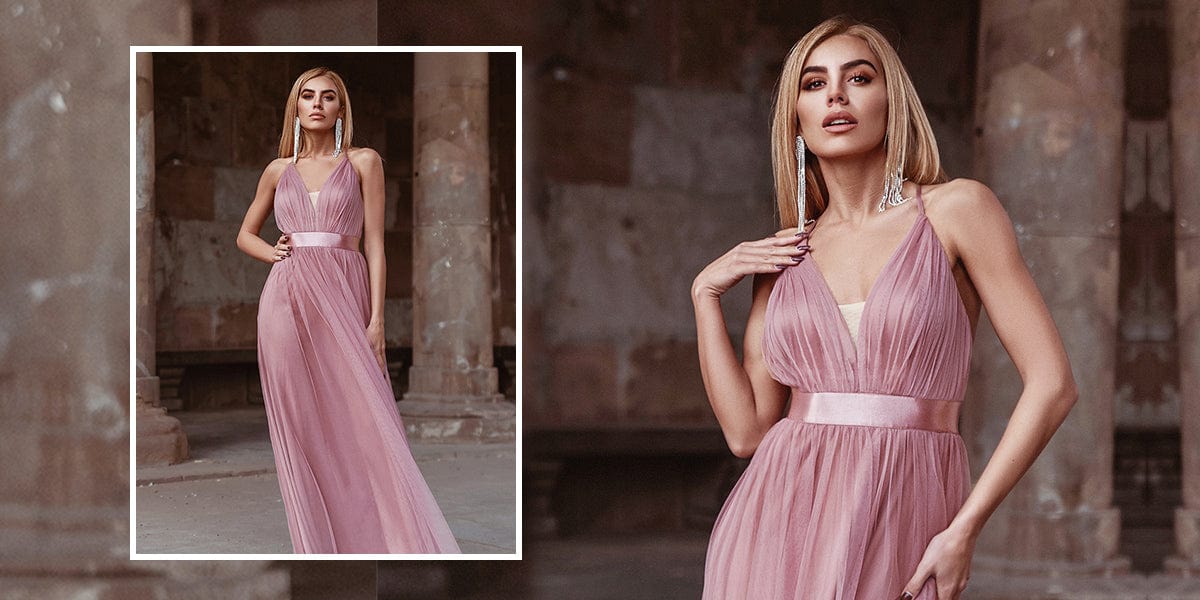 Purple is known for being one of the most feminine colors, highlighting your best features and giving you that extra confidence boost. Its deep V-neck backless tulle maxi cut allows for an incredibly attractive look if you compliment it with glamorous jewelry.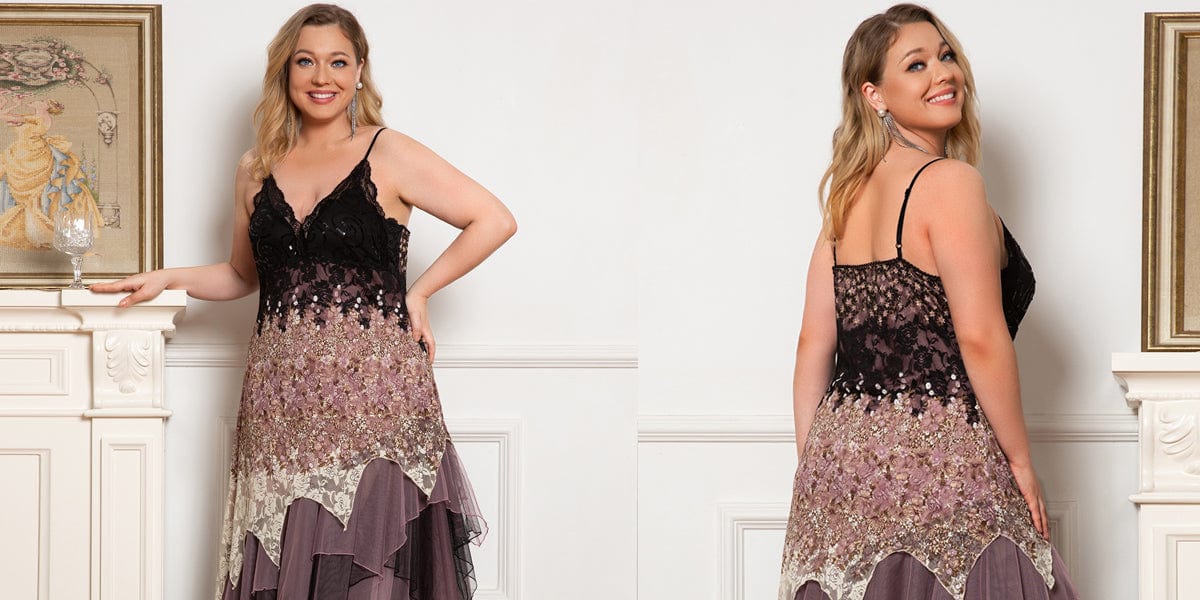 Cocktail events are meant for guests to interact together and socialize, which means you need to look your best and walk confidently amongst everyone there. Well, we have just the dress for you. The irregular hem cocktail prom dress has a very unique cut and is available in several colors to suit your style.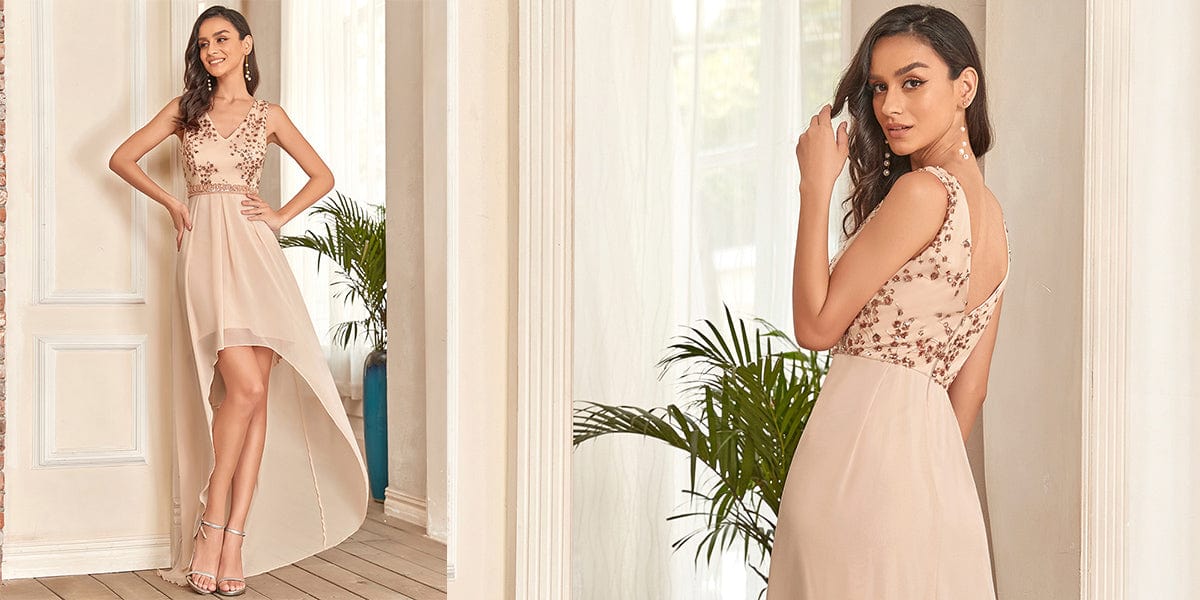 Nude color dresses are very easy to style with accessories, especially if it is as classy and elegant as this one. The sleeveless evening dress has a stunning embellished waistband and delicate sequins flowers spread across its upper portion, accompanied by a fashionable high low cut from the front.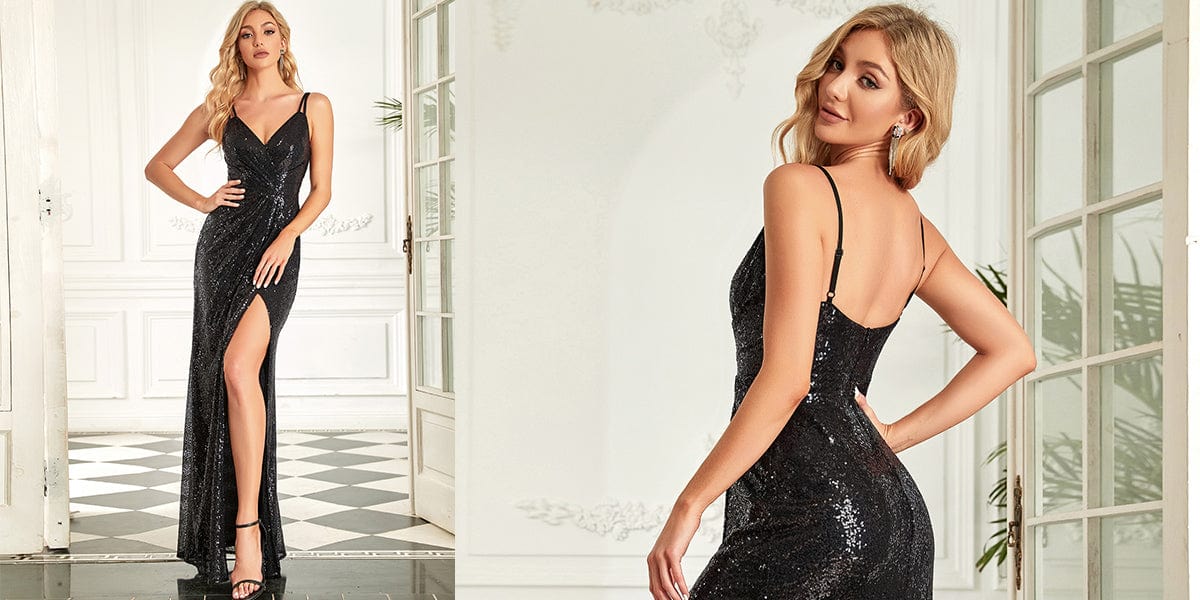 You can never go wrong with the color black, and this dress gives off the vibes of a star in a James Bond movie. With a floor-length cut and thigh-high slit. With sequins covering the entire dress, it doesn't get any classier.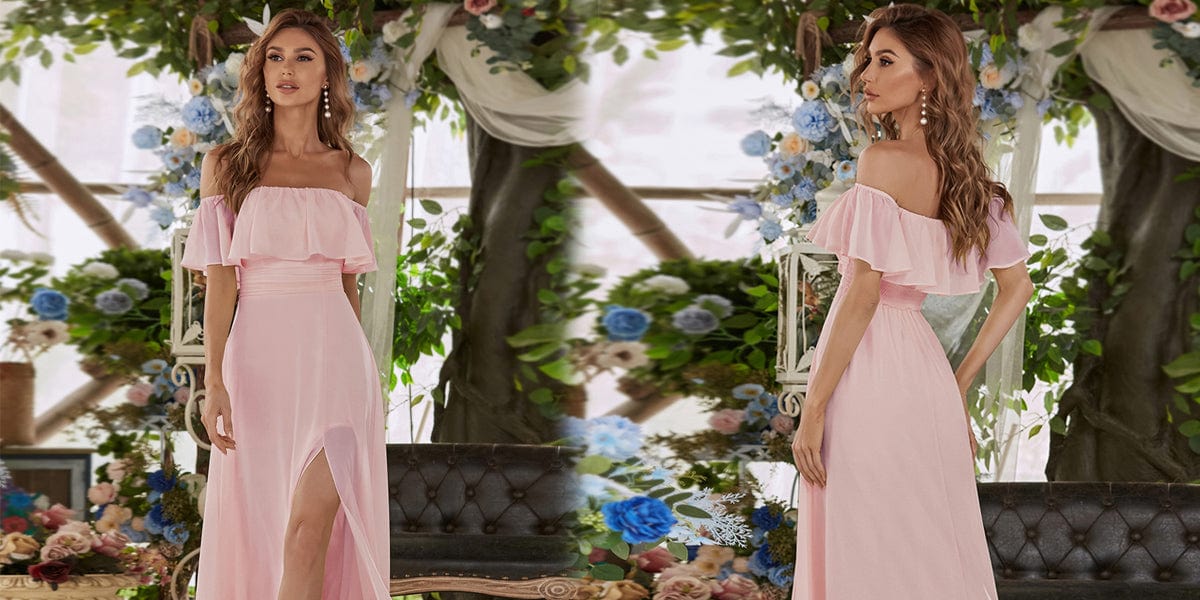 Off-the-shoulder dresses are one of the most feminine cuts a woman can wear to an occasion, and this one is unlike any other. Starting with a fluffy off-shoulder neckline and finishing with its maxi length and thigh-high slit, this dress with all its colors is a must-have.
Maxi dresses come in so many different styles that sometimes it is overwhelming. We hope we managed to curate a suitable collection of maxi dresses suitable for every and any occasion you might have. Whether it is cocktail gatherings or evening parties, there is always the perfect dress for you on our list. Make sure to enjoy the night out and have fun while looking gorgeous.