There is no other colour of outfits that brings out the beauty of summer than white. Swimsuits are also great during summer, but a white dress is a great pick on a beautiful summer day. White dresses can either be chic with lovely straight cuts or feminine and also flowing. White shirt dress and white maxi dress can also be worn during summer to give you a more appealing, relaxing and highly attractive look.
You can wear summer dresses to summer cocktails, or you can wear them when going to the beach. However, you can transform your white shirt dress, white maxi dress or whichever summer dresses you have to give you your desired look with the right type of accessories.
What accessories to wear with a white dress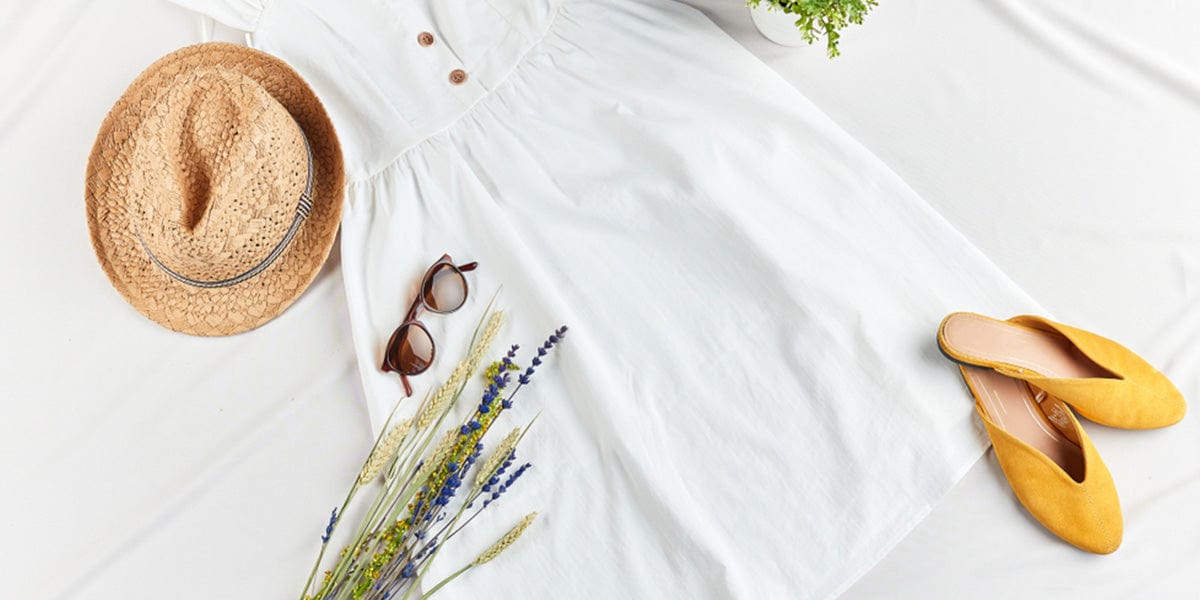 There are several ways to style your white dresses for summer. You can get the transformation you desire by adding lovely and beautiful accessories to your white maxi dress or white shirt dress. Here are five accessories that you can wear with a white dress.
Wear a denim jacket
Wearing a denim jacket on top of white dresses is a great way to transform your look. To keep your look airy and light, you can choose to wear a denim jacket with rolled-up sleeves and cropped. You can also go for a light wash denim jacket to weigh down your overall appearance. Coming out in the beautiful summer with a denim jacket on a lovely white maxi dress will give you that vibe and aura you want.
Let your footwear add embellishments and Color to your appearance.
Are you looking for an accessory to go with white dresses during summer? Then you may want to consider wearing colourful footwear. Since white is a light colour, you may wear bright embellished footwear to give your white maxi dress an unexpected but attractive complement. Wearing bright coloured or embellished sandals adds more beauty to your outfit. With the lovely embossments at your feet, you may not have to worry about adding any additional weight to your look.
Wear a nice hat
There are several varieties of summer hat that you can wear to complement your white dresses during summer. However, when selecting a summer hat, it is advisable to choose one that helps flatten your face. It is best to wear a light colour that enhances your overall look and gives you that summer feeling. You may opt for a khaki or white colour hat. You can also choose to wear a Panama hat because it has less weight and light in Color.
Get a crossbody handbag.
If you want an accessory that brings out your overall appearance when wearing white dresses in summer, then a crossbody handbag may be a great choice. Crossbody handbags are preferable to boho handbags because they are more structured, appealing and, of course, less predictable. Instead of wearing a brown boho handbag with fringes, go with the crossbody handbag because it surely brings out that exceptional beauty in your appearance.
Wear gold accessories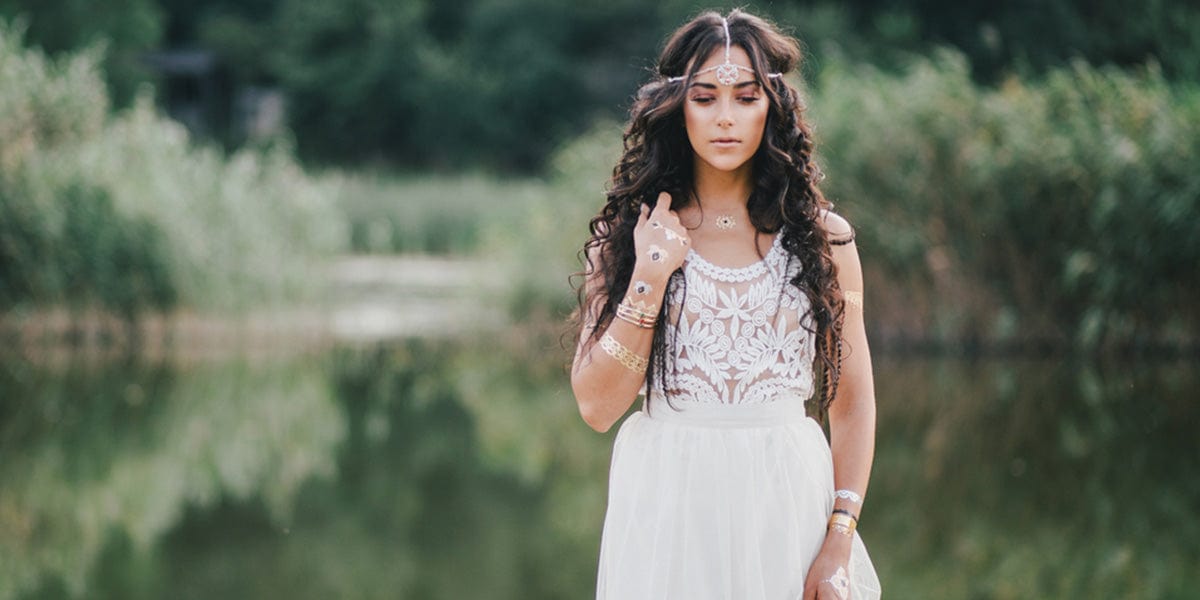 Wearing dainty gold accessories is a great complement to your looks, especially when you wear white dresses. It gives you an airy and light feel and is very compatible with flowing white dresses because it makes you look more elegant and, of course, more beautiful. Dainty gold dresses are preferable to heavy bangles because they are light and offers you more freedom as you go about your business on a beautiful summer day.
What shoe colour to wear with a white dress?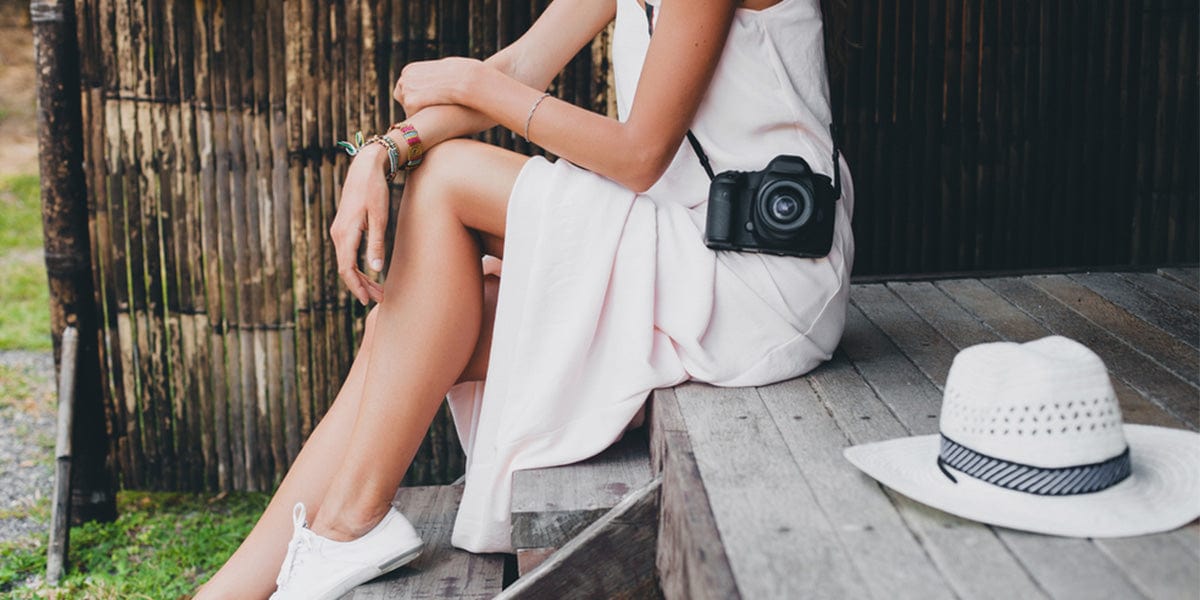 White is a dominant colour that represents ingenuity, integrity and purity.  Wearing white dresses gives you a sense of elegance and exquisiteness. However, you have to find the right Color of shoes to match your white dresses. Your shoe colour plays a role in complementing your white dresses. It also enhances your look and brings out the beauty in your overall appearance on a summer day. We shall look at different shoe colour that can fit your white maxi dress, white shirt dress or white dresses in general.
Black shoe with a white maxi dress is a killer combination. Black symbolizes strength, boldness and power and when combines with white which represents cleanliness, innocence and purity, you definitely may feel on top of the world. Black shoes amplify your look when worn with white dresses.
Red is also lovely shoe colour to wear, especially with white dresses. Red symbolizes courage, impulsiveness and energy. Red shoes can complement dresses with natural colours like pink, black or white. It enhances your style, and when worn with a white shirt dress, it offers a touch of pure perfection. Red is also seductive and has the potential to be highly attractive. It makes you the centre of attraction due to its charming appearance, which makes you easily noticed.
Other secondary Color of shoes (purple, orange and green)
Shoes made with secondary colours are audacious and give you a stunning look when you wear them on white dresses. White dresses can be worn with several Colours of shoes, but wearing white dresses with secondary colours is spot on. Green shoes with white shirt dress are trendy in the fashion world, including orange and purple shoes.
Golden coloured shoes top the chart in the list of best shoe colour to wear with white dresses. Wearing golden coloured shoes on a white maxi dress enhances your overall look and gives you a gorgeous appearance. You definitely may be the signature of all eyes and a centre of admiration because many may not be able to resist having a second glance.
Blue shoes with white dresses are another beautiful combination. Blue gives a bold but sober sensation and perfectly combines white dresses, although some may see this combination as a little bit extreme.
Nude shoes are a darling to most fashion enthusiasts because of their amazing look when worn with white dresses. Since nude shoes match your skin colour, it complements the natural white Color of your white summer dress.
Five Best White Dresses to buy this season
When worn in summer, white dresses give you a light, airy, elegant and beautiful look. We have also highlighted some of the accessories you can wear on your white maxi dress to enhance your overall look. Now the question is what type of white dress you should buy this summer? Here are the five best white dresses to buy this season.
The Elegant Maxi Lace Wedding Dress with Ruffle Sleeves gives you a fairy tale princess feeling. It is designed with a low V neck which can make your jewellery to be visible. It also frames your face perfectly and comes with a lace skirt covered with flowing gauze. It comes with lining and is not padded.
It is made of polyester and does not stretch. The Elegant Maxi Lace Wedding Dress with Ruffle Sleeves gives you an appearance that may be capable of melting hearts. It is breezy, light and offers you that glowing appearance you desire for your dream wedding, whether in the summer or spring.
The V-neck Spaghetti Straps Lace Maxi Dress has a double V neckline which also makes your jewellery visible. It is designed with spaghetti straps  which  you can adjust fully, and it also comes with a delicate sheet in the waist and comes with lining undergaments. It does not stretch and is concealed in a zipper. The V-neck Spaghetti Straps Lace Maxi Dress is made of very high-quality polyester and nylon material.
The Sweet Ruffled Off Shoulder Mermaid Maxi Evening Dress is designed with stringy selvedge and cold shoulders. It is a flowing dress that is floor-length with a fishtail silhouette which gives it a mermaid touch. It does not stretch and the lining undergarment is not padded. It is a sexy and beautiful evening dress that you can wear to an evening dinner.
The Elegant A-Line Sleeveless Tulle Wedding Dress also have a V-neckline to make your beautiful jewellery visible when worn. It is also designed with a flowing skirt and is perfect for weddings, parties and other formal events. It is made from polyester fabric and does not stretch.
The Simple Two-Piece High-Low Sleeveless Wedding Dress is classy and sexy. It is a sleeveless dress with a height above the knee. It is made of polyester and is designed with a round neck. You can wear this white dress for graduation, prom, cocktail, dinner or homecoming. It is made from polyester and does not stretch. It is also concealed in a zipper and comes with lining.