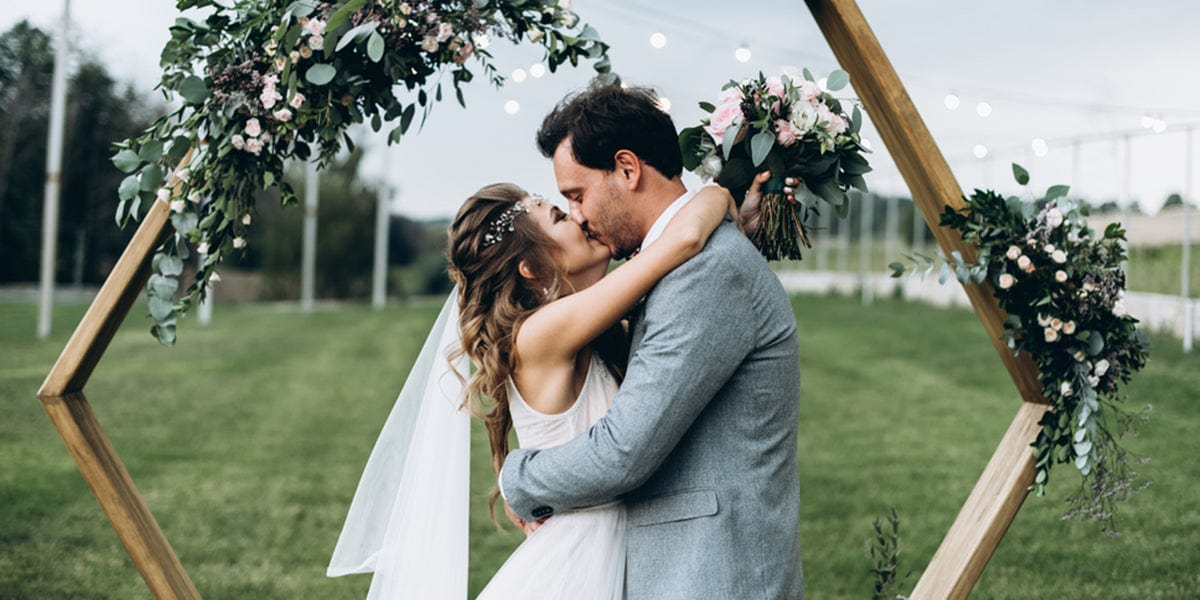 One of the major decisions a couple makes is choosing the desired wedding theme. Next to that is how to design it to achieve the wedding of their dreams. If you desire a serene and relaxed wedding day with a romantic vibe surrounded by nature then the rustic wedding theme is for you.
The journey to getting your perfect rustic vintage wedding can be a joyful ride. Follow along with this guide to get tips for a perfect rustic wedding and see beautiful yet simple wedding dresses that are perfect for your theme.
What is a Rustic Wedding Theme?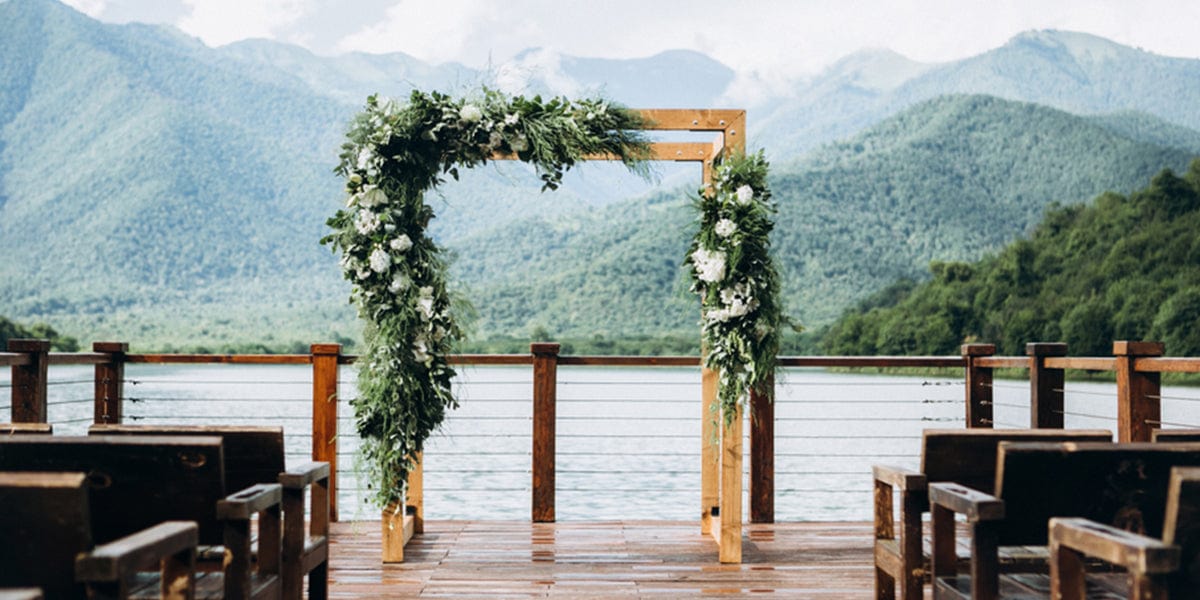 A rustic wedding theme is usually characterized by natural elements and outdoors with a countryside flair. It focuses on simplicity and nature and character and creates a warm, laid-back, and romantic atmosphere.
This timeless wedding theme features simple wedding dresses and decor from simple items such as mason jars, birch vases, mismatched glasses, wildflowers, greenery, fruits, etc
Although rustic and vintage wedding themes are different, elements of the two can be incorporated to create a more beautiful and richer rustic vintage wedding theme. While the rustic theme concentrates more on the natural elements and the great outdoors, a vintage wedding gets its idea from antiquity.
This wedding theme is typically relatively easy to pull off. You can create a rustic vintage vibe with lots of natural textures such as various organic materials and fibers and vintage items like vintage vases, antique crockery, lace weddind dresses, and lace tablecloths.
It is important to note that you do not need to add all these features to have a rustic wedding. It's more about the overall atmosphere than the individual details. So you can have your perfect rustic wedding with the touch of elegance that is just right.
Four Important Tips For A Perfect Rustic Vintage Theme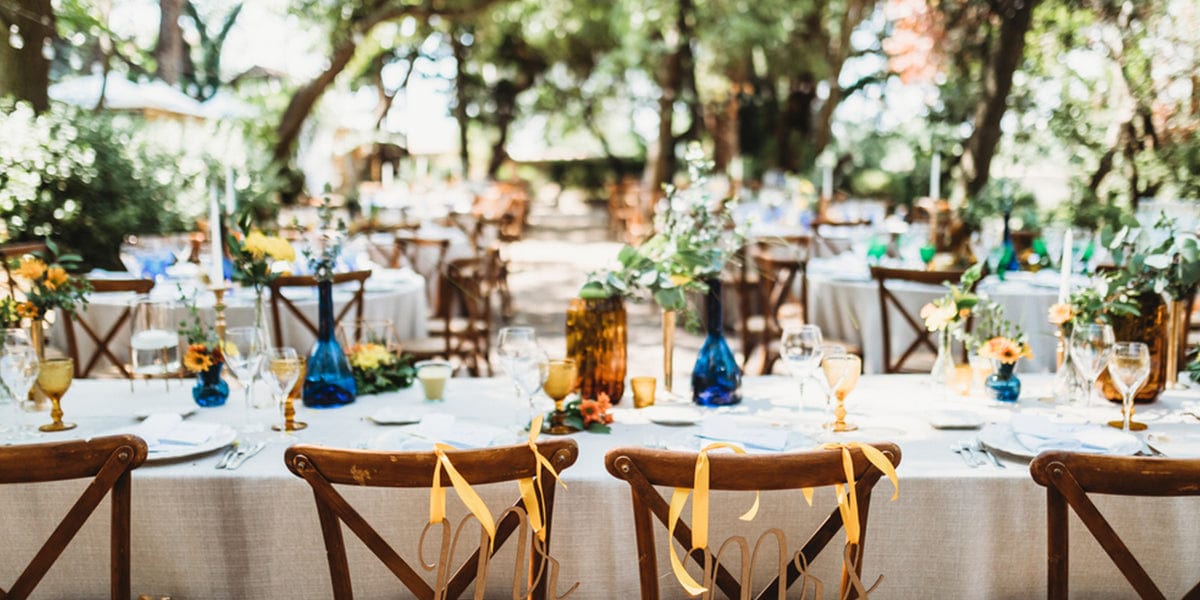 To achieve the perfect rustic vintage wedding is not an easy fit when you have lots of decisions to make and many activities on your to-do list. From finding the perfect wedding dress, to choosing the venue and decorations that suit your theme, and every other detail in between, designing your dream rustic wedding might seem daunting.
However, the careful organization is a key to a successful wedding plan devoid of stress. It is possible to have an enjoyable experience while planning your big day. There are four important tips to consider:
1、Choose a Suitable Rustic  Venue
 A suitable venue that can help you get that rustic vibe with less decor should be close to nature. So, look for any outdoor location with fresh air and brightly colored greens. You can have your wedding in a garden, farm, lake ranch, forest, or woodlands.
If the weather is not favorable for the outdoors, you can have your wedding indoors and still have your rustic vintage theme. Indoor locations such as a barn, an idyllic cottage,  a farmhouse, or a hall can be adorned with rustic wedding décor.
2、Choose Appropriate Decorations
Your decor is one of the vital features that makes your wedding rustic. It should not be too elaborate or expensive. Go with natural style and simple decorations that give a rustic feel.
 Handwritten chalkboard welcomes signs, tables decorated with linen and wood accessories, and decorated vintage pickup truck are some excellent decoration ideas for your countryside wedding style.
 Pay attention to the greenery in your floral arrangements and do not forget fairy lights. They make the wedding Rscenery more romantic. Think flower garlands, birch arches, vintage-style lamps, scented candles, your choices are unlimited.
3、Wedding Outfits Should Portray the Theme
The bride should appear simple and natural. Lace, Tulle, and cotton are some wedding gown fabrics that accentuate the rustic theme. Go for an ivory wedding gown instead of pure white. Complete your look with a floral crown and wildflower bouquet and natural make-up.
The material for the groom's suit or waistcoat can be tweed matched with shirts that have soft colors. Some examples of rustic colors are teal, light brown, burnt orange champagne, blush, etc. Suspenders are also an excellent idea. Many grooms complete this look with cowboy boots.
The groom's men and bridesmaids should not be left out in creating this countryside vibe. Patterned dresses like florals, stripes, etc. are great ideas for the bridesmaids. Each of your bridesmaids may even select different styles of dress. Their accessories should be simple and delicate.
4、Let Your Menu Complement Your Theme
Food options that reflect your rustic vintage theme are endless. You may choose to serve conventional country fair food with family-style dishware. Work with a caterer who is familiar with countryside delicacies. Wedding cakes should be inspired by nature. Examples include woodland cakes, birch wedding cakes, chocolate cakes, and naked cakes.
Even drinks should not be left out in creating the desired vibe. You may choose to serve wine, beer, and assorted drinks at your wedding bar and use a drink display made of whiskey barrels to top it off.
For entertainment, getting a live country music band adds to the rustic vibe at your wedding reception.
Five Best Rustic Vintage Wedding Dresses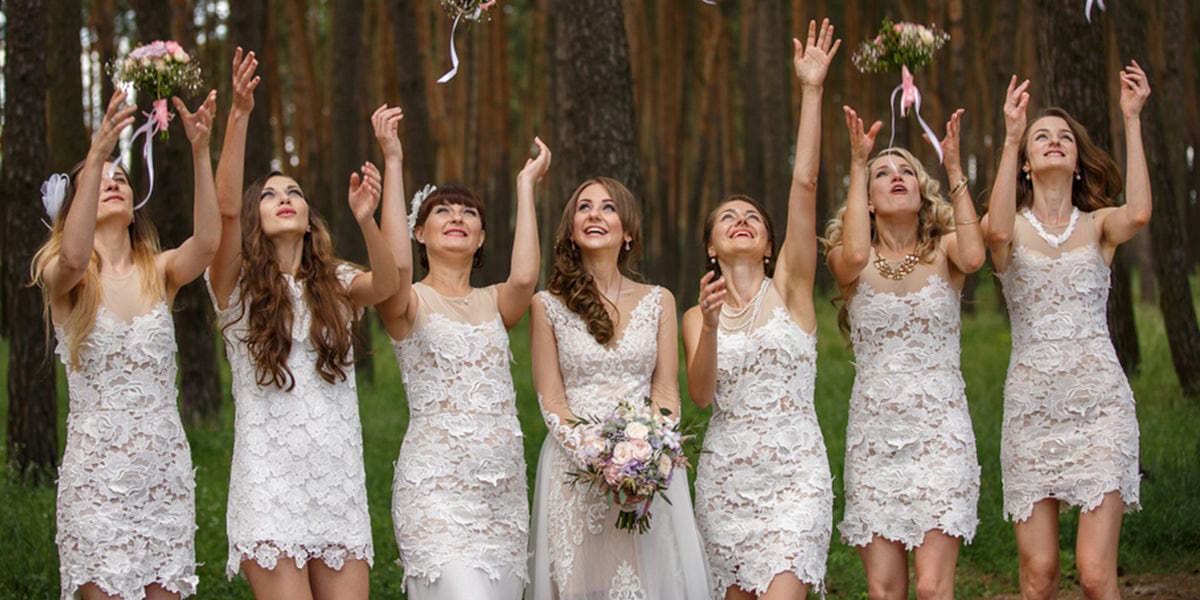 One of the most important items in a wedding is the bride's wedding dress. However, finding your rustic vintage wedding dress is not that clear-cut especially as there is a huge array of styles to choose from and a budget to work with.
You don't need to break your bank to buy your wedding dress. You can still get elegant but cheap wedding dresses if you have the right information. No one designs budget-friendly, chic wedding dresses like Ever-Pretty UK. Here are the five best rustic vintage wedding dresses for you from their collection:
1. A-line V neck Wedding Gown with Cover Sleeves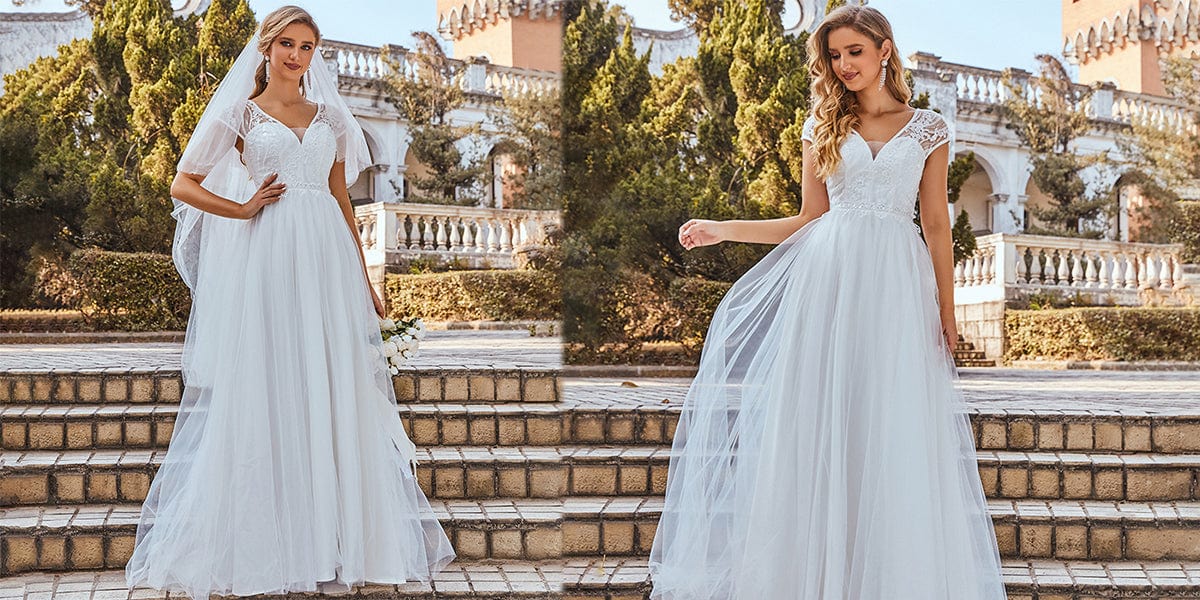 Lace wedding dresses are an ageless and chic wedding dress style that goes with any venue and period. This elegant lace wedding dress fits a rustic wedding perfectly. The applique design on the chest area, V-neck, and lace cover sleeves on this pretty dress are designed to make you look your best on your wedding day.
2. Simple Cap Sleeve Sweetheart Mermaid Style Wedding Dress


A wedding dress is not rustic without a little or (plenty)  lace in the design If what you desire is a gorgeous wedding dress with cover sleeves, then this gown is for you. This beautiful fishtail lace wedding dress will bring out the beauty in you. Pair this with minimal accessories for an absolutely romantic look.
3. Round Neck Deep V Tulip Long Sleeves Applique Wedding Dress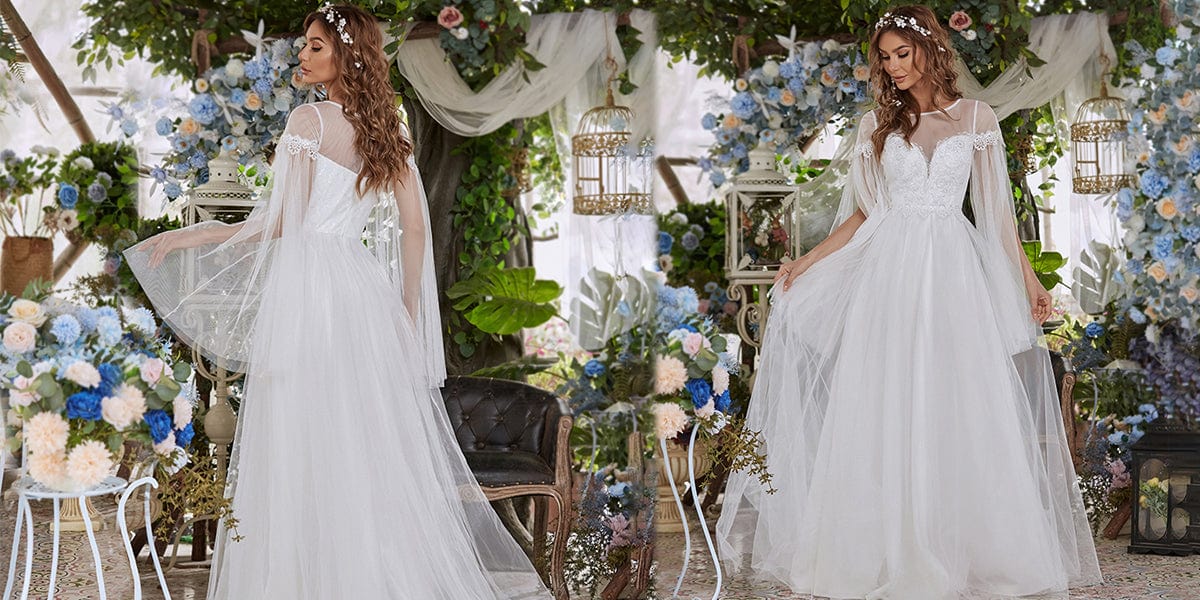 A wedding ceremony surrounded by greenery and wildflowers is, without doubt, enchanting and it is appropriate that your wedding dress compliments the theme. This beautiful wedding dress from Ever-Pretty UK enhances your dream wedding with charisma.
 Adding to the elegance of the gown is its embroidered bodice and see-through lace that covers its V-shaped structure. The slit along the sleeves enables the arms to move freely. Wear this on your big day and you will not only feel wonderful but comfortable too.
4. Sleeveless Double V Embroidered Tassel Waist Tulle Wedding Dress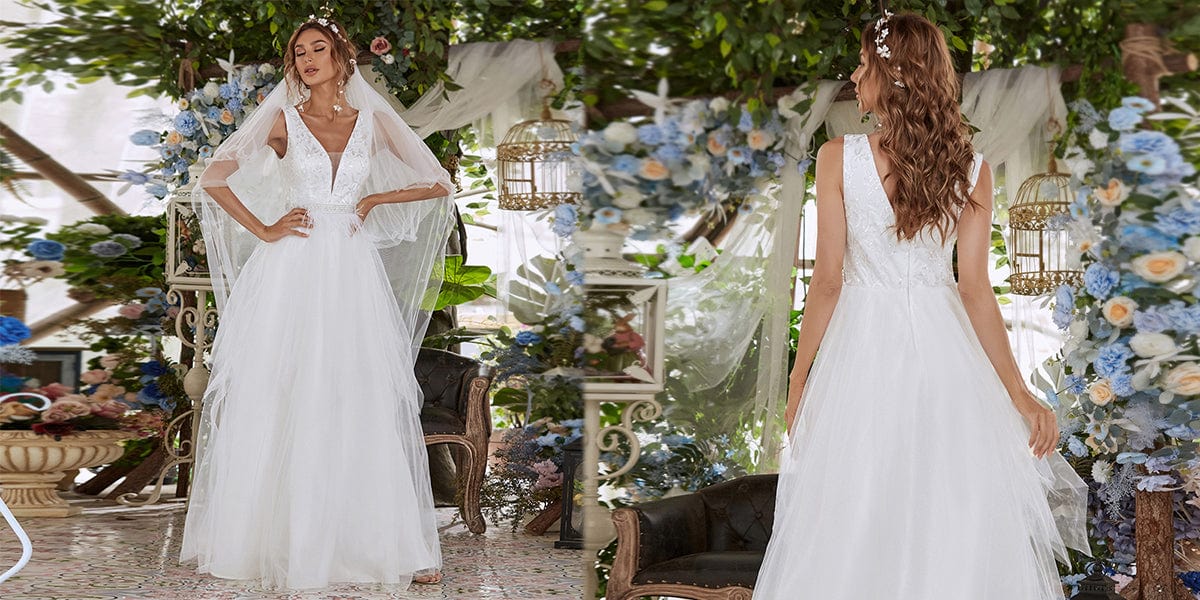 Whether your wedding venue is in a barn or open grassland, you will want your wedding dress to fit the bohemian nature of  beautiful countryside.
The sway of this A-line wedding dress as you walk down the aisle enhances a rustic wedding theme beautifully. The layered tulle skirt and the waistline decorated with tassels enrich the style of the gown.
5. Romantic A-line Tulle Wedding Dress with Lace Decoration
This A-line dress is created to make you look pretty and adorable on your wedding day. Nature-inspired flower decoration on the sleeves and the bodice of the gown make it an appropriate complement of a rustic vintage wedding theme.
If you particularly prefer your wedding dress to have long sleeves, then don't miss this dress. Just imagine yourself in this beautiful gown walking down the aisle in a picturesque garden.
In conclusion, pulling off your dream wedding requires lots of planning, information, and intuition. Nevertheless, you can design your rustic vintage wedding theme with confidence. All you have to do is keep things simple and use the information in this article. And before you know it, your beautiful and romantic day will be pleasant.