When it comes to choosing a prom dress for your once in a lifetime experience, there are actually no hard and fast rules. That being said, one style that is a classic and always popular is the black prom dress. Black dresses are a classic choice and it is very elegant and chic. If you are not sure about what to wear, it is best to go with a formal dress that you feel comfortable and confident in like a black dress. This colour is sophisticated, beautiful, powerful and exude feminine strength.

Black is always an iconic gown colour that is edgy, classic and sophisticate. This timeless shade suits everyone. You cannot go wrong with a black dress and it is a wardrobe staple in every woman's closet. It can easily be accessorized with pops of colour and metallic. A black dress is one that will never go out of style and can be easily worn again and again to a variety of occasions. If you need convincing and let the following help you out to decide why you should go with a black prom dress.
Why Should You Wear A Black Prom Dress?
Is it acceptable to wear a black dress to prom, especially when there is a variety of dress colours available? The answer to that question is Yes! Actually, wearing a black dress to prom has many benefits. Besides being the current fashion trend, there are several reasons why you should consider wearing a black prom dress.
It Never Goes Out of Style
Black dresses have been popular for decades now and it is very unlikely that they will go out of style any time soon. If you want to look your best and be fashion forward without doing much, black prom dresses can help you.
Black prom dresses are universally flattering. No matter what the body type, skin tone, hair colour or height is, black suits everyone perfectly. Black is a timeless colour that is easy to wear and looks good on everyone. Unlike a purple or red prom dress that look good on people with fair skin undertone, black is a universal choice. You do not even have to bother about your body shape as well because this colour looks great on everyone irrespective of their body shape. The ultra-sleek shade is also known to be a slimming colour. When you choose a black dress, you can cut out the guesswork involved in finding a colour that compliments your figure.
Black colour Is Beautiful 
You may have heard this numerous times so why not choose a black dress for your prom? Black dresses are hugely popular in the recent years as they look beautiful on everyone.
It Can Be Worn Again And Again
Certain occasions call for formal wear, and nothing screams sophisticated better than a black dress. Besides prom, you can wear a black dress to dinner, gala or wherever you can think about. With black dresses, you can reduce the carbon footprint by wearing it again well into the future.
Look at any prom photos and you will see many girls donning red, pastels, blue and green dresses. If you want to stand out from the crowd during your prom night, it is best to wear a black dress. You will definitely grab the attention you deserve.
Black is one of those timeless colours that never seems to go out of style and this means that your little black prom dress can be worn to many other events after prom like a military ball or formal wedding in winter. No matter the occasion is, a black dress is always a classic choice and a must-have staple in every girl's wardrobe
There is really no reason why you should not wear a black dress to your prom. Whether you are looking for a long or short prom dress, there is a black dress that will fit your style at Ever Pretty. Due to it being a versatile colour, you can accessorize your dress with any shoe colour and jewelry to create a unique look that is you. The black prom dresses from Ever Pretty will be able to elevate your wardrobe.
6 Stunning Black Prom Dresses From Ever Pretty
Maxi Long Lace Cap Sleeve Elegant Dress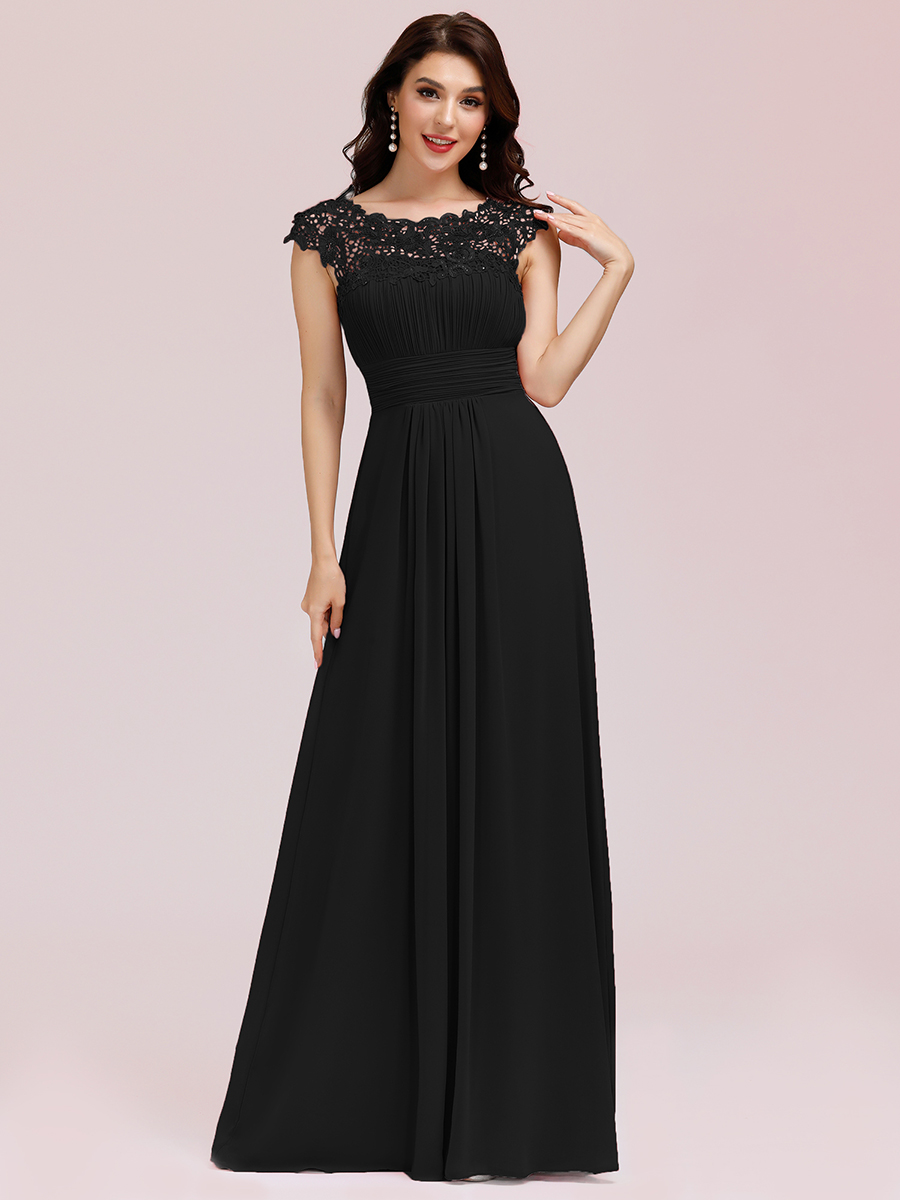 The first thing you will notice about this dress is its applique lace on the top half. It features a sheer lace on a sweetheart neckline bodice and is perfect to wear to prom.
This prom dress
is a standout with its fitted pleated bodice. The sheath skirt flows to a floor length. This glamourous dress will turn heads at the prom.
Strapless Sweetheart Long Sequin Mermaid Prom Dress
Glitter for prom in this fully embellished dress. Exquisite in sequin embellishments, this dress is an epitome of glamour with the sweetheart neckline and a mermaid silhouette with a train.
Sweetheart Bodycon Evening Dress
Light up the night with this alluring cold shoulder dress. It features sophisticated ruffle off-shoulder design that is supported with spaghetti straps. The curve-hugging floor length ensemble will certainly make heads turn.
One Shoulder Empire Waist Satin Prom Dress
Lavish in the impeccable beauty wearing this satin number. This gorgeous piece flaunts a one shoulder neckline and intricately pleated on one side. The skirt parts with a slit as it falls into a floor length hemline.
Sequin High Low Prom Dress
Get ready to dazzle at prom with this stunning sequin v-neck high-low evening dress. This dress features a flattering A-line silhouette with a high-low hemline that's perfect for dancing the night away. The black sequin fabric catches the light beautifully, creating a glittering effect that will make you the star of the night.
Beaded Bodycon Fishtail Prom Dress
Make a bold and unforgettable entrance at your prom night with this stunning fringe off-shoulder beaded bodycon fishtail dress. This dress features a dramatic off-the-shoulder neckline that's adorned with intricate beading and sequins, adding a touch of sparkle and glamour to the dress.