Over the years, people have chosen to locate their weddings at various places. One wedding location that has captured the attention of most couples is lakeside weddings. It has been some people's favorite for many reasons, such as love for nature and the beautiful background the landscape will provide their pictures.
Although the decision to settle for a lakeside wedding might be tough, another troubling choice for the bride is a dress that will fit perfectly into the scene. Fashion designers have graced weddings with different dresses leaving brides with a challenging moment to pick what dress works well with the lakeside wedding.
Judging by recent trends, the most favorable dress options for lakeside weddings are simple wedding dresses. Traditionally, a simple white wedding dress is what most brides go for; however, selecting styles and fabric is a nut-cracking decision. 
This article will view some simple wedding dresses for a lakeside ceremony, considering high fashion taste and recent trends. 
How to Plan a Warm and Modern Lakeside Wedding?
If you dream of having an outdoor wedding with the most beautiful scenery and a fantastic view, look no more! Lakeside weddings are a perfect idea. However, like every wedding, lakeside weddings also require some planning level. You might work towards achieving your dream wedding, but you should not neglect the challenges of reality. Here are five ways to plan a warm and modern wedding.
Keep It Simple
When planning, remember that less is more when it comes to lakeside weddings. Nature is your main decoration for the day, and your guests will fall in love with the pristine water view, lush trees, and acres of a country garden. 
Ice sculptures will also be a great idea but make sure the decorative details don't take away from the scenery. Have your wedding planner keep it simple, light, and airy. Also, the wedding style should fit you. Make your wedding your own.
Sail Your Way to Saying "I do"
The perfect lakeside wedding should have beautiful water elements incorporated. As we all know, every bride dreams of making a grand and memorable entrance. Arriving at the event in a boat or canoe is one beautiful way to make that moment special and unforgettable.
Another idea is to fill a wooden canoe with ice and dump in all the drinks for your guests to choose from. This is a creative and cute way of bringing elements of the lake to the land for your special day. Also, you won't have to use an insightful cooler or rent out a whole bar.
Have A Rain Plan
Instead of being scared of the weather, it is way better to plan an alternative. Rain can come at any time because no one can perfectly predict the weather, so it's vital to develop an alternative (like a trip to a nearby music center). However, the good news is that as long as your venue has a tent, lakeside weddings are just as serene in the rain as they are in the sun. The soothing sound of raindrops set the scene perfectly. 
Visit Your Lake Venue
Plan a visit to your lake venue to picture the event just as you dreamt of it; rows of white chairs, flower-adorned arches, and banquet arrangements. You can also make some findings on lodging for family and friends or a honeymoon suite. 
Bring the Lake into Your Photos
Making good use of the lake should be an integral part of your big day. One of the most common ways is to plan a photoshoot on the water. You can also take advantage of the scenery and arrange for some sunset pictures by the dork, along the shoreline, or in a boat or canoe. Why not jump into the water instead of just snapping in a boat to be more creative? It's a memorable experience as you, and your guests will remember that moment for a lifetime.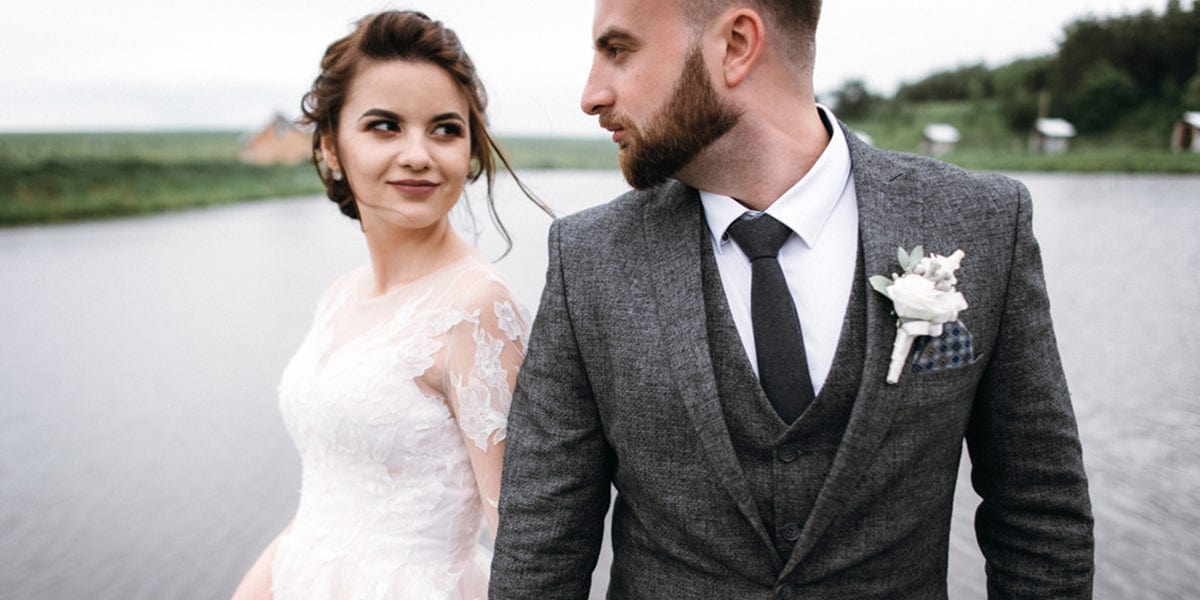 What Wedding Dresses are the Most Suitable for Lakeside Wedding?
Lakeside weddings, just like any other outdoor wedding, are memorable and beautiful events. You may have known or seen a lot of them in movies or books. What could possibly be better than having your big day beside the lakeside? Won't it be romantic to say "Yes" in a simple white wedding dress against natural sceneries and sounds, with the gentle wind in your hair? 
Planning an outdoor wedding might make some brides feel nervous as they don't exactly know what to wear to look gorgeous enough for their wedding. Most brides have settled for the choice of simple wedding dresses in the UK. Now let's take a quick glance at the most suitable dresses for lakeside weddings; you will find good options you could go for.
Simple Light Dresses
Chiffon, organza, tulle, charmeuse, I'll save you from unnecessary heaviness, bringing a light, airy and dreamy feel. Chiffon dresses are extra light. It lets your skin breathe, which is very important on hot summer days. Tulle dresses swish nicely, creating a beautiful visual when dancing or moving. On the other hand, Charmeuses' dresses have smooth textures and are detailed elegantly to make a bride look like a real goddess. If you choose a dress like this, be sure to get all the attention.
Dresses with Practical Details
If you are going to have your wedding ceremony in the summer, you should consider how hot the sun could be and that it could burn your skin. In this case, simple wedding dresses with lace will be the most suitable option. They keep your skin from burning some and add some decoration raisin to your overall look.
Feminine Gowns
If you are not against tight-fitting dresses, a mermaid wedding dress is a suitable option for you. They gently outline your body shape, stressing on sweet curves. However, this type of wedding dress works well only if the bride is confident enough. You'll look even more elegant if the bodice is decorated with embroidery roses and leaves.
Flowing Lace Dresses
If you are having a lakeside wedding, showing just the appropriate amount of skin is welcomed. Halter strapped dresses will make a delicate accent on your sexuality. Strapless dresses are, however, considered to be the most suitable for modern brides who are having an outdoor wedding.
A lace wedding dress adds a considerable portion of romance and emphasizes feminine attractiveness. But if you are the type that wants to breathe easily without getting naked too much, off-the-shoulder dresses with a sweetheart necklace will be most suitable for you.
6 Simple Wedding Dresses for a Lakeside Wedding
Mermaid wedding dress, boho wedding dress, lace wedding dress, and lots more are options for a bride to pick from as she makes her way to the alter. However, we have narrowed down a list of simple wedding dresses in the UK. 
Sheer Long Sleeve Wedding Dress
Despite searching for a simple wedding dress, most brides still want to look like a princess on their wedding day. The sheer long sleeve wedding dress is a boho-chic wedding dress designed with applique overlay, a low back, and a long sleeve. The dress is characterized by a flattering A-line skirt that compliments any bride's appearance.
Sleeveless Embroidered Tulle Wedding Dress
This is another fantastic boho wedding dress for the bride's consideration. As a bride, you only need to look and feel phenomenal as you hit the runway. This dress is built with sweetheart neckline, an amazing bodice, and beautiful sheer embroidery that presents a sexy bride. 
Romantic V Back Wedding Dress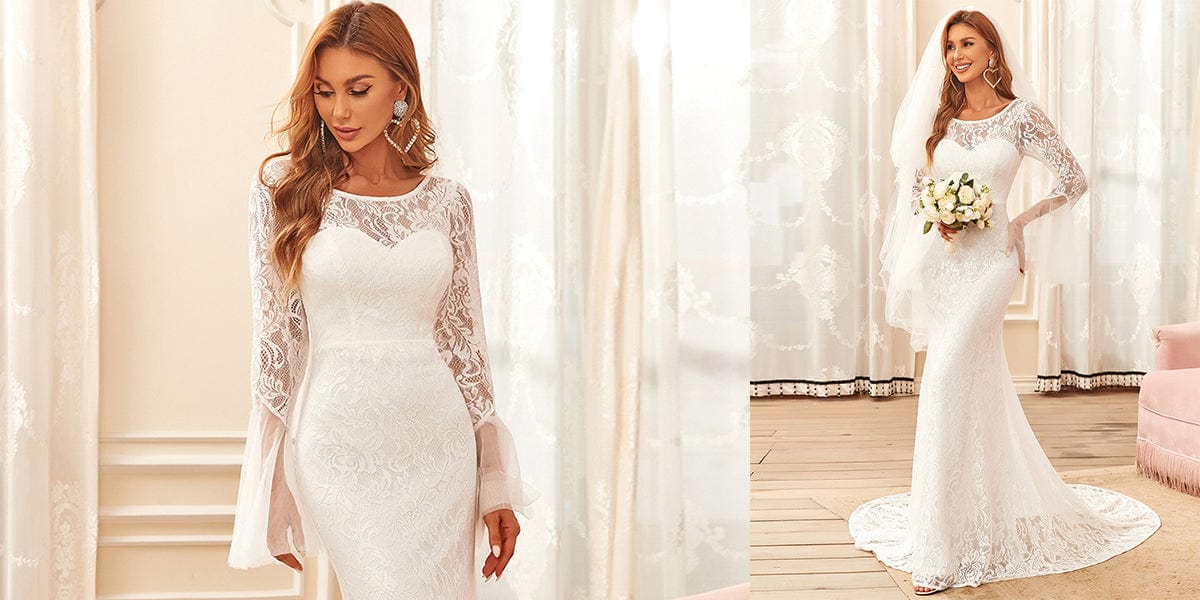 As the name implies, the dress sets the scene for a romantic atmosphere. It is a simple wedding dress that comprises floral lace and long sleeves. The fit and flare skirt spell elegance. The dress is undoubtedly an A-list option for a lakeside wedding.
Sweetheart Spaghetti Strap Mermaid Wedding Dress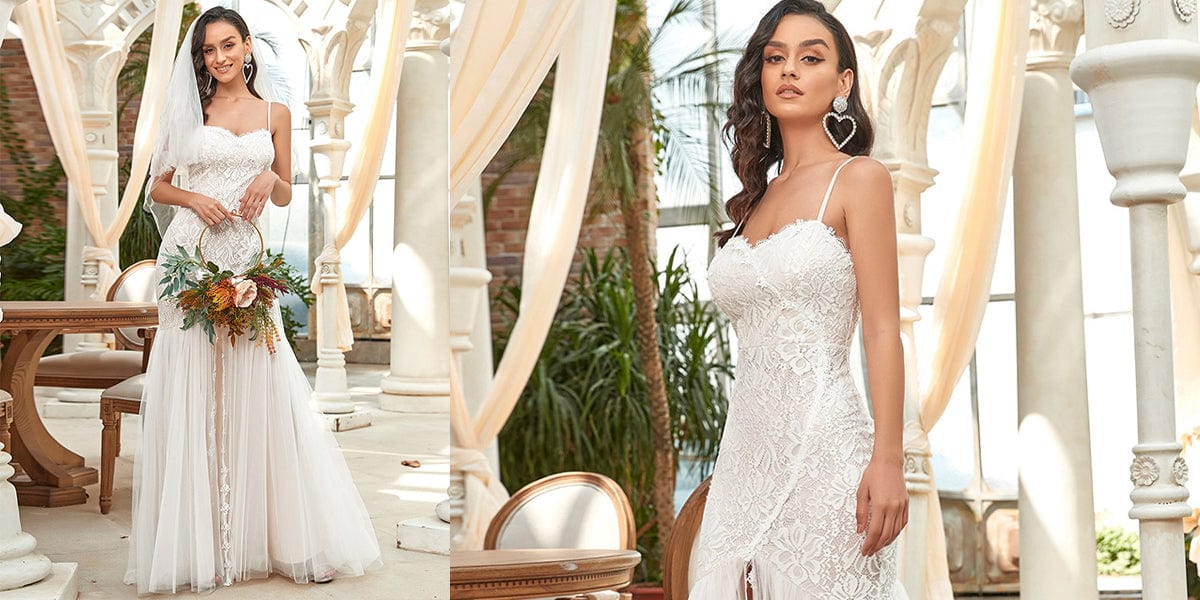 Simple and sexy, the spaghetti mermaid wedding dress brings out the beauty and shows the sexy make of the bride. The sweetheart neckline and spaghetti straps show the feminine build of a bride. 
Square Neckline Thigh Slit Wedding Dress
This simple wedding dress is designed with empire waist and a square neckline decorated with delicate trim. The lakeside in a long gown, what else can any bride ask for?
Simple Cap Sleeve Wedding Dress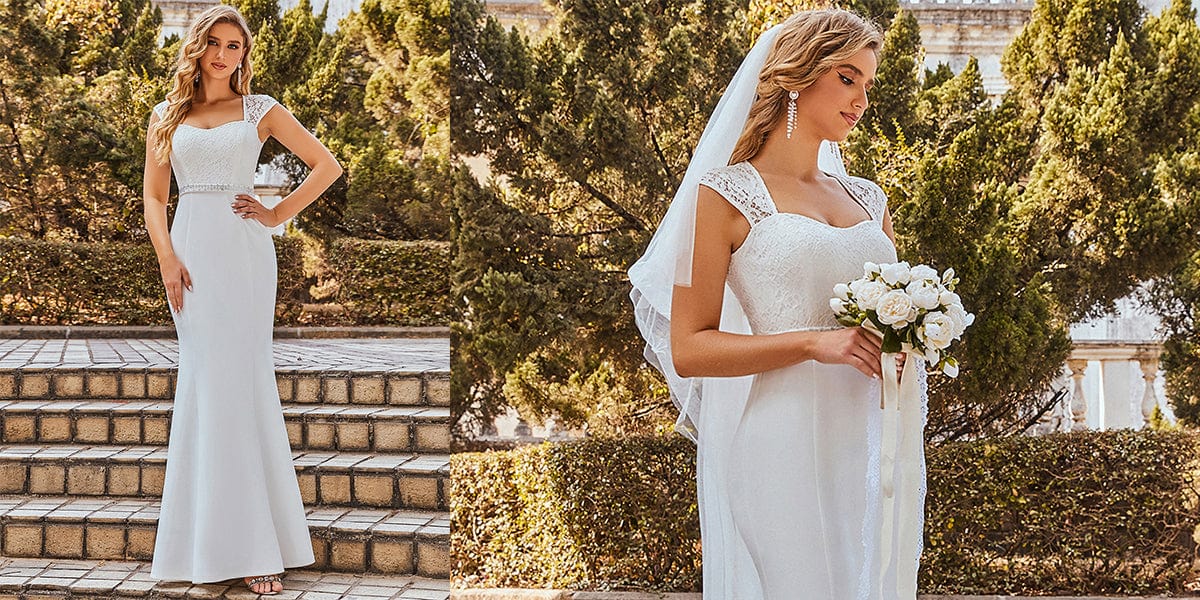 Simple but stunning, this mermaid wedding dress has ordinary shoulders, cover sleeves, and a complimenting neckline. The wedding dress comes with a waist belt built to showcase a bride's waist. Look like a river goddess as you say yes to a beautiful life. 
In a nutshell, planning a lakeside wedding can be pretty challenging, so is choosing a dress that fits the theme of the wedding. You should try as much as possible to choose dresses that fit your style and personality as you will be more comfortable in them. It would be best to choose dresses that allow you to breathe freely and move around comfortably. It goes a long way in actualizing your dream wedding and makes it an event to remember for a lifetime.