Thinking outside the box is one key to obtaining a range of bridesmaid dresses for curves under £100. Take into account off-the-rack choices and gowns that aren't usually marketed as bridesmaid styles. Are you looking for places to get bridesmaid dresses that won't break the bank? To assist you, we are providing advice on how to get plus size bridesmaid dresses for less money as well as the top stores to visit for reasonably priced (but utterly stylish) fashions.
Scroll down to discover some of our favorite bridal party dresses from both modern and classic dress stores that are under £100. You won't believe how reasonably priced these adorable looks are.
Final advice for the wise: Consider having a mismatched bridal party if you are determined to select inexpensive bridesmaid attire. Each attendant can select the look that best suits their body type, giving them a lot more freedom. Get ready to go shopping. Check out these adorable, reasonably priced wedding party dresses that don't look at all cheap. All are available for purchase online, are under £100, and have editor approval.
Elegant Bridesmaid Dress for Curves With A Long Empire Waist And Short Flutter Sleeves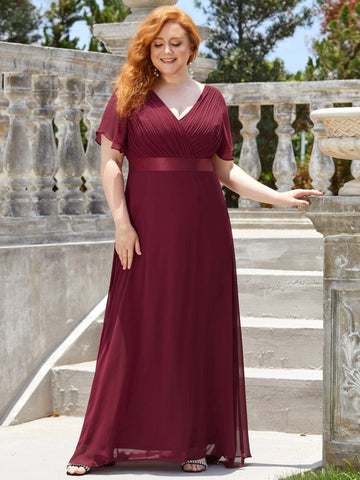 Why it's beautiful: This stylish bridesmaid dress for curves is beautiful and flattering. It's available in four colors and is made from 100% polyester. The fabric is no stretch and it has a v-neckline, empire waist, and flutter sleeves. It has a lining and is padded enough to be worn without a bra with a zipper up the back. The modest high-low hemline of this sophisticated plus-size dress gives it a special touch. It's ideal for cocktail parties, nighttime events, proms, homecomings, graduations, weddings, and other formal occasions.
Suitable for: Curvy bridesmaids who are looking for an elegant and simple dress.
Romantic V-Neck Wrap Satin Dress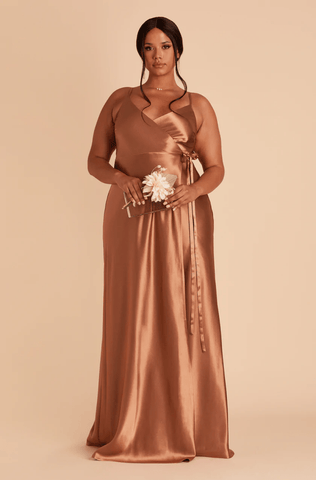 Why it's beautiful: With its deep V-neckline and high slit, this wrap bridesmaid dress for curves delivers on the sexy. Wear a backless bra and cinch the dress around your bust as tightly as possible for the best fit (where your bra band sits). This satin wrap dress is stunning beyond words. Any bridesmaid will adore the way this Cindy dress elongates and lengthens her body while highlighting her natural waistline. The shimmering satin ups the glam and is ideal for a formal event. When it comes to Cindy's accessories, the possibilities are endless. She looks stunning whether worn with dangly earrings or a bold statement necklace.
Be mindful: Wear a backless bra and securely wrap the dress around your bust for the best fit, dry clean only, to provide extra leg room when worn, the left underside has been gently chopped away.
Suitable for: Curvy bridesmaids searching for a soft and attractive dress
Stunning Dark Navy Blue Flowy Wrap Dress With Long Sleeves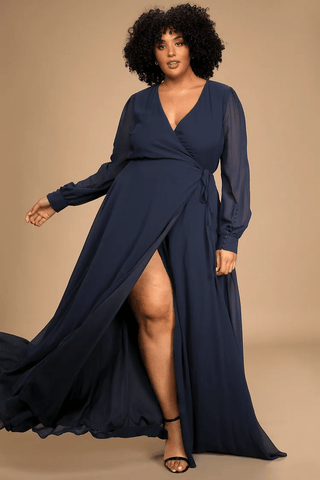 Why it's wonderful: Flowy, flattering, the perfect dress. Starting with a seductive wrap bodice and long sheer sleeves (with gathering at the shoulder and covered button details down the cuffs), all of which are fashioned by gauzy woven fabric, this twirly dress. The fitting waist is cinched by a self-tie over the long maxi skirt.
Be mindful: Do not bleach. Hand washes cold. Line dry. Iron low heat. May be worn with any standard bra.
Suitable for: Any cup size, and it's suitable for a curvy bridesmaid who is looking for a loosely fitted waist dress.
Impeccable A-Line Sequin Curve V Neck Dress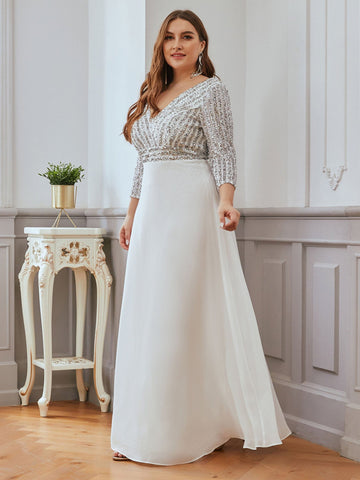 Why it's wonderful: It's of fantastic quality and very flattering. Simply stunning, the plus size gown with sequins has a double deep V neckline, ¾ sleeves, and a flowy A-line skirt. Shiny sequin stripes adorn the top, giving it a stylish look. Perfect and very elegant for any formal event, including graduation, prom, homecoming, cocktail parties, and evening parties.
Be mindful: It's not padded with lining with a concealed zipper up the back, and the fabric is low-stretch.
Suitable for: curvy bridesmaids searching for an elegant and stunning dress.
Subtle V-Neck Tulle Bridesmaid With Short Sleeves Dress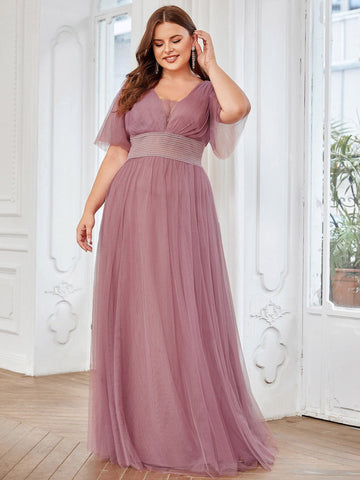 Why it's wonderful: A comfortable dress that allows for free movement and is attractive, very elegant with short fluffy tulle sleeves that give the body a well-groomed look. The deep v-neckline and cinched waist enhance your natural shape with an open-back cut that gives way to a wide waist. It has a concealed side zipper with a floor-length skirt and 100% polyester. The fabric is low-stretch.
Be mindful: check the sizing chart, Hand washes cold. Line dry.
Suitable for: curvy bridesmaids looking for showing their figure. 
Amazing Yellow Textured Vila Curve Bridesmaid Midi Dress With Frill Detail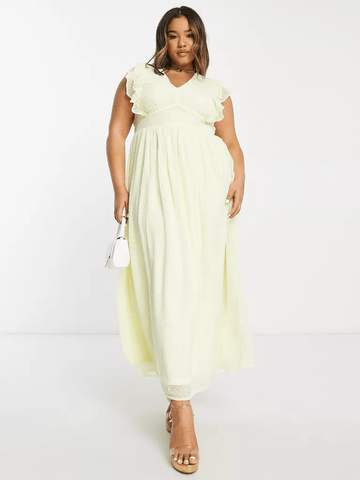 Why it's wonderful: A straightforward form in a cheery yellow hue? Nothing could go wrong. With its ruffled details, modest Swiss dot design, and v-neckline, this gown exudes understated elegance, which we admire. For a complete look, accessorize with sparkling items to liven up the attire.
Danish clothing brand Vila curve draws influence from urban and street styles and combines premium fabrics, delicate cuts, and stylish casual are heavily featured, with delicate feminine details and beautiful designs channeling the brand's characteristic sophisticated aesthetic.
Be mindful: Machine washes according to instructions on care labels, regular fit.
Suitable for: Curvy bridesmaids looking for a delicate design casual dress.
Delicate Powder Blue Tulle Maxi Dress With Bow Back Detail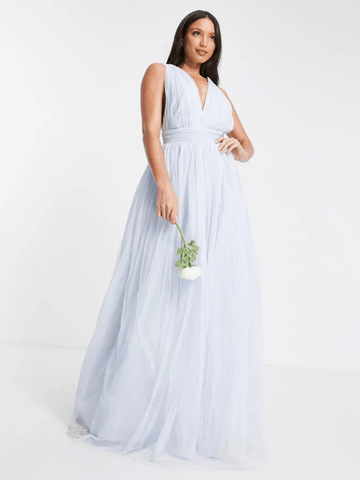 Why it's wonderful: This airy bridesmaid dress for curves is reasonably priced and is offered in tall and regular sizes. It has too many adorable details, from the low back spectacular bow to the plunging neckline and sleeveless bodice. To finish the look, add a pretty set of statement earrings.
Be mindful: Hand washes are only.
Suitable for: curvy bridesmaids looking for a romantic yet relaxed style dress