when it comes to mermaid prom dress, you will think of graceful shapes and charming curves. Indeed, mermaid prom dresses are also very feminine. It has always been a must-have in the closet and it always gives people a very formal grand feeling. The mermaid prom dress is exactly what the name suggests. It's a mermaid tail-like dress with a tight fit on the hips. Suitable mermaid prom dress with slender heels, your curve will be perfectly presented and it makes you look so elegant.
Looking for the Best Mermaid Dresses to Show Your Figure?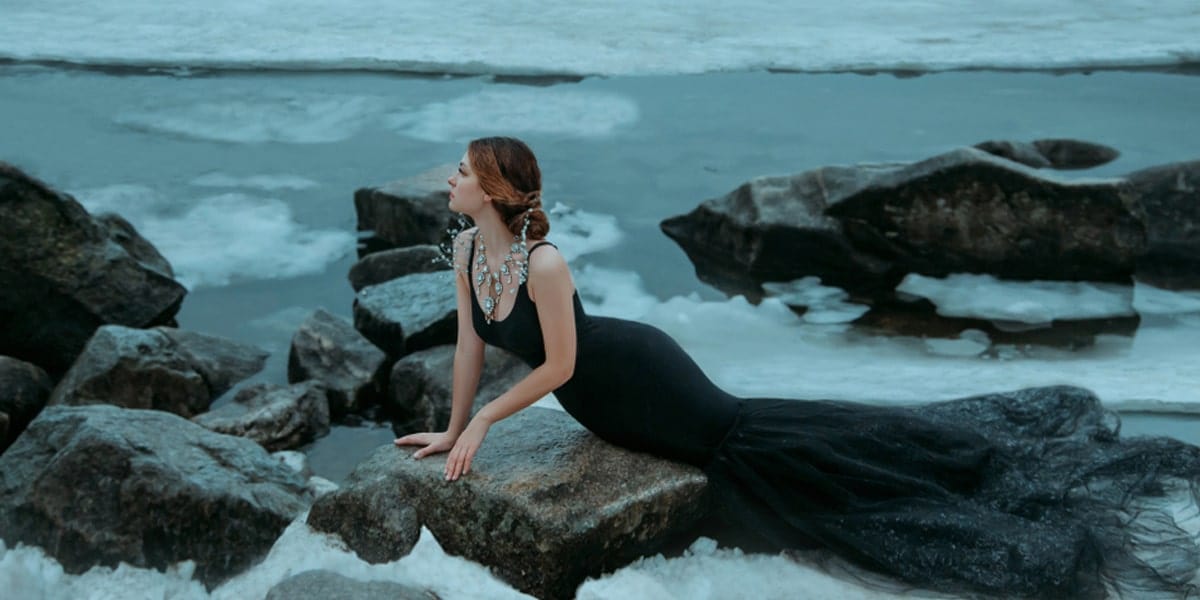 The mermaid dress can be said as the most feminine dress. The package hip design and wavy edges not only set off the gentle temperament, but also highlight the female's unique figure curve, sexy and charming. If you want to show your grace, mermaid dresses must be your first choice. When the famous celebrities attend the event, they like to wear mermaid dress to show their graceful shape.
Are you looking for the best mermaid dress to your figure? We have some useful tips for you.
1. How to Choose Perfect Mermaid Prom Dress Colour?
The fair skin gives people a feeling of innocence. Therefore, for girls with fair skin, the tone of the dress can be selected boldly. Fair skin tone is a versatile skin tone and it is recommended to choose from personal preference styles.
Yellow skin tone is a common skin tone in Asians. In the colour wheel, burgundy, navy blue, purple are great choices, which can easily brighten the complexion and make you look vibrant.
Wheat skin is naturally healthy and wild. Wheat skin colour is recommended to choose brighter tones to make the charming contrast, such as yellow, ice blue, red, etc.
2. Which Mermaid Prom Dress Style Suits You Best?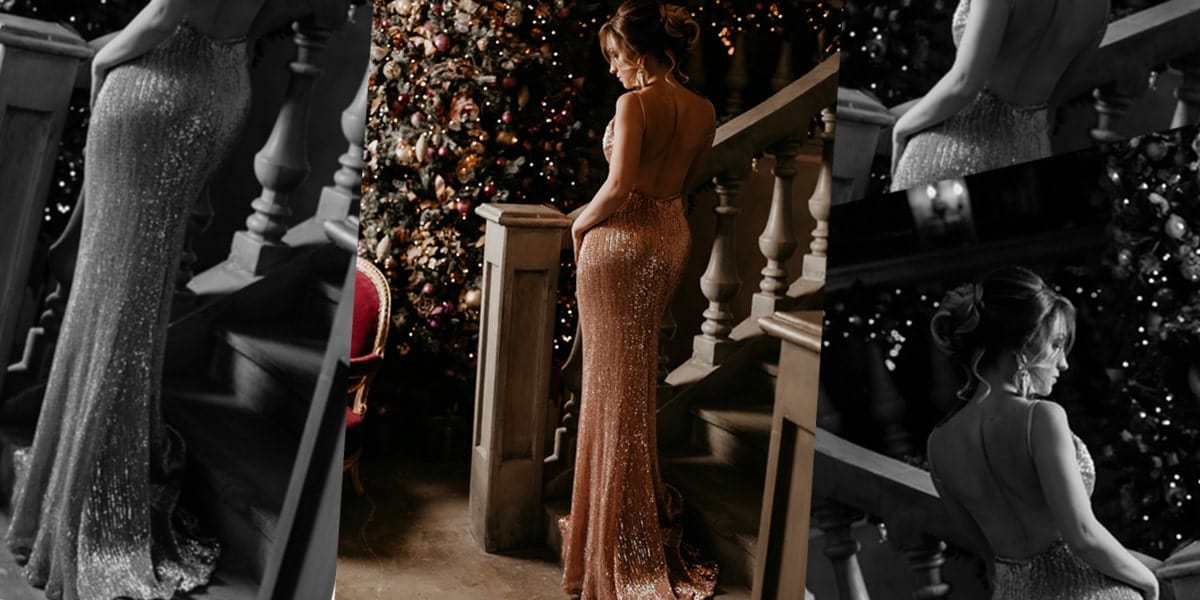 Mermaid prom dresses have been used in wedding dresses and gowns since they became popular. The suitable style can modify the figure and create your unique individual style.
There are also different styles of mermaid prom dresses. For example, halter, V-neck, long sleeves. When choosing your prom dress style, think about how you want your dress to fit and the style you prefer. Wear a style that makes you feel comfortable and confident. If you have a long neck and beautiful back, a halter mermaid dress can show your advantages. If you get a little fat in your arms then a long sleeve mermaid will cover this little defect. Get a round baby face? A V-neck mermaid dress will modify your face shape.
3. How to Choose Decent Mermaid Prom Dress by Prom Theme?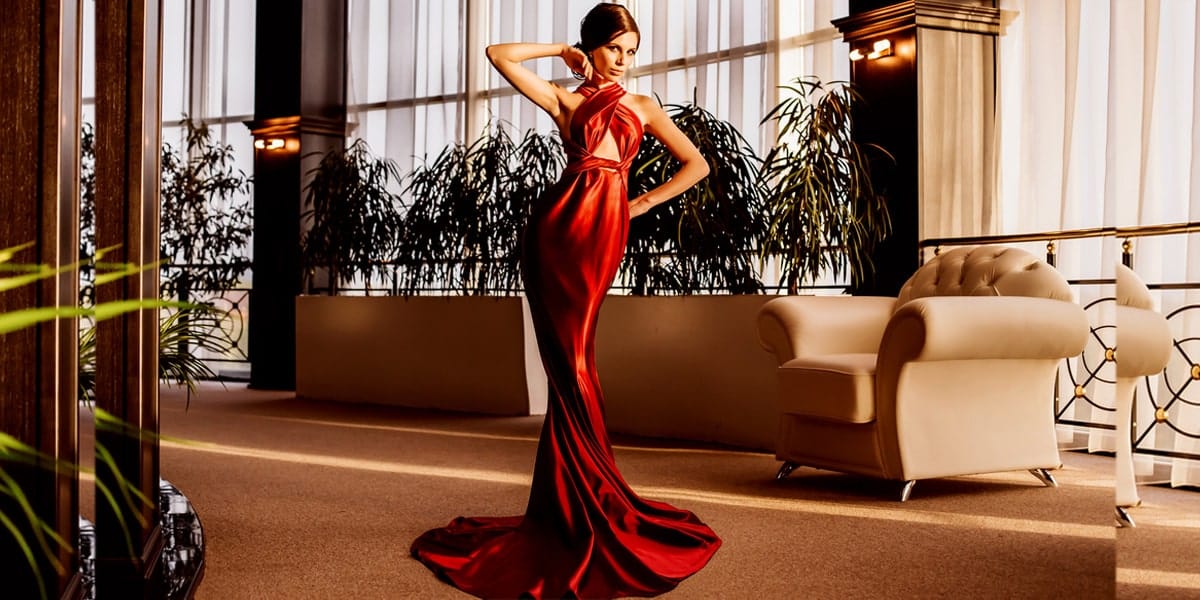 When you are choosing the perfect mermaid dress for yourself, there must be so many choices, which made you confused. We suggest that you can select according to the themes. If you are going to attend an "A Night under the Stars" theme party or "Starry nights", then you can choose sparkly sequin mermaid dresses. How about a "Great Gatsby" prom or special decade's night? A sequined shift dress, a dress with fringes, or a satin ball gown must be perfect. No matter what kind of themes you will be in, you need to take wearing special colours or decade-specific styling into consideration to coordinate your prom dress pick.
4. What are Current Mermaid Prom Dress Trends?
Mermaid prom dress trends change every season with the continuous new-coming styles. However, the classic styles are timeless. If you are wondering which mermaid prom dress styles are leading the trends in this season, we will show you the following amazing mermaid prom dresses.
· Sexy V Neck Mermaid Sequin Evening Dress with Short Sleeve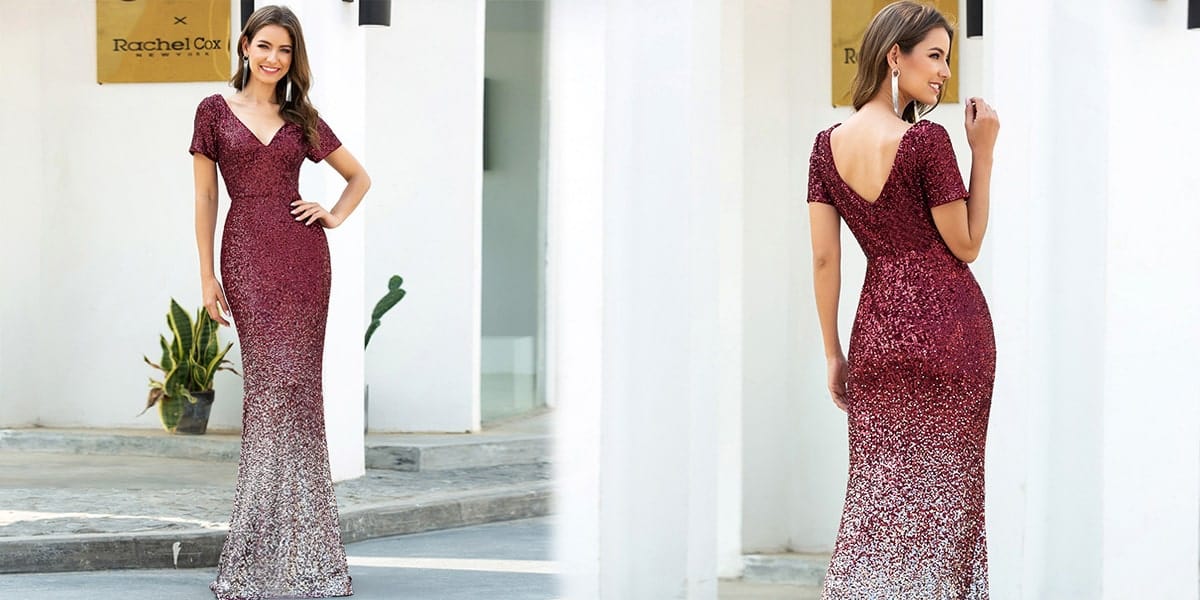 To take stock of this year's fashion trends, sequin is indispensable. Girls are choosing dresses with sequin elements to participate in various activities. This is a wise choice. After all, there is nothing more eye-catching than sequin evening dress! A burgundy V-neck sequin dress is too charming! The design of the fish tail and the close-fitting tailoring reveal a perfect figure, making you like an elegant and sexy mermaid, which has become the focus in various occasions.
· Women's Fashion off Shoulder Sequin Evening Dress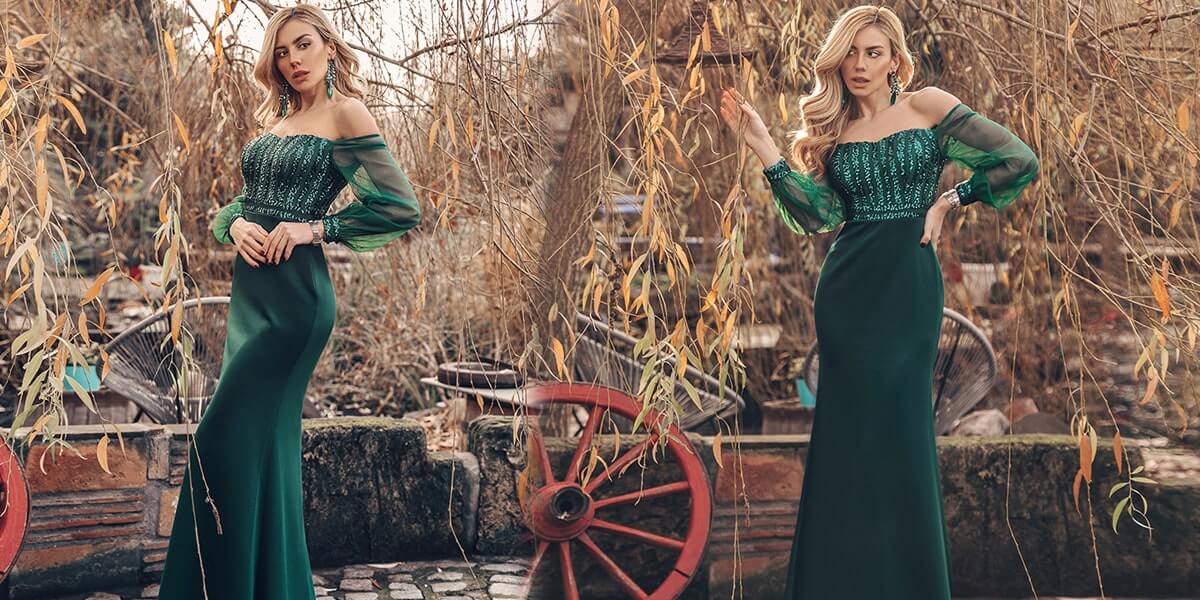 The version is the decisive factor that affects the style of the dress. Although the slim version of the dress has strict requirements on the figure, it can better highlight the curvaceous beauty of the female figure, and it is more feminine. The design of the waist of this green mermaid dress can not only outline the sculpted figure, but also not look too restrained. With the drop-shoulder design, it shows a beautiful neck line, which is really amazing.
· Romantic off Shoulder Fishtail Evening Dress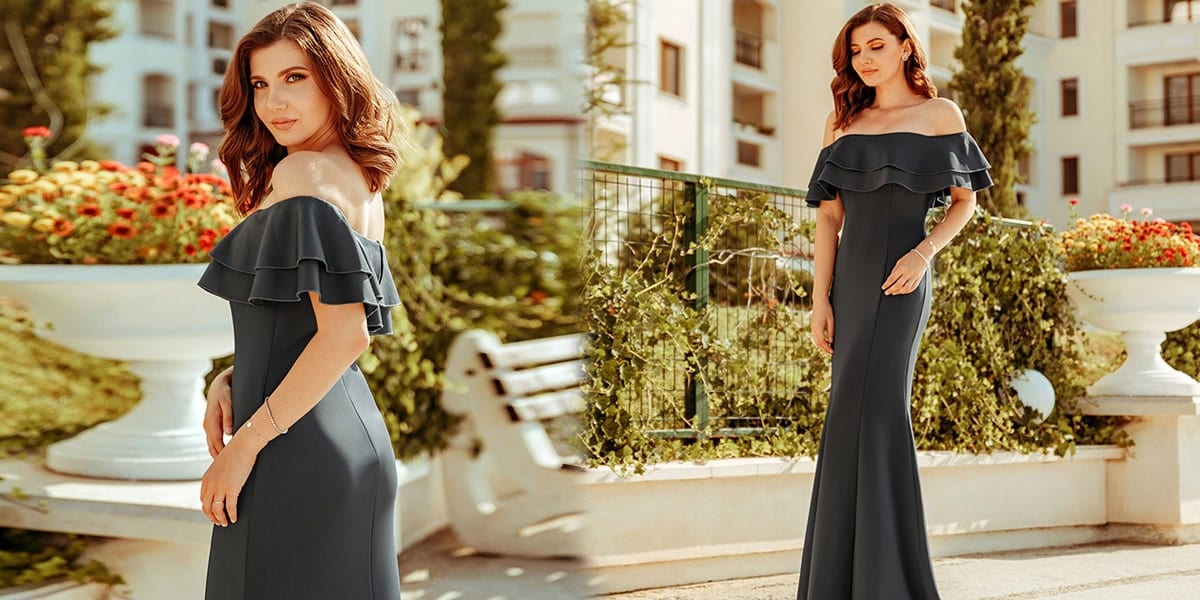 This long grey mermaid dress has an off-shoulder design, exposing a slim and beautiful back, and it made your beautiful back so eye-catching. The fishtail design of the dress shows the noble quality. When the breeze blows or when you are walking, it brings you the feeling of elegance. The processing of waist trimming allows the body proportion to be well divided and makes you look taller.
· Women's Cap Sleeve Sequin Dress Mermaid Party Dress
The hem of this fitted mermaid dress wraps the hips and the part of calf is loose. This design is conducive to showing the hip line and waist line at the same time, highlighting the curvaceous beauty of female friends. The hem is slightly wider, which will block the fat on the legs and further modify the figure. You can easily show your sexy curves when you wear this dress.
· Delicate Embroidery Sequin Fishtail Evening Dress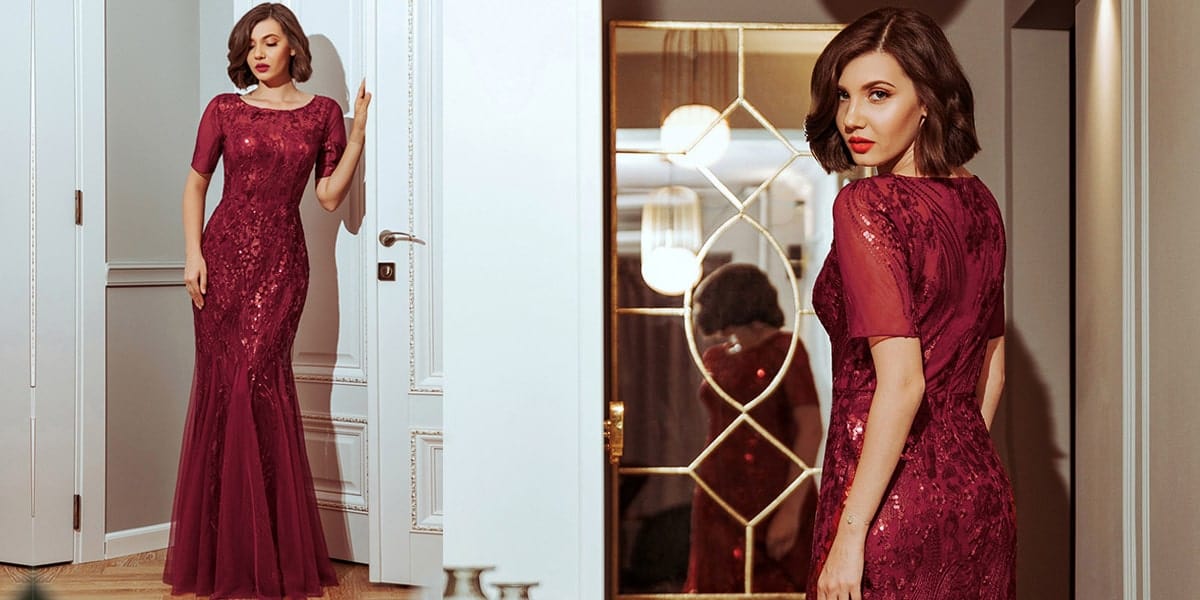 Among evening dresses, the mermaid dress occupies an important occasion. The presence of the mermaid dress at any place must be the focus of the audience, because the fishtail dress is different from other evening dresses styles, the design is more sophisticated and it requires strictly on the wearer's body requirements. This burgundy mermaid dress has tulle design from the calf part, which can make you look more lightsome while walking.
The mermaid prom dress is very sexy and charming. It shows the fullness of the hips, and the lace at the tail is like a mermaid in a fairy tale. Our mermaid prom dresses ideas can help you find the perfect dress and make you become the prom queen.