As the leaves begin to change and a crispness settles in the air, the charm of autumn weddings takes center stage. If you're on the guest list for one of these enchanting celebrations, you're likely wondering how to capture the essence of the season while looking chic and sophisticated. This comprehensive guide will provide tips on what to wear to September, October and November weddings. We'll also suggest stylish plus size and mother of the bride options and recommend where to buy autumn wedding guest dresses.
Outline:
What to wear to a fall wedding as a guest?
Here are some key tips for choosing the perfect autumn wedding guest dress:
Consider the wedding colours and theme. If you know the colour scheme, try to complement it in your dress choice. Autumn-inspired colours like ruby red, orange, olive green, plums, and deep blues are great options.
Dress for the weather. September and November may require more coverage like long sleeves. October can be crisp so plan for layers like a shawl or jacket.
Choose fabrics suited for fall like velvet, lace, knits, or crepe. They will keep you warmer than satin or chiffon. Deep jewel tones and autumnal prints pair perfectly with the season.
Be mindful of dress lengths. Short dresses with tights work for daytime or casual weddings. Knee length is safe for most occasions. For evening black tie weddings, midi or maxi lengths are recommended.
Don't forget the shoes and accessories! Look for fall-inspired accents like metallic shoes, sequin handbags, or jewel-toned velvet shawls to complement your autumn wedding guest dress.
For outdoor weddings, consider a dress with sleeves or a wrap to stay warm. Scarves, pashminas and capes are great for throwing over bare shoulders during the ceremony.
If attending multiple fall weddings, make your investment piece a classic LBD to get rewear value. Then mix up accessories, shoes, and outerwear to create fresh looks.
Focusing on weather-appropriate fabrics and rich autumnal colours and prints will ensure you look and feel fabulous at any fall wedding celebration!
September Wedding Guest Dresses
For a September wedding, you can opt for outfits that transition between summer and autumn styles. Consider wearing a mid-length dress or a stylish jumpsuit in colours like deep blues, burgundy, or rich jewel tones. Fabrics like chiffon, silk, or lightweight velvet can be suitable. As the weather can be a bit unpredictable, it's a good idea to have a shawl or light jacket to stay warm during cooler moments.
Wrap dresses are a great option for September weddings. The wrap style flatters all body types. Go for a short sleeve wrap dress in a solid colour or subtle print. This short sleeve mock wrap dress comes in multiple classic colours.
Slip dresses are on-trend this season. This spaghetti strap midi slip dress features a pleated skirts and comes in burgundy and black. Add a jacket or wrap to stay warm during the ceremony.
For a modern take on seasonal style, consider this one shoulder maxi dress in bronze. The draped one shoulder design puts a trendy spin on fall hues. The metallic bronze shade meshes perfectly with autumnal colour palettes. 
October Wedding Guest Dresses
October weddings call for slightly warmer attire. Choose dresses with longer sleeves or consider layering with a light cardigan or wrap. colours like warm earth tones, shades of orange, or deep greens can complement the fall atmosphere. Dresses made from slightly heavier fabrics, such as wool blends or heavier satin, can be a great choice. Don't forget to bring along a coordinating coat or jacket to stay comfortable outdoors.
Midi length dresses are great for fall weddings. This lace midi dress features 3/4 sleeves and a square neckline. Navy colour embodies autumn.
For an October wedding, a long sleeve dress is a smart choice. The extra coverage keeps you comfortable as temperatures drop. This elegant long sleeve midi dress is available in four shades: purple orchid, burgundy, black and blue spice.
Don't shy away from floral print for October weddings. This high neck long sleeve dress looks sophisticated. Add metallic heels or jewelry to brighten it up.
November Wedding Guest Dresses
For a November wedding, the weather is getting colder, so you'll want to prioritize warmth while staying stylish. Opt for dresses with long sleeves or consider pairing a dress with a chic coat or tailored blazer. Rich, dark colours like deep plum, charcoal gray, or forest green can be appropriate. Fabrics like velvet, heavier silk, or wool can help keep you warm. You might also want to wear tights or choose closed-toe shoes to protect against the chill.
Velvet is on trend this fall and perfect for autumnal November weddings. This long sleeve velvet skater dress comes in hunter green. Velvet is luxurious yet comfortable.The rich colour pops against grey days.
This long sleeve chiffon dress is a gorgeous choice for November nuptials. Made from a lightweight chiffon fabric, this dress features long sleeves, a pleated skirt and demure high neckline for ample coverage from autumnal breezes. The flowing silhouette is universally flattering.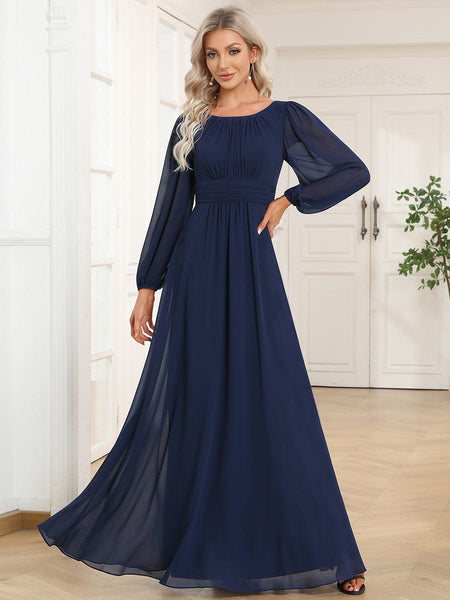 Want to make a stylish statement at a November wedding? Consider opting for a seasonal jumpsuit like this emerald green long sleeve wide-leg jumpsuit. Jumpsuits are a chic alternative to dresses for modern wedding guests. This particular style embraces the rich, jewel tone hues that shine in autumn.
Plus Size Autumn Wedding Guest Dresses
The key to plus size wedding guest dress shopping is fit and comfort. These picks check both boxes and suit autumnal weddings.
A lace plus size dress offers elegance and romance. This plus size short sleeve lace dress has a flattering fit and flare silhouette. It comes in navy, purple and other 6 colours.
Don't shy from colour! This plus size floral dress makes a vibrant style statement. The blush floral print looks amazing on autumnal complexions.
Maxi dresses provide coverage while keeping you comfortable and warm. This plus size velvet maxi dress comes in brick red, burgundy and dark green. The V-neck flatters the bust while the empire waist defines your shape.
Autumn Wedding Outfits for Mothers of the Bride and Groom
As mother of the bride or groom, you want a dress that is elegant, age-appropriate and coordinates with the wedding colours. Here are some perfect autumn options:
Look refined in a two-piece set like this mother of the bride trouser suit. The eggplant purple top and trousers ooze sophistication. Dress it up with metallic heels and jewellery.
Make a statement in emerald green. This green lace mother of the bride dress stuns in a bright jewel tone. The lace bodice and ruffled sleeves provide beautiful textural contrast.
Jacket dresses allow you to cover up arms while looking stylish. This lace jacket dress lets you layer up. This dress comes in a range of plus sizes to fit your curves perfectly.
Where to Buy Autumn Wedding Guest Dresses?
With so many places to shop, finding the perfect autumn wedding guest dress is easy. Here are some of our favourites:
Department stores like John Lewis, Debenhams and House of Fraser offer a wide variety of dresses for autumn weddings in the latest styles, prints and colours.
High street shops like Oasis, Warehouse, Monsoon and Phase Eight carry gorgeous collections of wedding guest dresses in both formal and casual styles.
Online stores like ASOS, Very and Littlewoods provide affordable autumn wedding guest dresses with tons of options. Ever Pretty UK is also a good place to shop for inexpensive guest dresses. Great for trying trendy styles without breaking the bank!
Independent boutiques and bridal shops often stock unique autumn wedding guest dresses you won't find anywhere else. Chat to the stylists for personalised recommendations.
Rental services like Hurr Collective, My Wardrobe HQ and Front Row let you affordably hire designer dresses for a fraction of the retail price.
With so many options, you're sure to find the perfect autumn wedding guest dress for your September, October or November event. Follow the tips in this guide to decide what length, colour and style will suit the wedding date, season, and your body type. Look fabulous and stay comfortable no matter what fall wedding you attend.