Easter may be a topic of discussion for many couples who are thinking about getting hitched during the spring. Yes, Easter can be a beautiful occasion to tie the knot, especially for individuals who value the beauty and meaning of the celebration. The spring season is a good time to begin a new life together because it is frequently linked to fresh starts, growth, and rejuvenation. Additionally, since Easter falls on different dates each year, couples may be able to take advantage of lower venue and vendor prices if their wedding date falls outside of peak wedding season.
You're in luck if you're planning an Easter wedding since there are lots of original and imaginative ways to use the holiday's themes and aspects in your special day. In this article, we'll look at five Easter wedding ideas that might help you plan a celebration that embodies the excitement and beauty of the occasion.
1. Incorporating Easter Elements into Your Wedding Decor
Using seasonal design components is one of the finest ways to make your Easter wedding seem festive and distinctive.
Pastel Colors - Pastel colors are a hallmark of Easter and can help create a soft and romantic ambiance for your wedding. Consider using tablecloths, napkins, and flowers to decorate in hues of lavender, delicate pink, light blue, and soft yellow.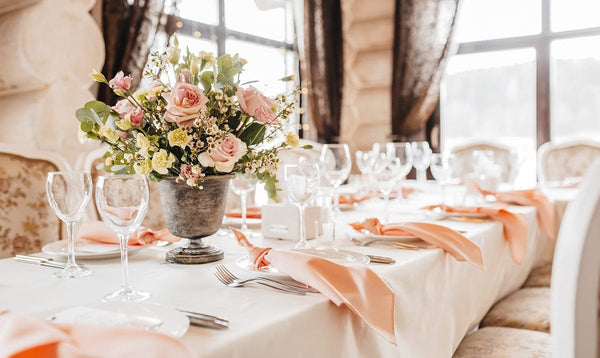 Spring Flowers - Fresh flowers are a beautiful way to embody the spirit of spring because it is a season of new beginnings and fresh growth at weddings. Consider decorating the areas where the ceremony and reception will take place with tulips, daffodils, cherry blossoms, and other springtime blooms.
Easter Eggs - Easter eggs are a fun and playful way to incorporate the holiday into your wedding decor. You can use them as place card holders, table decor, or even as part of your floral arrangements. Consider using real eggs that have been dyed or painted, or faux eggs that can be reused for future events.
Bunny Motifs - Bunnies are a popular symbol of Easter, and incorporating bunny motifs into your wedding decor can add a playful and whimsical touch to your big day. Consider using bunny-shaped place card holders, cake toppers, or even incorporating a larger-than-life bunny sculpture as a focal point for your ceremony or reception.
Easter-inspired Table Settings - Creating an Easter-inspired table setting can be a beautiful and memorable way to add a touch of holiday spirit to your reception. Consider using natural elements such as fresh flowers, greenery, and wooden accents to create a rustic and organic feel, or incorporating playful elements such as Easter egg-shaped salt and pepper shakers or bunny-shaped napkin rings.
2. Easter-Themed Wedding Favors
Wedding favors are a wonderful way to express your gratitude to your guests and to provide them with a unique keepsake of your special day. For an Easter wedding, consider giving your guests an Easter-themed wedding favor that ties in with the holiday.
Personalized Easter Eggs - Personalized Easter eggs can be a fun and festive wedding favor for your guests. You can have the eggs painted with your names and wedding date or add a personalized message to each egg. Guests can take them home as a unique reminder of your special day.
Candles with a floral scent - Because spring is the season of new blossoms and floral scents, giving candles with a floral scent as wedding favors is the ideal approach to capture the spirit of the occasion. To create a tranquil and loving atmosphere, choose aromas like lavender, jasmine, or rose.
Sweets in Pastel Colors - Sweets in pastel colors, such macarons, chocolates, or marshmallows, are a delightful and eye-catching choice for wedding favors with an Easter theme. Pack them in a cute and personalized box or bag with a tag that thanks guests for attending your wedding.
Seed Packets - Giving seed packets as wedding favors is a thoughtful and eco-friendly option that can help your guests remember your special day for years to come. Choose flower or herb seeds that bloom in the spring and add a personalized tag with your names and wedding date.
Easter-inspired Accessories - You can also give your guests Easter-inspired accessories, such as bunny ear headbands or floral crowns, as a fun and playful wedding favor. These extras can give your wedding a whimsical touch and provide fun photo opportunities.
3. Easter-Inspired Wedding Food and Drinks
All wedding must include food and beverages, and an Easter wedding offers a special chance to add some distinctive and joyful components to your meal. Here are a few ideas for Easter-inspired wedding food and drinks:
Spring Salads - Incorporating fresh and colorful spring vegetables into your salad can make for a healthy and delicious appetizer. Asparagus, peas, and artichokes are among the things to think about including. Drizzle with a mild citrus or herb vinaigrette.
Lamb Dishes - Lamb is a traditional Easter dish and can make for an elegant and flavorful entrée. You can serve lamb chops, leg of lamb, or lamb shanks, depending on your preference and budget.
Pastel-Colored Cocktails - Pastel-colored cocktails can add a playful and festive touch to your wedding reception. Consider serving drinks like a lavender lemonade, a grapefruit and rosemary gin fizz, or a strawberry basil margarita.
Easter-Inspired Desserts - Easter is a time for sweets and treats, so incorporating festive desserts into your wedding menu is a must. You can serve Easter-themed cupcakes, macarons, or cake pops, or opt for a classic carrot cake with cream cheese frosting.
Hot Cross Buns - Hot cross buns are a traditional Easter bread that can make for a delicious and nostalgic addition to your wedding menu. They go well with a cup of tea or coffee and can be served as a dessert or as a pre-dinner snack.
4. Dressing for an Easter Wedding
You should consider the season and festival when choosing your attire for an Easter wedding.Here are a few tips for attire appropriate for an Easter wedding:
Choose Lightweight and Comfortable Materials - Use fabrics like chiffon, lace, or tulle that are light and pleasant. All day long, these textiles will aid in keeping you cool and cozy.
Pastel Colors - Easter is associated with pastel colors like pink, lavender, and mint green, so consider incorporating these colors into your wedding outfit. These delicate hues will give your outfit a hint of springtime charm, whether it's a suit in a pastel color or a flowing dress in a pastel color.
Floral Prints - Spring is a time for blooming flowers, so incorporating floral prints into your outfit is a perfect choice for an Easter wedding. These designs will bring a splash of color and elegance to your wedding appearance, whether it's a floral dress for the bride or a flowery tie for the groom.
For the bride and groom, there are several options for Easter-inspired wedding outfits. For the bride, a flowing chiffon or tulle dress in a pastel color with floral accents would be a great choice. For the groom, a light-colored suit in a pastel shade with a floral tie or pocket square would be a perfect complement.
For bridesmaids, there are numerous options for Easter dresses. Popular styles include flowy maxi dresses with floral prints, pastel-colored A-line dresses, and lace or chiffon dresses with delicate details. Fabric options include lightweight chiffon or tulle, while colors can range from soft pastels to bold and vibrant hues.
By dressing in light and airy fabrics, pastel colors, and floral prints, you can create a wedding outfit that is perfect for an Easter wedding. Whether you're the bride, groom, or a member of the wedding party, there are plenty of Easter-inspired outfit options to choose from.
5. Easter Wedding Ceremony Ideas
Incorporating Easter elements into your wedding ceremony can make your special day even more meaningful. There are several ways to do this, whether you want to incorporate religious Easter traditions or simply add a touch of springtime to your vows. Some ideas to consider include:
Easter-inspired vows or readings: If you're writing your own vows, consider incorporating Easter themes such as rebirth, renewal, and growth. You can also choose readings that reflect these themes, such as passages from religious texts or classic literature.
Religious Easter elements: If you're having a religious ceremony, there are many ways to incorporate Easter traditions. For example, you could have a reading from the Bible, use an Easter lily as your altar decoration, or even incorporate a traditional Easter hymn into your ceremony music.
Springtime symbolism: Spring is often associated with new beginnings and growth, so you could incorporate these themes into your ceremony. For example, you could exchange rings or other symbols of commitment under a flowering tree, or have a unity ceremony involving planting a tree or flower together.
Incorporating Easter elements into your wedding can add a unique and meaningful touch to your special day. From incorporating pastel colors and spring flowers into your decor to serving Easter-inspired food and drinks, there are endless ways to incorporate this holiday into your wedding. Remember to also consider how you and your wedding party will dress, and consider the different Easter-inspired outfits that can be worn.

Don't forget to go through our gorgeous pastel colored bridesmaid dresses if you're organizing an Easter wedding.Click on the links below to start shopping for your dream Easter wedding look:
Thank you for considering our products for your special day!