As the best and top fashion blog, we know how important the wedding is for brides. Winter weddings are for lovers. When the weather is cold and crisp, people have a greater appreciation for the love that's in the air as well as the threads they're wearing. It's also ideal for brides to wear a long dress that keeps her warm but leaves her wanting more when she dances with her new husband all night.
The Christmas holiday season is the perfect time to hold a wedding! After all, who doesn't love sparkly lights and big trees? However, with the holiday season comes extreme cold weather. This means you need to take extra care when planning your outfit for the big day. Here are some great Christmas bridesmaid dress tips for a winter wedding so you can show up in style.
Tips For Winter Weddings This 2022
Just before we embark on Christmas bridesmaid dresses we've compiled some straightforward advice on how to choose winter bridesmaid dresses.
Choose simple color combinations: It's always best to have at least one neutral color in your outfit so that it can be paired with anything from tuxedos to jeans to evening gowns. This will help ensure that you don't look like you're trying too hard with your outfit by pairing it with something too casual.When in doubt, stick with classic neutral colors like gray, brown, or navy blue.
Consider the Location: When deciding on clothing for your New Year's Eve celebration, you may want to consider the weather patterns in your area. For example, a ski resort in Vermont is going to be much colder than downtown Atlanta. In addition to the climate and temperature, think about the time of year and where you live. If you live in a cold area, there will likely be more snowfall during the winter season than if you live in a warm climate.
Sleeves!:You should consider the weather when shopping for a wedding dress. You may think that cutouts are sexy, but open backs and sleeves will leave you freezing on your wedding day in the winter. And you certainly don't want to be suffering in a sleeveless or miniskirt during the cold seasons. Don't ever have any cutouts on your dress as it will cause you to feel very uncomfortable in a Winter Wedding. Long sleeves help protect you from drafts and will keep you warm, while jewel tones like gold make you look vibrant as winter sets in.
8 Beautiful Christmas Bridesmaid Dresses 2022
Harper Bridesmaid Dress in Sangria
Harper is a bridesmaid dress that will make your maids feel like princesses. The dress comes with a low-cut sweetheart neckline, and its pleated straps can be worn off the shoulder, giving you an alternative look in case you need something more traditional than the halter option. The empire waistline, on the other hand, fits seamlessly with Harper's flowing silhouette – perfect for pairing with any formal occasion. All Harper dresses are made from lightweight chiffon fabric to give them an ethereal look that will put you in high demand at all of the star parties in Hollywood.
Size-00-32
Material- Ultra-flowy Chiffon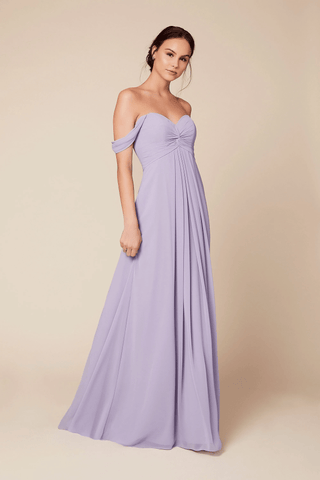 Crepe-back Satin One-shoulder Bridesmaid Dress
A slim-fitting, one-shoulder dress in a color within the Greige family is a classic pick for winter weddings. This shouldn't be passed over without consideration from brides who believe in timelessness and sophistication on their big day. It's no secret that we like to wear black in the wintertime, and this Soft Gray Shoulder Gown capitalizes on minimalistic beauty. It's timeless and appropriate for any special event that requires a formal look.
Sizes range from 0 to 30, are maxi-length, and are made of satin.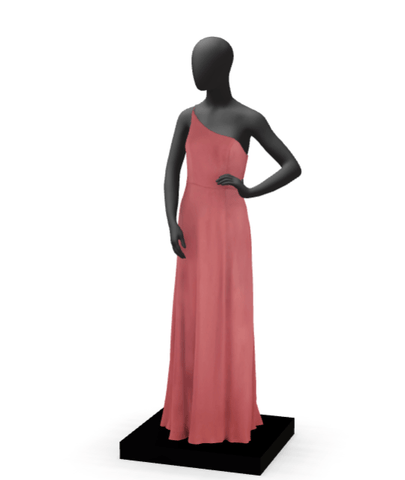 Sexy V-Neck Maxi Long Velvet Evening Dress
Beautiful for a night out, comfortable for everyday wear. This party dress is perfect for any event where you want to add some glamor and glitz. The double V neckline adds style, while the ruffle sleeves complete your ensemble with a dash of drama. Pair it with strappy high heels and statement earrings for an unforgettable evening look. To preserve your modesty, this piece has a concealed zipper in the back. Younger people can look good as well in most of these items as they are quite youthful.
Shell material: 100% polyester
Lining Material: 100% Polyester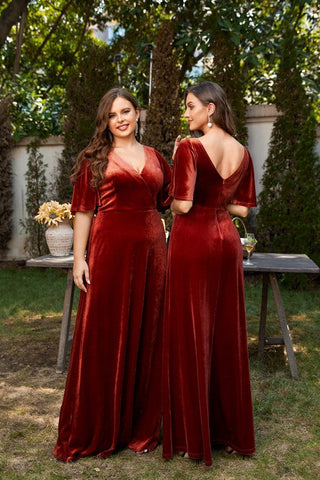 Jenny Yoo Ryland Velvet Maxi Dress
This velvet party dress gives you two looks in one. The plunging open back lets you flaunt your assets and the long sleeves add a timeless element to the otherwise edgy design. A classic v-neckline is refreshing in this opulent design. Illusion panels are incorporated into the bodice for a sleek, modern finish.
Sizes range from 00 to 32, are floor-length, and are made of velvet.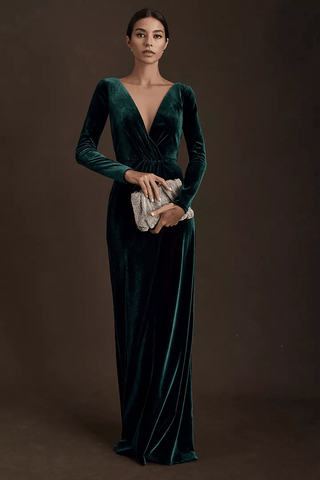 Christina Convertible Dress
This lovely tulle dress is a great option because an emerald color scheme is a stunning option for any winter wedding. Combine it with delicate pearls and a pompadour. Even when you want to wear it with a v-neckline, the neckline doesn't look too low—but it is still jaw-droppingly gorgeous all the same.
Sizes range from XS to 3X, are floor-length, and are made of tulle.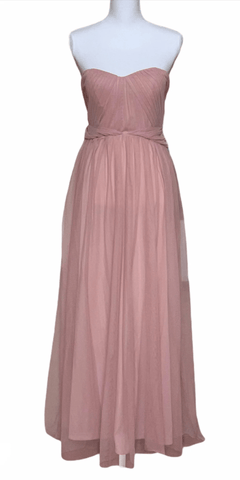 Fame and Partners the Libra
The Libra is a matte satin maxi dress with draping detail and off-the-shoulder ties. Designed to flatter women of all shapes, The Libra can be paired with a variety of shoes and accessories to complete any look. Sewn with care, the Libra is a fashionable gown that stands out even in formal attire. With its deep shade and elegant cut, this matte satin maxi can be worn for any special occasion.
Maxi-length with a size range of 0 to 22, made of polyester.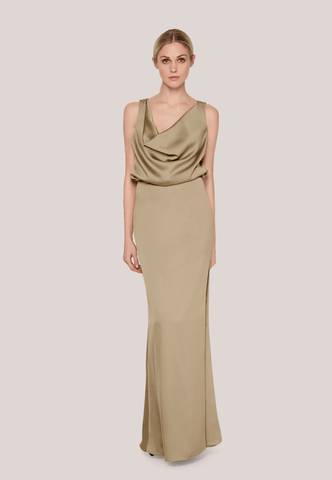 Baltic-Born Giselle Maxi Dress in Evergreen
This long-sleeved green bridesmaid dress exudes elegance and beauty with its flowy maxi skirt and smocked back. Comfortability is high on reviewers' list of priorities and it's easy to see why. The chiffon fabric is soft, flowing, and lightweight, making this a great choice for an upcoming wedding or another special event. A scalloped hem shows off beautiful ankle boots in the colder months, or you can show off some brightly colored tights in warmer weather.
100% Polyester
Jing measures 5'8", 32A in the cup, 0 overall sizes, and wears a size S.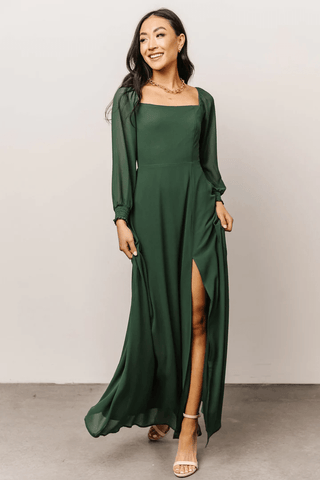 How To Match Christmas Bridesmaid Dresses
Start with a pre-selected number of embellishments to each dress. While the pattern and style might be different, you can make sure that the majority of the dress' features remain constant. For example, a bride could choose two different necklines but in the same fabric. This would allow her to play up the details of each dress, which is often what wedding guests focus on the most.