When it comes to bridesmaid dress colors for weddings, there are too many shades of colors to choose from, so it's easy to feel overwhelmed. While picking a color for your bridesmaid dresses, you may be wondering which one would be the best. Well, there are many factors to consider. While you are at it, you should also be mindful of the different shades of colors and how these shades affect the appearance of dresses.
From vibrant purple bridesmaid dresses to bold yellow bridesmaid dresses, here is a list of the best 10 colors for bridesmaid dresses.
Dark Green Bridesmaid Dresses
Be bold at your wedding and go with a dark green dress. Ever-Pretty UK has a huge selection of dresses in this color, including empire waistline, sleeveless styles, and cold shoulder styles. Dark green is the perfect shade to set off a beautiful fall or winter wedding. The refreshing hue makes a lovely complement to orange and red, but it works just as well with other colors. Ever-Pretty UK's dark green bridesmaid dresses are designed with both formal and casual weddings in mind. With a variety of necklines and fabric choices, you can find something that suits every taste for your special day--all at prices that won't break the bank.
Navy Blue Bridesmaid Dresses
Shop a wide selection of lovely navy blue bridesmaid dresses that perfectly complement your wedding color scheme. Many designers offer bold colors and geometric patterns in their bridesmaid styles, which may be better suited for young or fashion-forward bridal parties. Sample a few, but don't hesitate to ask a consultant for additional recommendations based on your preferences. Navy blue bridesmaid's dresses are long on style, and you can choose from cocktail styles that feature feminine details like off-the-shoulder sleeves and cutouts, or classic styles for those who want to go for the timeless ballerina bun. These dresses are trendy, but not faddish, making them a timeless choice. For a classic look, try pairing navy blue bridesmaid dresses with cute, low-bun hairstyles. These matte-finished designs offer an elegant alternative to bright colors and prints.
Pink Bridesmaid Dresses
The color pink may be ubiquitous in weddings, but it still has the power to add elegance and romance to any outfit. While some women stick to their favorite shade of pink, others incorporate this vibrant color into a multi-color palette that suits their wedding's theme. Pink shades complement most flowers and carry the same dreamy tone of white wedding gowns. Regardless of whether your bridesmaids wear dresses with heels or flats, they'll look chic while they wait for your arrival on what will likely be the happiest day of your life. The warm and inviting shade complements almost any color scheme on the big day and strikes a perfect complement against the classic white dress of the bride. Brides in search of the perfect blush and white combination may want to consider having a matching set of bridesmaid dresses made in soft, warm tones such as powder pink or hues leaning toward coral.
Sage Green
This color combo offers a soft, feminine aura, which makes this unique colorway suitable for any kind of affair.
The perfect combination of Sage Green and white adorns the walls like an elegant display in front of your guests' eyes. Not only does it look great year-round, but the shade exudes both classic sophistication and a hint of elegance when used for an outdoor or winter wedding. The softer hue is also perfect for an elegant event where your bridesmaids may spend most of their time indoors. They will look stunning in this sage-green gown!
Purple Orchid Bridesmaid Dresses
Purple Orchid Bridesmaid Dresses offer a range of outfits for many occasions, including weddings and parties. Ever-Pretty's collection has a variety of designs, including a formal "empire waist" bridesmaid dress with a high-low tulle hemline. Like other dresses in this price range, they're also made with high-quality fabrics and include a variety of details that give them a unique look. Purple orchid color is harmonic and gives a romantic touch to your bridesmaid, so if you're dreaming about a fairy-tale like wedding, this could perfectly be your girls' color!
Grey Bridesmaid Dresses
Grey dresses are a perfect choice for weddings, regardless of the season or time of day (especially for daytime weddings in which color options can be limited). These shades are clean and sophisticated, blending into any wedding theme. Since there is nothing flashy about them, they create the perfect blank slate from which you can accessorize to your heart's content. Brides may pair grey with bright flowers or keep it delicate with pastels. Either way, this mod shade can dress up any wedding scheme.
Dusty Navy Bridesmaid Dresses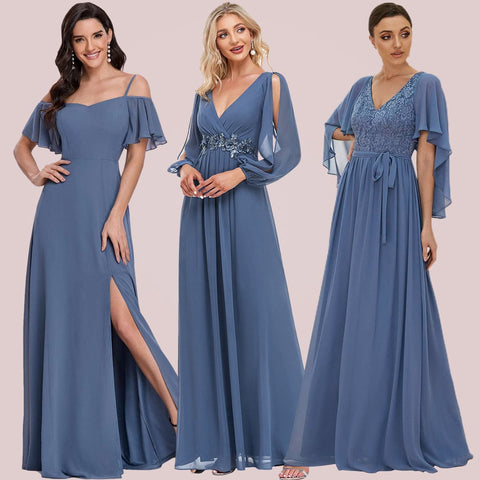 Any season is the right time to wear Dusty Navy! This color has a soft, sophisticated feel that works well in weddings from traditional to modern. Plus, it always looks great with any style of bouquet or centerpiece! The color always offers a clean slate that gives you endless possibilities when it comes to accessorizing, whether you're going bold or delicate. You can also choose from long chiffon, short satin, or clingy lace dresses in dusty blue that show off their curves and give them an elegant look.
https://www.ever-pretty.co.uk/collections/bridesmaid-dresses?filter.v.option.color=Dusty+Navy 
Burnt Orange Bridesmaid Dresses
No matter your tastes (or your bridesmaids') and despite their different bodies and heights, you won't find a more appealing choice for everyone on your wedding day than burnt orange. Crafted from trendy fabrics, burnt orange bridesmaid dresses can be paired with nearly any shade of shoes, jewelry, or flowers to match the theme of your affair. And since the color works well with so many wedding themes, no matter the season or time of year, your bridesmaids will look stunning on your special day.
Dark Purple Bridesmaid Dresses
Dark purple is just perfect if you're looking for a dark color but want to avoid the dramatic touch of black. What's good about this beautiful, intense color, is that you can combine it with almost every other color. With an extensive selection of lengths, styles, and sizes, you can mix and match to find the perfect color blend you're after.
Blush Bridesmaid Dresses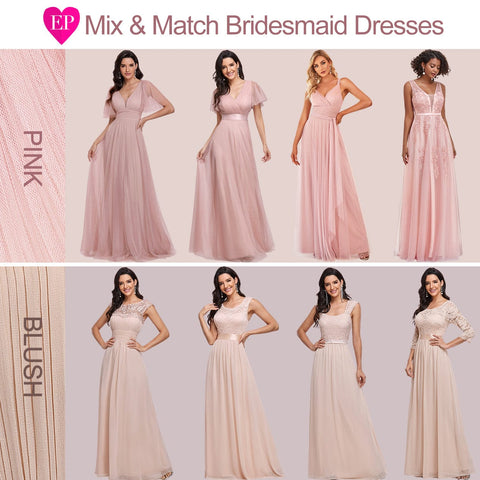 Blush is the perfect hue of color for your wedding day. With an elegant and calming presence, it'll be the perfect addition to any color palette you decide to incorporate into your special day. Ever-Pretty has a large selection of blush-colored bridesmaid dresses for your entire bridal party that can help create the romantic atmosphere you've always wanted on your wedding day. You could also pair it with darker colors for your evening reception or other events leading up to the main event. The perfect balance of bridal elegance and romance is available in our selection of designs.