Burgundy is a rich and elegant color that has been gaining popularity in the world of weddings. It's no surprise that burgundy was chosen as the color of the year, as it exudes a sense of warmth and sophistication that is perfect for weddings. Choosing the right color for your bridesmaid dresses is an important aspect of wedding planning. Not only does it set the tone for your wedding, but it also complements the bride's dress and adds to the overall aesthetic of the day. In this article, we'll explore the various ways you can style your bridesmaid dresses with the color of the year, burgundy. We'll cover everything from dress styles and accessories to wedding decor and stationery. So, whether you're planning a formal or casual wedding, read on to discover how you can incorporate this timeless color into your special day.
Why Burgundy?
When it comes to selecting the right color for bridesmaid dresses, there are several factors to consider. Burgundy is a popular choice for several reasons, including its psychological impact, versatility, and elegant aesthetic.

Firstly, the psychology of burgundy is significant. The color is associated with passion, power, and confidence. It's a strong, bold color that demands attention and exudes a sense of warmth and comfort. This makes it a popular choice for weddings, as it sets the tone for a romantic and intimate atmosphere.

In addition to its psychological impact, burgundy is a versatile color that complements a wide range of skin tones and wedding themes. Whether you're having a rustic barn wedding or an elegant ballroom affair, burgundy bridesmaid dresses can seamlessly fit into any theme or setting. It pairs well with other colors such as gold, blush, and navy, making it a versatile choice for bridesmaid dresses.

Furthermore, burgundy bridesmaid dresses are elegant and sophisticated. They add a touch of luxury to your bridal party and create a cohesive look that is both stylish and timeless. Burgundy is a rich and regal color that looks great on a variety of fabrics and dress styles, making it easy to find a dress that suits each bridesmaid's unique style and body type.
Choosing the Right Style

Once you've decided to go with burgundy bridesmaid dresses, the next step is to choose the right style. There are several popular bridesmaid dress styles that complement burgundy, and it's important to consider various factors when selecting the right style.

Popular bridesmaid dress styles that complement burgundy
A-line dresses, which flare out from the waist and are flattering on most body types, are a popular choice for burgundy bridesmaid dresses. Another popular style is the sheath dress, which is fitted and creates a sleek and sophisticated look. For a more formal wedding, you might consider a floor-length burgundy bridesmaid dress, while a tea-length or knee-length burgundy dress is perfect for a more casual wedding.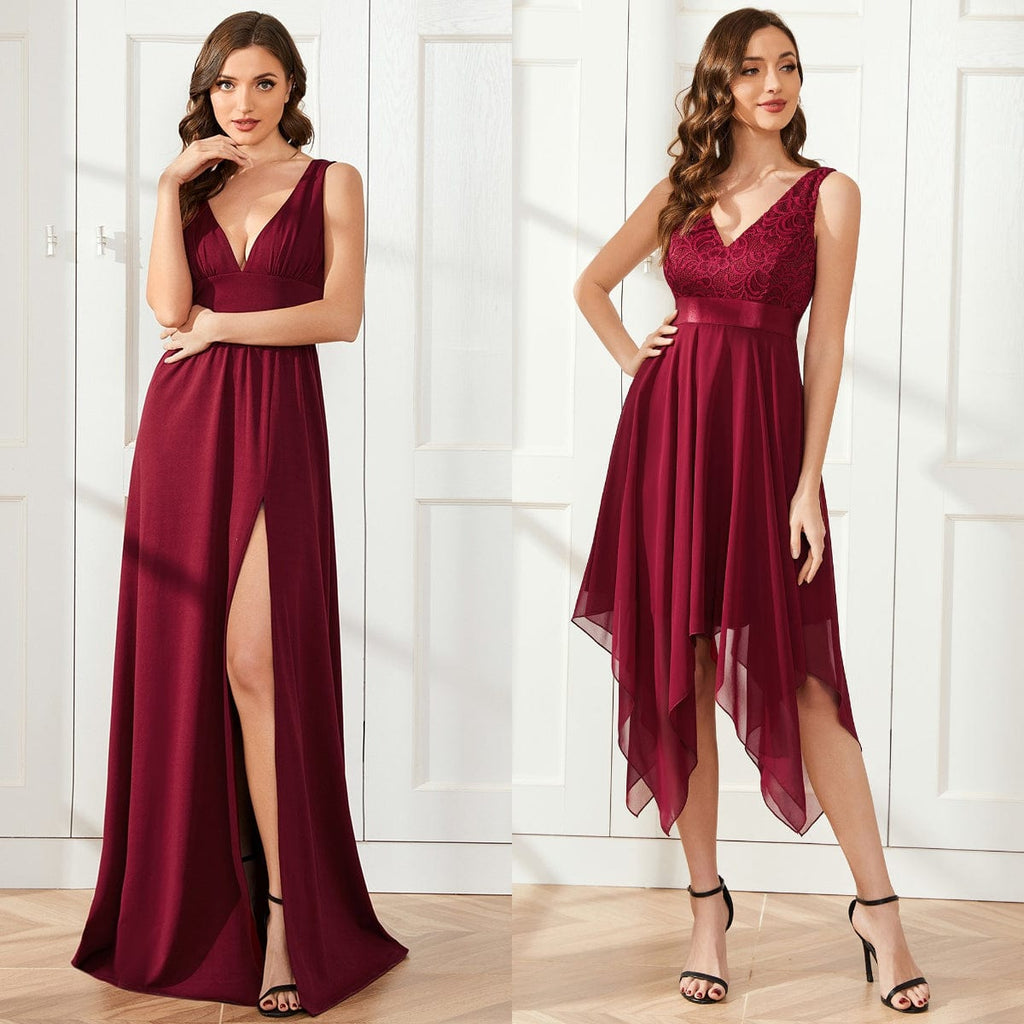 Factors to consider when choosing the right style
It's essential to consider your bridesmaids' body types when selecting the right style. Different dress styles flatter different body types, and it's important to choose a style that makes each bridesmaid feel comfortable and confident. You should also consider your wedding theme when selecting the right style. For example, if you're having a beach wedding, you might opt for a lighter fabric and a more relaxed style.
Tips for mixing and matching styles for a cohesive look
If you have bridesmaids with different body types or personal styles, consider mixing and matching different burgundy dress styles for a cohesive look. One popular option is to choose a single dress style but allow each bridesmaid to choose a different neckline or sleeve length. Alternatively, you could choose a dress color and fabric and allow each bridesmaid to choose their own style. This creates a cohesive look while also allowing each bridesmaid to showcase their unique style.
Accessorizing Burgundy Bridesmaid Dresses

Choosing the perfect bridesmaid dress is just the first step in creating a cohesive look for your bridal party. Accessorizing your burgundy bridesmaid dresses can take your wedding style to the next level. Here are some tips for accessorizing your burgundy bridesmaid dresses:

1.Jewelry and accessory
When it comes to jewelry, keep it simple and elegant. Choose delicate gold or silver jewelry that complements the warm tones of burgundy. Pearls are a classic option that adds a touch of elegance and sophistication to any outfit. Consider a bracelet or necklace that incorporates burgundy or a similar shade for a cohesive look.
For shoes, nude or metallic heels work well with burgundy dresses. Avoid black shoes, as they can be too harsh against the warm tones of burgundy.

2.Hairstyle
Updos are a popular hairstyle choice for bridesmaids. A simple chignon or braided updo looks elegant and allows the focus to remain on the dress. For a more relaxed look, consider loose waves or a half-up, half-down style. Accessories such as a floral crown or a hairpin that incorporates burgundy or similar shades can add a touch of romance to any hairstyle.
3.Coordinating with the groomsmen's attire
For a cohesive look, coordinate the groomsmen's attire with the bridesmaids' dresses. If the groomsmen are wearing suits, consider incorporating burgundy into their ties, pocket squares, or boutonnieres. Alternatively, you can have the groomsmen wear suits in a similar color to the bridesmaids' dresses. This creates a cohesive and stylish look that ties everything together.
Incorporating Burgundy into the Wedding Decor

In addition to choosing burgundy bridesmaid dresses, incorporating burgundy into the wedding decor is a great way to create a cohesive and stylish look for your big day. 

Burgundy pairs well with a variety of colors, including blush pink, navy blue, and gold. Consider incorporating these colors into your wedding decor for a balanced and cohesive look. For example, use blush pink as an accent color for your wedding invitations, or use navy blue for the groomsmen's suits.

Burgundy is a versatile color that can be used in a variety of floral arrangements. Consider incorporating burgundy flowers, such as roses or dahlias, into the bridesmaid bouquets and centerpieces. If you prefer a more subtle look, use burgundy ribbon to tie the bouquets or incorporate burgundy table runners or napkins into the table decor.
When incorporating burgundy into your wedding decor, it's important to achieve a balanced look. Use burgundy sparingly to avoid overwhelming the space. For example, use burgundy as an accent color in your wedding centerpieces or on the wedding cake. You can also use burgundy in small details, such as the groomsmen's ties or the bridesmaid's shoes.
In conclusion, burgundy bridesmaid dresses are a timeless and versatile choice for any wedding. The deep, rich color of burgundy brings elegance and sophistication to any bridal party, and pairs well with a variety of wedding themes and color schemes. Explore our burgundy bridesmaid dresses for your own wedding and make a statement that will last a lifetime!